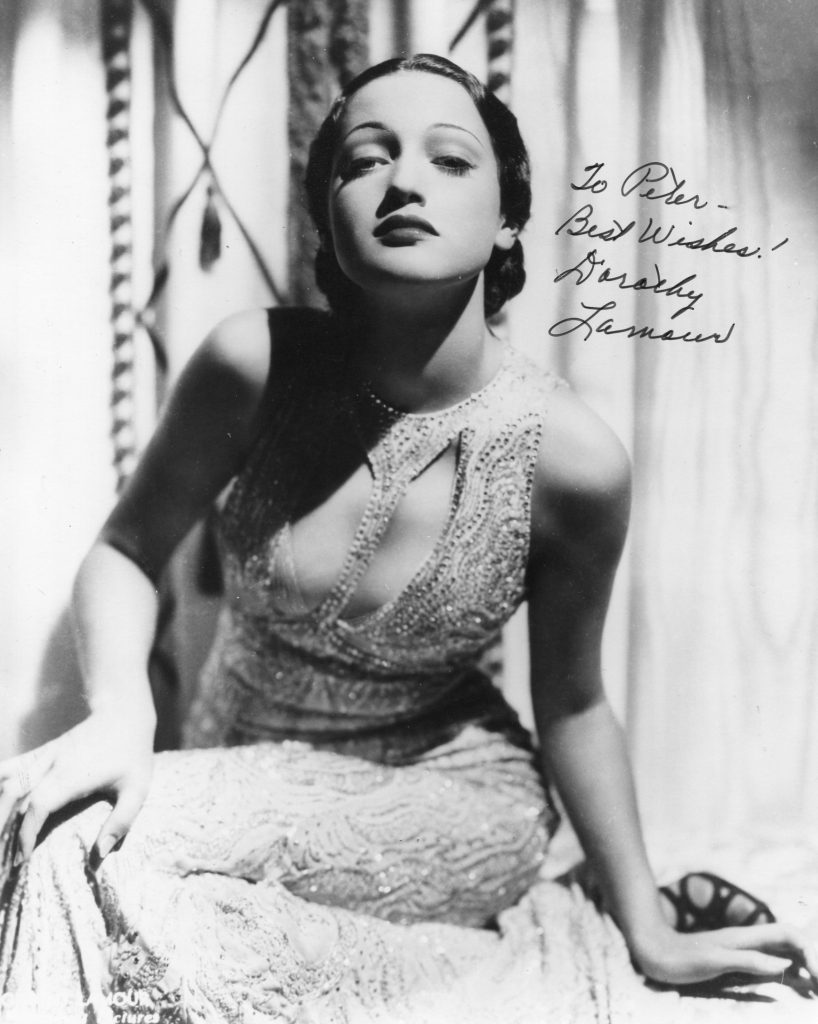 Dorothy Lamour was one of the major stars of Hollywood during the 1940's. She was born in New Orleans in 1914. Many of her films were made for Paramount Studios. She is especially remembered for her roles in the "Road to " series with Bob Hope and Bing Crosby. Her other mvies include "Johnny Apollo", "The Hurricane", "Aloma of the South Seas", "The Greatest Show on Earth" and "Donovan's Reef". She died in 1996.
Tom Vallance's "Independent" obituary:
Hollywood's "sarong girl" Dorothy Lamour made no claims to be a great actress, but few stars of the screen's vintage years are regarded with greater affection. She is remembered with such warmth for three reasons: as star of a string of jungle pictures, clad in the sarong that was to become her trademark; as one of the four most popular pin-ups of the Second World War (along with Betty Grable, Lana Turner and Rita Hayworth); and as co-star with Bing Crosby and Bob Hope of the phenomenally successful "Road" films – only the James Bond movies have been more profitable as a lengthy sequence. Lamour was also a seductively sultry singer who introduced several song standards, and became an adept comedienne.
Born Mary Leta Dorothy Slaton in 1914 in New Orleans, she started performing songs at charity shows from the age of four and at 14 won a beauty contest as Miss New Orleans. Taking her stepfather's surname Lambour, she moved to Chicago and worked in a department store as an elevator-girl while trying to break into show business. Singing in a talent contest she was spotted by the band-leader Herbie Kaye, who signed her as vocalist and changed her name to Lamour.
In 1935 they were married. Kaye's former college chum Rudy Vallee introduced Lamour to the owner of the famed New York nightspot the Stork Club and she was signed to sing there. This led to more club work, radio performances and her screen debut in a two-reel short, The Stars Can't Be Wrong (1936). Moving to Hollywood for a regular spot (billed as "the sultry songstress of the airwaves") on NBC Radio, she was given a screen test by Paramount and cast in The Jungle Princess (1936). As a naive native girl, with only a tiger and a chimpanzee as friends, she rescues a stranded hunter (Ray Milland) who teaches her English and saves her from villainous natives. Lamour introduced a song hit, Frederick Hollander and Leo Robin's "Moonlight and Shadows", and clothed only in a sarong, her long black hair caressing her shoulders, scored an instant hit with the public, who made the modest film a surprising smash hit.
Lamour's next role was a supporting one in Swing High, Swing Low (1937) but her song in it, "Panamania" , was another hit. In Mamoulian's High, Wide and Handsome (1937) she again had a minor role but sang Kern and Hammerstein's "The Things I Want". The director John Ford, preparing to film The Hurricane for the producer Sam Goldwyn, suggested Lamour for the role of Samura, daughter of a native chief, and Goldwyn traded his contract star Joel McCrea with Paramount to secure her. She again scored a great personal success and had another hit song with her recording of the film's theme tune, "The Moon of Manakoora".
Paramount, now convinced that Lamour and a sarong were a winning combination, starred her in Her Jungle Love (1938), as a native girl who rescues a stranded aviator (Milland again). He teaches her English ("What is this word `Kiss'?" she asks him) and rescues her from crocodiles, an earthquake and a power-crazy villain. Though Lamour's jungle films were fantastic and formulaic they were colourful, amusing pieces of pure escapism which the public loved.
Now a top star, Lamour was borrowed by Fox to star with Tyrone Power in the gangster melodrama Johnny Apollo (1940), singing two fine songs with lyrics by Frank Loesser, "This is the Beginning of the End" and "Dancing for Nickels and Dimes", the latter perform-ed in a fetching urchin outfit that Lamour hated. Paramount next put her back in the jungle for Typhoon (1940) with Robert Preston, another enormous hit.
Then came one of the most fortuitous pieces of casting in screen history. The screenwriters Don Hartman and Frank Butler had adapted an old script of Paramount's as a tropical adventure-comedy entitled The Road to Mandalay for Fred MacMurray and Jack Oakie, who turned it down. George Burns and Gracie Allen also rejected it before the producer William LeBaron thought of Hope and Crosby, who already had a well-publicised comic feud going on their respective radio shows. The tropical setting made Lamour the perfect choice for heroine. Retitled Road to Singapore (1940), the first of a legendary series went into production.
With the aid of their radio gag-writers Barney Dean and Monty Brice the two male leads were soon improvising material and ad-libbing to an extent that initially perplexed Lamour. "I was trying to follow the script but just couldn't get my lines out," she said later. "Finally, I realised that I should just get the general idea of a scene rather than learn the words by heart, then go along with the boys." Said Hope, "Dottie is one of the bravest gals in pictures. She stands there before the camera and ad-libs with Crosby and me knowing that the way the script is written she'll come second or third best, but she fears nothing."
The mixture of ad-libs, asides to the audience and irreverent in-jokes plus the songs of Crosby and Lamour and wisecracks of Hope made the films irresistible. Though not initially planned as the first of a series, the film was swiftly followed by Road to Zanzibar (1941), which was even funnier and had the New York Post commenting: "Dorothy Lamour, ceasing her feverish efforts to become An Actress, begins to shine in a new light."
Lamour next partnererd Hope in Caught in the Draft (1941), proving again what an admirable foil she was becoming as she adopted a bemused, somewhat acerbic reaction to Hope's frantic shenanigans. She was reunited with her Hurricane co-star Jon Hall in the vividly coloured Aloma of the South Seas (1941), singing "White Blossoms of Rah-ni" and dealing with the wicked high priests and an erupting volcano in another box-office hit.
She followed this with one of the finest wartime musicals, The Fleet's In (1942), playing an aloof night-club singer whose heart is melted by William Holden, and introducing the Victor Schertzinger-Johnny Mercer standard "I Remember You".
Road to Morocco (1942) is considered by many the best of the "Road" films, its surreal pleasures incuding a talking camel and a version of the hit tune "Moonlight Becomes You" in which the three stars sing with each other's voices.
Lamour's role opposite Crosby in Dixie (1943), a loose biography of the minstrel star and composer Dan Emmett, was a disappointing one in which she had no song solos, but in And The Angels Sing (1944), she introduced the Johnny Burke-Jimmy Van Heusen standard, "It Should Happen to You".
During the war, besides being a favourite pin-up of the forces, Lamour made many tours to promote the sale of war bonds. Road to Utopia (made in 1944 but released two years later) was another gem, this time set in the Yukon during gold-rush days. Lamour had a further hit song with the Burke-Van Heusen "Personality" though she stormed off the set one day after waiting hours in costume for her leading men then finding they had gone to play golf. "They always joked about my temperament after that," she stated, "but they never did that to me again!"
Two demanding roles – in an adaptation of John Steinbeck's scathing portrait of wartime hypocrisy A Medal for Benny (1945) and in Claudette Colbert's former role in an ineffectual remake of Midnight entitled Masquerade in Mexico (1945) – exposed Lamour's thespian limitations, but in My Favourite Brunette (1947) she again proved a splendid foil for Hope, while in the all-star Variety Girl (1947) she engagingly partnered tough-guy Alan Ladd as he made his singing debut duetting "Telahassee".
When Paramount had announced that Road to Utopia would be the last of the series they received over 75,000 letters of protest, so in 1947 Road to Rio was released, another hit though it would mark the end of Lamour's golden period. Paramount were shedding many of its stars including Lamour, and as a freelance her films and performances met with mild response, though Slightly French (1949) was an amusing farce in which Lamour got laughs as a carnival dancer masquerading as a French cabaret star.
In 1950 and again in 1958 she triumphed at the London Palladium (the audience roaring its approval when she donned her sarong) and in 1952 played in two major films. She was a circus performer in De Mille's The Greatest Show on Earth – a small part but it included a brief Hawaiian song and dance – and Road to Bali, the sixth film in the series. Night- clubs and television were now her main professional outlets, but she was once more international news in 1961 when Hope and Crosby announced that they would be making Road to Hong Kong but (at Crosby's insistence) with a younger leading lady.
The public outcry that ensued led to Lamour being offered a cameo role which, with the encouragement of Hope, she accepted. In a generally dire film, Lamour was to have the brightest moment when, asked by the two stars to help them hide from gangsters, she listen to their summary of the plot so far then replies, "OK, boys, I'll hide you." "From the gangsters?" they ask. "No," she says, "From the critics."
Her feeling for Crosby was cool after this, particularly when he failed to use her in publicising the film. John Ford gave her a small role in Donovan's Reef (1963) and in 1967 she had a great success with a lengthy tour of Hello, Dolly on stage. She published an autobiography, My Side of the Road, in 1980 and continued to appear in clubs and nostalgic stage shows (including a charity show in London a few years ago) until ill-health forced her retirement.
Mary Leta Dorothy Slaton (Dorothy Lamour), actress: born New Orleans 10 December 1914; married 1935 Herbie Kaye (marriage dissolved 1939), 1943 William Ross Howard (died 1978; two sons); died Los Angeles 22 September 1996.
The above "Independent" obituary can also be accessed online here.