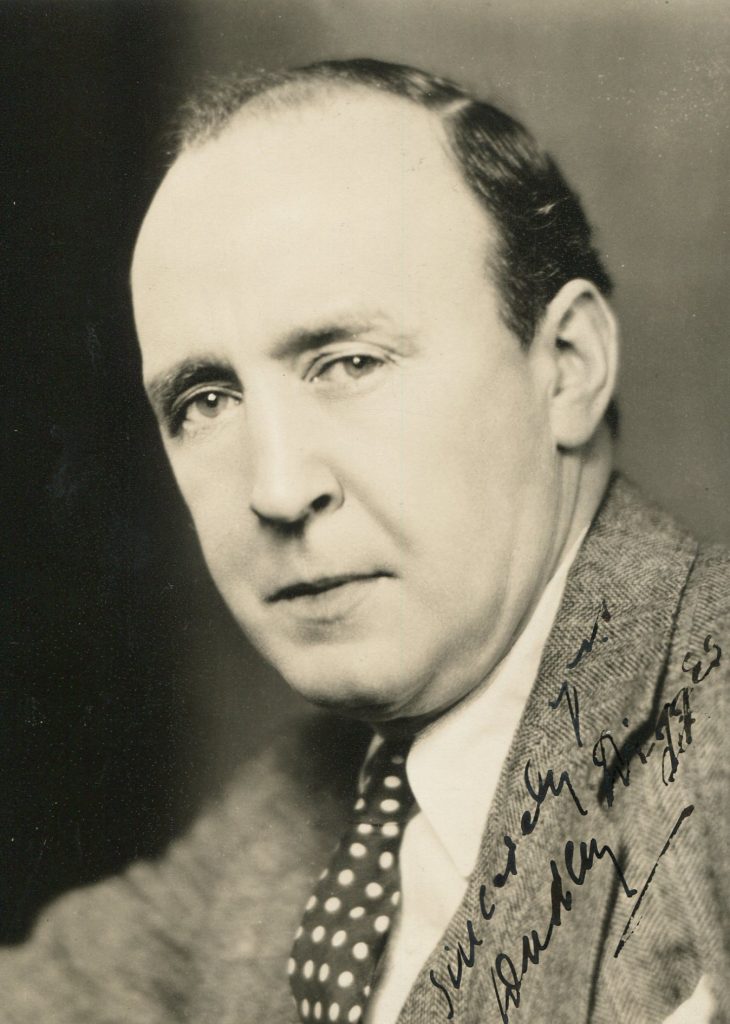 Dictionary of Irish biography:
Digges, (John) Dudley (1880–1947), actor, stage manager, and director, was born 9 June 1880, son of James Dudley Digges, clerk, of 16 Beechwood Avenue, Ranelagh, Dublin, and Catherine Digges (née Forsythe). He was educated by the Christian Brothers (1886–90), and at St Mary's college, Rathmines (1890–93). After studying theatre methods under Frank Fay (qv), in 1898 he joined the Ormond Dramatic Company run by Frank and his brother William Fay (qv), performing in sketches such as 'The comic tutor' at St Theresa's Hall, Clarendon St. He was a member of the Celtic Literary Society at the time of its merger with Cumann na nGaedhael (1900). A member from 1899 of William Fay's Comedy Combination, he performed in W. Bayle Bernard's farce 'His last legs' at the Coffee Palace Hall, Townsend St., in 1901. When William Fay formed the National Dramatic Company in 1902, Digges acted as Naisi in the first public production of 'Deirdre' byGeorge Russell (qv) ('Æ'), and in 'Kathleen ni Houlihan' by William Butler Yeats (qv), at St Theresa's Hall (2–4 April). A founding member of the Irish National Theatre Society (February 1903), Digges played the Wise Man in Yeats's 'The hour glass' at the society's premiere performance, in Dublin's Molesworth Hall (14 March). After the controversial first performance of 'In the shadow of the glen' by J. M. Synge (qv) (10 October 1903), Digges walked out in protest along with Maud Gonne MacBride (qv) and Mary Quinn (the future Mary Digges (qv)), and resigned from the society. He directed a series of plays – including Henry Connell's 'Robert Emmet', in which he played the title role – for the Cumann na nGaedhael Theatre Company at the 1903 Samhain theatre festival. He worked under Arthur Griffith (qv) as a secretary on the United Irishman in 1904, while performing with the Celtic Players at the Dublin Workman's Club, York St.
In 1904 Digges travelled to America to perform with Quinn and P. J. Kelly at the St Louis world exhibition; involved in a fracas with the stage manager, Luke Martin, over supposed anti-Irish elements in one of the offerings, he was fired from the company, having appeared only in Russell's 'Deirdre'. Remaining permanently in America, in 1905 he performed at the Garrick Theatre, New York, in 'John Bull's other island' by George Bernard Shaw (qv), and in 1906 acted with Ben Greet's Shakespearean company. He married Mary Quinn in 1907; it is not recorded that they had children. Touring with the Fiske Theatre company, Digges became friendly with the noted English actor George Arliss. He collaborated with visiting Irish actors to perform 'The rising of the moon' by Lady Gregory (qv) at the Savoy Theatre, New York, in 1908, under the management of Charles Frohman, and he acted with his wife and Frank Fay in 'The building fund' by William Boyle (qv; 1853–1923) at Powers Theatre, Chicago. Over the next decade he worked primarily as a stage manager, with Frohman productions (1908–12) and for Arliss (1912–19). A founding member of the New York Theatre Guild in 1919, he performed in its first production, Jacinto Benavente's 'The bonds of interest'. His sensitive and highly praised acting as the unsavoury tradesman James Caesar in 'John Ferguson' by St John Greer Ervine (qv) at the Garrick Theatre (1919) won him star status, and helped establish the lasting reputation of the Theatre Guild. He appeared in over 3,500 performances for the guild, most notably as Mr Zero in Elmer Rice's landmark expressionistic play 'The adding machine' (1923). He also directed plays with the guild, including Shaw's 'Pygmalion', 'Heartbreak house', 'The doctor's dilemma', and 'Man's estate'. He was a director of the Actors' Theatre, New York (1924–5), and staged Shaw's 'Candida' and Ibsen's 'The wild duck'. Moving to Hollywood in 1929, he embarked on a prolific film career, his roles including that of Casper Gutman in the first filmed version of The Maltese falcon(1931), and the ship's surgeon in Mutiny on the Bounty (1935).
Presented with a gold medal by the American Irish Historical Society in New York for his defining role in the creation of the modern Irish theatre, Digges delivered an acceptance address entitled 'A theatre was made', dealing with his early theatrical experiences (1939). He was vice-president of Actor's Equity, and belonged to the Lambs and Players clubs. In his last performance for the Theatre Guild, on Broadway in 1946, he played Harry Hope in Eugene O'Neill's 'The iceman cometh' to wide critical acclaim. He died after suffering a stroke in his residence at 1 West Sixty-fourth St., New York, on 24 October 1947, survived by a sister and two brothers living in Ireland; his wife had died only two months earlier. An elegiac poem, 'The dead player', by Padraic Colum (qv), was published in the Dublin Magazine in 1953
Dudley Digges was born in Dublin in 1879. He came to the U.S. in 1904 and was in Hollywood by 1930. Among his movie credits are "Tess of the Storm Country" in 1932 and "The Light that Failed" in 1939. He died in 1947.
"Wikipedia" entry:
Though his on-screen persona never seemed to vary much from that of, say, Ebenezer Scrooge, he was a very well-respected stage actor and director, with a particular fondness for the works of
Henrik Ibsen
. Digges enjoyed an enormously successful career as a Broadway actor and director (active there from 1906-1947) in addition to his work as a character actor in Hollywood.
Acted on stage from 1902 and moved to the U.S. two years later. Was briefly stage manager for Charles Frohman and George Arliss, before embarking on a prolific Broadway career (1906-47) which lasted until his death.