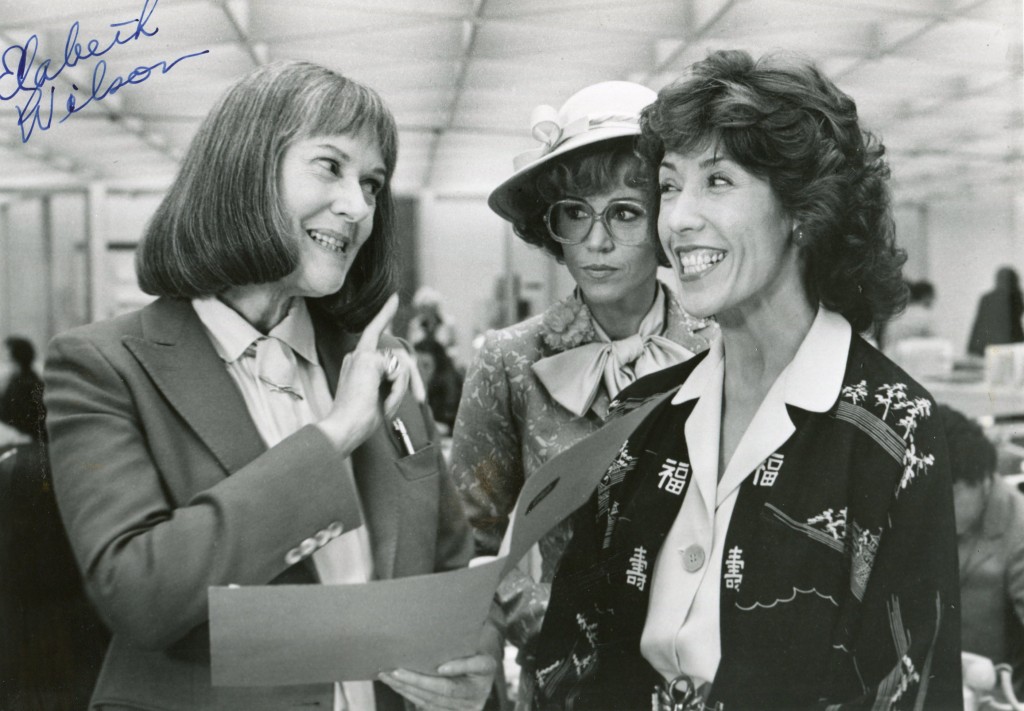 Elizabeth Wilson is a profilic American character actress. She was born in 1921 in Grand Rapids, Michigan. She made her Broadway debut in "Picnic" in 1953 and repeated the role in her movie debut in "Picnic" in 1955. Other films include "The Godess" in 1957, "The Birds" in 1963, "The Graduate" in 1967 and "Nine to Five" with Jane Fonda and Dolly Parton. She died in 2015 at the age of 95.
TCM overview:
A lady of stage and screen, award-winning actress Elizabeth Wilson had a long career in which she frequently played mothers and wives on television and the big screen. Many filmgoers will remember her best for her performance as Dustin Hoffman's mother in Mike Nichols' classic comedy/drama "The Graduate" (1967) and from her role as Ralph Fiennes' mother in Robert Redford's true-life drama "Quiz Show" (1994). She also had a prominent and memorable comedic role in the 1980 blockbuster comedy "Nine to Five," playing bad boss Dabney Coleman's assistant opposite stars Jane Fonda, Lily Tomlin and Dolly Parton. She also co-starred in the big-screen adaptation of "The Addams Family" (1991), playing Abigail Craven, and had a late-career turn starring alongside Bill Murray in the drama "Hyde Park on Hudson" (2012), playing Sara Ann Delano Roosevelt, mother of President Franklin Delano Roosevelt. Like many stage-trained actors, Wilson balanced her career between her first love-theater-and feature films and television. Hollywood typically typecast her in matronly roles, but like any gifted actress, the dependable Wilson always found a way to heighten the role to her best advantage.
Wilson was born on April 4, 1921 in Grand Rapids, MI. She journeyed to New York City to study drama in 1942, hoping to eventually become an actress on Broadway. But in 1945, she put that dream on hold for a while, instead travelling to the Pacific theater to entertain the troops as part of the USO. The job was dangerous-she toured New Guinea, the Philippines and eventually Japan for months-since the war was still raging on, but the experience was also exhilarating for the burgeoning thespian. In the 1950s, Wilson began to make her significant mark on the theater scene, landing her first appearance in a Broadway play performing as schoolteacher Christine Schoenwalder in the original run of "Picnic" (1951). The play also starred Ralph Meeker, Kim Stanley and a young Paul Newman. She would later perform the same role in the 1955 movie version.
When Wilson made the leap to television and feature films, she did not abandon theater. Her most important roles would remain those she performed on stage, although she also racked up an impressive list of credits over the years for her arguably more visible work on television and in films. She had a small role in Alfred Hitchcock's nature-gone-amok classic thriller "The Birds" (1963) and co-starred opposite legendary actor George C. Scott on the short-lived landmark television show "East Side/West Side" (CBS, 1963-64). After her memorable performance as Dustin Hoffman's mother in "The Graduate," she worked with director Mike Nichols six more times, including appearing in "Catch-22" (1970), "The Day of the Dolphin" (1973) and "Regarding Henry" (1991). The two also worked together on Broadway. Wilson also appeared in several episodes of the cult gothic television soap opera "Dark Shadows" (ABC, 1966-1971) and she was nominated for an Emmy Award for her supporting performance in the television mini-series "Nutcracker: Money, Madness & Murder" (NBC, 1987). Although never a household name, Wilson was regularly cast in several high-profile feature film productions late in life, including "Quiz Show," "The Addams Family" and "Hyde Park on Hudson."
The above TCM overview can also be accessed online here.
Obituary from May 2015 's "Detroit Press":
NEW HAVEN, Conn. – Elizabeth Wilson, who built a career as a character actress in films such as "The Graduate" and "9 to 5," has died. She was 94.
Wilson, who lived in Branford, Conn., with her sister, died Saturday at Yale-New Haven Hospital, actress Elizabeth Morton, a spokeswoman for the family, said Monday.
Wilson played Dustin Hoffman's mother in "The Graduate" and the character Roz in "9 to 5." She had roles in almost 30 films, including "Catch-22" and "Regarding Henry," and appeared in numerous stage and television shows, playing Archie Bunker's cousin on "All in the Family."
Wilson won a Tony Award for her performance in 1972's "Sticks and Bones." She made her Broadway debut in 1953 in "Picnic," and appeared in the Broadway revival of "Uncle Vanya" in 1973.
"I had no desire to be a star," she told the Hartford Courant last July. "I wanted to be a character actress and be able to do all kinds of parts and work on a lot of things. That was my unconscious choice. I wanted to be an undercover actress."
Wilson was born on April 4, 1921, in Grand Rapids, Mich., and studied at the American Academy of Dramatic Arts in New York.
She bought a home in Branford in 1988 while working at the Long Wharf Theatre.
Wilson is survived by her younger sister, Mary Muir Wilson, with whom she lived, and several nieces and nephews.
A memorial service is planned for later this summer, Morton said.
The above obituary can also be accessed online here.
"Guardian" obituary by Ronald Bergan:
It is a show business axiom that a small role in a hit Hollywood film is worth much more in the currency of fame than dozens of longer, meatier parts in the theatre. Thus Elizabeth Wilson, who has died aged 94, is primarily acknowledged as having played Dustin Hoffman's shallow and materialistic mother in The Graduate (1967) rather than for her critically acclaimed stage performances in plays by Anton Chekhov (Uncle Vanya), Oscar Wilde (The Importance of Being Earnest), Eugene O'Neill (Ah Wilderness!), Bertolt Brecht (The Good Woman of Szechuan, The Threepenny Opera) and Edward Albee (A Delicate Balance).
Nevertheless, Wilson was admirable in Mike Nichols's The Graduate, initially displaying maternal pride at her son's achievements at college, reading from the yearbook to a houseful of guests and embarrassing her son at the same time, then later displaying touching bewilderment at his anti-social behaviour. There is a significant Oedipal sequence in a bathroom when Wilson, in a black negligee, has an argument with Hoffman about where he goes at night, before the film cuts rapidly to him in bed with Mrs Robinson (Anne Bancroft), who is around his mother's age.
Wilson was born in Grand Rapids, Michigan. Her mother, Marie (nee Welter), and her father, Henry, an insurance agent, encouraged her to follow her ambition to go on stage after graduating from high school. She immediately moved to New York to study at the American Academy of Dramatic Arts and with Sanford Meisner at the left-leaning Neighborhood Playhouse. At the latter she learnedMeisner's approach to method acting, which he characterised as "living truthfully under imaginary circumstances".
It took some years before she got her first Broadway role as the gossipy schoolteacher Christine Schoenwalder in William Inge's Picnic (1953), a part she reprised in the 1955 film version. It was her big screen debut if one discounts her fleeting appearance in Alfred Hitchcock's Notorious (1946), years before her memorable role in the same director's The Birds (1963) as a waitress who, beholding a drunk who declares that the arrival of the birds is the end of the world, says: "Woe unto them that rise up early in the morning that they may follow strong drink."
For much of the 1960s Wilson made appearances in television series such as East Side, West Side and in off-Broadway plays such as Henry Livings's Eh? (1967), in which both she and Hoffman were spotted by Nichols, who cast them in The Graduate. Nichols went on to give Wilson character roles in Catch 22 (1970), Day of the Dolphin (1973) and Regarding Henry (1991), as well as a substantial part in his starry 1973 Broadway production of Uncle Vanya, in which Wilson was poignant as the joyless, unloved Sofya Alexandrovna in a company that included Julie Christie, Lillian Gish, Nicol Williamson and George C Scott.
Wilson, who was something of an expert at playing mothers, won a Tony award for her role in the theatre as the mother of a blind Vietnam vet in David Rabe's 1971 black comedy Sticks and Bones. She continued to shine as Mrs Peachum in The Threepenny Opera (1976), in which she belted out The Ballad of Sexual Dependency, and as Lady Bracknell in The Importance of Being Earnest (1977). On screen, in Nine to Five (1980), directed by Colin Higgins, Wilson made an impact as the obnoxious, nosy personal assistant of the sexist boss of office workers Jane Fonda, Lily Tomlin and Dolly Parton, who manage to turn the tables in the end. In contrast, she played Ralph Fiennes's cynical upper-class novelist mother in Robert Redford's Quiz Show (1994).
Her last stage appearance came in Noël Coward's Waiting in the Wings (1999) set in a charity home for retired actors. Of a cast headed by Lauren Bacall and Rosemary Harris a New York critic wrote: "Elizabeth Wilson fares best, benefiting from the warmth and sceptical compassion Coward has given her character." Her final film role was as the mother of Franklin D Roosevelt (Bill Murray) in Hyde Park on Hudson (2012).
She remained single throughout her life, explaining in her later years that she never wanted to "stay home and raise a family".
She is survived by her sister, Mary.
•Elizabeth Wilson, actor, born 4 April 1921; died 9 May 2015
The above "Guardian" obituary can also be accessed online here.