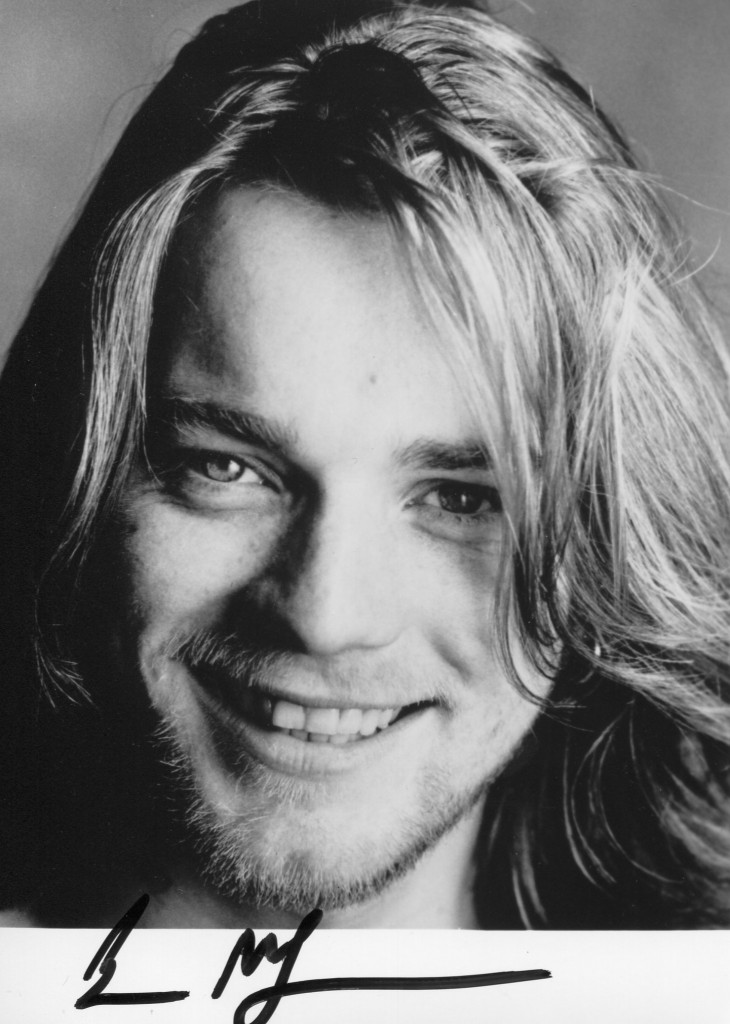 Ewan McGregor was born in Scotland in 1971. He is the nephew of actor Dennis Lawson. McGregor first came to promincence with his performance in the film "Trainspotting" in 1996. He has since starred in "Moulin Rouge" with Nicole Kidman and as James Joyce in "Nora" opposite Susan Lynch. More recent movies include "Haywire".
TCM overview:
In perhaps one of the fastest rises in Hollywood, actor Ewan McGregor emerged onto the scene six months shy of graduating drama school to star in his first miniseries. A mere two years later, he was the toast of the independent circuit with his brave performance in Danny Boyle's highly regarded "Trainspotting" (1996), which propelled the young actor to stardom virtually overnight. Ever since his acclaimed portrait of a heroin addict struggling to put his drug days behind him, McGregor was a consistent presence in small features like "Emma" (1996) and "A Life Less Ordinary" (1997) as well as amazed fans and critics alike with his romantic leading man appeal and singing talent in the smash musical, "Moulin Rouge" (2001). Never shy to speak his mind, he routinely lambasted big budget Hollywood movies, only to find himself playing one of the most beloved characters in one of the most popular film franchise of all time. As Obi-Wan Kenobi in the three "Star Wars" prequels – "The Phantom Menace" (1999), "Attack of the Clones" (2002) and "Revenge of the Sith" (2005) – McGregor deftly channeled the character created by Sir Alec Guinness, while at the same time making it his own. Though he slipped a little with films like "The Island" (2005) and "Deception" (2008), McGregor nonetheless remained a viable performer capable of playing just about any role he wished.
Born on Mar. 31, 1971 in Crieff, Scotland, McGregor was raised by his father, James, and his mother, Carol, both of whom were teachers. But McGregor was not much of a student. In fact, he was demoted from math class to typing, eventually quitting school altogether when he was 16, but with the blessing from both his parents. After leaving Morrison's Academy, where his father was the gym teacher, McGregor worked a series of odd jobs and attended Kirkcaldy College of Technology – later renamed Fife College – where he studied drama. He also worked with the Perth Repertory Theatre. Moving to London, he continued his dramatic studies at Guildhall School of Music and Drama, but left six months before graduating to star in his first major production, Dennis Potter's six-part miniseries, "Lipstick on Your Collar" (Channel 4, 1993), in which he played a young, rock 'n' roll-loving British serviceman stationed in the War Office as a Russian translator. That same year, he starred as a 19th-century Frenchman who dreams of becoming another Napoleon, but is betrayed by the married woman who loves him, in the television miniseries "Scarlet & Black" (BBC2, 1993).
With two solid starring roles under his belt right off the bat, it was no surprise that McGregor soon made his feature film debut, appearing in director Bill Forsyth's intriguing, but ultimately uneven "Being Human" (1994), starring Robin Williams as a man who searches for his family in various incarnations throughout human history. He forged a beneficial relationship with Danny Boyle, who directed McGregor in the acclaimed crime thriller "Shallow Grave" (1995). McGregor deftly played Alex Law, a cocky young journalist who becomes enmeshed in murder. A mere two years after turning professional, McGregor was vaulted into international stardom when he starred in "Trainspotting" (1996), Boyle's kinetic and visceral comedic drama about young heroin addicts in Edinburgh. McGregor was superb in the leading role of Mark Renton, a charming junkie who tries to straighten up his act in London, only to get sucked back into old criminal behaviors with his longtime mates. The popularity of "Trainspotting," both with critics and audiences, officially launched McGregor's career, thanks in no small part to his harrowing and disarming performance, which earned him a London Film Critics Circle Award for Best British Actor.
Building on his success, McGregor landed more high profile feature roles, including playing the dashing Frank Churchill opposite Gwyneth Paltrow in "Emma" (1996), Douglas McGrath's winning adaptation of the Jane Austen classic. McGregor next played a British expatriate used by a poet (Vivian Wu) as a writing pad in Peter Greenaway's erotic "The Pillow Book" (1997). Displaying his romantic side opposite Tara Fitzgerald, McGregor was an unemployed mineworker performing in a brass band in the well-received comedy "Brassed Off" (1997). After an appearance as a burglar who comes up against a vampire in a 1996 episode of "Tales from the Crypt" (HBO, 1989-1996), McGregor reached mainstream American television viewers as a petty crook whose attempted robbery of a convenience store goes awry in an episode of "ER" (NBC, 1994-2009), which earned him an Emmy Award nomination for best guest-starring appearance. Reteaming with Boyle and writer John Hodge, the actor was cast as a recently fired janitor who seeks revenge on his employer by kidnapping the man's daughter (Cameron Diaz), only to fall in love with the help of two angels (Holly Hunter and Delroy Lindo) in the quirky romantic fantasy, "A Life Less Ordinary" (1997).
McGregor continued to display his prodigious talents as a Dutchman who romances a mother (Greta Sacchi) and her daughter (Carmen Chaplin) in the period drama "A Serpent's Kiss" (1997); as an innocent man who becomes the prime suspect in a murder in "Nightwatch" (1998); and as a glam-rock musician a la Iggy Pop in Todd Haynes' "Velvet Goldmine" (1998) – a film in which he famously offered up full frontal nudity – something he would, in fact, become known for having little qualms about doing, in comparison to most working actors. The never bashful star rounded out the year with an uncharacteristic, but well-played role in "Little Voice" (1998), in which he played a painfully shy telephone installer who keeps carrier pigeons. In a rare stage appearance, McGregor starred in the London Comedy Theatre's production of "Little Malcolm and His Struggle Against the Eunuchs" (1999). Though he has publicly decried the big-budget blockbuster on numerous occasions, McGregor made headlines and magazine covers when he landed the coveted role of a youthful Obi-Wan Kenobi in George Lucas' highly anticipated "Star Wars: Episode I – The Phantom Menace" (1999). Though the film itself was a colossal artistic disappointment, faltering from the modern fairy tale feel of its predecessors that attracted the actor to the project in the first place, it nonetheless struck box-office gold and turned McGregor into a bona fide star.
After playing a man somewhat innocently stalking a woman (Ashley Judd) in the promising, but ultimately unsuccessful "Eye of the Beholder" (2000), McGregor was impressive in his portrayal of James Joyce in "Nora" (2000), a little-seen biopic of the legendary Irish author's longtime love that was produced by Natural Nylon, a company McGregor formed with fellow actors Jude Law, Jonny Lee Miller, Sadie Frost and Sean Pertwee. The following year, he won raves and an entire new wave of fans – particularly of the female persuasion – as the star of Baz Luhrmann's popular musical spectacular "Moulin Rouge!" (2001). An often over-the-top production, "Moulin Rouge!" benefited greatly from McGregor's heartfelt turn as the talented, but naive writer who falls in love with a magnetic but doomed courtesan (Nicole Kidman). The film also offered the actor the opportunity to showcase his very capable singing voice, with several challenging numbers that led Luhrmann to claim that the actor "could be the Frank Sinatra of this new period." That same year, McGregor was featured in Ridley Scott's fact-based war film "Black Hawk Down" (2001), bringing strength and vulnerability – as well as an impressive American accent – to his role as a desk jockey soldier who sees his first combat in the 1993 Somalian humanitarian mission that turned into a devastating battle.
McGregor reprised the role of Obi-Wan Kenobi in Lucas' anticipated but again, lackluster "Star Wars: Episode II – Attack of the Clones" (2002), which he followed with another singing and dancing role as the Rock Hudson-esqe swinging playboy Catcher Block opposite Renee Zellweger in "Down With Love" (2003), director Peyton Reed's tribute to the fluffy Doris Day-Rock Hudson sex comedies of the 1960s. McGregor delivered a wonderfully dry and winking performance in the well-reviewed, but little-seen film. The actor closed out the year with a part in director Tim Burton's bizarre fantasy, "Big Fish" (2003), playing the role of Young Ed Bloom in the fanciful, mythically embellished flashbacks, as related by Albert Finney as the older version of the same character. Now going back and forth between studio features and small independents with ease, McGregor appeared in the erotic noir thriller, "Young Adam" (2004), based on Alexander Trocchi's Beat Generation novel. Mixed reviews trickled in for the bleak tale about an amoral drifter who descends into increasingly erratic behavior while carrying on with the wife (Tilda Swinton) of a co-worker (Peter Mullan).
After narrating the motorcycle racing documentary "Faster" (2004), McGregor provided the voice of Rodney Copperbottom, a genius inventor who finds himself out of work in "Robots" (2005), an animated sci-fi tale about a world entirely inhabited by robots. Once again, he reprised Obi-Wan for the third and final prequel "Star Wars: Episode III – Revenge of the Sith" (2005). Although he had publicly voiced disappointment in the earlier films, the actor dutifully fulfilled his role for the final outing and in the process turned in his best performance as the Jedi Knight, who discovers his apprentice (Hayden Christensen) has embraced the Dark Side. Ever the physical actor, McGregor also continued to demonstrate his commitment and facility with a weapon in the film's extensive light saber battles. Meanwhile, prior to the release of "Episode III," McGregor and friend Charley Boorman embarked on an across-the-globe motorcycle ride that spanned four months, 18 countries and over 20,000 miles. The result was "Long Way Down" (BBC2, 2007), a six-part television series documenting the extraordinary journey.
In June 2005, McGregor sang and danced on stage when he starred as Sky Masterson in a London production of "Guys and Dolls" at the West End's Piccadilly Theatre alongside Jane Krakowski. The actor returned to the big screen for the sci-fi actioner "The Island" (2005) as Lincoln Six Echo, a man who lives in an orderly facility seemingly in a post-Apocalyptic world, hoping to win the right to relocate to the only remaining pure bio-zone on the planet, only to discover his world was a facade disguising a more sinister existence. "The Island" failed to score with audiences, as did "Stay" (2005), a murky psychological thriller that cast McGregor as a shrink with a suicidal patient (Ryan Gosling) who somehow begins invading his dreams and blurring the lines of their realities and individualities. After starring opposite Renée Zellweger in the period drama "Miss Potter" (2006), McGregor was part of the ensemble cast in the romantic comedy "Scenes of a Sexual Nature" (2006). He next starred in Woody Allen's rare turn into dark crime thriller territory "Cassandra's Dream" (2007) and followed with a starring turn opposite Hugh Jackman and Michelle Williams in the little-seen erotic thriller, "Deception" (2008).
Returning to blockbuster films, McGregor was the Camerlengo of the Catholic Church, who takes control of the Vatican after the mysterious death of the Pope in "Angels & Demons" (2009), which he followed with a turn as an investigative journalist who uncovers bizarre military experiments in "The Men Who Stare at Goats" (2009). Rounding out a busy year, McGregor was the sensitive cellmate of a convicted con man (Jim Carrey) who falls in love with him in the dark comedy "I Love You Phillip Morris" (2009), before playing aviation pioneer, Gene Vidal, who entered into business and allegedly an affair with Amelia Earhart (Hilary Swank) in the underrated biopic "Amelia" (2009). In Roman Polanski's political thriller "The Ghost Writer" (2010), he was the titular unnamed ghost writer who is hired to write the memoirs of a British prime minister (Pierce Brosnan), only to become embroiled in a conspiracy that endangers his life. After that McGregor had a supporting turn in the lighter family film, "Nanny McPhee Returns" (2010), and went on to play the son of a man (Christopher Plummer) who comes out as a gay man following the death of his mother in the acclaimed drama, "Beginners" (2010). Following a turn opposite MMA fighter Gina Carano in Steven Soderbergh's lean-and-mean spy thriller, "Haywire" (2011), McGregor was a man with Asperger's syndrome who falls for Emily Blunt in "Salmon Fishing in the Yemen" (2012). The role in the latter garnered him a Golden Globe nod for Best Actor in a Comedy or Musical. He capped off the year with a gripping performance opposite Naomi Watts as a man literally ripped away from his family during the catastrophic 2004 Indian Ocean tsunami in the harrowing drama "The Impossible" (2012).
The above TCM overview can also be accessed online here.