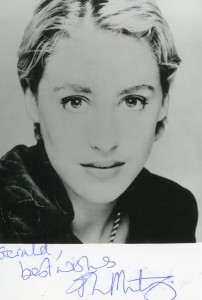 Flora Montgomery was born in 1974 in Northern Ireland. She made her television debut in 1995 in an episode of "The Governor". Other television appearances were on "Heat of the Sun", "Mosley" and "Lewis". Films include "When Brendan Met Rrudy" in 2000 and "Goldfish Memory" in 2003.
IMDB entry:
Theatre has been as prevalent in Flora's career as film and television. She won the Irish Times Best Actress Award for her role as the lead in Strindberg's Miss Julie. Other 'classic' roles include Yelena in Chekov's Uncle Vanya, Ophelia in Hamlet and Katherina in Taming of The Shrew. She has worked with many contemporary playwrights such as Neil LaBute who directed her in his monologue 'Bash'. She performed in the world premier of 'The Reckoning' a two-hander with Jonathan Pryce, and also in the award winning Dinner, both in the West End. Flora has also recorded numerous radio plays, most recently the Oscar winner Frederic Raphael's Glittering Prizes. Flora grew up by the shores of Strangford Lough in Northern Ireland. She was educated in Belfast and London, and trained in Dublin.
2003: Named as one of European films' Shooting Stars by European Film Promotion. She is a descendant of Scottish laird Sir Hugh Montgomery, 1st Viscount Montgomery, known as one of the "founding fathers" of the Ulster-Scots. Daughter of William Howard Clive Montgomery of Rosemount House and of Greyabbey, Newtownards, Ards, County Down, Ulster, and second wife (m. 4 Dec 1965) Daphne Bridgeman (b. 9 Apr 1940) of the Viscounts Bridgeman and of the Earls of Bradford, Viscounts Newport, Barons Bradford and Bridgeman Baronets, of Great Lever, who is a descendant of Mary Tudor, sister of Henry VIII. Her older brother and sisters are Hugh Geoffrey Clive Montgomery (b. 27 Sep 1966, married at Dunkeld Cathedral, Dunkeld, Perthshire, 5 Sep 2009 to Laura Campbell), Rose Evelyn Montgomery (b. 26 May 1968) and Frances Mary Montgomery (b. 29 May 1970, married 3 Sep 1994 to Mark Henry Leo Adams, b. 8 May 1966).
The above IMDB entry can also be accessed online
here.