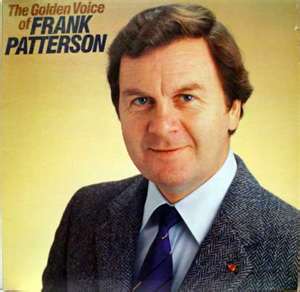 Frank Patterson was a famous Irish tenor who had an international reputation.    He only made a few  films but one  is regarded as a classic, John Huston's final film "The Dead" in 1987.   The scene where he sings the "The Lass of Aughrim" while Anjelica Huston stands on the staircase is one of the most heartbreaking on film.   He was also featured in "Michael Collins" singing "Macushla".   He was born in Clonmel in 1938 and died in New York in 2000.   He was married to Eily O'Grady  the famous concert pianist.
"New York Times" obituary:
Frank Patterson, an Irish tenor whose light, pleasing voice, honest expression and endearing style generated a worldwide following and earned audiences with two presidents and a pope, died on Saturday at Memorial Sloan-Kettering Hospital in Manhattan. He was 61 and lived in Bronxville, N.Y.
The cause was a brain tumor, said his manager, Vincent Mitchell, of Port Washington, N.Y.
As "Ireland's Golden Tenor," Mr. Patterson considered himself the heir to the legacy of another great Irish tenor, John McCormack. Although he had recorded Berlioz with Sir Colin Davis and sung Bach with the BBC, his recitals followed the standard McCormack format of light-classical repertory and sentimental Irish ballads, including the ubiquitous "Danny Boy," of which he said he never tired. In 1993, he became the first Irish artist to have his own show at Radio City Music Hall, where he sold out the 6,000-seat hall, accompanied by Ms. O'Grady and their son, Eanan, a violinist.
Although he had sung for President Ronald Reagan and President Clinton, Mr. Patterson considered the highlight of his career to be his performance at the papal mass in Phoenix Park, Dublin on the occasion of Pope John Paul II's 1979 visit to Ireland. He serenaded the pope again on his visit to New York in 1996, when he sang Schubert's "Ave Maria" in St. Patrick's Cathedral.
Mr. Patterson made his first public appearance as a boy soprano in his hometown, Clonmel, County Tipperary. After leaving school at 14 to work in the family printing business, he began vocal studies in Dublin in 1962, where he also studied acting at the National Academy of Theater and Allied Arts. Two years later, he won all of the major vocal awards at the Feis Ceoil singing competition, 61 years after McCormack's similar victory.
After catching the ear of a Philips Record Company executive in Paris, he went on to record 36 albums in six languages, including a recent compilation featuring him singing Handel arias and songs by Hugo Wolf with Herman Prey, Ely Ameling, Kiri Te Kanawa and Jose Carerras.
Mr. Patterson made his acting debut as a fictional tenor in John Huston's last film, "The Dead," and more recently, appeared in Neil Jordan's "Michael Collins."
In addition to his wife and son, he is survived by his mother, May Patterson, and two brothers, Maurice and Noel, all of County Tipperary, and a sister, Imelda Malone, of Naples, Fla.
The above "New York Times" obituary can also be accessed online here.
Obituary in "Irish Echo" here.