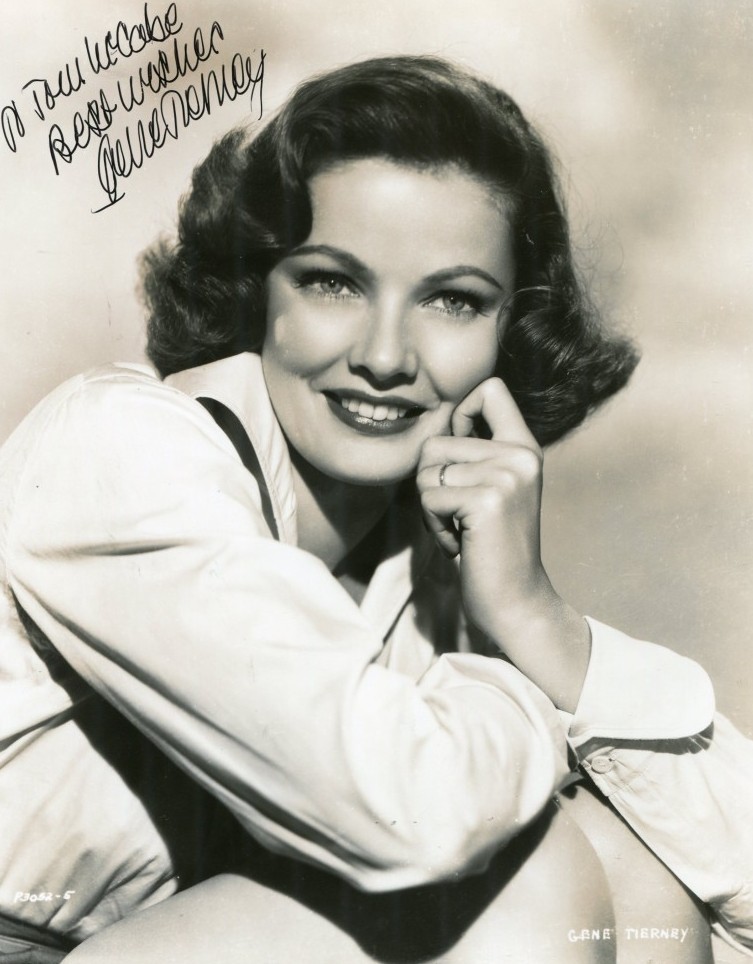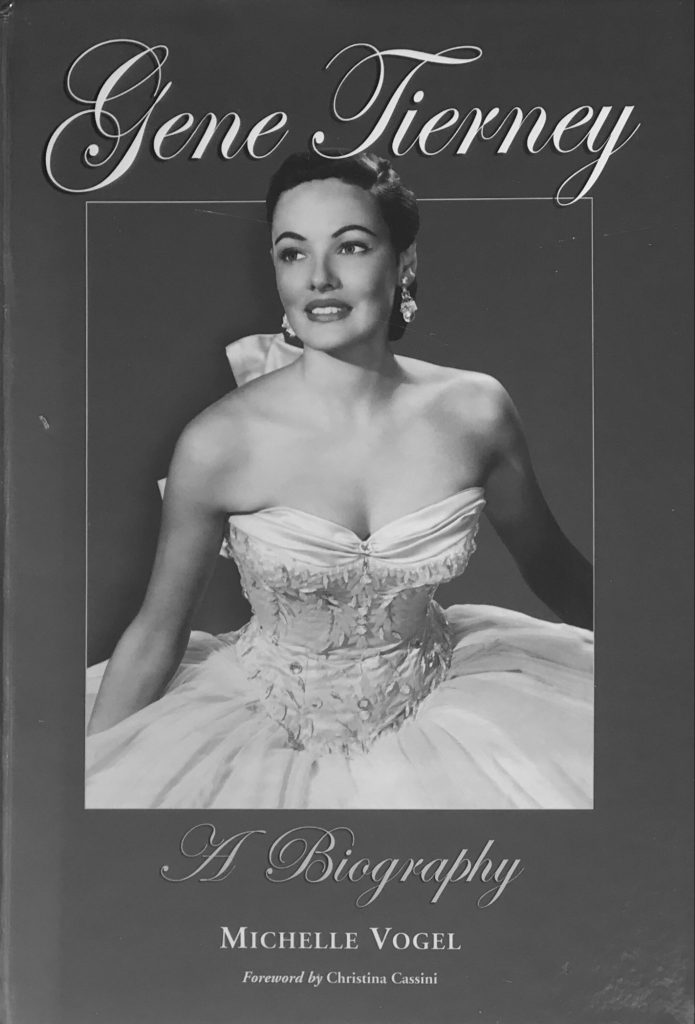 "Gene Tierney was as sleek and as beautiful as a lynx – a shade warmer perhaps, but nowhere near as agile.   Once she emerged from the miscasting which almost wrecked her career at the  outset, she was neither very good or very bad.   She was simply there on the screen – which when you come to look at her, was not at all a bad place for her to be" – David Shipman – "The Great Movie Stars – The International Years" (1972)
 Gene Tierney was one of the most beautiful actresses of Hollywood movies of the 1940's.   She was born in 1920 in New York.   She made her stage debut on Broadway in 1838 in "What A Life".   In 1940 she won a contract for movies with 20th Century Fox and came West.   Her debut was in "The Return of Frank James" opposite Henry Fonda, a well regarded Western.   She made a number of film classics including "Laura" in 1944, "The Ghost and Mrs Muir" and magnificant "Leave Her to Heaven" with Jeanne Crain.   Her film career tapered off in the 1960's although she made occasional television appearances including "Scruples" in 1980.   She died in 1991.
 :
TCM Overview:
When Paramount Pictures fumbled Gene Tierney's proposed film debut in its aborted adaptation of "National Velvet," 20th Century Fox saw promise in the gimlet-eyed beauty with the regal cheekbones and curiously beguiling overbite. Honing her craft under extreme conditions – she brooked the tempers of such autocratic émigrés as Fritz Lang, Ernst Lubitsch and Otto Preminger – Tierney emerged as a leading lady of equal beauty and depth. Gliding seamlessly from smoldering sensuality in Preminger's "Laura" (1944), to sang froid psychopathy in John M. Stahl's "Leave Her to Heaven" (1945), to a maturity and grace far beyond her years in Joseph L. Mankiewicz's "The Ghost and Mrs. Muir" (1947), Tierney attained a strata of celebrity that put her on par with fellow sirens Rita Hayworth, Lana Turner and Ava Gardner. Her personal life was no less dramatic, punctuated by a controversial marriage to designer Oleg Cassini, the traumatic birth of her first child, whose severe mental retardation resulted in lifelong institutionalization, love affairs with several leading men and a future U.S. president, and a devastating bipolar disorder that effectively quashed her career. Tierney's 1979 memoirs laid bare the devastation wrought by her inner demons while allowing the troubled actress to emerge on the far side of her troubles at some measure of peace with her legacy as "the most beautiful woman in film history."
Gene Eliza Tierney was born on Nov. 19, 1920, in Brooklyn, NY. The second of three children of insurance broker Howard Sherwood Tierney and the former Belle Lavina Taylor, Tierney was named after a maternal uncle who had died from diabetes at age 17. When Tierney was five, the family traded Brooklyn for a modest country home in Green's Farms, CT. Over the years, Howard Tierney would buy up increasing amounts of the surrounding land, ultimately building a more ostentatious family manor in the meadow across the street and filling it with servants and a German nanny for his three children. Educated first at the all girls' St. Margaret's School in Waterbury, which her mother had attended as a child, Tierney continued her studies at the arts-centered Unquowa School in Fairfield. A budding poet, she had her first works published in the school newspaper and played Jo in a student production of "Little Women." At her own insistence, Tierney was packed off to finishing school in Switzerland, to the Brillantmont International School in Lausanne.
At Brillantmont, Tierney spoke only French and spent Christmas holidays with fellow students in England and Norway. Returning to the United States a more mature, albeit pudgier young woman, Tierney topped off her education at Miss Porter's School in Farmington, where the rigorous academic and athletic regime helped her shave 20 pounds off of her 5′ 4″ frame. Upon graduation in 1938, Tierney was sent with her mother and siblings on vacation to California. Through a connection at Warner Brothers, Howard Tierney got his family onto the lot to watch the shooting of "The Private Lives of Elizabeth and Essex" (1939) and meet with star Bette Davis. According to the legend, director Anatole Litvak spotted Tierney on the sidelines and exclaimed "Young woman, you ought to be in pictures!" Her screen test was scheduled for the next day, at which time she was asked to read a Dorothy Parker monologue. That evening, she was offered a studio contract.
Feeling that his underage daughter would be better served by returning home to make her society debut, Howard Tierney called his daughter back to Connecticut. She had her coming out party at the Fairfield Country Club in September 1938, in a dress copied from one Bette Davis wore in "Jezebel" (1938). Despite this concession to propriety, Tierney had no interest in the life of a debutante. If Hollywood was denied her, she would try her luck on Broadway. Success was not immediately forthcoming and she was offered more jobs as a model than as an actress. Between assignments, Tierney studied acting with Broadway director Benno Schneider while becoming a protégée of esteemed producer-director George Abbott. Abbott gave the newcomer a walk-on in his production of "What a Life!" in 1938 and hired her as an understudy for "Primrose Path" the following year. Tierney made her Broadway debut for Abbott in "Miss O'Brien Entertains" at the Lyceum Theater in February 1939.
Graced with gimlet green eyes, imperious cheekbones, and a pronounced overbite that often made her closed lips appear to be in perpetual pucker, Tierney's beauty never failed to attract critical attention no matter how small the role, prompting The New York Herald Tribune to suggest that she had a bright future in theatre unless she were kidnapped for pictures. That very thing occurred when Tierney was offered a limited contract by Paramount. Having acquired rights to Enid Bagnold's 1933 novel National Velvet, the studio thought Tierney a perfect fit to play an English schoolgirl who poses as a male jockey to enter the Grand National Steeplechase. When Paramount passed the property to MGM – who made it in 1944 with a 12 year-old Elizabeth Taylor – Tierney returned to Broadway, scoring a critical coup in the James Thurber-Elliot Nugent comedy "The Male Animal." During the play's seven month run, Tierney was photographed by Vogue, Life and Colliers Weekly, which caught the eye of 20th Century Fox head Darryl F. Zanuck. He was quick to offer an exclusive contract to Tierney, whom he would later characterize as "unquestionably the most beautiful woman in movie history."
Tierney made her film debut for Fox in "The Return of Frank James" (1940), directed by German émigré Fritz Lang. The autocratic Lang clashed mightily on set with stars Henry Fonda and Jackie Cooper and spared Tierney little of his trademark ire. To her credit, Tierney took Lang's often cruel criticisms to heart, gleaning from his insults pearls of practical advice for film acting. With the success of the Lang picture, additional roles followed for Tierney, who was paired with Paul Muni in Irving Pichel's historic drama "Hudson's Bay" (1941) and joined the ensemble cast of John Ford's "Tobacco Road" (1941), the studio's highly-anticipated adaptation of the novel by Erskine Caldwell. Just as "Tobacco Road" had been Fox's bid to capitalize on the success of Ford's "The Grapes of Wrath" (1939), so the popularity of "Gone with the Wind" (1939), which Selznick had produced with MGM, was channeled into another Technicolor costumer. Tierney received star billing for playing "Belle Starr" (1941), a highly sanitized take on the short life and troubled times of the Wild West outlaw.
Despite starring in her first Hollywood film, Tierney was still considered a minor in the eyes of the law. Though her parents had by this point separated, Howard and Belle Tierney continued to exert influence over their daughter's career, for which they had set up the Belle-Tier Corporation. With her self-confidence undermined by her parents' rapidly dissolving marriage, Tierney suffered from a host of anxiety-related gastrointestinal ailments and an ocular disability that held up production of "Belle Starr." During her convalescence, she sought refuge in the arms of boyfriend Oleg Cassini, the Paris-born son of an Italian countess and Edith Head's assistant in the Paramount costume department. In June 1941, Tierney and Cassini flew to Las Vegas to be married in a civil ceremony. The controversial marriage worsened Tierney's relationship with her parents while alarming Hollywood executives to the degree that Cassini was fired by Paramount. Tierney also discovered that her father has siphoned off her Hollywood earnings via the Bel-Tier Corporation.
At this point in her career, Tierney could at least count on a wealth of work offers. In addition, the appreciation of her Hollywood stock enabled her to retain Cassini as her personal costumer. She was given a plum role in Ernst Lubitsch's Technicolor comedy "Heaven Can Wait" (1943), as doomed rogue Don Ameche's long suffering wife. Tierney locked antlers often with Lubitsch during production while also attempting to conceal from her coworkers the fact that she was pregnant. The joy to which Tierney and Cassini (then fulfilling his wartime military service with the United States Army at Fort Riley in Kansas) looked forward was cruelly dashed when the actress contracted rubella after making an appearance at The Hollywood Canteen. Their first child, daughter Antoinette Daria Cassini, was born two months prematurely and suffered from severe mental retardation, ultimately requiring lifelong institutionalization. She would later learn that it was her own stardom that impacted the child's health when a fan later told her she had broken quarantine for rubella to meet her at the Canteen. The tragedy caused a strain on the Tierney-Cassini marriage, leading to a separation. The pair reconciled and their second child, Tina, was born without complications in 1948.
Tierney was kept out of the picture for most of Otto Preminger's seminal film noir "Laura" (1944), in the role of a presumed murder victim whose haunting portrait inspires detective Dana Andrews to track down her killer. A multiple Academy Award nominee (and Oscar winner for Best Black & White Cinematography), "Laura" urged Tierney on to a larger role in an even darker psychological thriller. As the femme fatale of "Leave Her to Heaven" (1945), Tierney was nominated for an Academy Award as an icy beauty so venal she allows a handicapped boy to drown so that she might maintain an emotional stranglehold on leading man Cornel Wilde. The film was Fox's most successful of the decade and marked Tierney's entre to the A-list while also securing her a measure of cult notoriety on par with Barbara Stanwyck in "Double Indemnity" (1944), Rita Hayworth in "Gilda" (1946) and Lana Turner in "The Postman Always Rings Twice" (1946). While filming "Dragonwyck" (1946) during her separation from Cassini, Tierney enjoyed a dalliance with war hero John F. Kennedy, then pointed towards a brilliant political career.
Persuasive as a spoiled rich girl who cannot share Tyrone Power's spiritual interests in "The Razor's Edge" (1946), Tierney offered moviegoers a dramatic about-face in her next film, as the widowed heroine of Mankiewicz's "The Ghost and Mrs. Muir" (1947). Tierney's heartfelt performance as a single mother who accepts companionship and a second chance at love from spectral sea captain Rex Harrison, was a hit with moviegoers. She reteamed with Otto Preminger for the thrillers "Whirlpool" (1949) and "Where the Sidewalk Ends" (1950), and traveled to England for a choice role opposite Richard Widmark in blacklisted director Jules Dassin's "Night and the City" (1950). On loan to other studios, Tierney showed a lighter side in the Paramount screwball comedy "The Mating Season" (1951) while playing it straight in the adoption drama Close to My Heart" (1951), with Ray Milland. Divorced from Oleg Cassini in 1952, she had relationships with Spencer Tracy while shooting "Plymouth Adventure" (1952) and with Clark Gable between takes on "Never Let Me Go" (1953).
Due in large part to the guilt and sadness related to her daughter's institutionalization, Tierney began to suffer from an undiagnosed bipolar disorder which took a toll on her work. She excused herself from John Ford's "Mogambo" (1953), for which she was replaced by Grace Kelly, and sought psychiatric help after wrapping Edward Dmytryk's "The Left Hand of God" (1955). Tierney's treatments would drag on for years, comprising nearly 30 sessions of shock therapy and days wrapped in icy sheets to control her wild mood swings. Released from one East Coast clinic, Tierney's suicidal ideations drove her to the Menninger Clinic in Topeka, KS. During a hiatus from treatment, she worked briefly as a store clerk in at Talmage's Ladies Apparel Shop in nearby Westboro, until the press got wind of her situation and forced Tierney to go public with her humbling personal history. In 1958, Tierney met Texas oilman Howard Lee, then the estranged husband of actress Hedy Lamarr. Tierney and Lee married in 1960 and settled in Houston, where the former actress wrote a newspaper column and became an expert at contract bridge.
.
By Richard Harland Smith
The above TCM overview can also be accessed online here.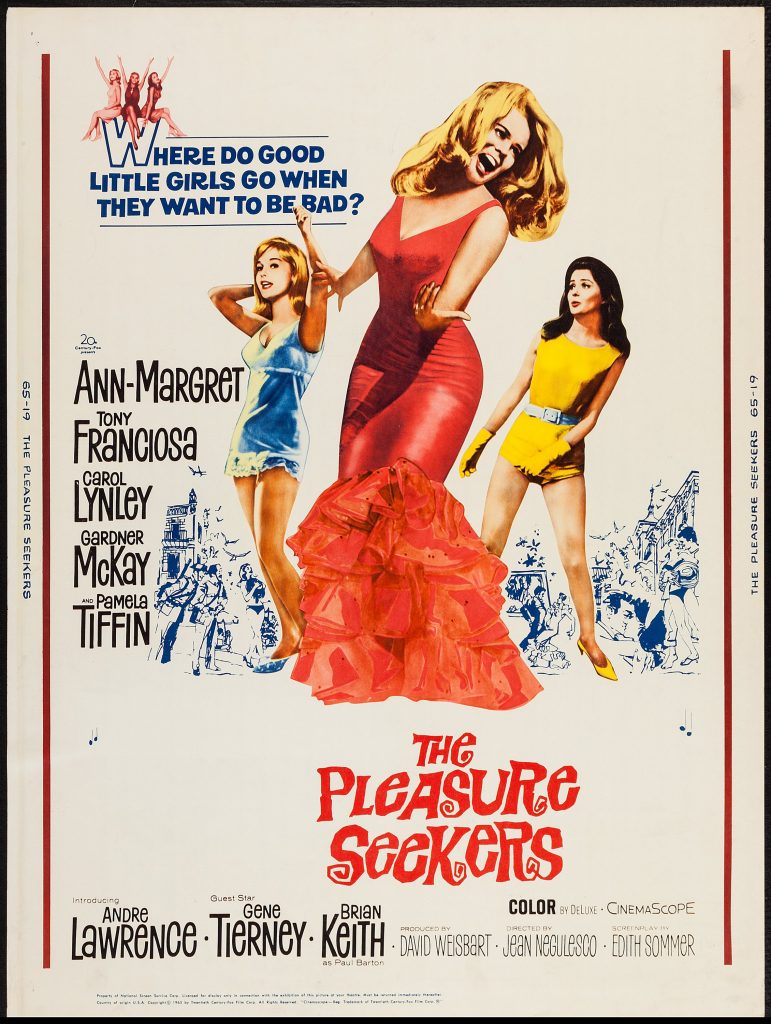 Despite her self-imposed exile in Texas, Tierney received work offers from Hollywood, prompting her to mull a comeback. She tested the waters by appearing in a November 1960 broadcast of "General Electric Theater" (CBS, 1953-1962), during which time she discovered that she was again pregnant. Slated to appear in Fox's "Return to Peyton Place" (1961), she withdrew from the production after suffering a miscarriage. She contributed a small role as the catty Washington mistress of Senate Majority Leader Walter Pidgeon in Otto Preminger's "Advise and Consent" (1962) and appeared as Dean Martin's domineering mother-in-law in "Toys in the Attic" (1963), George Roy Hill's film adaptation of the stage play by Lillian Hellman. She made her final feature film appearance in "The Pleasure Seekers" (1963), opposite Ann-Margret and Brian Keith. At the distance of several years, she returned to television in "Daughter of the Mind" (1969), reuniting with old co-star Ray Milland in the chilling tale of a scientist haunted by the specter of his long-dead daughter.
In 1979, Tierney published her memoirs, detailing her cherished childhood memories, her schoolgirl years abroad, her triumphs on Broadway and in Hollywood, and the nightmare years of her descent into mental illness. Lured out of retirement yet again, she signed on to play lesbian magazine publisher Harriet Toppingham in the CBS miniseries "Scruples" (1980), based on the best-selling novel by Judith Krantz. The following year, Howard Lee died. Tierney remained in Houston for the next decade, during which time she was diagnosed with emphysema, which she developed from a lifelong cigarette habit adopted in Hollywood as a means of lowering the timbre of her speaking voice. Gene Tierney died on Nov. 6, 1991, two weeks shy of what would have been her 71st birthday