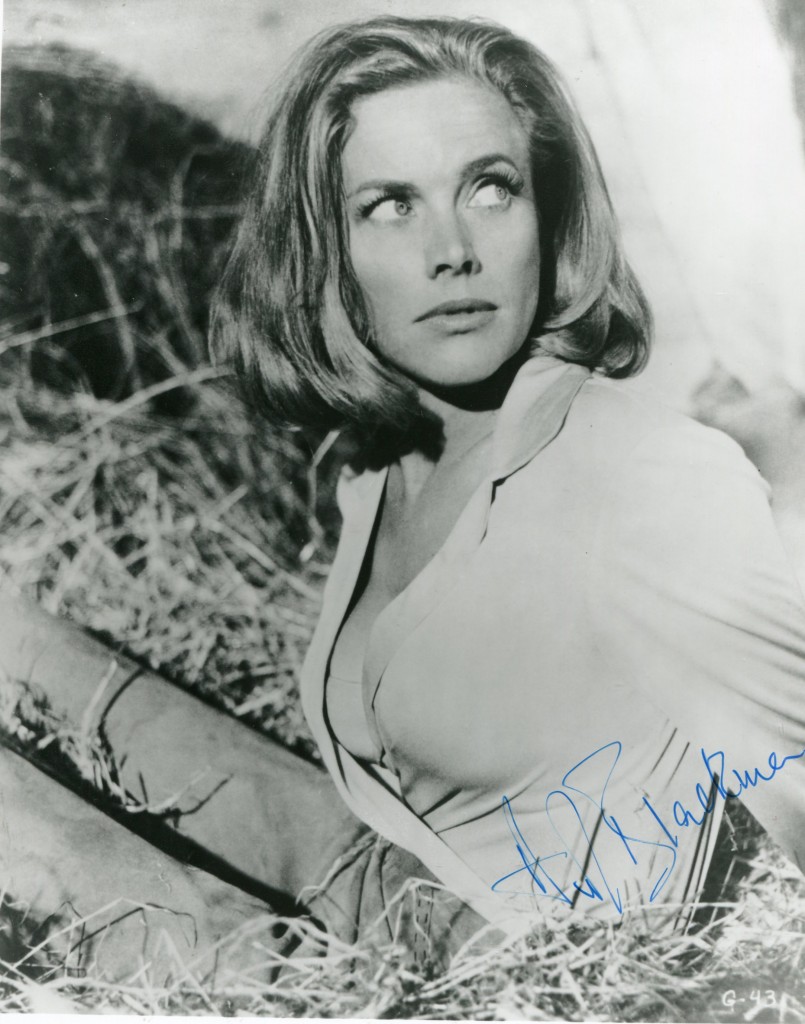 Honor Blackman (Wikipedia)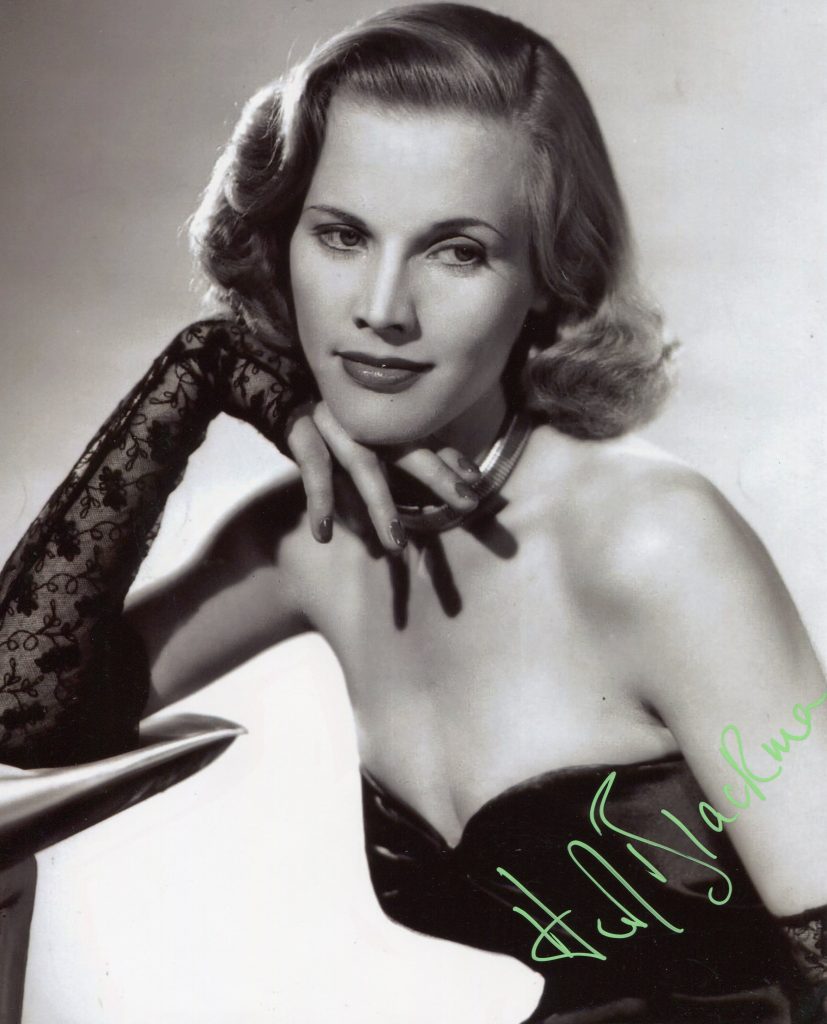 Honor Blackman is to my mind the best of the Bond babes. She starred as 'Pussy Galore' in "Goldfinger" in 1964 opposite Sean Connery. She also starred as Cathy Gale in the groundbreaking televisionseries "The Avengers". Her other movies include "Daughter of Darkness" in 1947, "A Night to Remember" in 1958, "Moment to Moment" in 1966 and "Something Big" in 1971 which was a Western with Dean Martin. She recently played a senior citizen fighting off zombies in "Cockney's vs Zombies" at the age of 87. Honor Blackman died in April 2020.
Honor Blackman obituary in "The Guardian" in 2020
Many actors might have objected to being associated throughout their careers with a char- acter called Pussy Galore. But Honor Blackman, who has died aged 94, revelled in the notoriety of the role of the aviator she played in the James Bond film Goldfinger (1964).
Having been knocked out with a tranquilliser gun by a hench- man, the first thing Bond (Sean Connery) sees when he regains consciousness is Blackman's face leaning over him. "Who are you?", he asks. "My name is Pussy Galore," she says. "I must be dreaming," he replies. Later, after trying a few judo moves on each other, they fall into a different kind of clinch.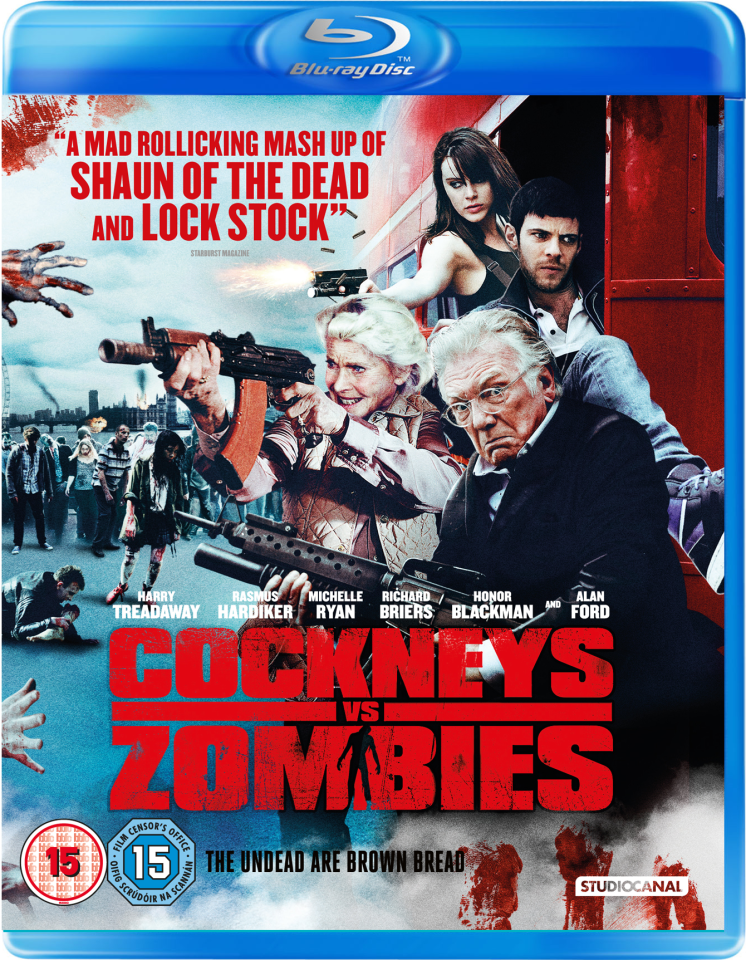 Blackman thus became, and remained, according to most polls, the top Bond girl, helped to a certain extent by the double entendre name. The producers thought about changing the character's name but decided against it. However, the US censors refused to allow Pussy Galore to appear on promotional materials and she was consequently billed as Miss Galore. During promotion in the US, Blackman, who had already found fame in Britain as the agile, black leather-clad Cathy Gale in the television series The Avengers, took delight in embarrassing interviewers by repeatedly mentioning the character's name.
Born in Plaistow, east London, Blackman always called herself a cockney. Her father, Frederick, a civil service statistician, who believed he was passed over for promotion because of his accent, was determined that his four children should have better opportunities.
For Honor's 15th birthday, he offered her the choice between a bicycle and elocution lessons, and she chose the latter. "My teacher was wonderful," Blackman recalled. "She introduced me to poetry and plays and convinced my father that I had some talent. So, after attending North Ealing primary school and Ealing County grammar school for girls, I went to the Guildhall School of Music and Drama, though only one evening a week."
At the age of 22, Blackman started to get ingenue parts, palely loitering in mostly J Arthur Rank films. Among her better early roles was that of a middle-class girl hoping that her fiance (Dirk Bogarde) will get his idea of becoming a concert pianist out of his system in the The Alien Corn episode of the anthology film Quartet (1948); and Susie Bates, one of the three title roles in the rather dated A Boy, a Girl and a Bike (1949).
In A Night to Remember (1958), Blackman was one of the first-class passengers on the Titanic, determined not to leave the ship without her husband, and she was Norman Wisdom's love interest as a secret agent in the second world war farce The Square Peg (1958). Her final pre-Goldfinger film was as the Greek goddess Hera in Jason and the Argonauts (1963), bickering with her husband Zeus on Mount Olympus.
In 1962, as Cathy Gale, who could get the better of any villain in a fight, Blackman joined Patrick Macnee in the second season of the TV series The Avengers, setting the pattern for intelligent, stylish and assertive women who followed her in the show and elsewhere on films and television. The song that she recorded with Macnee, Kinky Boots, did not make a great impression when released in 1964, but fared better as a piece of 1960s nostalgia when reissued in 1990.
Because of The Avengers, Blackman was cast as Pussy Galore. She later stated that when she was playing the role of Pussy, she knew her character had been written as a lesbian in the novel, unlike in the film where, despite claiming to be immune to his charms, she is eventually bedded by Bond.
Her early demure days at Rank long behind her, Blackman settled into a number of secondary "other woman" roles. In Life at the Top (1965), Blackman was seductive and sly as a TV commentator who lures Joe Lampton (Laurence Harvey) away from his wife, and as the unfulfilled wife of a pompous aristocrat (Jack Hawkins), she has a tumble in the hay with Bosky Fulton (Stephen Boyd) in the mediocre British western Shalako (1968), though the leads were Connery and Brigitte Bardot.
After a topless scene in the unremarkable Canadian-set drama The Age of Innocence (1977) and appearing in the creaky gothic horror film The Cat and the Canary (1978), Blackman was not seen on the big screen for another two decades.
Meanwhile, she was appearing regularly on television – principally as a glamorous, young-at-heart, man-eating mother in all 96 episodes of the sitcom The Upper Hand (1990-96) – and consistently on stage.
Blackman's West End appearances included Wait Until Dark (1966) and The Deep Blue Sea (1977) and transfers of Broadway musicals, as the baroness in The Sound of Music (1981), Peggy in On Your Toes (1984), Mrs Higgins in My Fair Lady (2006) and Fräulein Schneider in Cabaret (2007). She spent most of 1987 as Mother Superior in the musical Nunsense at the Fortune theatre.
Her return to feature films in the late 90s included a portrayal of Joy Adamson in To Walk With Lions (1999) and roles in Bridget Jones's Diary (2001) and Cockneys vs Zombies (2012), a horror-comedy in which Blackman, returning to her roots, is a gun-toting senior citizen. In her late 80s, she toured with her one-woman show Honor Blackman as Herself, in which she sang songs , recited and told personal anecdotes.
Blackman, a keen Liberal Democrat, was never afraid to express her political views. In 2002, she refused a CBE because she was a supporter of Republic, the campaign to replace the monarchy.
"They ring you beforehand to ask if you'd like to accept, and I think they were quite shocked when I declined," she commented. "But since I'm a republican I thought it would be somewhat hypocritical to pop up to the palace." She always had sharp things to say about Margaret Thatcher's period as prime minister and even took Connery to task for his status as a tax exile.
Blackman was twice married and divorced. She is survived by two children, Lottie and Barnaby, from her second marriage, to the actor Maurice Kaufmann.
Gary Brumburgh's entry:
Comparing this sultry-eyed blonde to Greta Garbo and Marlene Dietrich may seem a bit overzealous, but Honor Blackman's stylish allure over the years cannot be denied.
One of four children, Blackman was born in London's East End to a statistician father, employed with the civil service, and homemaker mother. She received diction lessons as a teenager and later attended the Guildhall School of Music and Drama. She temporarily followed in her father's footsteps with a job in the civil service, then worked as, of all things, a dispatch rider during World War II. This is where she developed some of her trademark athleticism.
Blackman received her first acting work on stage in London's West End as an understudy for "The Guinea Pig". She continued with roles in "The Gleam" (1946) and "The Blind Goddess" (1947), before moving into film. She debuted with Fame Is the Spur (1947), starring Michael Redgrave. In this picture, Blackman dies from a horse-riding accident. This film established the strange pattern where many of her movie characters meet untimely deaths.
Signed up with the Rank Organization, Blackman joined several other starlet hopefuls who were being groomed for greater fame. She was initially cast as demure, pleasant young things or "English Rose" types and received dependable but unmemorable co-star billing in films, such as Daughter of Darkness (1948) (1948),Quartet (1948), A Boy, a Girl and a Bike (1949) (1949), So Long at the Fair (1950) (1950) and Green Grow the Rushes (1951) (1951), the last starring a young Richard Burton. Hollywood also took brief notice when she was cast as the second lead femme in MGM'sConspirator (1949) (1949), starring Elizabeth Taylor and Robert Taylor.
The stress and struggles of advancing her career coupled with a divorce from her first husband, Bill Sankey, and Blackman suffered a nervous collapse in the mid-1950s. After a brief time recovering in a hospital, she regained her health and began rebuilding her career with rather obligatory "B" level fare, at first. This re-entry culminated with a co-starring role in one of the more famous re-tellings of the tragic "Titanic" tale, A Night to Remember (1958) (1958), co-starring Kenneth More and David McCallum. Developing a solid footing again, she filmed The Square Peg (1958) (1959), with comedian Norman Wisdom, and A Matter of WHO (1961) (1961), with Terry-Thomas.
TV series work then also came her way, notably with the highly popular The Avengers(1961), co-starring Patrick Macnee as John Steed. As the leather-clad "Mrs. Cathy Gale", Blackman showcased her incredible beauty, self-confidence, and athletic derring-do. Her admirable qualities made her not only a catch for the men, but an inspirational figure for the 1960s feminist movement. Blackman left the show at its peak, however, and was replaced by the equally-assertive and popular Diana Rigg as "Mrs. Emma Peel".
Not out of work long, Blackman took on the role of the Greek goddess, "Hera", in the popular movie adventure, Jason and the Argonauts (1963) (1963), with marvelous Ray Harryhausen, and the melodrama, Life at the Top (1965) (1965), with Laurence Harvey. She then filmed the most popular role of her career: "Pussy Galore". In the classic "James Bond" movie, Goldfinger (1964) (1964), Blackman went toe-to-toe with Sean Connery's womanizing "007" and created major sparks on screen, managing to outclass the (wink-wink) double-meaning of her character's name.
This resurgence of popularity should have lead to better film opportunities but did not. Blackman toiled for the most part in low-level melodramas and routine adventures. She earned raves on stage, however, as the blind heroine of the thriller, "Wait Until Dark", as well as for her dual roles in "Mr. and Mrs.", a production based on two of Noel Coward's plays. She also enjoyed working occasionally with her second husband, actor Maurice Kaufmann, in the play, "Move Over, Mrs. Markham", and the film thriller, Fright (1971), with Susan George. On stage, she became a throaty-voiced sensation in various musicals, such as "A Little Night Music", "The Sound of Music", "On Your Toes" and "Nunsense".
Divorced from Kaufmann in 1975 (he died in 1997), Blackman never remarried. The couple adopted two children in the late 1960s, Lottie and Barnaby. Now a octogenarian, the ever-lovely and still glamorous star performs frequently, more recently working in the long-running, English hit comedy series, The Upper Hand (1990), and in her one-woman stage show, "Wayward Ladies".
– IMDb Mini Biography By: Gary Brumburgh / gr-home@pacbell.net
TCM overview:
Lovely, seductive, and absolutely able to take care of herself in a jam, Honor Blackman helped to establish the tough girl persona that would be adopted and honed in later decades by successors like Milla Jovovich and Kate Beckinsale. The London native moved from stage to screen for roles in features like "Quartet" (1948) and "A Night to Remember" (1958), but would first find genuine fame on television with the droll adventure series "The Avengers" (ITV, 1961-69). As leather-clad tough girl Cathy Gale, Blackman wowed viewers with her femininity and physicality, and that appealing combination led her to be cast in the classic James Bond film "Goldfinger" (1964) as the memorably monikered Pussy Galore. Although many of the female leads in 007 adventures fell victim to the so-called "Bond Girl Curse," Blackman's career moved along in the wake of "Goldfinger," though the majority of her subsequent films proved to be minor and/or forgettable. She instead found satisfaction working on the stage in productions like "Wait Until Dark" and made periodic appearances on both American and British television. Although Blackman never became a top-tier star, she essayed two iconic characters and proved to be a dependable and desirable performer, expanding her already impressive résumé with assignments right up through her mid-eighties.
Honor Blackman was born on Dec. 12, 1927 in London, England. Blackman's childhood was marred by a difficult relationship with her father, a World War I veteran-turned-civil servant. A strict authoritarian, he was especially hard on both his homemaker wife and daughter, who found him unreasonably demanding. Verbally abusive to Honor, he also occasionally beat her with a belt and rarely offered any sort of praise or affection. On the plus side, however, he did offer to pay for either a bicycle or elocution lessons. Already interested in performing, thanks to her participation in her school's drama class, Blackman chose the latter and shed her Cockney accent in the process. Her father also insisted that she study self-defense and the dexterity Blackman developed from her judo classes proved invaluable in later life.
After her father hit her in the face for wearing lipstick, Blackman moved out at age 18, staying at first with a friend's family and then on her own. Fortunately, Blackman's studies at the Guildhall School of Music and Drama paid off and acting roles soon started to come. During that period, she also married her first husband, businessman Bill Sankey. Blackman made her film debut in the British drama "Fame is the Spur" (1947) and quality work opposite Dirk Bogarde in the acclaimed anthology picture "Quartet" (1948) announced her talents to the motion picture world. She also earned a supporting part in the Robert Taylor and Elizabeth Taylor vehicle "Conspirator" (1949), an MGM production shot in England. Just as her career was gaining momentum, Blackman discovered she was pregnant and opted to have an abortion, an illegal procedure in England at the time.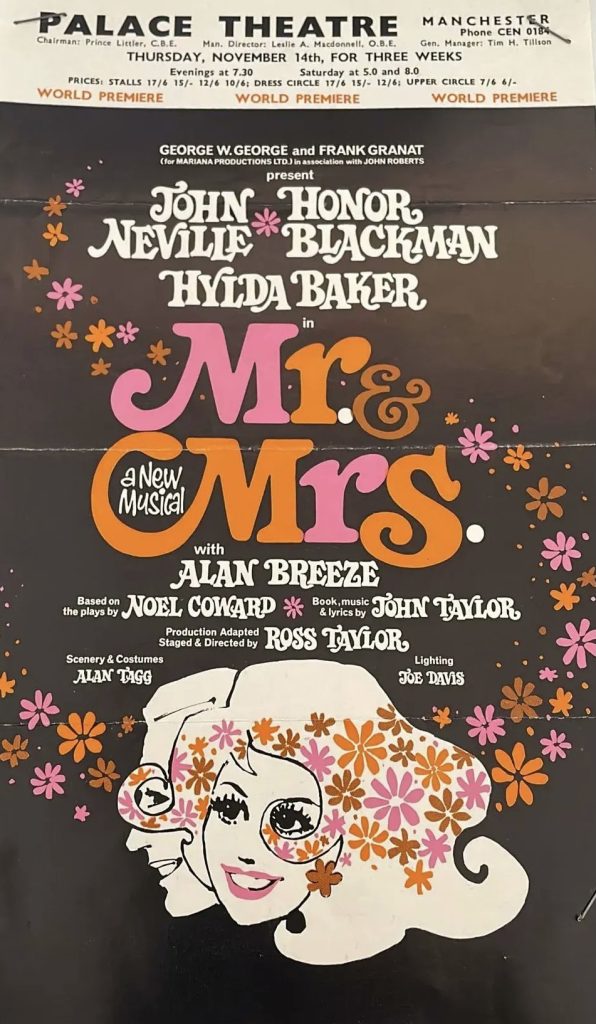 She went on to appear in such notable movies as "So Long at the Fair" (1950) and "The Rainbow Jacket" (1954), but her marriage to Sankey came to an end in 1954, the result of extensive jealousy on his part and an unhappy reminder of the behavior that had soured Blackman's relationship with her father. The strain contributed to a nervous breakdown and she spent a month in a psychiatric facility.
She was soon able to resume her career and landed the female lead in "A Night to Remember" (1958), the Rank Organization's celebrated drama about the sinking of the RMSTitanic. She also gained some small screen experience on programs like "Probation Officer" (ITV, 1959-1962) and "The Four Just Men" (ITV, 1959-1960). In 1961, Blackman wed her second husband, actor Maurice Kaufmann, who had a lengthy career in British films, television and stage productions, and the couple went to adopt two children.
On the heels of that big life event, Blackman was cast as one of her most beloved characters. In 1962, she joined "The Avengers" (ITV, 1961-69) as Cathy Gale, the very able partner of suave John Steed (Patrick MacNee). Looking most fetching in a catsuit and able to best virtually any opponent in a fight, thanks to Gale's mastery of judo, the impressively lithe Blackman was an instant success and soon found herself a popular pin-up girl. During her second season on the show, she and MacNee even recorded a comic single called "Kinky Boots." The Cathy Gale catsuit look later became a standard fashion accessory for successors like Milla Jovovich and Kate Beckinsale in their respective genre film outings. A newly famous Blackman returned to the silver screen as the Goddess Hera in the fantasy adventure "Jason and the Argonauts" (1963), but her career possibilities in that arena would soon accelerate considerably.
At that point, "The Avengers" had yet to play on American television, but James Bond producer Albert "Cubby" Broccoli knew from her charismatic work on the program that Blackman would be a perfect addition to the 007 universe. Thus, she was given the opportunity of being cast in "Goldfinger" (1964), one of the series' finest entries; unfortunately, she was also saddled with the single most – for obvious reasons – infamous "Bond Girl" name in the 007 universe: Pussy Galore. Embarrassing moniker aside, the ever lethal Blackman made for one of the series' most memorable leading ladies and proved to be a novel challenge for Sean Connery's suave agent. Her brand of femme fatale was still fairly novel at the time, but would eventually become a staple of action movies in the decades to come. While the sexism of "Goldfinger" was very much of its time – including the belief that even the seemingly lesbian Galore was not immune to Bond's seductive powers – Blackman still became a favorite of feminists. Atypically mature at age 37 when was cast, Blackman also proved to be one of the few Bond Girls to benefit from the series' wide exposure.
Her career was not without its rough passages, however. Blackman departed from "The Avengers" after two years in favor of more film work, though limp formula fare like "The Secret of My Success" (1965) did little to achieve that goal. She capitalized on her new image with Honor Blackman's Book of Self Defense (1965) and starred in a West End production of "Wait Until Dark," but a second go-around with Connery in the European Western "Shalako" (1968) proved disappointing. Following equally limp efforts like "Lola" (1970) and the horror thriller "Fright" (1971), it seemed like Blackman's motion picture career would not amount to much in the long run.
After finishing her role in the awful Dean Martin western "Something Big" (1971), Blackman stepped away from movies for a few years and concentrated on television, guesting on programs like "Columbo" (NBC, 1971-2003). Her marriage with Kaufmann ended in 1975, but they remained friends. She returned to the film world in "To the Devil a Daughter" (1976), one of Hammer's final horror efforts and a lesser one at that. On the other end of the scale was Radley Metzger's sly and well produced "The Cat and the Canary" (1978), an affectionate homage to more old-fashioned, less explicit scare fare. Globe-hopping television engagements in the miniseries "Lace" (ABC, 1984) and the original run of "Doctor Who" (BBC, 1963-1989) alternated with stage work in productions like "Nunsense." She also re-entered the world of episodic television in the cast of "The Upper Hand" (ITV, 1990-96), a U.K. comedy inspired by the popular Tony Danza sitcom "Who's the Boss?" (ABC, 1984-1992).
By now in her seventies, Blackman's schedule slowed down somewhat, but certainly did not come to a standstill. After a 20-year absence from cinema, Blackman co-starred in the horror thriller "Tale of the Mummy" (1998) and essayed a supporting role in the Renée Zellweger hit "Bridget Jones's Diary" (2001) as Penny Husbands-Bosworth. On the personal front, Blackman expressed her belief that the time for a monarchy in England had passed. When offered the honor of a C.B.E. (Commander of the Most Excellent Order of the British Empire) in 2001, she stuck by her convictions and turned the designation down.
With finances somewhat tight after the collapse of a pension fund that she had invested in heavily, Blackman continued to work, but was usually able to choose projects of some distinction, including a turn on the legendary soap opera "Coronation Street" (ITV, 1960- ). She also entered into what turned out to be a lengthy run as a spokeswoman for the Marks & Spencer department store chain. In 2005, Blackman's still stunning looks were complimented by Good Housekeeping, which named her "the sexiest woman in her 70s." That same year, she also acted in a touring company of "My Fair Lady" and followed up with "Cabaret," her first work in a West End production for two decades. Alternating between homes in England and Spain, Blackman remained active into her mid-eighties, appearing in the thriller "I, Anna" (2012) and the comic horror tale "Cockneys vs. Zombies" (2012).
By John Charles
The above TCM overview can also be accessed online here.
For Honor Blackman's website, please click here.