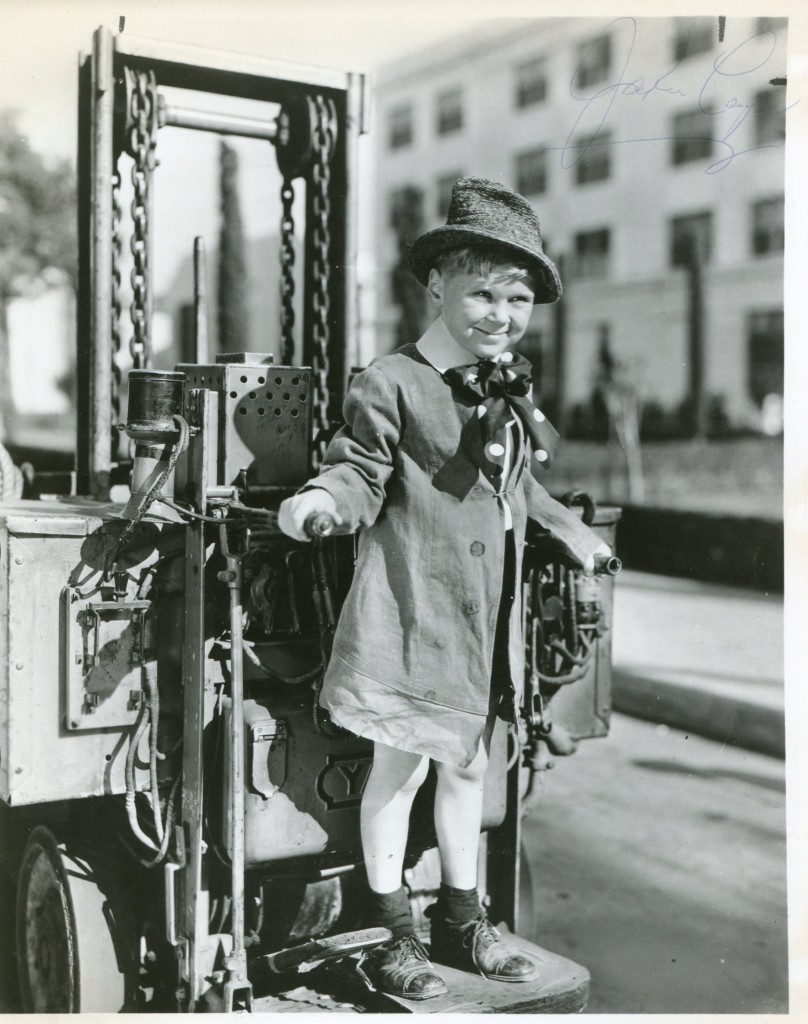 Jackie Cooper was born in 1922 in Los Angeles. He was one of the leading child actors in Hollywood in the 1930's. He starred in the "Our Gang" series and in 1931 signed a contract with MGM. He starred opposite Wallace Beery in a series of movies including the well-regarded tearkerker "The Champ". Among his other films was "Life with Henry" in 1941. He became a well-respected television direcor who acted on occasion. In the late 1970's he played Perry White in the 'Superman@ films. He died in 2011.
Ronald Bergan's "Guardian" obituary:
Jackie Cooper, who has died aged 88, was the first child star of the talkies, paving the way for Freddie Bartholomew, Shirley Temple and Mickey Rooney. While they could turn on the waterworks when called for, Cooper beat them all easily at the crying game. Little Jackie, from the age of eight until his early teens, blubbed his way effectively through a number of tearjerkers. Sometimes he would try to suppress his tears, pouting and saying, "Ah, shucks! Ah, shucks!" As a critic wrote in 1934: "Jackie Cooper's tear ducts, having been more or less in abeyance for the past few months, have been opened up to provide an autumn freshet in Peck's Bad Boy."
Cooper had started off in the movies billed as "the little tough guy" in eight of Hal Roach's Our Gang comedy shorts. He was a manly little fellow and complained to his mother when, during the shooting of the fight scene in Dinky (1935), the other children were warned to be careful not to hurt him. "I don't want fellows like these to treat me like a sissy!" he said.
The sobbing all began with Skippy (1931), based on a popular comic strip, for which Cooper was Oscar-nominated (aged nine and still the youngest best actor nominee) in his first starring role. When he refused to do a crying scene on the set, the film's director, Norman Taurog, who was also his uncle, threatened to shoot Jackie's dog. (The title of Cooper's 1981 autobiography was Please Don't Shoot My Dog.)
"Later, people tried to rationalise to me that I had gained more than I lost by being a child star," Cooper wrote. "They talked to me about the money I made. They cited the exciting things I had done, the people I had met, the career training I had had, all that and much more … But no amount of rationalisation, no excuses, can make up for what a kid loses – what I lost – when a normal childhood is abandoned for an early movie career."
He was born John Cooper Jr into a movie family in Los Angeles. His father, John, was a studio production manager who walked out on his family when Jackie was two. His mother, Mabel, was a picture palace pianist. Jackie started in show business at the age of three, appearing as an extra with his grandmother, who used to tote him along while looking for film work.
In 1931 Cooper made the three films that launched his career. Skippy told of the adventures of two friends, Cooper, in the title role, and Bobby Coogan (younger brother of Jackie "the Kid" Coogan) as Sooky, from different sides of the tracks. Both gave entirely natural performances, and a sequel almost as popular, called Sooky, also directed by Taurog, followed.
King Vidor's The Champ was a touching tale of an ex-champion prizefighter (Wallace Beery) and his small son (Cooper) trying to scrape a living in Tijuana, Mexico. Beery is addicted to gambling and drink, but in the eyes of his hero-worshipping son, he's still "Champ". Despite warnings from his doctor about his heart, he wins a comeback fight, but the terrible beating he has taken in the process causes him to collapse and die in the dressing room, in the arms of his weeping son.
Cooper was the antithesis of the grizzled, good-bad ugly guy Beery, yet the chemistry between them was remarkable. Cooper would relate years later that Beery off-camera was a disagreeable man. Cooper remembers that he once impulsively threw his arms around Beery after an especially well-played tender scene and that the gruff Beery pushed him away. Cooper produced genuine tears.
The duo would make three further films together. In Raoul Walsh's rousing The Bowery (1933) and the sentimental O'Shaughnessy's Boy (1935), the oafish Beery tries to win Cooper's affection. However, the film that Cooper was justifiably most proud of was Treasure Island (1934), in which both he, as Jim Hawkins, and Beery, as Long John Silver, were excellent.
The Devil Is a Sissy (1936) starred MGM's three top child actors: prissy Bartholomew, a hit in the title roles of David Copperfield and Little Lord Fauntleroy; lachrymose Cooper; and the up-and-coming, pugnacious Rooney. "The studio used to threaten my mother with Bartholomew, and even me," Cooper commented in adulthood. "They'd say, 'Now, if you're not better in this today, we're going to get Freddie Bartholomew.' They set up this kind of competition, which isn't nice."
By 1936, despite his popularity, Cooper had reached his teens, and MGM decided not to renew his contract. After leaving the glossiest of Hollywood studios, he went to Monogram, the poorest, for an atmospheric programmer called Boy of the Streets (1937). He continued to be active playing teenagers for the next six years, appearing mostly in B-movies, with a few exceptions: That Certain Age (1938), as Deanna Durbin's young beau, and in Ziegfeld Girl (1941), as Lana Turner's brother. In Glamour Boy (1941), Cooper played an ex-child star who suggests the studio remake Skippy, the film that made him famous, with a new kiddie.
When America entered the second world war, Cooper served in the US navy with the rank of captain. After the war, he found little work in Hollywood and moved to television, having overcome a drinking problem. There were a couple of notable TV series: The People's Choice (1955-58), a sitcom in which he had a basset hound whose thoughts were given voice for the audience; and Hennesey (1959-62), in which Cooper was a naval doctor at a US military base.
Cooper returned to the big screen after 13 years in an inane comedy, Everything's Ducky (1961), with Rooney and a talking duck. But most of his time was taken up as an executive producer for Screen Gems, the TV subsidiary of Columbia Pictures, where he worked on the sitcoms Bewitched, The Donna Reed Show and Hazel.
In 1972 Cooper directed his only feature film, Stand Up and Be Counted, starring Jacqueline Bisset. Touted as the first American film about women's lib, it received tepid reviews – such as one in the New York Times claiming that "it erratically skips between comedy and serious causes, with somewhat less than impressive impact either way". More rewardingly, Cooper was busy directing numerous TV shows, and won Emmy awards for episodes of M*A*S*H (1974) and The White Shadow (1979).
More than four decades after he had been the biggest little star around, Cooper found himself in the full spotlight again when he was cast as the tough-talking, cigar-chomping Perry White, editor-in-chief of the Daily Planet, in four Superman films (1978-87). Cooper got the nod after the original choice, Keenan Wynn, had to drop out while on the set in London, due to heart problems.
Cooper was married three times and had four children, of whom his two sons, John and Russell, survive him. None of them went into show business, on the wishes of their father. "It's no way for a kid to grow up," Cooper explained.
• Jackie (John) Cooper, actor and director, born 15 September 1922; died 3 May 2011
The above "Guardian" obituary can also be accessed online here.