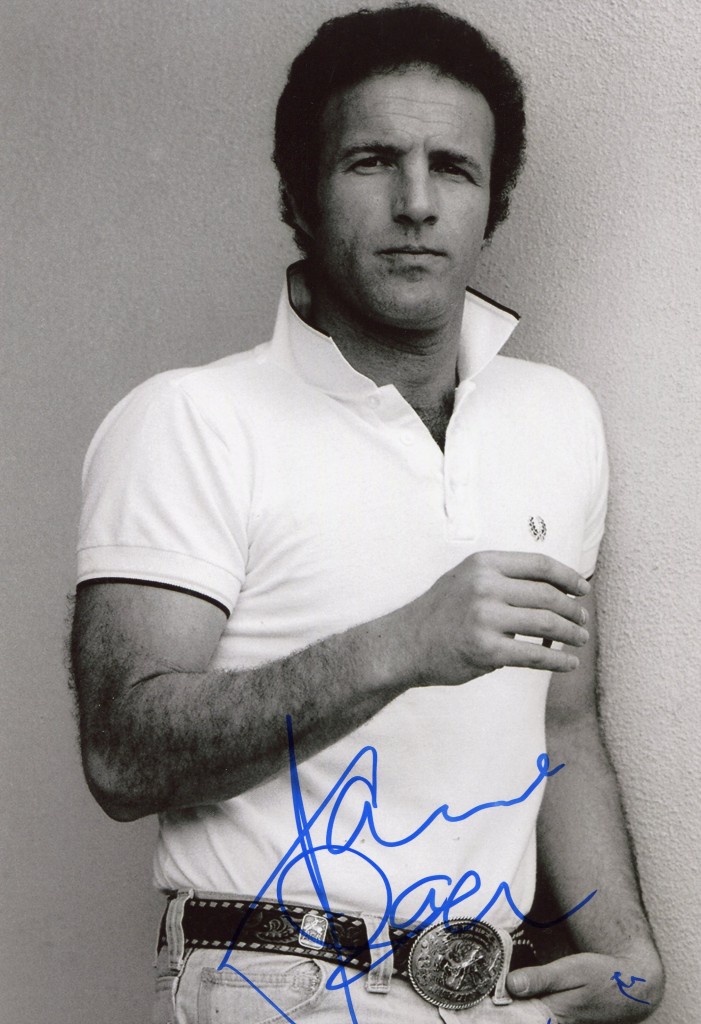 James Caan is regarded as one of the leading actors of film in the 1970's. He was born in the Bronx, New York in 1970, His first major film role was in 1964 when he played a punk in the Olivia De Havilland movie "Lady In A Cage". Stardom came with his role as the brain damaged football player in Francis Ford Coppola's "The Rain People" in 1968. Coppola cast him as one of the Corlone brothers in the iconic "The Godfather" in 1971 with Marlon Brando and Al Pacino. Caan and Pacino's career really took off and throughout the 1970's both enjoyed major stardom. Caan's films at this time included "Rollerball", "A Bridge Too Far" and "Come A Horseman". Caan though turned down some major box office hits such as "Blade Runner", "Kramer V's Kramer" and "Apocalypse Now". He stopped acting on fim between 1982 and 1987 and then resumed his career in a more low key fashion in such films as "The Way of the Gun", "The Yards" and "This Is My Father".
TCM overview:
Despite an up-and-down career that was mired by excess and irrational behavior, actor James Caan was a gifted performer who was as capable of pulling heart strings as he was of breaking someone's kneecaps. Caan emerged from the cauldron of New York City's thriving acting scene in the 1950s to become a noted player on the stage and on television. Though he graduated to films soon after his salad days in New York after swearing off television for the next several years, he had his first big breakthrough on the small screen, playing dying football player Brian Piccolo in "Brian's Song" (ABC, 1971). His performance in what was considered to be one of the best television movies ever made earned Caan considerable acclaim, as well as an Emmy Award nomination. But the following year put Caan on the map permanently, with his energetic portrayal of the hot-headed Sonny Corleone in "The Godfather" (1972), a role with which he was forever identified – most notably in the numerous mobster roles he played in the ensuing decades. While he had several bright spots as a leading man throughout the years, including as a television regular on "Las Vegas" (NBC, 2003-08) and as the victim of an obsessive fan in the disturbing film, "Misery" (1990), Caan settled into a niche as character actor more often than not, performing some variation of the mobster role that made him famous.
Born on March 26, 1939 in The Bronx, NY, Caan was raised in Sunnyside, Queens one of three children by his father, Arthur, a butcher and his mother, Sophie. Both his parents were Jewish immigrants from Germany who fled the Nazis before the war. He attended P.S. 150 – Christopher Street School in Brooklyn, where he caused untold amounts of trouble and was eventually kicked out, though whether or not dropping a fellow student out of a window on a bet contributed to his departure remained unclear. Caan eventually made his way to the Rhodes Preparatory School, where he continued raising hell while stuffing the ballot box to become president of the student body, as well as playing several sports, including baseball, basketball and football. After graduating a year before his fellow classmates, Caan attended Michigan State University in East Lansing, MI. He majored in economics and continued playing football, but soon found himself homesick. Caan soon transferred to Hofstra University in Hempstead, NY, which is where he discovered acting.
With the prospect of entering the meat delivery business with his father as his one career option, he began taking acting seriously, studying with such esteemed coaches as Wyn Handman at the American Place Theatre and Sanford Meisner at the Neighborhood Playhouse. After spending several years honing his craft in the classroom, he had one of his first parts in "La Ronde," Arthur Schnitzler's examination of early 20th century class division and sexual mores. He made the jump to the small screen with episodes of various popular television shows, including "Naked City" (ABC, 1958-1963), "The Untouchables" (ABC, 1959-1963) and the anthology series "Alcoa Premiere" (ABC, 1961-63), which featured a new one-hour drama every week. Following episodes of "Doctor Kildare" (NBC, 1961-66) and "Ben Casey" (ABC, 1961-66), Caan began his film career with an uncredited walk-on as an anonymous soldier in the Billy Wilder comedy "Irma La Douce" (1963). He made his official film debut in the campy thriller "Lady in a Cage" (1964), playing a ruthless thug who terrorizes a wealthy widow (Olivia de Havilland).
Within just a few years after making his screen debut, Caan landed his first leading role, starring in Howard Hawk's tense race car drama, "Red Line 7000" (1965). He followed with a supporting turn as a young gunslinger opposite John Wayne and Robert Mitchum in Hawks' gritty, but redemptive Western, "El Dorado" (1967). Now determined to carve a career in film, Caan starred in the psychological thriller, "Games" (1967), which he followed with a turn as an American astronaut who journeys to the moon only to discover the Russians beat the United States to the punch in the early Robert Altman feature, "Countdown" (1968). After starring in forgettable movies like "Journey to Shiloh" (1968) and "Perlas Ng Silangan" (1969), Caan was a brain-damaged hitchhiker who encounters a disillusioned housewife (Shirley Knight) trying to escape the trappings of her domestic life in one of Francis Ford Coppola's first features, "The Rain People" (1969).
Continuing along in features, he starred as the titular former high school basketball player in the failed adaptation of John Updike's "Rabbit, Run" (1970). In the long-forgotten romantic comedy "T.R. Baskin" (1971), he was the short-time beau of a naïve young woman from the country (Candice Bergen) trying to make it in Chicago. Though he vowed to stay away from television, Caan eventually returned to the small screen for what became his breakout role; playing cancer-stricken professional football player Brian Piccolo in "Brian's Song" (ABC, 1971). Based on Piccolo's life and career, Caan delivered a moving performance as the Chicago Bear running back whose brief life was enhanced by his close friendship with football legend Gayle Sayers (Billy Dee Williams). Their mutual respect and admiration helped both through trying times – Piccolo helped Sayers in his struggles with injuries and racism, while Sayers was by Piccolo's side throughout his fatal illness. Widely hailed as one of the most affecting television movies of all time, "Brian's Song" was a significant boost for Caan, who earned an Emmy nomination for leading actor.
Caan's triumph in "Brian's Song" was mere prelude for his next performance in Coppola's opening installment of his legendary crime saga, "The Godfather" (1972). Though he originally auditioned to play the cold and calculating Michael Corleone, a role that eventually went to then-unknown Al Pacino, Caan was deemed more suited to play the hot-headed Sonny, the eldest son of crime family head Don Vito Corleone (Marlon Brando) and next in line to take over. Sonny's impetuous nature opens the floodgates to violence when he inadvertently paves the way for a hit on his father, which in turn leads to bloody retaliation while the Don recovers. In one memorable scene among many, he delivers a savage beating on his brother-in-law, Carlo (Gianni Russo), who is caught abusing Sonny's sister, Connie (Talia Shire). But Sonny's vengeance ultimately leads to his downfall when Carlo sells him out to a rival family, who take him down in a hail of bullets at a toll both by a gang of Mafia hit men. More than the sum of its parts, "The Godfather" was a huge hit while being hailed as a cinematic masterpiece at the same time. Numerous awards and nominations were bestowed upon the landmark film, including a Best Supporting Actor nod for Caan at the Academy Awards.
Building off his newfound fame derived from playing Sonny Corleone – a role with which he would be forever identified – Caan starred in the loose adaptation of Fyodor Dostoyevsky's novella, "The Gambler" (1974). Caan played a well-respected literature professor hopelessly addicted to gambling, which gets him into serious trouble with a local bookie (Paul Sorvino). That same year, he co-starred with Alan Arkin in "Freebie and the Bean" (1974) before moving on to play a sailor who falls for Marsha Mason in "Cinderella Liberty" (1975). As Billy Rose, he oozed charm as well as displayed a passable singing voice opposite Barbra Streisand's reprisal of Fanny Brice in "Funny Lady" (1975), the entertaining, but familiar sequel to "Funny Girl" (1968). But most of his post-"Godfather" turns during the 1970s were either less-than-prestigious or box office duds. His one bright spot was starring in the futuristic sci-fi sports actioner, "Rollerball" (1975), playing a legendary veteran of a brutal sport caught up in a world where violence has been outlawed, resulting in an oppressed population needing an outlet to satisfy their bloodlust. Though not the biggest hit at the time of its release, "Rollerball" became a cult classic for later generations.
From "Rollerball" on throughout the rest of the century, Caan struggled to return to his heyday of the early 1970s. Though he failed for the most part, there were occasional turns where the Caan of old emerged. Meanwhile, he suffered several personal setbacks due in large part to his restless and unruly behavior, problems with substance abuse, and multiple marriages plagued by rumors of abuse. Caan was lost among an all-star ensemble cast that included Sean Connery, Robert Redford, Michael Caine and Gene Hackman in Richard Attenborough's epic war film, "A Bridge Too Far" (1977). He gave a solid performance as an easy-going cowboy in the uneven contemporary Western, "Comes a Horseman" (1978), followed by a solid turn opposite Marsha Mason in the film adaptation of Neil Simon's autobiographical play, "Chapter Two" (1979), which was unable to duplicate its Broadway success. Caan delivered one of his best performances in years with Michael Mann's feature debut, "Thief" (1981), playing a professional jewel thief who longs for a normal life, but only after he pays off a crime boss (Robert Prosky) with one last job.
That year marked a turning point in Caan's personal life, when his beloved sister, Barbara, died of cancer. Devastated by her loss, Caan spent the ensuing years trying to recover and even declined to speak of her death decades after. Meanwhile, his career began to spiral, with Caan suffering a box office dud playing the ghost of Sally Field's lovable, but philandering choreographer husband – modeled on Bob Fosse – in "Kiss Me Goodbye" (1982). Frustrated with the direction his career was taking, Caan unofficially retired from the business and spent the next five years away from filmmaking. Instead, he split the majority of his time between his children and sinking deeper into drug addiction. He also watched his bank account dwindle, thanks to a shady accountant who helped relieve him of some money. But he re-emerged in the latter half of the decade to play a disillusioned Army sergeant who tries to dissuade a young private (D.B. Sweeney) from fighting in Vietnam in Francis Ford Coppola's mediocre, "Gardens of Stone" (1987). He followed with a turn as a cop who is angry and resentful of an alien race integrated into human society in "Alien Nation" (1988).
As Caan entered the 1990s, the features in which he starred were more hit and miss, with many projects falling on the latter side of the ledger. Though noted for his sympathetic turn as a successful writer held captive by a deranged fan (Kathy Bates) in "Misery" (1990), he failed to win any converts with his song-and-dance routine alongside Bette Midler in "For the Boys" (1991). Caan delivered an inevitable spoof on his gangster image in "Honeymoon in Vegas" (1992), a modest hit that claimed to be nothing more than a slice of madcap entertainment. After starring as a coach of an unruly college football team in "The Program" (1993), Caan won critical plaudits for his turn as the cranky father of a small-time business man (Dennis Quaid) in "Flesh and Bone" (1993). It was around this time that Caan became fodder for the tabloid news. First, he was one of the first stars to be associated with notorious Hollywood madam, Heidi Fleiss. Just a month later, he was questioned for 10 hours by police when he woke up in a friend's apartment with an aspiring actor, Mark Alan Schwartz, dead on the lawn after falling several stories from the fire escape. Schwartz's death was later determined to be accidental.
While his marriage to third wife, Ingrid Hajek, was deteriorating, Caan was noted for his longtime friendship to Ronald Lorenzo, a drug trafficker who was sentenced to 11 years hard time in federal prison. In early 1994, he was arrested in North Hollywood on a misdemeanor for allegedly waving a loaded semiautomatic pistol in the face of rapper Derek Lee, a charge that was later dropped due to lack of evidence. Making life even more difficult were accusations of physical abuse, when a woman named Leesa Anne Roland sued Caan for battery, accusing that he beat her in a Century City hotel. The suit was later dismissed. Meanwhile, a year after being linked to Heidi Fleiss, Caan checked into the Exodus Recovery Center in Marina Del Rey, CA to treat his addiction to cocaine. Though tarnished, he continued to work regularly, emerging from the ashes to star alongside his son, Scott, who was making his acting debut in the crime drama, "A Boy Called Hate" (1995). In director Wes Anderson's own debut, "Bottle Rocket" (1996), Caan played an eccentric con man who enlists three aimless young men (Luke Wilson and Owen Wilson) to perform a daring, but ill-conceived heist.
Though long associated with violent films, Caan was a surprise choice to co-star opposite Arnold Schwarzenegger in the action thriller "Eraser" (1996), which he followed by appearing opposite Adam Sandler and Damon Wayans in the action comedy "Bulletproof" (1996). After a barely noticed turn in the stark Western, "North Star" (1996), Caan returned to television for his first small screen role since "Brian's Song," playing famed gumsh Phillip Marlowe in the less-than-stellar adaptation of Raymond Chandler's unfinished novel, "Poodle Springs" (HBO, 1998). Having appeared to have put his controversial private life behind him, Caan turned out a series of solid journeyman performances, playing a Mafioso in "Mickey Blue Eyes" (1999), a movie stunt man targeted for murder in "In the Shadows" (2000), a mob-tied lawyer in "The Way of the Gun" (2000), and a corrupt New York Transit Authority employee in "The Yards" (2000). After reviving his 1974 gambler for the contrived "Luckytown" (2001), Caan found himself back on television again, playing a former outlaw-turned-prison warden in "Warden of Red Rock" (Showtime, 2001).
Caan returned to the small screen as his career advanced, not only finding more available work, but also more challenging material. He starred as a Navy captain trying to cover up the causes of an explosion aboard the U.S.S. Iowa that killed 47 sailors in the fact-based docudrama, "A Glimpse of Hell" (FX, 2001). In "The Lathe of Heaven" (A&E, 2002), he was a demented psychiatrist who uses a young man's (Lukas Haas) ability to alter reality with his dreams to remake the world to match his vision of perfection. He next turned in a performance as a small town sheriff investigating the death of his son with the police officer (Johnathon Schaech) who may have killed him in "Blood Crime" (USA Network, 2002). After a career that had now spanned several decades, Caan made his debut as the star of a television series, "Las Vegas" (NBC, 2003-08), playing tough-as-nails casino security chief "Big Ed" Deline, who is also a loving family man despite his past as a director of counter intelligence for the CIA. Though not exactly Emmy material, "Las Vegas" debuted to strong ratings and favorable reviews throughout its run. Caan lasted four years and was replaced by Tom Selleck for the show's final season.
Caan had a few tricks left in his movie career when he turned in a tough comedic performance as the flummoxed birth father of a man raised by North Pole elves (Will Farrell) in the goofy holiday charmer, "Elf" (2003). In "City of Ghosts" (2003), actor Matt Dillon's directing debut, he was a shady businessman whose front man and partner (Dillon) comes looking for him in Cambodia. After a small turn as the unnamed Big Man in Lars Van Trier's "Dogville"(2004), Caan joined his co-stars Marlon Brando and Robert Duvall to reprise their famous roles for the video game, "The Godfather: The Game" (2005). Once free from his obligations to "Las Vegas" in 2007, the actor was able to star in more projects, including a return to the Mafia world for "Wisegal" (Lifetime, 2008), a fact-based crime drama about the rise of a female mobster (Alyssa Milano). He then appeared as the President of the United States in "Get Smart" (2008), the big screen adaptation of the beloved 1960s television series, starring Steve Carell as the awkward government agent Maxwell Smart.
The above TCM overview can also be accessed online
here.