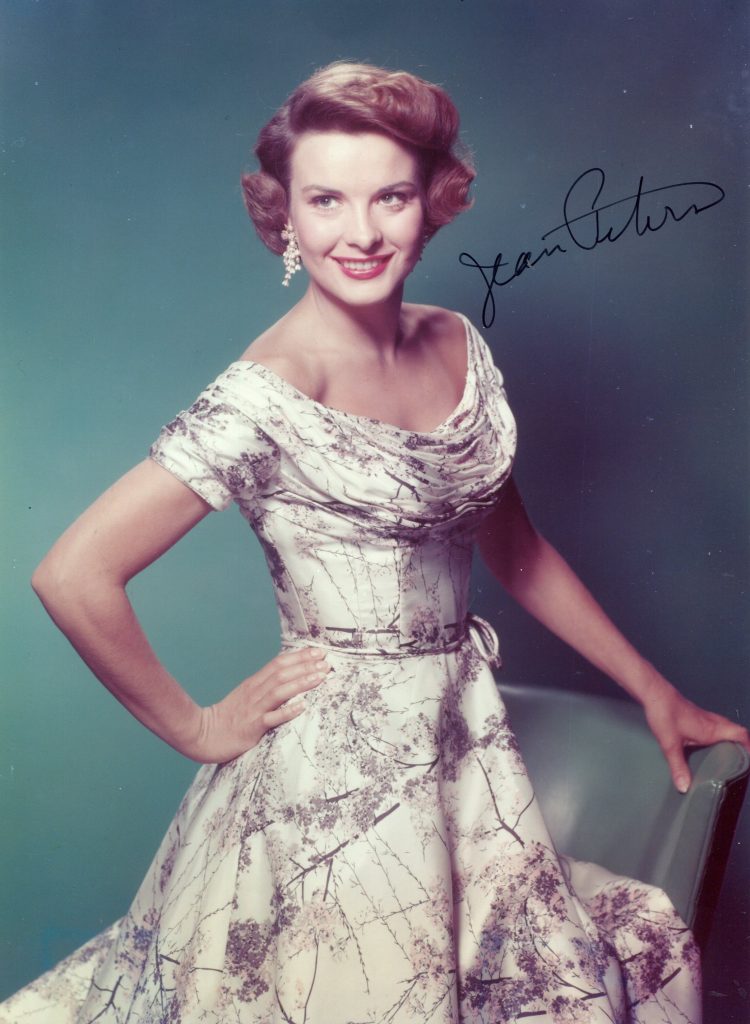 Jean Peters was a very attractive brunette actress under contract with 20th Century Fox in the late 1940's and early 50's.   She retired early on her marriage to Howard Hughes.   She starred opposite some of the most popular leading men of the time including Tyrone Power, Jeffrer Hunter, Joseph Cotten, Robert Wagner, Marlon Brando and Rossano Brazzi.   Her credits include "Captain from Castile" in 1947, "Pickup on South Street" in 1951, "Viva Zapata" and "Three Coins in the Fountain".er acting career on her divorce from Hughes.   She died in 2000.
The bruised face of Jean Peters, with a sticking plaster as strategically placed as a beauty patch, was a striking film image of the 1950s; from Sam Fuller's 1953 A-quality B-movie, Pickup on South Street, in which Peters played an innocent (almost) courier for a commie spy, romanced by Richard Widmark's pickpocket. Tough movie, savvy dame.That part, and her tailored costumes for Rossano Brazzi in Three Coins in the Fountain (1954), were about the best roles that Peters, who has died aged 73, took on in her screen career: one that lasted from 1947 to 1955 and included the westerns Apache (1954) and Broken Lance (1954).Peters gatecrashed the movie business at 20 after winning a Miss Ohio State University popularity contest. Among its prizes was a 20th Century Fox screen test. Her mother drove her from Canton, Ohio to Los Angeles, where Peters was offered a seven-year contract and the female lead in Captain From Castile (1947), an epic filmed in remotest Mexico. Peters looked terrific, in accord with the period's preference for spirited females. In Anne of the Indies (1951), it was she who did the swashing as a woman pirate, self-possessed far beyond her years.Peters seemed not to take Hollywood seriously. She avoided lunch in the commissary (she picnicked with hair and makeup assistants on the floor of the set instead) and went along with the studio publicity presentation of herself as a bejeansed farm girl: "Back home I still have three dogs, 18 cats, a goat named Josephine and a lamb called Ali Baba."This unseriousness might also explain her relationship with the eccentric billionaire, Howard Hughes, who first noticed her at a Santa Catalina Island Fourth of July party in 1946, where her date was the war-hero actor, Audie Murphy. By the next year she had ditched Murphy (so angering him that he tried to bribe Hughes's guards for an opportunity to take a shot at the man), and resided in a Westwood house which Hughes provided.
It was rumoured – falsely – that the couple married under the stars on Mulholland Drive; though they did see each other at least weekly for movies in his screening rooms (he owned RKO studios). While Hughes publicly dated better-known movie glamour, Peters passed on night life and arrived on set on time – "punctual Pete" – for, among other films, Viva Zapata! (1952), again almost combusting as a fake Latina, and Niagara (1953) as a dignified newlywed up against Marilyn Monroe's wiggling.
Accounts vary, but either on a plane from Rome where she filmed Three Coins, or because of an airport luggage switch, in 1953 she met a Texas oil man, Lockheed plane executive and possible CIA employee, Stuart Cramer III. Though Hughes was also seeing Susan Hayward and Merry Anderson, he was displeased when newspaper gossip Louella Parsons phoned to get his reaction to the Peters-Cramer engagement. Their marriage in 1954 lasted 33 days before a separation, possibly expedited by the pryings of a private eye hired by Hughes.
Whether because of these matrimonial worries, or her drinking problem (Hughes ordered the Beverly Hills Hotel to serve her no liquor but a half-bottle of champagne on her birthday), Peters was distracted enough to accidentally burn herself with a branding iron on the set of Broken Lance, and to have a fling with co-star Robert Wagner. She made only one film after that, the sombre biopic A Man Called Peter (1955), then endured studio suspension for refusing films and loan-outs.
Peters finally married Hughes in 1957 in Tonopeh, Nevada, under the name Marian Evans (his alias was GA Johnson), followed much later by a properly monikered ceremony on his yacht off Miami Beach.
Hughes expected his staff to be on 24-hour call, and Peters soon found he demanded the same from his wife: she wasn't even allowed out shopping. Their later cohabitations were tense because of his bizarre hangups (he hated her smoking or using a vacuum cleaner).
Finally they arranged parallel lives. Peters was guarded in a phony French chateau on a Bel Air hilltop, while Hughes remained depressed and dependent on weird aides in his sanitary redoubt above a Las Vegas casino. He proposed reconciliation in 1966, but couldn't cope with even her vestigial normality: Peters sued for divorce. In return for a $70,000-a-year settlement, granted in 1971, she promised not to return to the movies while he lived, or to discuss their private life.
Not long before his death in 1976, Peters received a last letter from Hughes telling her that he had always loved her. By then, she had remarried 20th Century Fox vice-president Stanley Hough.
After Hughes's death, she appeared in a few television productions (notably a public broadcasting version of Winesburg, Ohio) and did an old star's ritual guesting on TV series. She returned to university, too, completing the BA that had been interrupted by 30 years of fame and secrecy. She intended to teach, but never did.
• Jean Peters, movie actress, born October 15 1926; died October 13 2000
The above "Guardian" obituary can also be accessed online here.