Jennifer Hilary obituary in "The Guardian" in 2008.
Lovely Jennifer Hilary made an impact in some popular British films of the 1960's. She was born in 1942 in Surrey. Among her film credits are "Becket" in 1964 with Peter O'Toole and Richard Burton, "The Heroes of Telemark" with Kirk Douglas and Richard Harris and "The Idol" with Jennifer Jones. She later became a well known florist. Sadly, she died in 2008.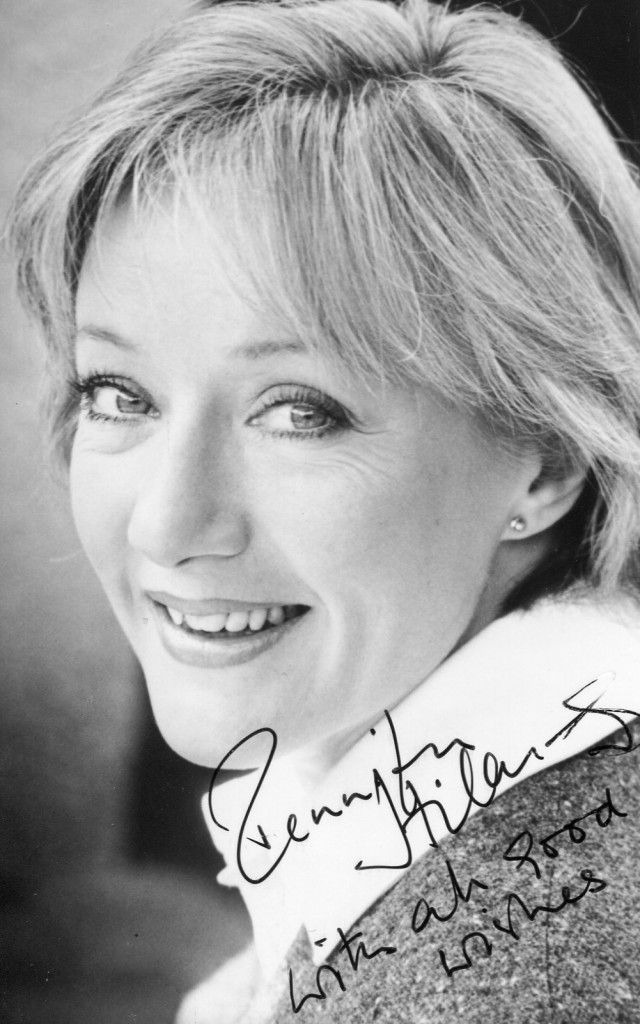 "Guardian" obituary:
During her period of stardom in the West End and on Broadway, Jennifer Hilary, who has died of cancer aged 65, adorned the acting profession, in more than one sense. Blonde, with pale blue eyes, an equally pale complexion, and a mouth that could subtly move from a knowing smile to conveying hurt, she displayed an emotional range while still young. But what those who knew her will miss most is her gift for lasting friendship and sense of personal style; the actor Barbara Leigh-Hunt remarked that she could tell from the way a room and its flowers were arranged that Hilary had been there.
She was born in Frimley, Surrey, but her early years were spent in Cairo, where her father worked for the British Overseas Airways Corporation, supervising flying boats. Hilary then attended the Elmhurst ballet school in Camberley, and, although her height ruled out any hopes of her becoming a ballerina, she retained a love of dance.
After training at Rada, where she won the Bancroft gold medal, she made her professional debut in 1961 at the Liverpool Playhouse, moving on to Birmingham Rep the following year. An assistant stage manager at the latter was Tom Rand, later an Oscar-nominated production designer; he and Hilary became friends, and remained so for 46 years.
She celebrated her 21st birthday on Broadway, while in Jean Anouilh's The Rehearsal (1963) at the Royale theatre, with Coral Browne and Keith Michell. Her West End debut was in The Wings of the Dove, at the Haymarket in 1964. Later that year, she appeared with Ian McKellen, in his West End debut, in A Scent of Flowers at the Duke of York's, then supported Ingrid Bergman in Michael Redgrave's production of A Month in the Country, opening Guildford's Yvonne Arnaud theatre, in 1965.
Returning to New York in 1966, she appeared at the Shubert theatre in John Gielgud's production of Ivanov, starring Gielgud himself and Vivien Leigh. In Britain, she played a 1960s swinger in Alan Ayckbourn's Relatively Speaking, his seventh play but his first in the West End. Michael Hordern, Celia Johnson, Richard Briers and Hilary received outstanding reviews when it premiered at the Duke of York's in September 1967.
It was directed by the actor Nigel Patrick, as was her next Broadway venture, Samuel Taylor's comedy Avanti! at the Booth theatre in 1968. She had top billing in this, but missed out on the subsequent Billy Wilder film version. Occasional feature films included Becket (1964) and The Heroes of Telemark (1965) and, in her largest role, in One Brief Summer (1969).
Her television work often drew on her facility for intuitive responses to fellow actors. The Woman in White (1966) was a BBC classic serial. In a unique casting device, she played both the dispossessed Laura Fairlie and the title character. Pig in a Poke (1969) was a typically acerbic single play from Simon Gray.
In Double First (1988), a low-key sitcom, she starred opposite Michael Williams. Television guest roles included Z Cars (1977), Tales of the Unexpected (1980), Midsomer Murders (1999) and Doctors (2007).
Dennis Potter's only play written directly for the theatre, Sufficient Carbohydrate, at the Hampstead in 1983, gave her some good scenes as a sardonic wife. Nevertheless, in Leigh-Hunt's words, "the theatre was not faithful to her". She therefore introduced Hilary to the director Philip Prowse, who used her three times, beginning with the sharp Mrs Allonby in his RSC production of A Woman of No Importance (1992), at the Theatre Royal, Haymarket.
Again for Prowse, she was the Duchess of Berwick in Lady Windermere's Fan, at the Albery in 1994, before a central role in a revival of Noël Coward's Cavalcade at the Glasgow Citizens' theatre in 1999. Despite fine reviews for her and Prowse, its large cast made a West End transfer impractical.
Hilary was always fond of cats; she adopted her last, from the Celia Hammond Animal Trust, just two weeks before she died. One earlier pet, named Humphrey, accompanied her everywhere during years of touring – together they managed to charm the most hard-bitten of landladies.
She is survived by a younger brother, sister-in-law, two nephews and a niece.
· Jennifer Mary Hilary, actor, born December 14 1942; died August 6 2008
For "The Guardian" obituary on Jennifer Hilary, please click here.