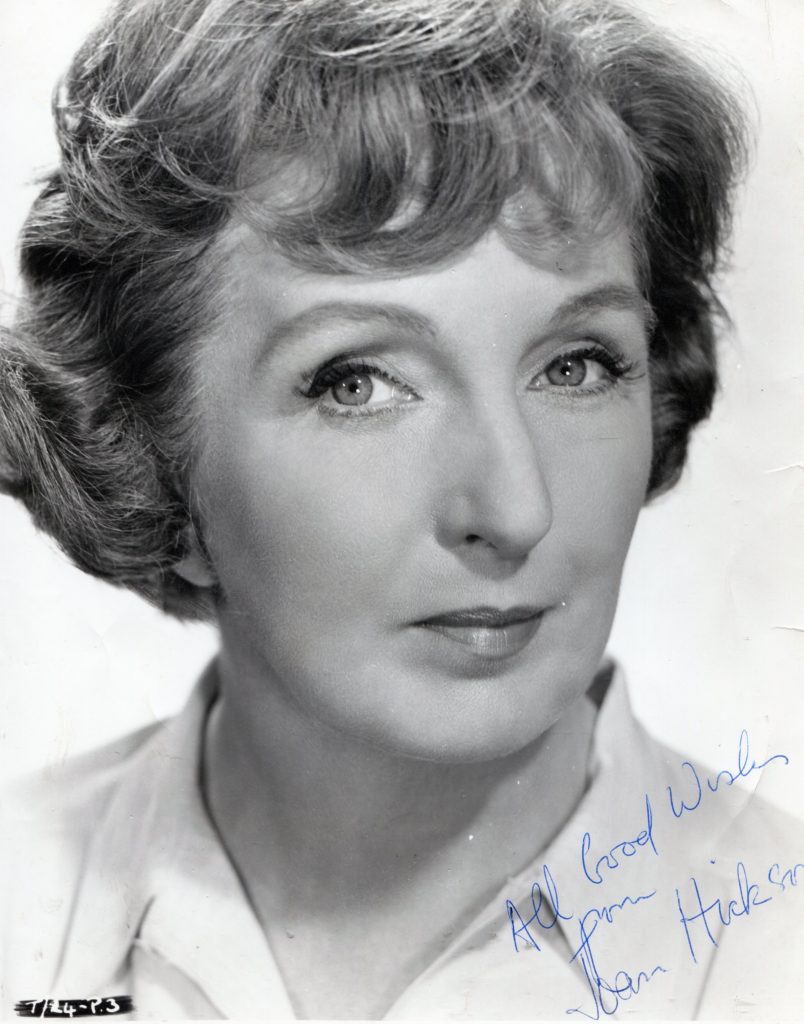 Joan Hickson obituary in "The Independent".
It was very gratifying to see Joan Hickson play the lead as Miss Marple in the acclaimed television series in 1984 at the age of 78. She had been wonderful in many many supporting artis in British films since the 1930's. Highlights include "The Card" in 1952, "Value for Money", "Doctor at Sea", "The Man Who Never Was", "Carry On Nurse" and "Theatre of Blood". She made twelve Miss Marple televison films the last being "The Mirror Cracked from Side to Side" in 1992 when she was 86.She died in 1998 at the age of 92.
The "Independent" obituary by Alexandra Younger & Tom Vallance:THE OLDEST actress ever to take the lead in a major television series, Joan Hickson was a sprightly 78 when she was chosen to play the role for which she will be best remembered, Agatha Christie's spinster detective Miss Marple. It was the first of 12 murder mysteries in a television series that was to run for eight years, ending only when Hickson insisted on retiring at the age of 86.
Previous stars who played the veteran spinster sleuth included Helen Hayes, Angela Lansbury, and Margaret Rutherford (Hickson had a small role in Rutherford's first Miss Marple film, Murder She Said in 1961), who first popularised the character of Miss Marple in the Sixties and brought the portrayal of eccentric old ladies to a fine art.
In 1962 Christie dedicated her novel The Mirror Cracked from Side to Side to Rutherford, "in admiration" – although after the author's death, it was revealed in her husband, Sir Max Mallowan's memoirs, that she believed Rutherford was totally miscast as Miss Marple. She was conceived as being a small delicate woman – said to be loosely based on Christie's maiden aunt – far closer in appearance to the petite and birdlike Hickson, with her piercing, hooded ice-blue eyes, than the more corpulent Rutherford with the expressive face and "the chins".
Regarded by many as the definitive Miss Marple and someone who "inhabited" the part, Hickson was described by fellow actors as "Justice in a hand- knitted cardigan". However she was convinced that she was not right for the part of Jane Marple, "I thought I was the wrong shape, that Miss Marple would be much fluffier than me, much more wearing shawls and things. But I was persuaded and now, well – I can only do it my way."
Marple creates order out of chaos, conducting her own private investigations at a polite distance from the official police murder inquiry. The tools of her trade are frequent cups of Earl Grey tea, her needle sharp eyes and her acute hearing, which enables her constantly to overhear crucial conversations from considerable distances.
Looking inconspicuous in tweed suits, neat felt hats, lace-up shoes and crocodile-skin handbags, Miss Marple's manner is friendly and unobtrusive; she often punctuates other people's sentences with "Oh how kind" and "Oh reaally". By asking rhetorical questions she answers everyone else's. In an uncertain world she radiates infallibility.
Hickson had been an actress since the age of 20 and her stage career in particular had been a distinguished one – she had won Broadway's prestigious Tony Award – but it was the television series that made her a household name, though she would never acknowledge that she was famous. Refusing to go on the Wogan show, she stated, "I have never been a star, I'm just an old character bag."
She was born in Kingsthorpe, Northamptonshire in 1906, and taken to her first pantomime, Cinderella, at the age of five. She knew at once what she wanted to do. "I was utterly entranced," she said later, "and asked my parents to move as near to the theatre as possible. I knew immediately that the life I wanted was there." Though her family did not encourage her early ambitions, she spent three years at Rada after leaving school. Her first stage appearance was as Lady Shoreham in a provincial tour of His Wife's Children (1927). The next year she made her London debut at the Arts Theatre as the Maidservant in The Tragic Muse, following this with the role of Miss Mould in A Damsel in Distress (1928). She soon established a flair for comedy, and for playing middle-class housewifes, flustered maids and slightly dotty relations.
She made her screen debut in Trouble in Store (1933), a vehicle for the comedian James Finlayson in which store employees capture a team of burglars, the first of over 50 films in which she was featured. They included The Guinea Pig (1948, recreating a role she had played on stage), Seven Days to Noon (1950), The Card (1952), Doctor in the House (1954), Clockwise (1986), Happy Is The Bride (1957) and several of the "Carry On" series. Robert S. Baker, who produced the taut "B" thriller Deadly Nightshade (1953), recently stated, "It is notable for having Joan Hickson in it . . . of course such people were the bread and butter of the British film industry for years and years."
On the set of Michael Winner's The Wicked Lady (1983), Hickson celebrated 50 years in films, but it was the theatre that gave the actress her finest opportunities, with such roles as Mrs Read in The Guinea Pig (1946) and Emma Hamilton in Rain Before Seven (1949). In 1967 she had a major success in Peter Nichols's disturbing black comedy about a couple raising a spastic daughter, A Day in the Death of Joe Egg.
Hickson made her Broadway debut in 1968 in the same play and repeated her role in the 1970 film version with Alan Bates and Janet Suzman. Another Peter Nichols play, Forget-Me-Not-Lane (1971) gave Hickson another major role which she played superbly, and in 1974 she joined the National Theatre Company. Her performance for them in Alan Ayckbourn's Bedroom Farce won particular acclaim and when she went to Broadway with it she won the Tony Award as Best Supporting Actress, prompting the Guardian to comment that "This actress has long been undervalued in Britain".
Hickson herself maintained that her roles became better as she grew older because "I was never really pretty, so for someone like myself it's more useful to be a character actress than a leading actress . . . in television especially, they want real wrinkles."
In 1946, Agatha Christie had written the actress a letter after seeing her during a West End production of Appointment with Fear in which Hickson acted the part of "a little spinster lady, saying, "I hope that one day you will play my dear Miss Marple." Her wish was not carried out for another 38 years.
The Body in the Library (1984) was the first of the 12 Miss Marple mysteries in which Hickson starred for the BBC, and which were seen (and still are) in 32 different countries. Jean Simmons, who played alongside her in her final Miss Marple story The Mirror Crack'd (1991), called Hickson "a dear, sweet, soft lady with a sense of humour that you miss if you're not paying attention".
Hickson admired her alter ego enormously and once said of Miss Marple, "I think she's a wonderful woman with a very clear outlook on life." Of her screen character, she said, "Miss Marple believes in justice and has very high standards. There is nothing you could say or do that would shock her. "Amusingly vague and properly indiscreet" like Miss Marple, Hickson too enjoyed village life and was averse to change.
When Joan Hickson retired from the role, believing that she should stop while the programme was still at the peak of its popularity, she stated that she had no intention of retiring from acting altogether. "Retirement is fatal," she recalled. "If you retire you go POP."
Alexandra Younger
and Tom Vallance
Joan Hickson, actress: born Kingsthorpe, Northamptonshire 5 August 1906; married 1932 Dr Eric Butler (died 1967; one son, one daughter); died Colchester, Essex 17 October 1998.
To read the "Independent" Obituary on Joan Hickson, please click here.
TCM overview:
This British stage and occasional film actress made her stage debut in 1927, but it was not until the late 1980s that American audiences became most aware of Joan Hickson when she began playing Agatha Christie's sleuth Miss Marple. She began in the role in 1984 for the BBC and retired for not only the role but from her acting career in 1992.
With her big blue eyes and pronounced cheek bones which can be adapted for sympathy or stern menace, Hickson made her London stage debut in "The Tragic Muse" (1928). It was nearly a decade before she first stepped before the cameras in "Love From a Stranger" (1937), based, as much of her future work would be, on an Agatha Christie story. Film work remained rather sporadic, however, until she began working for John and Roy Boulting in 1948 with "The Guinea Pig". Hickson began playing small roles, often landladies or parents. She was the proprietor whose tenant was a German spy in "The Man Who Never Was" (1955) and the mother in "Carry On, Admiral" (1957). Hickson scored critical raves playing an uproariously funny drunken maid in "Upstairs and Downstairs" (1961) and also for playing a grandmotherly type in both the 1967 stage and 1972 film version of "A Day in the Death of Joe Egg" (The film was actually shot in 1970, but held for release for two years.) Hickson played the bookshop lady eyeing the young lovers in "Friends" (1971), and was Aunt Agatha to Faye Dunaway's "The Wicked Lady" (1983). Her film continued well into the 90s, with roles as the haughty Duchess of Marlborough in "King of the Wind" (1990), and her final screen appearance in "Century" (1993).
Hickson had been a regular on several British TV series over the years. She was the receptionist in the anthology series "The Royalty" (BBC, 1957-58), set in a hotel. In "Our Man at St. Mark's" (BBC, 1963-65), Hickson was the faithful housekeeper to a county vicar (played first by Leslie Stephens and later Donald Sinden). She continued to be active on TV after the age of 70, portraying Miss Havisham in 1982 BBC miniseries remake of "Great Expectations" followed by her turns as Miss Marple. Over the years, she also continued to make stage appearances, scoring a triumph on Broadway reprising her London stage role in the 1978 Broadway production of "Bedroom Farce". Paired with fellow veteran Michael Gough, Hickson won a Tony Award for her performance.
The above TCM overview can also be accessed online here.