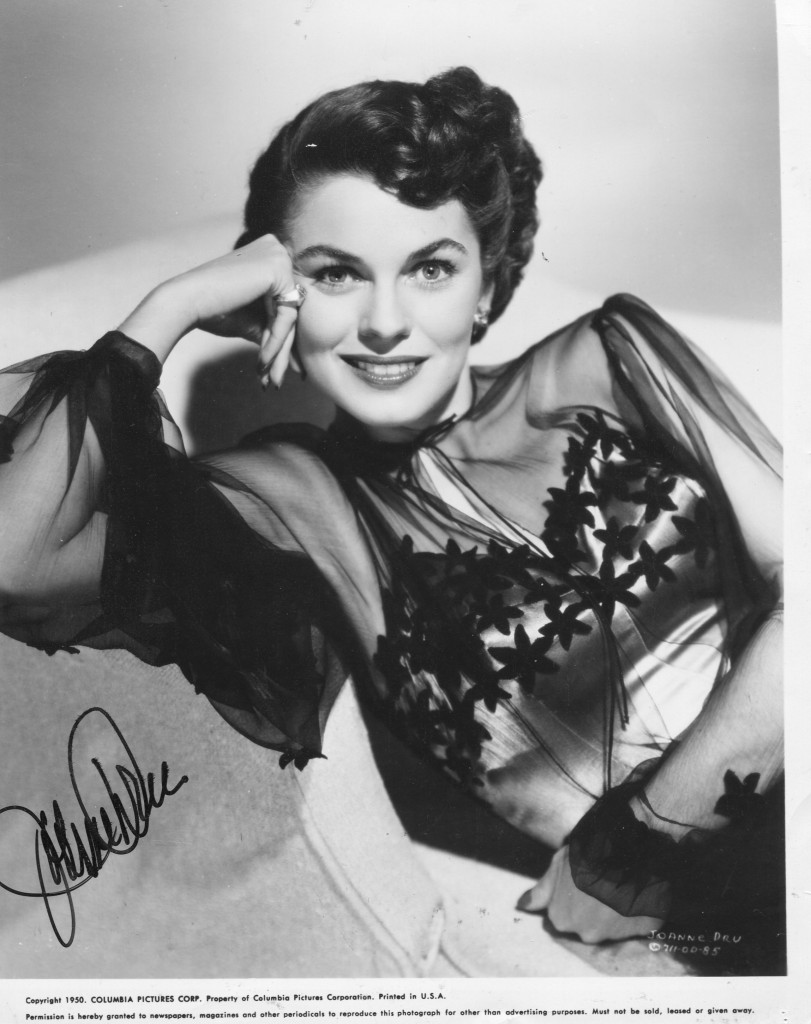 Joanne Dru was born in Logan, West Virginia in 1922. She was a very popular leading lady in many genres of Hollywood movies of the late 1940's up to the mid 1950's. She came to attention in both "Abie's Irish Rose" and "Red River" opposite Montgomery Clift in 1948. She was also very effective in John Ford's "She Wore A Yellow Ribbon". One of her later movies was "Sylvia" in 1965 which starred Carroll Baker. Joanne Dru died in 1996.
Tom Vallance's obituary in "The Independent":
In 1948-50 Joanne Dru starred in three of the finest Hollywood westerns and an Academy Award-winning drama. Though never a major star, her work in these films – Howard Hawks's Red River, John Ford's cavalry western She Wore a Yellow Ribbon and his elegiac Wagonmaster, plus Robert Rossen's powerful political drama All the King's Men – has ensured her a permanent place in film history. A beautiful brunette with high cheekbones and a provocative personality, she provided the sort of feistiness that both Hawks and Ford sought in their leading ladies.
He

r real name was Joanne LaCock and she was born in West Virginia in 1923. She entered show business via a modelling career and was performing in a night-club chorus when she met the crooner Dick Haymes, who took her to Hollywood when he was signed for movies and helped her start an acting career. She made her screen debut inauspiciously as star of Abie's Irish Rose (1946). Based on a 1922 play which had confounded critics by running for five years, its tale of Jewish and Irish families trading racial insults while feuding over the romance of their son and daughter was hopelessly old-fashioned and tasteless and the film received limited distribution. Two years later she was luckier when Hawks chose her to play opposite John Wayne and Montgomery Clift in his western classic Red River. In this sprawling saga which dramatised the first cattle drive from Texas to Kansas, John Wayne and Montgomery Clift (in his first film) played a ruthless rancher and his rebellious adopted son whose tempestuous relationship climaxes with a violent brawl in which they almost kill one another. Dru was the resolute pioneer who refuses to be separated from Clift whatever the hardships. After the climactic fight, Dru delivers an emotional tirade rebuking the two men and provoking a reconciliation, an ending despised by Clift "because Joanne Dru settles the matter and it makes the showdown between me and John Wayne a farce".
Ford's She Wore a Yellow Ribbon (1949) was another classic in which Wayne poignantly played an ageing cavalry officer unable to come to terms with a changing way of life. As a young woman being escorted across country by the military troupe, Dru was courted by two of the officers (John Agar and Harry Carey Jnr). The same year she starred in Robert Rossen's Oscar-winning All the King's Men, based on the life of the former Louisiana governor Huey Long (here called Willie Stark) and an uncompromising portrait of an initially idealistic politician who turns corrupt and fascistic. Dru was a respectable girl who is blackmailed into becoming Stark's mistress then abandoned, provoking Stark's assassination by her brother. The story was seen through the eyes of a reporter played by John Ireland, who became Dru's second husband. (The writer of Red River, Borden Chase, once recounted that he had been told to reduce Ireland's role in that film because he was "messing with Hawks's girl".)
Both her marriages were reportedly stormy, and she continued to fight Haymes for alimony throughout his ensuring courtship of Rita Hayworth. John Ford's Wagonmaster (1950; the director's favourite of his films) was shot in Monument Valley and beautifully depicted the journey of a group of Mormons being guided by a tough cowboy (Ben Johnson) to their "promised land" in the unexplored west. Dru was a spirited medicine-show performer who becomes part of the wagon train in the film, which was a financial failure but is now regarded as a masterpiece.
None of Dru's subsequent films approached the quality of these four, but Joseph H. Newman's 711 Ocean Drive (1950) was an efficient film noir (allegedly shot under police guard) exposing gambling syndicates. Dru was the wife of a syndicate boss who falls in love with a former telephone engineer who has ruthlessly risen to be head of the gang. Rudolph Mate's Forbidden (1953) was a sleek thriller in which a hoodlum (Tony Curtis) journeys to Macao to find Dru, a racketeer's widow, and bring her back to the US with the incriminating evidence she possesses.
Many of Dru's roles were, though, becoming blander – she was a social worker whose fiance takes her for granted in Mr Belvedere Rings the Bell (1951), a schoolteacher who brings a father and son closer in My Pal Gus (1953), the sweetheart of an oil-man prospecting in the Gulf of Mexico in one of Anthony Mann's lesser pieces, Thunder Bay (1953), a nurse taming a troublesome convict in Duffy of San Quentin (1954), and a faithful secretary to Liberace as a concert pianist stricken deaf in the disastrous Sincerely Yours (1956).
She continued to appear in westerns – Vengeance Valley (1951), Return of the Texan (1952), Outlaw Territory (1953) and The Siege at Red River (1954), but these were routine affairs. The best of her later journeys west was Hall Bartlett's Drango (1957), an interesting account of the reconstruction period after the Civil War, made by the star Jeff Chandler's own production company and superbly photographed by James Wong Howe, with Dru effective as a Union sympathiser whose father is lynched by a Southern mob. She was active in television throughout the Fifties, guesting on many anthology shows including Wagon Train and Lux Video Theatre.
In 1981 she returned to the screen after a 16-year absence to star in Super-Fuzz, a low- budget action comedy, but she did not do it for the money. Since 1972 she had been married to C.V. Wood Jnr, a Texas multi-millionaire, the owner of an oil company and the Silver Lakes Nightclub, and a prime investor in the original London Bridge which was profitably reconstructed at Lake Havasu in Arizona.
Tom Vallance
The above "Independent" obituary can also be accessed online here.