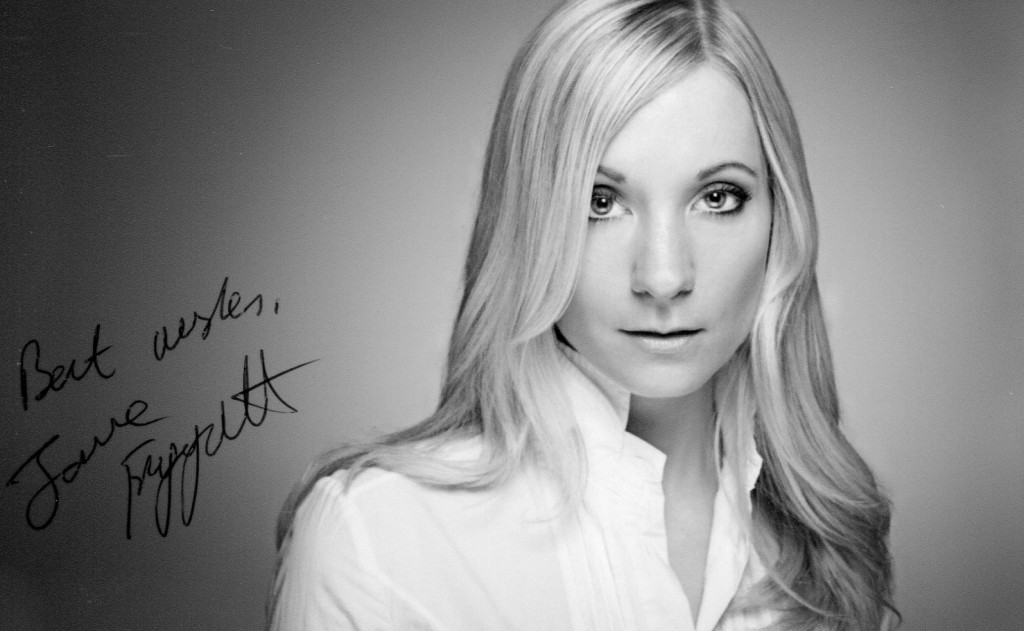 Joanne Froggatt is currently riding high with her performance in the classic TV series "Downton Abbey" in which she plays maid 'Anna Smith'. Previously she was featured as the teenage 'Zoe' in "Coronation Street".
TCM overview:
British actress Joanne Froggatt leapt from relative obscurity to worldwide fame in 2010 as the loyal maid Anna Smith in the popular U.K. drama series "Downton Abbey" (ITV/PBS, 2010- ). The role was the culmination of a series of critically regarded turns on British television that saw Froggatt tackle some exceptionally complex female characters, from a teenaged mother on "Coronation Street" (ITV, 1960- ) to child killer Myra Hindley in "See No Evil: The Moors Murders" (ITV, 2006). After proving her ability to carry a motion picture with the intense drama "In Our Name" (2010), Froggatt began her tenure on "Downton Abbey" as Anna Smith, whose romance with the ill-fated Mr. Bates (Brendan Coyle) was among the show's emotional high points. Froggatt received widespread praise for her performance, which served as the official beginning of her transition from featured player to breakout star.
The daughter of sheep farmers, Froggatt was born Aug. 21, 1980 in the North Yorkshire village of Littlebeck, England. She developed an interest in performing at a very early age, requesting ballet lessons at two years old. After making her acting debut with a theater troupe in Scarborough, Froggatt convinced her parents to send her to the Redroofs Theatre School when she was 12 years old. Three years later, she postponed her desire to attend the Royal Academy of Dramatic Arts to make her television debut in "The Bill" (ITV, 1984-2010), and then segued into a recurring role as a teenaged mother on "Coronation Street." Froggatt worked steadily on television throughout the late 1990s, eventually gaining considerable acclaim as a teenaged girl who witnessed the murder of her boyfriend in "Danielle Cable: Eyewitness" (ITV, 2003), which earned her a Best Actress nomination from the Royal Television Society.
In 2006, Froggatt played convicted killer Myra Hindley in "See No Evil: The Moors Murders," a docudrama about a monstrous murder spree conducted by two English teens during the early 1960s. She followed with an equally controversial role in "Joanna Lees: Murder in the Outback" (Channel Ten/ITV, 2007), playing a woman implicated in the murder of her boyfriend (Laurence Bruels) during a trip to the Australian outback. That same year, she returned to the stage in a production of All About My Mother at the Old Vic Theatre, which she followed up with more work on television before making her feature film debut in "In Our Name" (2010). A moving drama about a female soldier (Froggatt) who struggled with paranoia after returning from a tour of duty in Iraq, the film earned Froggatt a British Independent Film Award for Most Promising Newcomer.
That same year, Froggatt began her supporting role as Anna Smith, head housemaid at "Downton Abbey," which brought her to the attention of a worldwide audience. A well-liked member of the servant staff, Anna served as a confidant for Lady Mary Crawley after her ill-fated one-night stand with Kernal Pamuk. She later became romantically entangled with valet John Bates, but their romance was interrupted by his conviction for the murder of his wife, for which he received the death penalty. For her performance, Froggatt received an Emmy nomination for Outstanding Supporting Actress in a Drama Series in 2012.
By Paul Gaita
The above TCM overview can also be accessed online here.