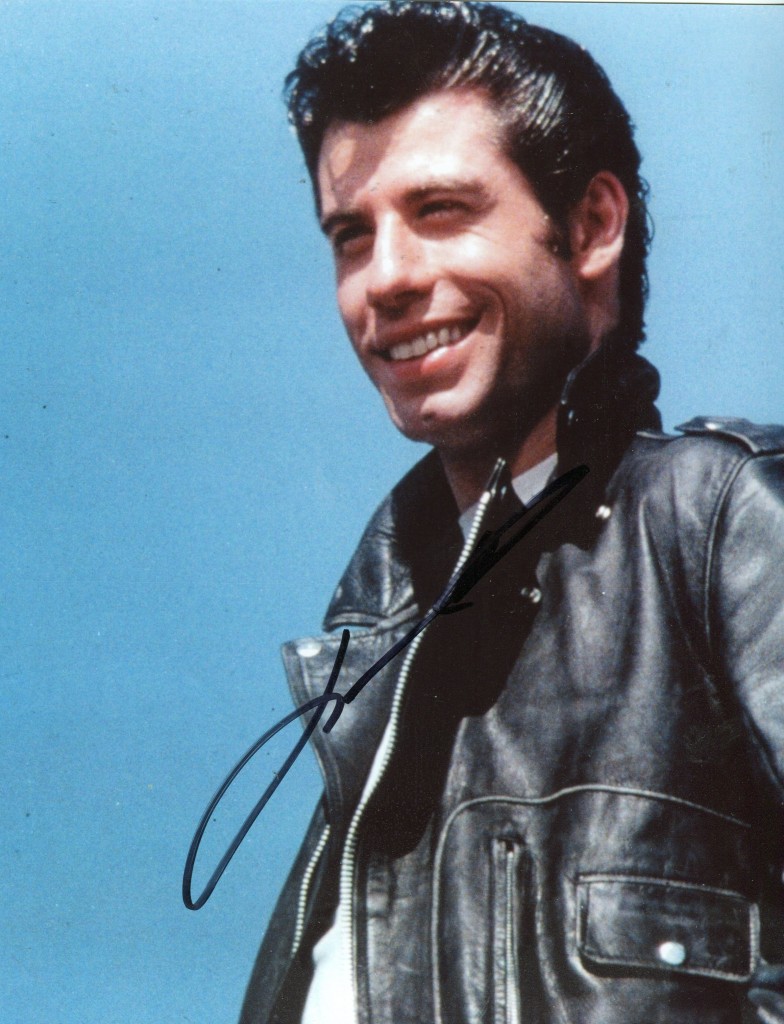 John Travolta has built up a considerable dossier of quality films since his movie debut in the mid 1970's.   He achieved fame early at the age of 23 with "Saturday Night Fever" in 1978 followed the following year with "Grease".   Although he has had lulls he has time after time come back with terrific performances in such movies as "Blow Out", "Face/Off" and of course "Pulp Fiction".
TCM overview:
The rollercoaster career of Hollywood star John Travolta decisively discredited the old adage that there are no second acts. The New Jersey native first gained fame as a suave, dim-witted Brooklyn high school student on the sitcom "Welcome Back, Kotter" (ABC, 1975-79). Being in the right place in the right era, he became inextricably linked to pop culture trends, thanks to sensational starring roles in the disco drama "Saturday Night Fever" (1977) and the 1950s retro musical, "Grease" (1978). Travolta also had a hand in the country music revival of the early 1980s with his popular portrayal of a mechanical bull-riding oil rigger in "Urban Cowboy" (1980). Then for some reason, the biggest male movie star of the late-1970s languished throughout the next decade and beyond, his engaging talent virtually forgotten until a bold decision by Quentin Tarantino cast him in the cult mainstay "Pulp Fiction" (2004). Following the rousing response to Travolta's darkly funny performance as a junkie hit man, he was overnight commanding millions of dollars for macho hits like "Get Shorty" (1995) and "Ladder 49" (2004) and becoming one-half of a celebrated Hollywood couple after marrying Kelly Preston. Critics raved when Travolta made a belated return to his musical roots in as a tubby Baltimore stage mom in the box-office smash "Hairspray" (2007). In fact, Travolta defined more than any other celebrity – save perhaps Cher and Frank Sinatra – the very idea that a so-called "has-been" could revive a career deemed long dead, coming back stronger than ever.
The youngest of six kids, John Joseph Travolta was born on Feb. 18, 1954, and raised in Englewood, NJ. In contrast to the round robin dinner table slapping of the "Saturday Night Fever" Manero family, Travolta's home was a liberal, artistic haven, with his older siblings involved in local theater and his mother Helen's solid background as a singer, actress, and drama teacher. Travolta wanted to be onstage from the start, and was fortunate to gain early exposure to theater, dance, and art films at home. His father Salvatore – co-owner of the family business Travolta Tire Exchange – had built a stage in the basement, but Travolta, nicknamed "Bone" because he was so skinny, hardly needed it, as he would perform for anyone, anywhere at the drop of a hat. His parents enrolled him in drama school in New York, where he learned the holy trinity of old-school entertainment: singing, acting and dancing. By the age of 12, he was appearing in local productions.
At 16, Travolta landed his first professional role in a summer stock production of "Bye Bye Birdie." Following his junior year of high school, he dropped out to pursue entertainment, moving in with his sister Ann in Manhattan. He began building a resume with off-Broadway dramas and musicals, TV commercials, and even recorded a few pop singles for local record labels. In Hollywood, Travolta spent a couple of years trying to break into the business, but after a few guest spots on medical and cop dramas, returned to New York where he debuted on Broadway in "Grease." He wasn't Danny Zuko material yet, but while touring for nearly a year as a supporting player, he was determined that he would one day take the lead. Travolta landed on Broadway's boards again in 1974 in the Tony-nominated musical "Over Here." The same year, the budding pilot who had been squirreling away his acting money for flying lessons, finally earned his wings. Having grown up in the flight path of LaGuardia Airport, he was about the join the ranks of jet setters that used to pass overhead.
Travolta flew to New Mexico to play a small part in the film "Devil's Rain" (1975), and upon his return was met with a casting call for an ABC sitcom called "Welcome Back Kotter." He proved to be a perfect choice to play Vinnie Barbarino, an inner-city remedial high school student, resident stud, and head of a clique of wiseass underachievers called The Sweathogs. His feathered-haired sex appeal – combined with his faux naiveté and occasionally outrageous physical comedy – made him the breakout star of the ensemble cast, with his likeness appearing on an avalanche of merchandising tie-ins. The music industry smelled a pop star in the making, handing the actor a series of bland ballads including "Let Her In," which reached No. 20 on the Billboard charts. The well-rounded entertainer continued to explore his range, first as a taunting bully to wide-eyed Sissy Spacek in Brian DePalma's teen telekinesis classic "Carrie" (1976). The same year he was memorable as an immune-deficient teen in ABC's legendary telefilm, "The Boy in the Plastic Bubble" (1976). While filming the melodrama, Travolta began a romantic relationship with his onscreen mother, Diana Hyland, who was 18 years his senior and an unexpected choice for a young heartthrob who likely had his pick of young romantic partners.
With "Saturday Night Fever" (1977), John Travolta transitioned from TV and pop music personality to full-fledged movie star. The choice Bee Gees soundtrack and flashy dance sequences were enough to bring in audiences seeking a peek into the high-energy, indulgent world of a New York City disco. But it was Travolta's flawless, Oscar-nominated portrayal of a 20-year-old paint store clerk beginning to outgrow his roots that resonated so universally and provided the film's depth. Tony Manero was the king of his local Brooklyn disco, but an emerging understanding of his dead-end life began to crumble his foundation, his desire for something better embodied by a love interest who knew firsthand of the promised land just across the river in Manhattan. The film worked on every level and quickly became a favorite of audiences and critics alike – not to mention how it fueled the dying embers of the fading disco trend with a best-selling but over-played soundtrack.
During shooting of "Fever," Travolta was dealt a heavy card when the love of his life, Diana Hyland, now a cast member of "Eight is Enough" (ABC, 1977-1981) as mother of the large clan, died of cancer, reportedly in Travolta's arms. Despite knowing she was fatally ill, she had been the one person who had insisted he take on the role of Manero. He suffered an equal blow in 1978 with the loss of his influential and supportive mother. Coming off such an intense double-dose of grief, the 22-year-old soldiered ahead with another career-defining role in the 1950s high school musical "Grease" (1978). The production was a bold undertaking for all involved, as American cinema was just coming off a run of character-based dramas and had not seen a big-screen musical in a decade. Travolta took the risk, finally realizing his early dream of playing greaser bad boy Danny Zuko, and wooing the proper Sandy Olsson (Olivia Newton-John). The film was admittedly less substantive than "Saturday Night Fever," but Travolta's singing, dancing and dimpled charm cemented him as a bona fide movie star. "Grease" received five Golden Globe nominations and became Hollywood's highest-grossing film musical of all time, with Travolta scoring his first major hit single with the film's best-selling soundtrack, his duet with Newton-John, "You're the One that I Want."
Travolta continued to prove his talent as an icon of specific cultural movements in the well-received "Urban Cowboy" (1980), which chronicled a macho Texas refinery worker with a tumultuous young marriage and a mean competitive streak on his local honkytonk's mechanical bull. The film spawned another hit soundtrack and jump-started a revival of country music and its accompanying cowboy hats and boots. Brian De Palma's "Blow Out" (1981) offered Travolta one of his most complex roles yet – a dedicated film sound recordist who accidentally records a political assassination. Though the result was a richly shaded portrait of the hack artist as fallen idealist, "Blow Out" stalled at the box office, as did a pumped-up Travolta in "Staying Alive" (1983), the laughable Sylvester Stallone-directed sequel to "Saturday Night Fever." In this version, Manero had moved to conquer Broadway, starring in an over-the-top, Hell-inspired production called "Satan's Alley," while at the same time, trying to woo two lady dancers at the same time, good girl (Cynthia Rhodes) and the diva star (Finola Hughes). In fact, the only memorable aspect of the movie, was the lead song, "Far From Over," sung by Stallone's brother, Frank.
After being the most popular film star of the 1970s, the versatile actor subsequently languished for nearly a decade in mostly forgettable, unpopular films. He could not, as the cliché goes, even get arrested in Hollywood. His most notable work during this phase was the horrible work-out film "Perfect" (1985) co-starring an equally scantily clad Jamie Lee Curtis. Better was the 1987 ABC-TV special, Harold Pinter's "The Dumb Waiter," a one-act, two-character play directed by Robert Altman, in which Travolta played a Cockney hit man. It was not until the 1989 sleeper hit "Look Who's Talking," that Travolta would become associated with a major box-office success, along with his Scientology buddy, Kirstie Alley. This romantic comedy featured the then popular gimmick of presenting a baby's thoughts in voiceover (Bruce Willis) and generated two more gigs for the former superstar: "Look Who's Talking Too" (1990) and "Look Who's Talking Now" (1993).
During this period, Travolta met actress Kelly Preston and the pair married in 1991 in a Scientology ceremony that was later determined to be not legally binding, necessitating an additional ceremony. Travolta had been active with the church since a chance reading of its tome Dianetics in 1975, crediting his instant rise to success afterwards to its teachings. The couple had a son, Jett, in 1992, the same year that Travolta wrote and illustrated an airplane-themed children's book called Propeller One-Way Night Coach. At that time in his career, Preston was the bigger name in film. He literally was a has-been at the age 40.
But then 1994 arrived. And with that year, Travolta's career and street cred sprang back to life with Quentin Tarantino's "Pulp Fiction" (1994). In the filmmaker's jarringly funny and violent non-linear crime spree, Travolta was relatively heavy-set, long-haired and wearing earrings; his Vincent Vega being a strangely sympathetic hit man with a heroin habit and a disconcertingly innocent view of the world. Tarantino's inventive style was highly-praised and the film's influence on the independent film genre assured that Travolta would again be forever associated with a memorable moment in pop culture history. Overnight, the resuscitated star found himself deluged with scripts and deals, offering him the biggest paydays to date of his estimable career, as well as a second Oscar nomination for Best Actor. Travolta would in fact give props to Tarantino for giving rebirth to his career.
Older and wiser than his first time atop the A-list, Travolta was able to parlay his "Pulp Fiction" success into even greater stardom than he had known in his prime. He worked non-stop, taking advantage of film opportunities like Barry Sonnenfeld's popular adaptation of Elmore Leonard's "Get Shorty" (1995), in which he garnered acclaim for his portrayal of Chili Palmer, the ultra-cool hit man who becomes entranced by Hollywood. In "White Man's Burden" (1995), Travolta starred with Harry Belafonte in an ambitious film about discrimination that won mixed critical notices and little audience support. He followed with John Woo's action-adventure thriller "Broken Arrow" (1996), in which he played a pilot who masterminds an extortion plot against the U.S. government.
Off-screen, Travolta was by now a licensed pilot for a variety of classes of aircraft and kept a personal fleet of planes at his home in Florida. In 1996, he reportedly received an $8 million fee for "Phenomenon," in which he played a man who develops superior abilities after being struck by a white light. The press virtually overlooked this indiscretion, and studios continued to line up for his services. In his spare time, Travolta continued to fly the friendly skies, eventually earning his shot at flying jumbo jets. The $8 million fee was a bargain compared to what Travolta was soon earning. He finished 1996 as a fallen angel in Nora Ephron's "Michael," before unleashing a juggernaut line-up in 1997-98. He was again paired with John Woo for "Face/Off," a lyrical thriller about identity exchange that wove together sadistic cruelty and grotesque sentimentality with breathtaking assurance. Although most critics despaired over Costa-Gavras' "Mad City" (1997) and panned Travolta's singularly stupid character, he found himself on surer ground in Nick Cassavetes' romantic drama, "She's So Lovely" (1997), which matched him with far better results opposite Sean Penn and Robin Wright Penn and afforded him a role of some nuance. He received $20 million to portray Governor Jack Stanton, a thinly veiled adaptation of then-President Bill Clinton, in Mike Nichols' "Primary Colors" (1998). He also squeezed in performances as an attorney battling powerful corporations on behalf of toxic poisoning victims in "A Civil Action" and was part of a star-studded cast including Sean Penn, John Cusack, Gary Oldman and George Clooney in Terrence Malick's war picture, "The Thin Red Line" (1998).
After appearing in the unsuccessful and highly ridiculed apocalyptic alien movie written by Ron L. Hubbard, "Battlefield Earth" (2000) which he also produced – and which many perceived as a vanity project and payback to Scientology – Travolta and Preston gave birth to a daughter Ella and redeemed his film career as another top-notch bad guy in the otherwise routine action thriller, "Swordfish" (2001). Unfortunately, the forgettable film was more notable for Halle Berry's nude scene than for anything else. With the routine thriller "Basic" (2003), Travolta played a DEA agent investigating a mysterious disappearance. His subsequent role as the villainous money-launder Howard Saint in the comic book superhero adaptation "The Punisher" (2004) was a step in the right direction performance-wise, walking a fine line between a realistic performance and moments of high camp, but the film itself was not overwhelming.
Travolta delivered a strong performance in his follow-up, "Ladder 49" (2004), playing a veteran firefighter who tries to impart practical wisdom to a promising up-and-comer (Joaquin Phoenix). Although the part was not entirely suited to Travolta's strengths, the actor made the most of the supporting role. He easily slipped back into character as Chili Palmer for the entertaining sequel "Be Cool" (2005), in which Chili segues from the movie biz into the music industry. After an unusual two-year hiatus from the big screen – he had been working incessantly since "Pulp Fiction" – Travolta emerged in "Wild Hogs" (2007), a wildly successful road comedy about four middle-aged men (Travolta, Tim Allen, Martin Lawrence and William H. Macy) who set out to prove their manhood with a freewheeling, cross-country motorcycle trip. Despite a bevy of bad reviews, "Wild Hogs" reaped a box office whirlwind, but with the musical "Hairspray" (2007), critics and audiences alike were in agreement that Travolta was still the real deal.
Playing a role originated by famed drag queen Divine in the original John Waters film, Travolta was outrageously entertaining as Edna Turnblad, the 1960s working-class Baltimore mom of wannabe TV dance star Tracy Turnblad (Nikki Bosky). The role necessitated an agonizing amount of prosthetics and makeup to transform Travolta into a Hefty Hideaway spokes model, but the veteran stage star still danced his way into a Golden Globe nomination for Best Supporting Actor. The summer blockbuster went on to become the third top grossing musical of all time, with "Grease" still holding strong in first position. Meanwhile, Travolta made a rare foray into animated features, voicing the lead character in the popular and acclaimed "Bolt" (2008), a family adventure about a famous television dog who discovers that his fictional powers are of no use when he goes on a real-life cross-country journey to reunite with his co-star (voiced by Miley Cyrus). Travolta earned a Golden Globe nomination for performing the song "I Thought I Lost You," however his latest professional achievement was overshadowed by personal tragedy when Jett died after suffering a seizure while on vacation with the family in the Bahamas. Travolta and Preston had in the past stated that the 16-year-old suffered from Kawasaki syndrome, an inflammation of the blood vessels possibly brought on by environmental toxins. A huge public outpouring of sympathy followed, with Travolta and Preston finally confirming in public that their son had autism and suffered from regular seizures. Meanwhile, Travolta sued two Bahamians he claimed had tried to extort him and his wife for $25 million in connection to their son's death, though in the end the judge ruled the case a mistrial and Travolta declined to pursue it further.
Travolta returned to theaters in the summer of 2009 in a rare villainous turn as the mastermind of a subway hijacking in "The Taking of Pelham 1-2-3" (2009), Tony Scott's remake of the classic 1974 thriller adapted from Morton Freedgood's novel. Despite the star power of Travolta and Denzel Washington as the transit dispatcher trying to stop his destructive plan, the big budget film brought in disappointing box office returns. The versatile star opted for a family comedy for his next outing, starring opposite Robin Williams as a pair of business partners entrusted with the care of infant twins in "Old Dogs" (2009). Following that critically maligned comedy, Travolta returned to playing harder-edged characters in "From Paris with Love" (2010), where he portrayed a crazed special agent who partners with a low-level CIA operative (Jonathan Rhys-Meyers) to stop a terrorist bombing plot.