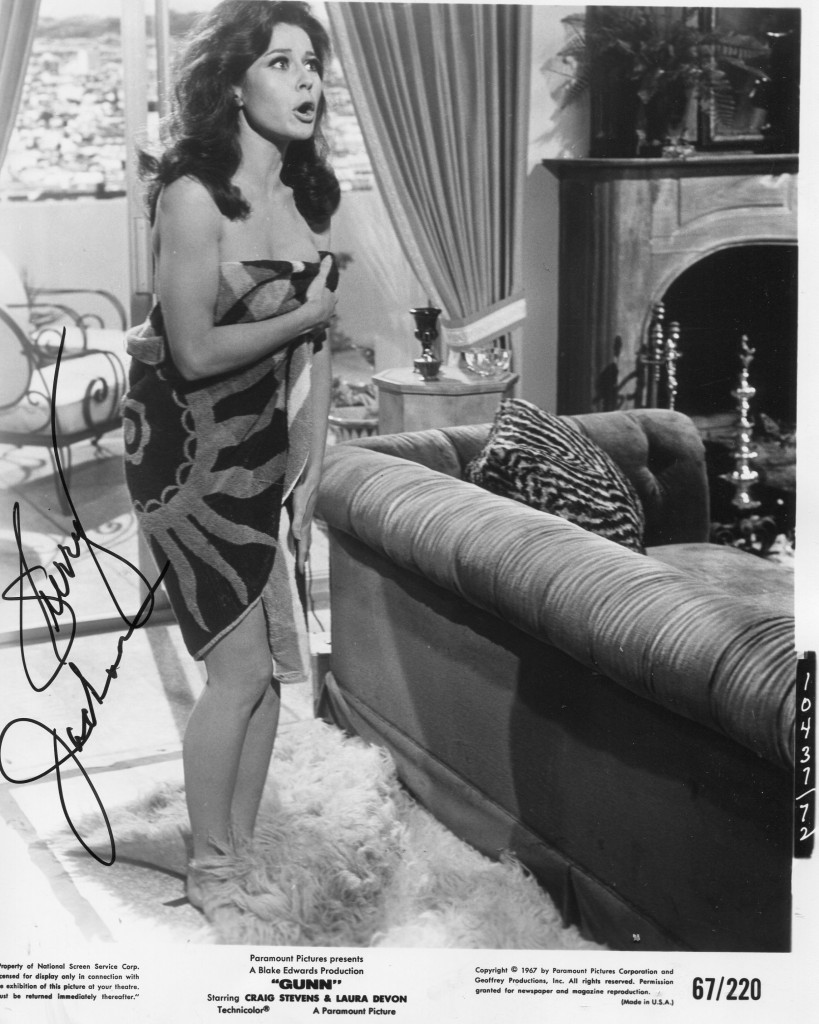 Laura Devon was a stringly beautiful actress who had some leads in Hollywood films of the 1960's but retired early after her marriage to film composer Maurice Jarre.   She was born in 1961 in Chicago.   She began her career on television and her movie debut came in 1964 in "Goodbye Charlie" with Tony Curtis and Pat Boone.   Among her other movies are "Red Line 7000", "A Covenant With Death" with George Maharis and Katy Jurado and "Gunn" in 1967 with Craig Stevens.   She died in 2007.
Gary Brumburgh's entry:
Gorgeous, well-endowed singer/actress Laura Devon arrived in Tinseltown during the early 1960s, but gave notice less than a decade later and retired permanently after her second marriage. She made only five films. Laura was categorized as one of those beautiful bouffant blondes of film and TV who were usually cast as diverting set decoration — the equally blonde lovelies Sharon Tate, Yvette Mimieux and Dorothy Provine, come first to mind.
She was born Mary Lou Briley in Chicago, Illinois, on May 23, 1931, the daughter of Merrill Devon, an auto engineer of Swedith, Scottish and Irish descent, and a mother of Dutch heritage. Her family later moved to Grosse Point, Michigan, where she attended University High School. Her interest in singing came at a fairly young age and, by her early teens, was performing. Graduating from the University of Michigan where she majored in journalism and political science, she began acting on stage in such musicals as "The Boyfriend" at the Vanguard Playhouse in Detroit.
In 1961, Laura was spotted singing at a Detroit night club by a 20th Century-Fox talent agent and given a screen test. Universal also took an interest in her photogenic beauty and signed her instead. Laura's first year under contract involved intensive study in acting, singing and dance before she even started making the rounds on TV. Eventually, she appeared in such popular programs as Route 66 (1960) and Twilight Zone (1959), her big break coming when she and another budding actress, June Harding, were hired as ensemble cast members on The Richard Boone Show (1963), an anthology TV series also featuring veterans Boone, Warren Stevens, Jeanette Nolan, Harry Morgan, Robert Blake,Guy Stockwell, Bethel Leslie and Ford Rainey.
Falling easily into the Hollywood scene, Laura had dated handsome actor Brian Kelly back in Detroit (his native city). Their romance ended when he went to Hollywood but rekindled again when she, too, made it to Hollywood in 1961. They married a year later, and the good-looking couple became a part of the "in crowd" while moving up the acting ladder. A couple of months after their June wedding, they appeared together in Lillian Hellman's steamy drama "Toys in the Attic" at the Laguna Beach Summer Theater.
Laura made her film debut as a second female lead in the Tony Curtis/Debbie Reynoldsgender-bending romp Goodbye Charlie (1964). Laura figured prominently in all the sexual hijinks happening in the taunting George Axelrod script, but the film was considered a misfire. Laura then got hot and heavy in Red Line 7000 (1965), one of Howard Hawkslater and lesser efforts. Again, Laura (and the other ladies, for that matter) provided diverting distraction from the stock car racing sequences.
Still moving up the ranks, she was prominently displayed on Bonanza (1959), The Rogues(1964), Rawhide (1959), I Spy (1965), The Big Valley (1965) and enjoyed a recurring role on Dr. Kildare (1961). Her last three films were the horror opus Chamber of Horrors(1966), which had Patrick O'Neal stirring up some demented antics as a serial strangler. Again, not hired for her character's brilliance, Laura does manage the classic one liner, "What am I thinking? He is the easiest man in the world to identify. He only has one hand!" The next film involved her with handsome George Maharis and another strangling in the so-so melodrama A Covenant with Death (1967). Her final film was probably the best received. With Craig Stevens taking his popular Peter Gunn gumshoe character from TV to feature length film, the atmospheric detective story Gunn (1967) had, at the very least, a built-in audience. The singing aspect of Laura also managed to show itself here. She recorded two of Henry Mancini's songs from the movie, "I Like the Look" and "Dreamsville".
By this time, Laura's first marriage had dissolved. Husband Brian had become a TV star via his Porter Ricks character on the dolphin show Flipper (1964). Within a year of their divorce, Laura married renowned French film composer Maurice Jarre, hailed for his Oscar-winning scores in Lawrence of Arabia (1962), Doctor Zhivago (1965) and A Passage to India (1984). Laura immediately retired and never looked back. She and Jarre divorced in 1984. Little was heard from Laura until notice of her 2007 death at her Beverly Hills residence at age 76. She is survived by her screenwriting son Kevin Jarre.
– IMDb Mini Biography By: Gary Brumburgh / gr-home@pacbell.ne