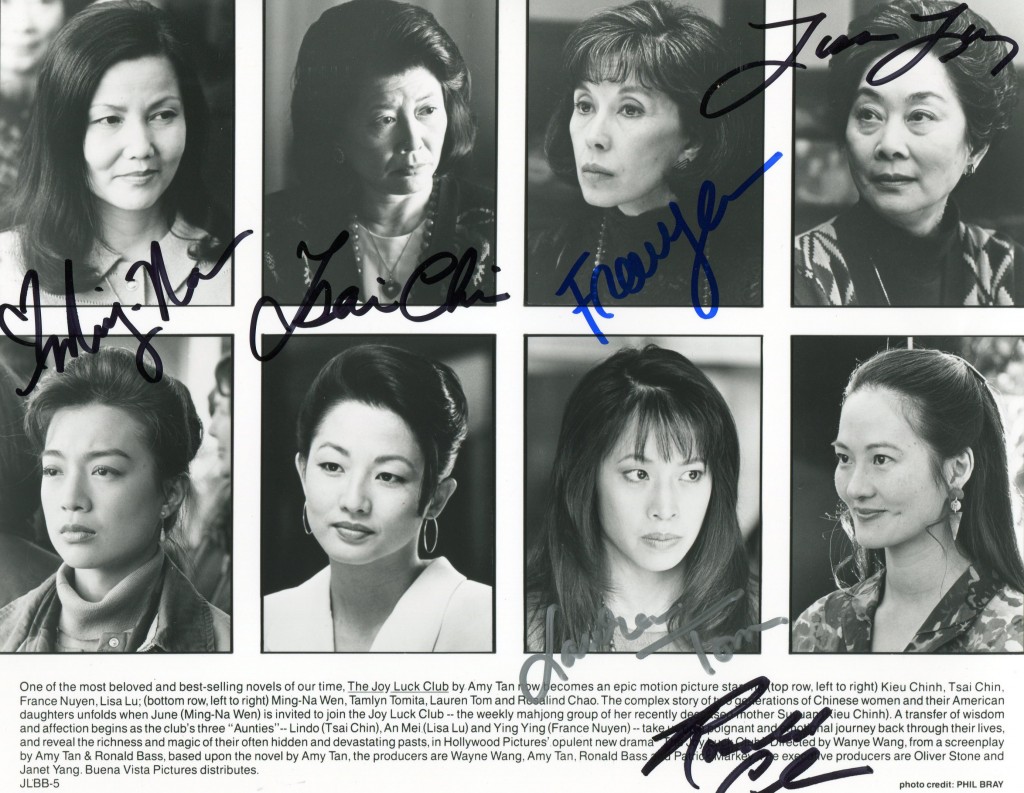 Lauren Tom was born in 1961 in Chicago.   Her films include "When A Man Loves AWoman" in 1994, "Mr Jones" and "The Joy Luck Club" as France Nuyen's daughter.   She had a recurring role on television's "Friends".
TCM overview:
Alluring stage-trained actress of Asian heritage, active in stage, TV and film. Tom studied acting and music in her native Illinois, and her first professional credit was as an addition to the national tour of "A Chorus Line", which led her to Broadway. She appeared in the Broadway production of "Hurlyburly" and, as the intrepid Honey (sidekick to Duke), in the Broadway musical adaptation of the comic strip "Doonesbury" (1983-84). Tom earned an OBIE Award for her performance in "American Notes" while with the New York Shakespeare Festival; she also appeared in such shows as "Volpone", "Tiger on the Right" and "Family Devotions".
Tom's TV work has included a recurring role during the early years of "The Facts of Life" as well as guest spots on "The Cosby Show" (1985), "thirtysomething" (1990), "Quantum Leap" (1991), "Anything But Love" (1991), and "Chicago Hope" (1995). In 1995 she played David Schwimmer's girlfriend on six episodes of the hit NBC sitcom "Friends". She also has made a handful of TV-movies, none of which are particularly memorable: "Mom's On Strike" (ABC, 1984), "The Exchange Student" (CBS, 1985), "Angel of Death" (CBS, 1991), "In the Line of Duty: Kidnapped" (NBC, 1995), and "Escape to Witch Mountain" (ABC, 1995).
Tom's film career began in 1982 with a lead in the comedy "Nothing Lasts Forever", but when she returned to the medium later in the decade it was in small roles ( "Wall Street", 1987; "Blue Steel", 1990; "Cadillac Man", 1990; "Man Trouble", 1992). Tom's largest role to date was as one of the American-born daughters of Chinese immigrants in "The Joy Luck Club" (1993). As Lena, who cares for her mentally unstable mother, Tom gave a quiet, intelligent performance which boded well for her future onscreen. Her roles grew somewhat larger–though still only supporting ones–in the Richard Gere starrer "Mr. Jones" (1993) and the Meg Ryan/Andy Garcia drama "When a Man Loves a Woman" (1994). She was one of the many performers turning in cameos in Rob Reiner's "North" (1994).
The aboce TCM overview can also beaccessed online here.