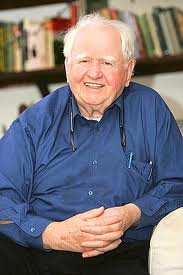 Malachy McCourt was born in 1931 in Brooklyn, New York but raised in Limerick.   He is the brother of the author Frank McCourt.   Among his movies are "Two for the Seesaw" in 1962, "The Molly McGuires" in 1970 and "The Brink's Job".   Access his website here.
IMDB entry:
Malachy McCourt was born in Brooklyn, New York and raised in Limerick, Ireland. He managed to fail every subject in school, except English and recess. In 1952, he returned to America and worked as a longshoreman, dishwasher and laborer. Soon after, he became an actor, and then established the first singles bar in America. He then began a tumultuous radio career in 1970 on WNYC, WMCA and WBAI. They said he was outrageous and opinionated and a disgrace to the Irish, which was quite true. Aside from some temporary stints on WABC, WOR and WNYC, he has not been asked to do a regular show since he got fired in 1976, which celebrated the two hundredth anniversary of free speech in America. Malachy has appeared on stage in plays such as "DA", "The Hostage", "Mass Appeal", "Inherit the Wind" and "A Child's Christmas in Wales". On television, he was a semi-regular on The Jack Paar Tonight Show (1957), with Jack Paar and Merv Griffin. He appeared in the soap operas, Ryan's Hope (1975), One Life to Live (1968), as well as The Dain Curse (1978) and other made-for-TV movies. On screen, he can be seen in She's the One (1996), The Devil's Own (1997), Reversal of Fortune (1990), Green Card(1990), The Field (1990) and The Molly Maguires (1970). Currently, he is doing a star turn in the new Edward Burns film, Ash Wednesday (2002), followed by another star turn inThe Guru (2002). Malachy is the author of "A Monk Swimming", which was on the best- seller lists for months in the U.S., Europe and Australia. His new book, "Singing My Him Song", was published in October of 2000 by Harper Collins. Malachy and his brother,Frank McCourt, developed, staged and acted in "A Couple of Blaguards", which was performed in St. Petersburg, Florida. The play has been produced throughout America, Australia and the UK. Malachy is happily married to Diana, is the proud father of five children, and the grandfather of three. He lives in New York City, where he writes a weekly column for The West Side Spirit "Sez I To Myself".
– IMDb Mini Biography By: Ciaran O'Shea
The above IMDB entry can also be accessed online here.