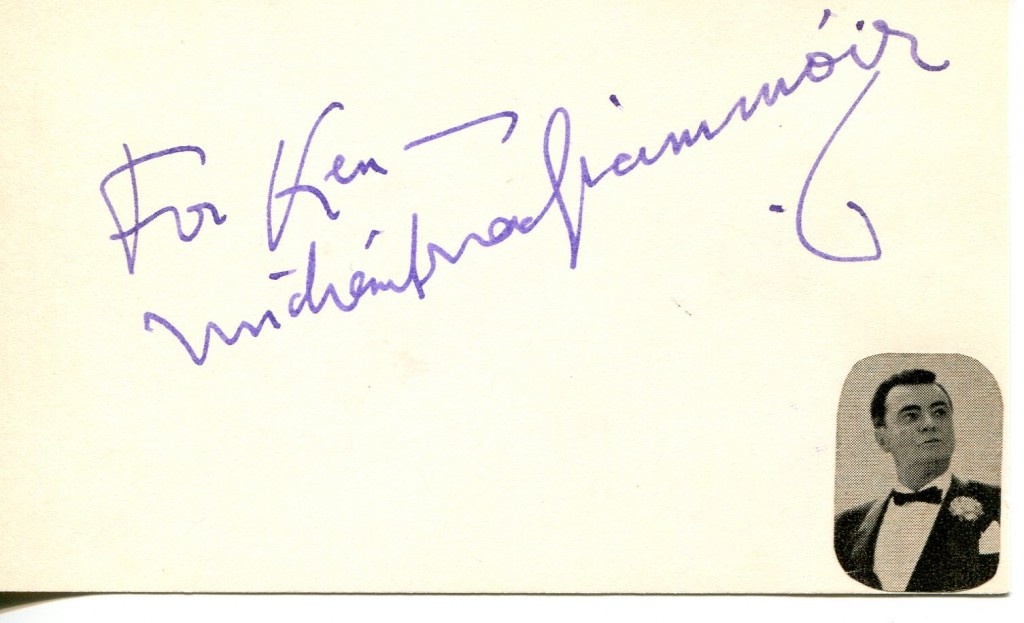 Michael Mac Liammoir was born in London in 1899. In the 1920's he came to Ireland and with Hilton Edwards established the now famed Gate Theatre in Dublin. Actors to work at the Gate include Orson Welles, James Mason and Geraldine Fitzgerald. Primarily a stage actor he had made the occasional film including John Huston's "The Kremlin Letter" in 1970 and "What's the Matter with Helen" with Debbie Reynolds and Shelley Winters which he made in Hollywood. He died in 1978.
"Wikipedia" entry:
As Alfred Willmore, he was one of the leading child actors on the English stage, in the company of Noël Coward. He studied painting at London's Slade School of Art, continuing to paint throughout his lifetime. In the 1920s he travelled all over Europe. Willmore was captivated by Irish culture: he learnt Irish which he spoke and wrote fluently and he changed his name to an Irish version, presenting himself in Ireland as a descendant of Irish Catholics from Cork.[1] Later in his life, he wrote three autobiographies in Irish and translated them into English.[2]
While acting in Ireland with the touring company of his brother-in-law Anew MacMaster, Mac Liammóir met his partner and lover, Hilton Edwards. Their first meeting took place in the Athenaeum, Enniscorthy, County Wexford, which is currently in a state of disrepair. Deciding to remain in Dublin, where they lived at Harcourt Terrace, the pair assisted with the inaugural production of Galway's Irish language theatre, An Taibhdhearc; the play was Mac Liammóir's version of the mythical story Diarmuid agus Gráinne. Mac Liammóir and Edwards then threw themselves into their own venture, co-founding the Gate Theatre in Dublin in 1928. The Gate became a showcase for modern plays and design (even as Mac Liammóir himself maintained an ongoing fascination with Celticism). Mac Liammóir's set and costume designs were key elements of the Gate's success. His many notable acting roles included Robert Emmet/The Speaker in Denis Johnston's The Old Lady Says "No!" and the title role in Hamlet.
In 1948, he appeared in the NBC television production of Great Catherine with Gertrude Lawrence. In 1951, during a break in the making of Othello, Mac Liammóir produced Orson Welles's ghost-story Return to Glennascaulwhich was directed by Hilton Edwards. He played Iago in Welles's film version of Othello (1952). His Iago is unusual in that Mac Liammóir was about fifty (and looked older) when he played the role, while the play gives Iago's age as 28. This may have been because of Welles' intended interpretation – he wanted Iago played as an older "impotent" consumed by envy for the younger Othello.[3] The following year, he went on to play 'Poor Tom' in another Welles project, the TV film of King Lear (1953) for CBS.
Mac Liammóir wrote and performed a one-man show, The Importance of Being Oscar, based on the life and work of Oscar Wilde. The Telefís Éireann production won him a Jacob's Award in December 1964. It was later filmed by the BBC with Mac Liammóir reprising the role.
He narrated the 1963 film Tom Jones and was the Irish storyteller in 30 Is a Dangerous Age, Cynthia (1968) which starred Dudley Moore.
In 1969 he had a supporting role in John Huston's The Kremlin Letter. In 1970 Mac Liammóir performed the role of narrator on the cult album Peace on Earth by the Northern Irish showband, the Freshmen and in 1971 he played an elocution teacher in Curtis Harrington's What's the Matter with Helen?.
Mac Liammóir claimed when talking to Irish playwright, Mary Manning, to have had a homosexual relationship with General Eoin O'Duffy, former Garda Síochána Commissioner and head of the quasi-fascist Blueshirts in Ireland, during the 1930s. The claim was revealed publicly by RTÉ in a documentary, The Odd Couple, broadcast in 1999. However, Mac Liammóir's claims have not been substantiated.
Mac Liammóir is the subject of the 1990 play The Importance of Being Micheál (also published as a book) by John Keyes.
The above "Wikipedia" entry can also be accessed online here.