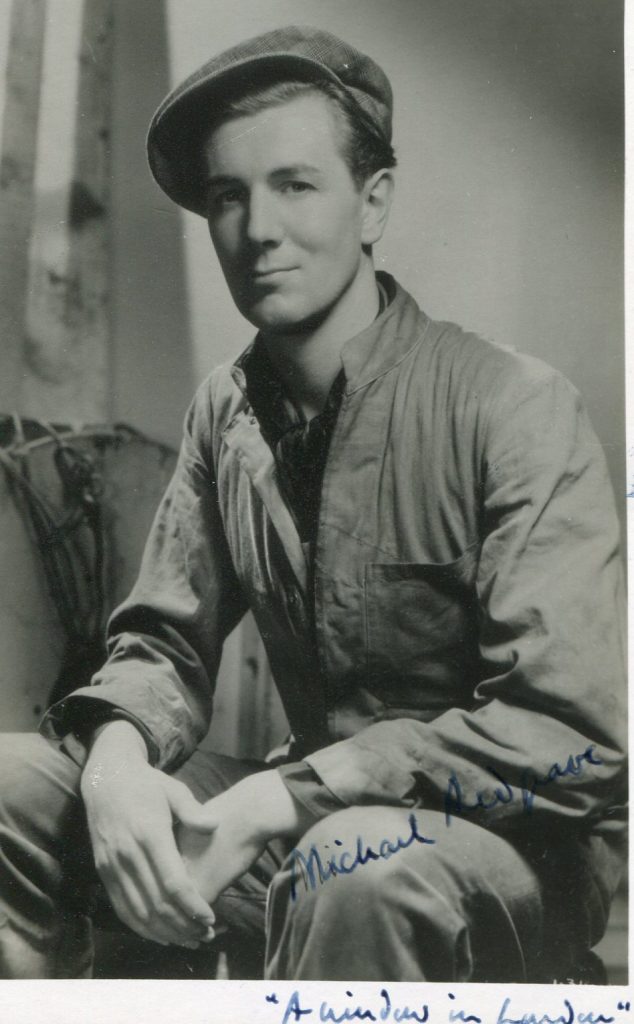 Michael Redgrave. Wikipedia.
Michael Redgrave was born in 1908 in Bristol. Among his many film credits are "the Lady Vanishes" with Margaret Lockwood in1938, "The Way to the Stars" in 1935, "The Secret Beyond the Door" in 1948, which was made in Hollywood, with Joan Bennett. He died in 1985. By his marriage to actress Rachel Kempson he had three children Vanessa, Corin and Lynn who became reknowned actors also.
TCM overview:
A British legend of stage and screen, Michael Redgrave made his name with a seemingly endless string of theatrical triumphs that included an amazing mastery of the great Shakespearean roles. A global ambassador for the British theatrical tradition and its potential to be among the highest of the art forms, Redgrave was eventually knighted for his services, along with his contemporaries Laurence Olivier and John Gielgud. He also achieved a sterling reputation as a first-rate film actor, debuting in Alfred Hitchcock's "The Lady Vanishes" (1938) before earning an Oscar nomination for "Mourning Becomes Electra" (1947). He won Best Actor from the Cannes Film Festival for his star turn as a bitter teacher in "The Browning Version" (1951), which many felt ranked among the greatest screen performances of all time, and was BAFTA-nominated for "The Night My Number Came Up" (1955) and "Time Without Pity" (1957). He would go on to star in such classics as "The Innocents" (1961) and "Uncle Vanya" (1963) before retiring from acting when symptoms of Parkinson's disease became too great. When he passed away in 1985, the thespian left behind an unparalleled family acting dynasty that included his children Vanessa, Corin and Lynn, and grandchildren Natasha and Joely Richardson. His name synonymous with theatrical excellence and artistic integrity, Michael Redgrave reigned as one of its most respected actors of stage and screen.
Born March 20, 1908 in Bristol, England, Michael Scudamore Redgrave was the son of actors Margaret Scudamore and Roy Redgrave, although his father abandoned the family when Redgrave was an infant. Intelligent, sensitive and artistic, he became a teacher but never abandoned his love of literature and theater; he not only staged many plays at his school, but starred in them as well. Although Redgrave was either bisexual or homosexual and would later carry on secret affairs with several men, he came to an arrangement with actress Rachel Kempson and the two married in 1935, a year after he made his professional theatrical acting debut. Redgrave would go on to become one of the true British legends of the stage, famous for his polished performances in a variety of roles, particularly his Shakespearean triumphs in such masterpieces as "Love's Labours Lost," "As You Like It," "Hamlet" and "Macbeth."
In the 1950s, he completed several acclaimed stints in the Stratford-upon-Avon Shakespeare Memorial Theatre and was considered by many to be one of the most gifted and powerful interpreters of the Bard's work. Along with Laurence Olivier, Ralph Richardson and John Gielgud, Redgrave shone as one of the era's most gifted actors, all of whom would later be knighted for their services to the theater. He made his film debut as a train passenger caught up in a delicious mystery in Alfred Hitchcock's "The Lady Vanishes" (1938) and went on to work steadily on the big screen in such films as "Stolen Life" (1939), "Thunder Rock" (1942) and "Dead of Night" (1945). He was nominated for a Best Actor Oscar for his masterful turn as the fragile brother of the ruthless Lavinia (Rosalind Russell) in the film adaptation of Eugene O'Neill's classic "Mourning Becomes Electra" (1947).
Even more impressive, however, was his electrifying star turn in the Anthony Asquith/Terence Rattigan collaboration "The Browning Version" (1951), which also contained overtones of classical Greek tragedy. Playing a beaten-down, embittered teacher who, upon his retirement, realizes that it was not the students who failed him but the other way around, Redgrave was nothing short of magnificent, confronting his repression and failure in an unforgettably powerful monologue. For his work, he won Best Actor at the Cannes Film Festival. Continuing to succeed on both the stage and screen, Redgrave earned a Best British Actor BAFTA nomination for the harrowing psychological thriller "The Night My Number Came Up" (1955), which dealt with the idea of fate and predestination via one fateful plane trip. The actor earned another BAFTA nod for his turn as an alcoholic father desperate to prove his son innocent of a murder charge in "Time Without Pity" (1957) and continued to book important roles in such enduring projects as "The Importance of Being Earnest" (1952), "1984" (1956), "The Quiet American" (1958), "The Innocents" (1961) and "Uncle Vanya" (1963), repeating his stage triumph onscreen in the latter.
He narrated "The Great War" (BBC, 1964) and continued to land film and theatrical roles, but he was increasingly plagued by the symptoms of Parkinson's disease, which made it impossible for him to memorize lines. His final theatrical role was in 1979's "Close of Play" and his final screen appearance came in "Rime of the Ancient Mariner" (1975). On March 21, 1985, he died of complications related to Parkinson's. Nevertheless, he left behind a distinguished legacy as an exceptional actor as well as the patriarch of the famed Redgrave acting dynasty that included wife Rachel Kempson and their children Vanessa, Corin and Lynn Redgrave, as well as his grandchildren Natasha and Joely Richardson, who all achieved artistic prominence. In fact, the very name "Redgrave" came to be synonymous with the best British acting and theatrical traditions, due in great part to the world-class talent and character of Michael Redgrave.
By Jonathan Riggs
The above TCM overview can also be accessed online here.