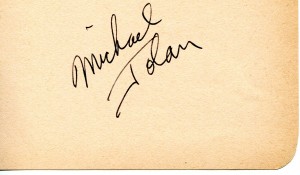 Michael Tolan was an excellent actor who was born in 1925 in Detroit.   He had a very profilic career on television from the mid-1950's appearing in many of the more popular drama's over the next thirty years including "The Mary Tyler Moore Show", "Mannix", "Kojack" and "Murder She Wrote".   His films include "The Greatest Story Ever Told" and "Presumed Innocent".   He died in 2011.
His obituary in "The New York Times":
Michael Tolan, an actor who became a recurring presence on television in the 1960s and '70s after walking away from film and Broadway but who returned to the stage to help found the American Place Theater, a successful Off Broadway house, died on Monday in Hudson, N.Y. He was 85.
The cause was heart disease and renal failure, his partner, Donna Peck, said. They lived in Ancram, N.Y.
By the early 1960s Mr. Tolan had had roles in films, like Edwin L. Marin's western "Fort Worth" (1951), and on Broadway, including big parts in long-running romantic comedies like Peter Ustinov's "Romanoff and Juliet." But he was dissatisfied.
"This Broadway is for the birds," he told The New York Times in 1965. "In 99 percent of the cases it has nothing to do with acting as a craft, as an art."
So Mr. Tolan began acting in televised plays, which led to roles on weekly series. In 1964 he starred as Dr. Alex Tazinski, a character he called "hard-hitting, uncompromising, somewhat antisocial" on the CBS prime-time medical drama "The Doctors and the Nurses."
He later starred on the NBC drama "The Senator" (1970-71) and appeared on other shows, including "The Mary Tyler Moore Show," as Ms. Moore's journalism teacher and boyfriend, Dan Whitfield.
Mr. Tolan founded the nonprofit American Place Theater with Wynn Handman and Sidney Lanier at St. Clement's Church on West 46th Street in 1963. The theater has since moved to 9th Avenue between 44th and 45th Streets.
"We wanted to attract some of the writers who wrote fine, intelligent, deep material about American life, and see if we could interest them in writing for the theater," Mr. Tolan wrote in an unpublished memoir.
The American Place produced first plays by writers like Donald Barthelme and Anne Sexton. Faye Dunaway, Morgan Freeman and other Hollywood stars performed there early in their careers.
Michael Tolan was born Seymour Tuchow on Nov. 27, 1925, in Detroit. He graduated from Wayne State University in 1947 and performed with a repertory company in Detroit. In New York he studied under Stella Adler and won a fellowship to study acting atStanford University.
A performance at Stanford led to his first movie role, as a gangster (under the name Lawrence Tolan, which he later changed) in "The Enforcer" (1951) with Humphrey Bogart.
He made his Broadway debut in George Axelrod's "Will Success Spoil Rock Hunter?" in 1955, and appeared in five more Broadway plays through 1961. He later had supporting roles in "The Greatest Story Ever Told" (1965) and "Presumed Innocent" (1990), among other films.
His two marriages ended in divorce.
In addition to Ms. Peck, he is survived by a brother, Gerald Tuchow, of Detroit; a daughter, Alexandra, of Watertown, Mass., from his first marriage, to the actress Rosemary Forsyth; and two daughters, Jenny and Emilie, both of New York, from his marriage to Carol Hume.
The above "New York Times" obituary can also be accessed online here.