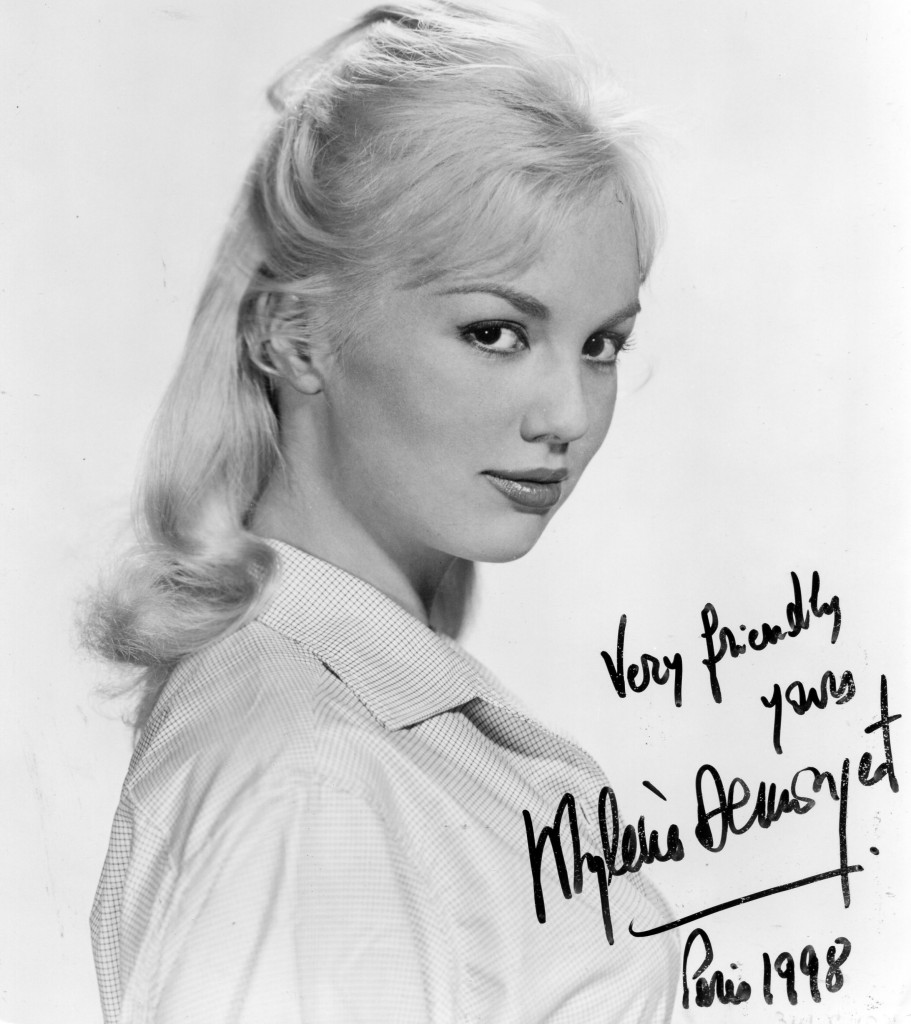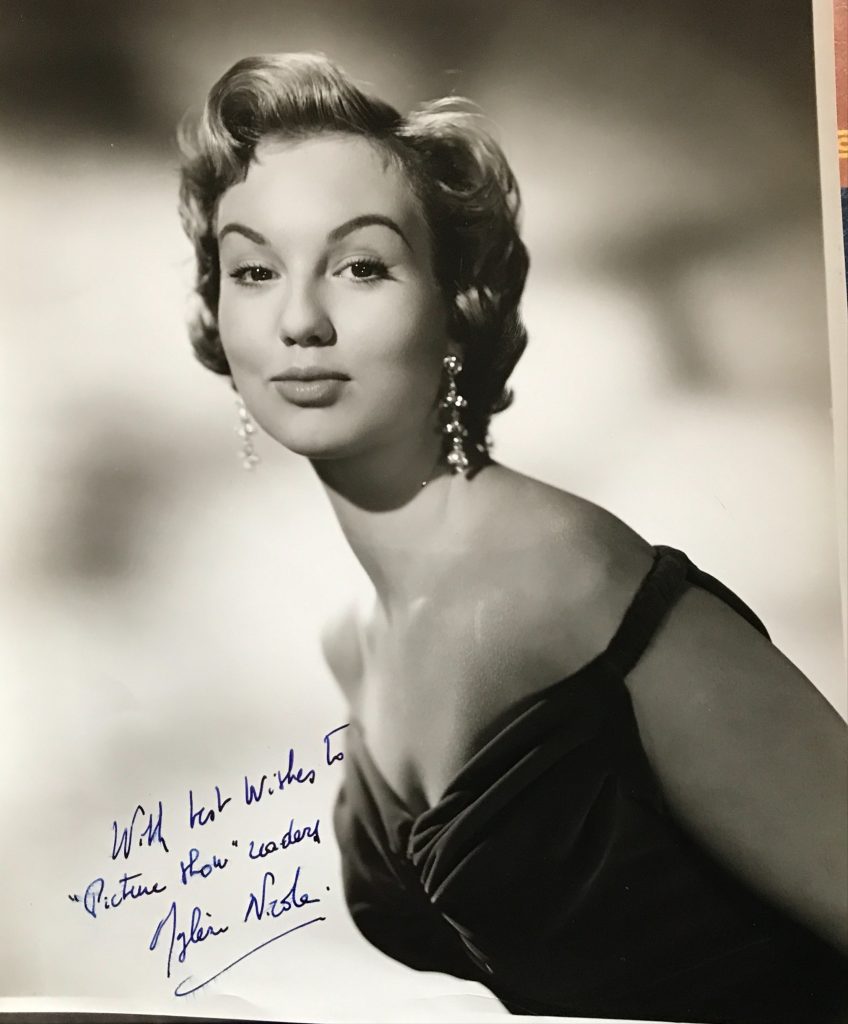 Mylene Demongeot (IMDB)
Mylene Demongeot is one of the blond sex symbols of French cinema during the 1950s and 1960s, managed to overcome typecasting and survived a long hiatus before a stellar comeback in her 70s. She appeared in more than 70 films, including such classics as "The Three Musketeers" and the Fantomas trilogy.
She was born Marie-Helene Demongeot on September 29, 1935, in Nice, France, into a family of actors. Her parents met in Shanghai, China, and moved to Nice. Her mother, Klaudia Trubnikova, was a Russian-Ukrainian émigré from Kharkiv who escaped from the horrors of the Russian Civil War. Her father, Alfred Demongeot, was of French-Italian heritage. The family was bilingual and young Demongeot was able to use Russian and French, but eventually switched to French. She grew up in Nice. As a young girl she was an outcast: she suffered from ruthless kids making vicious comments about her eyes (she was cross-eyed until she had surgery in her teens).

She was fond of music and movies, a perfect escape from the horrors of WWII that devastated Europe during her childhood. At the age of 13she came to Paris and continued her education. She studied piano under the tutelage of Marguerite Long and Yves Nat. She then studied dramatic art with Maria Ventura at Le Cours Simon in Paris. At 15 she became a model in the atelier of Pierre Cardin.
At 17 Mylene made her film debut in the supporting role of Nicole in Children of Love(1953) ("Children of Love"). Appearing in three or four feature films every year, Demongeot rose to international fame in the late 1950s. She was together with Gary Cooper for the opening of the first escalator to be installed in a cinema, at the Rex Theatre in Paris, on June 7, 1957. She had a memorable seduction scene opposite Yves Montand in The Crucible (1957) ("The Crucible"). Her first notable leading role was in Be Beautiful But Shut Up (1958) (aka "Blonde for Danger"), in which she played a 17-year-old jewel smuggler.
Demongeot further developed her screen image of a manipulative blond mistress in her brilliant performance opposite David Niven in Bonjour Tristesse (1958), and became permanently locked in the cliché image of a humorous seductress after co-starring opposite Alain Delon in the 1959 comedy Three Murderesses (1959).

Her chance to update her film image came in the period films. She played manipulative and coquettish Andromeda opposite Steve Reeves in The Giant of Marathon (1959) ("The Giant of Marathon") and the leading role of Rea opposite Roger Moore in Romulus and the Sabines(1961) ("Romulus and the Sabines"). Among her best known roles are the manipulative Milady de Winter in Les trois mousquetaires: Première époque – Les ferrets de la reine(1961) and Helen in all three of the "Fantomas" films.
Mylene Demongeot became one of the blond sex symbols in the 1950s, 1960s and 1970s French cinema. She co-starred with the major French actors of the time, including Jean Marais and Louis de Funès, in the Fantomas (1964) trilogy. Although she gradually phased out of the stereotypical image of a beautiful French coquette, she still looked pretty convincing as a middle-aged Madame, which she developed in the 1980s and 1990s.

At that time her acting career came to a pause, as she had been aging gracefully in the South of France. She was also a producer during that time, and was the co-owner of the Kangarou Films production company, which she founded with her late husbandMarc Simenon. After a lengthy hiatus she made a comeback in 36th Precinct (2004). She has also appeared in Camping (2006) and La Californie (2006) by director/writer Jacques Fieschi, based on a short story by Georges Simenon.
In addition to her film work, Demongeot has also written several books, the best-known of which would be of "Tiroirs Secrets" and "Animalement vôtre". In the 2000s she made a pilgrimage to the birthplace of her mother in Kharkov, Ukraine. There she planted a commemorative tree and presented her autobiographical book, "Les Lilas de Kharkov" (The Lilacs of Kharkiv). In 2006 she was named Commander in the Order of Arts and Letters for her achievements in acting. She resides in her French hometown of Nice.
– IMDb Mini Biography By: Steve Shelokhonov
The above IMDB entry can also be accessed online here.