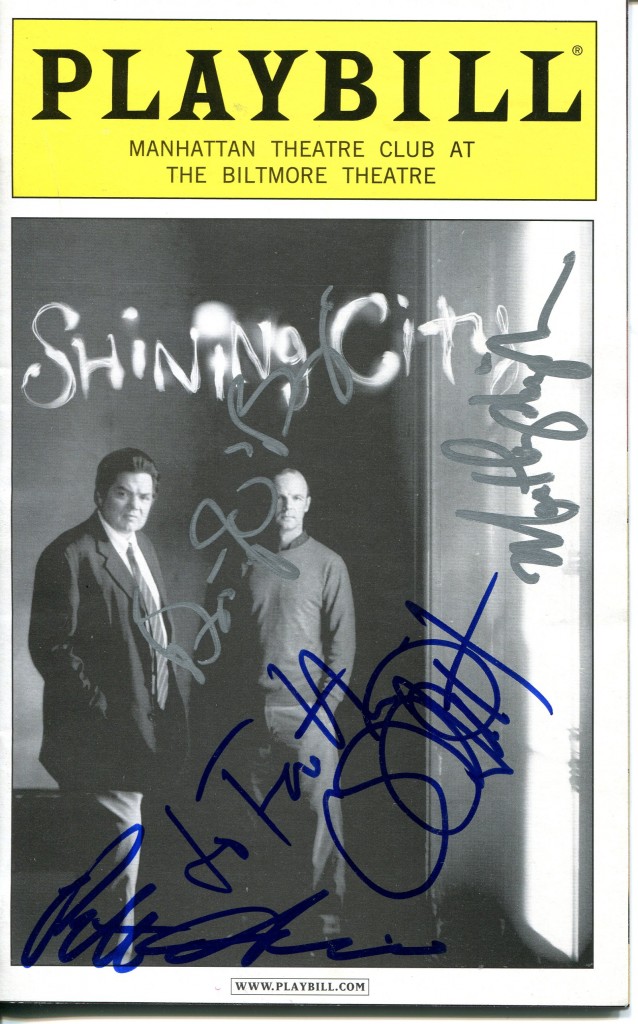 Oliver Platt was born in 1960 in Windsor, Ontario, Canada.
TCM overview:
The definitive scene-stealing supporting player, Oliver Platt built a steady acting career with his knack for taking unappealing characters, like Russell Tupper on "Huff" (Showtime, 2004-06) and making them funny and unexpectedly empathetic. Platt's large frame, expressive face, and booming, gravelly voice were leveraged to great effect in countless roles as attorneys and other educated professionals, with the actor earning acclaim for guest stints on TV's "The West Wing" (NBC, 1999-2006) and "Nip/Tuck" (FX, 2003-10). On the movie screen, he made pompous, amoral scoundrels his calling card in "A Time to Kill" (1996), "Bulworth,"(1999) and "Frost/Nixon" (2008), while occasionally getting the chance to steal the spotlight in the madcap comedy "Impostors" (1997) and on Broadway with his Tony-nominated performance in "Shining City." Platt's unique talent for balancing imposing physical presence with subtle wit, while hinting at the vulnerable side of the over-confident blowhard made him one of the most interesting, craft-oriented actors on stage and screen.
The son of a U.S. diplomat, Platt was born in Windsor, Ontario, Canada on Jan. 12, 1960, and spent his early years shuttling between the Middle East, Asia and Washington, D.C. Early on he discovered acting as a useful survival mechanism for his rootless life, but so many relocations eventually took a toll on Platt. After the troublemaker was kicked out of a number of schools, he finally landed in boarding school at the Colorado Rocky Mountain School, where three years of a stable, progressive environment reined him in. From there he headed to Tufts University in Boston where he met longtime friend and collaborator Hank Azaria and earned a drama degree. Platt stayed in Boston for several years after college, finding steady work in regional productions. Despite some anxiety about the failure rate of the New York actor, Platt's stage career blossomed almost immediately after he made the move, and he spent the next several years appearing in productions at the Playwright's Horizons, the Manhattan Theater Club, and the Manhattan Punch Line Theatre Group, where show biz rumor had it that he caught the eye of comic actor Bill Murray, who recommended him to his friend, director Jonathan Demme. Demme subsequently gave Platt his first film role in the sharp-witted comedy "Married to the Mob" (1988), where he played the wisecracking partner of an FBI agent (Matthew Modine) infiltrating the mob.
Platt followed up with a small role as Melanie Griffith's sexist boss in Mike Nichols' blockbuster "Working Girl" (1988), and in 1990 landed a co-starring role as one of the death-defying medical students in J l Schumacher's "Flatliners" (1990). He built up his resume with solid performances in "Postcards from the Edge" (1990), the madcap family comedy "Beethoven" (1992), and "Diggstown" (1992), where he played a con man alongside James Woods. Platt continued to establish his persona as educated, professional jerks with appearances as Timothy Hutton's associate in "The Temp" (1993) and Woody Harrelson's sneaky lawyer (the first of many attorneys the actor would play) in the saucy hit, "Indecent Proposal" (1993). After a rare working class role in "Benny & Joon" (1993), Platt gave a memorable performance as Porthos in Stephen Herek's "The Three Musketeers" (1993), and at nearly 6'4″, was well-cast as Paul Bunyan in the fantasy "Tall Tale: The Unbelievable Adventures of Pecos Bill" (1995). The same year, the relative screen newcomer was cast opposite comedy legend Jerry Lewis in the indie film "Funny Bones" (1995), where he played the aspiring stand-up comic and belligerent son of comedy icon (Lewis). During that busy year Platt also starred in the HBO Original Movie, "The Infiltrator" (1995), as a journalist who exposes a group of neo-Nazis.
In a pair of big budget outings in 1996, Platt had a supporting role as a weapons designer assisting in the rescue of a hijacked plane in the actioner, "Executive Decision" (1996) and essayed the shifty, alcoholic mentor of a young attorney (Matthew McConaughey) in the courtroom drama, "A Time to Kill" (1996). In the independent film world, Platt made his producing debut with the acclaimed "Big Night" (1996), co-directed by actors Stanley Tucci and Campbell Scott. He went on to team with Tucci as Depression-era actors who stow away aboard a luxury cruise liner in the delightful madcap comedy, "The Impostors" (1998) – one of five films he appeared in that year. While the costume drama "Dangerous Beauty" and the literary adaptation "Simon Birch" received little fanfare, Platt hit a home run as Warren Beatty's coke-snorting campaign manager and spin doctor in "Bulworth," and as Eddie Murphy's medical partner in the mega family hit, "Dr. Dolittle." In 1999 he had a scene-stealing turn as a hilariously pompous mythology professor in the David E. Kelly-scripted satire "Lake Placid" (1999), and continued to make a huge impression from the wings playing a robot mechanic in "Bicentennial Man" (1999) and a caustic gay architect in "Three to Tango" (1999).
Platt began the new millennium playing a hotheaded Mafia chieftain in the well-reviewed comedy "Gun Shy" (2000), another crime comedy exploring the vulnerabilities of tough guys, then put his imposing size to use playing a bitter, drunken professional wrestler in "Ready to Rumble" (2000). Platt landed his first regular television role that fall, starring as a tabloid journalist who teams with students to solve crimes in Dick Wolf's "Deadline" (NBC, 2000). The show failed to capture viewers and was cancelled after only five airings, but Platt returned to prime time the following year in a recurring role as shrewd and sardonic White House counsel Oliver Babish on the NBC political drama, "The West Wing" (NBC, 1999-2006), a performance that netted him an Emmy nomination. Following a nicely etched supporting turn as a therapist in the thriller "Don't Say a Word" (2001), Platt appeared in one of his most subtle and appealing performances, playing Katie Holmes' compassionate, put-upon father struggling to reconcile his splintered family in "Pieces of April" (2003). Following a standout supporting turn as a small town New England mayor in the otherwise unremarkable romantic comedy "Hope Springs" (2003), Platt appeared opposite Liam Neeson as the nervous university president of a controversial sexuality researcher in the critically acclaimed biopic, "Kinsey" (2004).
Finally teaming onscreen with longtime pal Hank Azaria, Platt returned to television in the fall of 2004 in the Showtime comedy series "Huff," playing the indulgent, womanizing, attorney best friend of a significantly less joyful psychiatrist (Azaria). The pair's great chemistry was key to the show's status as a critical darling, and Platt earned one Golden Globe and two Emmy nominations for Best Supporting Actor. During the two season-run of "Huff," Platt maintained a big screen presence as well with Harold Ramis' pitch-black comedic film noir, "The Ice Harvest" (2005), in which he delivered one of the funniest and most realistic portrayals of a man on a bender ever shot on film, and "Casanova" (2005), Lasse Hallstrom's fictionalized account of the legendary lothario (Heath Ledger) that was easily one of the most ill-conceived and disappointing films of the year, despite a game performance by Platt as an obese pork magnate. Platt returned to the stage in 2006 with a Tony Award-nominated Broadway debut as a grieving widower in Conor McPherson's "Shining City," which itself earned a Tony nod for Best Play. Television came calling again, and Platt was cast in a recurring role as an uptight reality show producer on the FX drama "Nip/Tuck" in 2007, earning an Emmy nomination for Best Guest Actor in a Drama Series.
The same year Platt gave a triumphant performance as charismatic New York Yankees owner George Steinbrenner in ESPN's miniseries "The Bronx is Burning," and was recognized with an Outstanding Male Actor in a Miniseries nomination from the Screen Actors Guild Awards. The following year, Platt was tapped to portray another real-life figure, journalistic investigator Bob Zelnick, in the Oscar nominee for Best Picture, "Frost/Nixon" (2008), based on Peter Morgan's stage play about Richard Nixon's infamous television interviews with British TV presenter David Frost in 1977. In the spring of 2009, Platt was surprised when he was called upon to play Nathan Detroit in a Broadway revival of "Guys and Dolls." While Platt was certainly not known for musicals, directors sought the actor's talent for making shady characters into likable, forgivable charmers, for the role of the gambling impresario. From the glamour of that role, Platt turned around to portray a caveman in "Year One" (2009), the prehistoric comedy starring Jack Black and Michael Cera, and returned to a White House set once again to play the White House Chief of Staff in Roland Emmerich's big budget sci-fi thriller, "2012" (2009).
The above TCM overview can also be accessed online here.