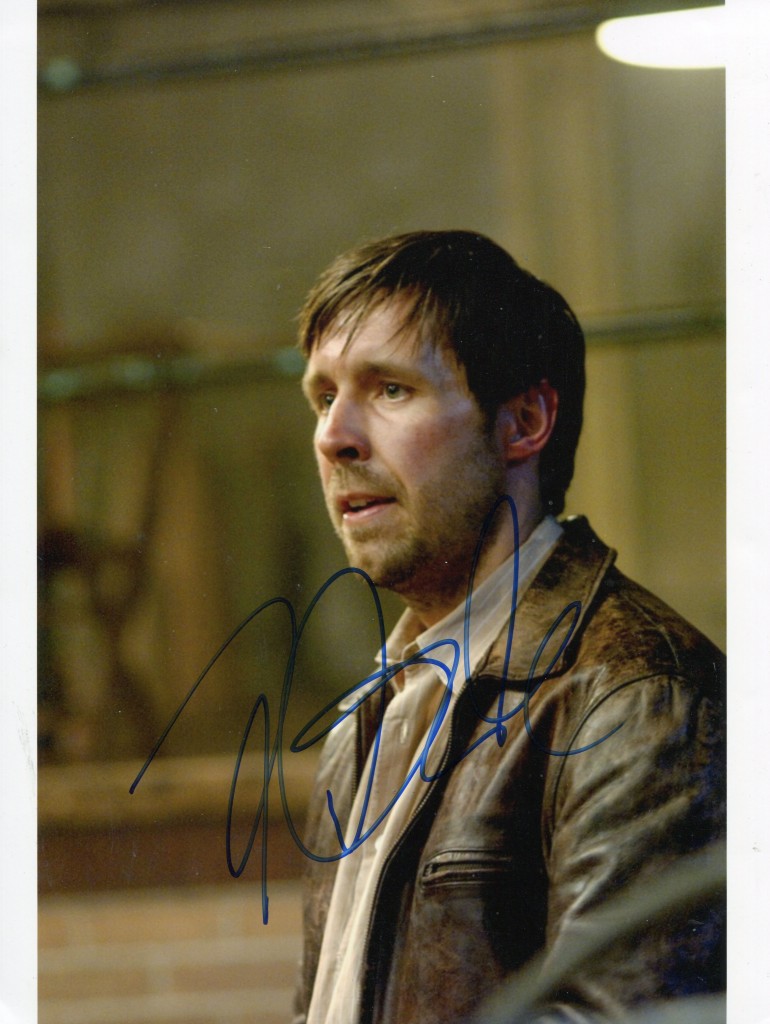 Paddy Considine is an English actor of Irish parents. He was born in 1972 in Burton-Upon-Trent. He is best known for his work with director Shane Meadows. His movies include "In America", "Dead Men's Shoes" and on television "Red Riding Trilogy".
TCM overview:
ossessing an enormous wealth of animated charm, along with a touch of quiet intensity, actor Paddy Considine established himself as a talented performer in his relatively short career. From the time he made his feature debut in friend Shane Meadows' "A Room for Romeo Brass" (1999), Considine amassed a number of credits that displayed his versatility, particularly in roles that required morally or mentally troubled characters. He delivered fine turns in the stark drama, "Last Resort" (2000), while doing a 180 degree turn for the lighthearted romantic comedy "Born Romantic" (2000). Considine's exceptional performances often exceeded rather underwhelming material, as so happened with Michael Winterbottom's "24 Hour Party People" (2002). He shined as an Irish immigrant who struggles to make good in the United States in Jim Sheridan's critically hailed semi-autobiographical drama, "In America" (2003). Following smaller supporting roles in studio fare like "Cinderella Man" (2005) and "The Bourne Ultimatum" (2007), Considine excelled in lower profile projects like "The Cry of the Owl" (2009), "Red Riding: 1980" (Channel 4, 2009) and "Blitz" (20110), which once again allowed the actor to put the full breadth of his talents on display.
Born on Sept. 5, 1974 in Burton-on-Trent, Staffordshire, England, Considine was raised with his six brothers and sisters in a working-class household in the suburb of Winshill. After finishing his required studies at the Abbot Beyne Senior School, Considine studied acting at Burton College, where he befriended future director and collaborator Shane Meadows. He failed to complete his studies, however, and eventually went on to study photography at the University of Brighton. Considine held a career as a professional photographer until the end of the 1990s, when he returned to acting for his feature debut after Meadows cast him in a starring role for the director's critically acclaimed comedy drama, "A Room for Romeo Brass" (1999). He played Morell, a strange neighborhood character in working-class Nottingham who ultimately drives a wedge between two 12-year-old friends (Andrew Shim and Ben Marshall) after pursuing the sister of one of the boys. Prior to starring in the film, Considine thought very little about an acting career. But after his memorable turn, Considine rethought the direction of his career.
Considine followed his film debut with another fine performance in the grim drama "Last Resort" (2000), directed by Pawel Pawlikowski. The actor played Alfie, a washed-up boxer who runs a dilapidated arcade. Considine's endearing performance gave the otherwise stark film a much-needed comic spark. Though released in only 14 theaters in the United States, "Last Resort" did make the festival rounds, which helped expose Considine's already impressive acting talents to a wider audience. He settled back into a light-hearted romantic comedy for his next project, "Born Romantic" (2000), about three lonely Londoners contemplating life's greatest mystery: women. After a virtually unnoticeable role in the crime-comedy "The Martins" (2001), Considine was the troubled and volatile music manager, Rob Gretton, in Michael Winterbottom's nostalgic "24 Hour Party People" (2002). Though unfamiliar with both Gretton and the larger Manchester music scene, Considine impressed Winterbottom enough to be cast in the role. Once again, however, Considine gave a notable performance in a film that was barely seen by audiences, particularly in America.
Considine's fortunes changed virtually overnight when he appeared in the Oscar-nominated drama "In America" (2003). Helmed by acclaimed director Jim Sheridan, "In America" told the near-autobiographical tale of a man (Considine) who emigrates from Ireland with his family to America in order to realize his dreams of becoming an actor. Told that he would not be playing a character based on Sheridan in the film, Considine nonetheless could not help having the idea in the back of his mind. Considine's experience on "In America" proved to be the most taxing in his short career, starting with the death of his father two weeks before shooting began. He pointed to the support of his fellow cast members, particularly the two little girls who play his daughters, as helping him get through the shoot. Considine also had trouble performing love scenes with co-star Samantha Morton because of his fidelity to his wife, Shelly – he was so nervous and guilt-ridden that he briefly considered giving up acting over love scenes. Though not nominated for an Oscar like co-stars Morton and Djimon Hounsou, Considine nonetheless turned in his finest performance to date.
From there, Considine teamed with director Pawel Pawlikowski for the romantic drama "My Summer of Love" (2005), before appearing alongside Russell Crowe and Renee Zellweger in the Oscar-baiting drama "Cinderella Man" (2005). He next appeared in the speculative historical drama "Stoned" (2005), in which he played a man accused of murdering Rolling Stones founding member, Brian Jones. After reuniting with Meadows to co-write and star as a vengeance-minded brother in the crime thriller "Dead Man's Shoes" (2006), Considine wrote and directed "Dog Altogether" (2007), a short film partially inspired by the life of his father. Back on the big screen, he had a small role as a newspaper reporter in the blockbuster action thriller, "The Bourne Ultimatum" (2007), starring Matt Damon, before he starred on British television in the addiction-themed drama, "My Zinc Bed" (BBC, 2008). In "The Cry of the Owl" (2009), he was a recent divorcé who moves to rural Pennsylvania, where he becomes unhealthily obsessed with a younger woman (Jenny Thierolf). He next starred as a police detective brought in to investigate the Yorkshire Ripper case, only to unearth massive police corruption in the acclaimed "Red Riding: 1980" (Channel 4, 2009), part two of three feature-length television movies based on the famed serial killings. Meanwhile, he followed by playing a charming spiritual guru in the coming-of-age drama, "Submarine" (2011), before starring opposite Jason Stratham in the action thriller "Blitz" (2011).
The above TCM overview can also be accessed online here.