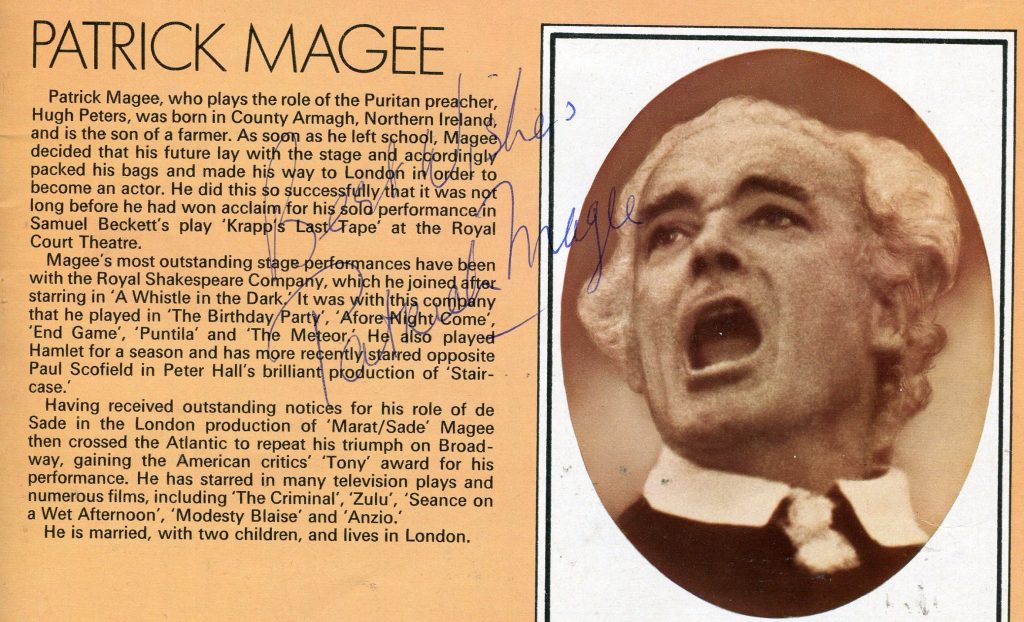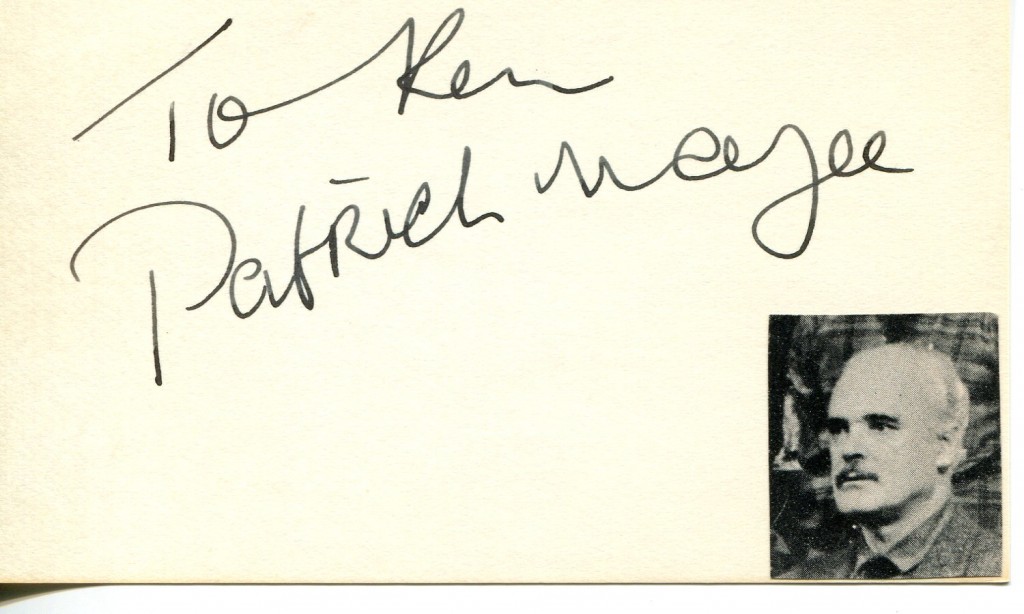 Patrick Magee was born in Armagh in 1922. He is best known for his extensive stage roles and his film work with Stanley Kubrick in "A Clockwork Orange" in 1971 and "Barry Lyndon" in 1975. His other movie roles include "The Masque of the Red Death" in 1964 and "The Final Programme". He died at the age of sixty in 1982.
IMDB entry:
Born in Armagh, Northern Ireland, Patrick Magee is a classic example of how certain actors rate the stage far more highly than the screen. Magee was well aware that the vast majority of the films that he appeared in were dreadful (he mostly played sinister villains in horror films), but the money came in very handy in financing his distinguished stage work (he was a favorite actor of Samuel Beckett one of whose greatest plays, 'Krapp's Last Tape', was written specifically for him). However, he did do some outstanding work on film, most notably in Stanley Kubrick's A Clockwork Orange (1971) as the crippled writer Mr.Alexander, and in Kubrick's Barry Lyndon (1975), as the chevalier. He also appeared in Joseph Losey's The Servant (1963), Peter Brook'sMarat/Sade (1967) and William Friedkin's The Birthday Party (1968). He also appeared in films by such cult directors as Roger Corman, Lucio Fulci and Walerian Borowczyk.
– IMDb Mini Biography By: Michael Brooke <michael@everyman.demon.co.uk>
Belfast Telegraph article in 2017.
He's the wild-eyed, controversial Ulster actor who numbered playwrights Samuel Beckett and Harold Pinter among his closest friends and who appeared in iconic movies like A Clockwork Orange and Chariots of Fire.
Yet Patrick Magee is an almost forgotten figure in his homeland -and not just because he shared his name with the Brighton bomber.
But now the gravel-voiced star of stage and screen, who died in August 1982, is to be commemorated with a blue plaque by the Ulster History Circle at his former family home in Armagh's Edward Street.
Belfast actor Stephen Rea, who appeared on stage with Magee in London, will unveil the plaque later this month during the John Hewitt summer school.
The recognition comes after a campaign to honour Magee was backed by the University of Reading where celebrated Armagh-born poet Dr Conor Carville, an associate professor, has been instrumental in championing his cause.
Dr Carville whose brother Daragh is a playwright, is also publishing a book about Magee, who was 60 when he died from a heart attack in London.
"Patrick Magee is a very important and unjustly forgotten figure who represents an important aspect of the cultural ferment of the 1960s and 1970s in Britain," Dr Carville says.
Magee was born Patrick George McGee, but later changed his name to avoid confusion with another actor.
He was born into a middle-class family, the oldest of five children, but the man who would become addicted to drink and gambling loved to tell interviewers that he was "a street fighter from Armagh".
He was, however, a committed republican who joined up with acting colleagues Vanessa Redgrave and Glenda Jackson to campaign on social issues of the day.
He was also instrumental in persuading his union Equity to boycott South Africa because of apartheid in 1976.
Forgotten genius: actor Patrick Magee
Magee was educated at St Patrick's College in Armagh where he excelled in a number of school productions.
He went on to join the Group Players in Belfast in 1948 and he appeared in fondly-remembered productions like Mountain Post by Ballymoney playwright George Shiels and Harry Sinton Gibson's Bannister's Cafe.
He stayed with the Group for nearly three years before he and a number of his colleagues went to England under the auspices of the renowned theatrical director Tyrone Guthrie to take part in a series of Irish plays, staged at the Lyric Hammersmith as part of the Festival of Britain in 1951.
Magee returned to tour Ireland with Shakespeare plays in a company put together by Monaghan-born Anew McMaster, whose advertisement for actors was answered by, among others, Harold Pinter.
Determined to establish a foothold as an actor in England, Magee went into repertory theatre and later recalled how he was just about to eke out a living. However, in 1958 – the year he married Armagh woman Belle Sherry – he made his film debut in Rag Doll, directed by Lance Comfort.
But he never made a secret of the fact that he preferred the stage to the big screen.
Magee in Dr Baxter
He'd also carved a reputation for himself on radio as a definitive interpreter of the work of playwright Samuel Beckett, whom he met in 1957 and who was so impressed by him that he wrote his acclaimed play Krapp's Last Tape with Magee in mind.
The friendship endured and a film of Krapp's Last Tape, which is on YouTube, is testimony to Magee's prowess, as is his performance in the Joseph Losey prison drama The Criminal, a film which also starred Stanley Baker.
In 1964, Magee joined the Royal Shakespeare Company after Harold Pinter said he wanted him to be in his play The Birthday Party.
And the following year, after a production of Marat/Sade was transferred from London to New York, Magee won a Tony award for his portrayal of the Marquis de Sade.
However, Magee still struggled financially, in part due to his drinking and gambling, and he accepted roles in low budget British horror films. His performances of sinister characters caught the eye of cult European directors like Walerian Borowczyk and Lucio Fulci.
But there were more mainstream movies too, like A Clockwork Orange and Barry Lyndon during the Seventies.
The theatre still called him back, and in 1976, he was in Beckett's Endgame in a cast which included Stephen Rea.
Magee Masque of the Red Death
Magee's career hit its lowest point, however, when he starred along with a young Helen Mirren (right) in a production of Brian Friel's play The Faith Healer at the Royal Court theatre in London.
Despite a towering performance as Frank McCabe in the central role, Magee was eventually sacked because he was drunk on stage.
Playwright Thomas Kilroy, who was in rehearsal for another play at the Royal Court, told the Irish Times: "I have never been so frightened in the theatre. Most of those nights Magee was so drunk that he barely made it into the spot on stage.
"To compound matters, Mirren was giving a performance of matching power and you ached for even one respite to allow these two performances to speak to one another.
"It never quite happened because of the real danger that Magee was about to fall head over heels into the front rows of the stalls."
One of Magee's final roles before his death was in the Oscar-winning film Chariots of Fire.
Magee in Masque of the Red Death
Despite his problems on and off stage, Conor Carville said he regarded him as one of the finest actors in the British Isles, adding: "The persona he had off-stage was that of a hell-raiser, and this blended into the roles he was cast in.
"He was at the forefront of theatrical and cinematic experiment of the time, and yet, as a BBC stalwart on both radio and TV and a West End actor, he was also ensconced in the mainstream.
"As well as this, his immersion in the new British horror genre meant he moved in underground circles.
"My research has revealed an undercurrent of desperation in his career, as he took on such roles for the income they provided."
Dr Carville's research on Magee for his book has drawn on Beckett's letters to Magee and his wife held at Trinity College; letters between Magee and Pinter held at the British Library, the BBC archives in Caversham, near Reading, as well as the V&A Theatre and Performance Collections in London.
He also drew on the extensive Samuel Beckett Collection at the University of Reading, the world's largest collection of resources relating to the writer.
The Ulster History Circle's blue plaque to honour Patrick Magee will be unveiled by Stephen Rea tomorrow, at 2 Edward Street at noon
Belfast Telegraph