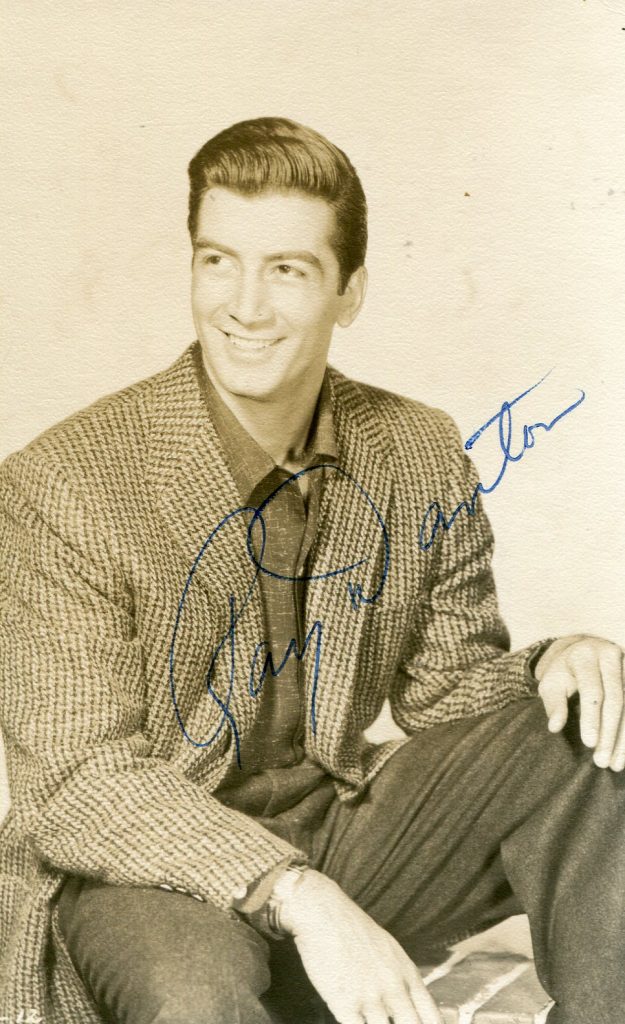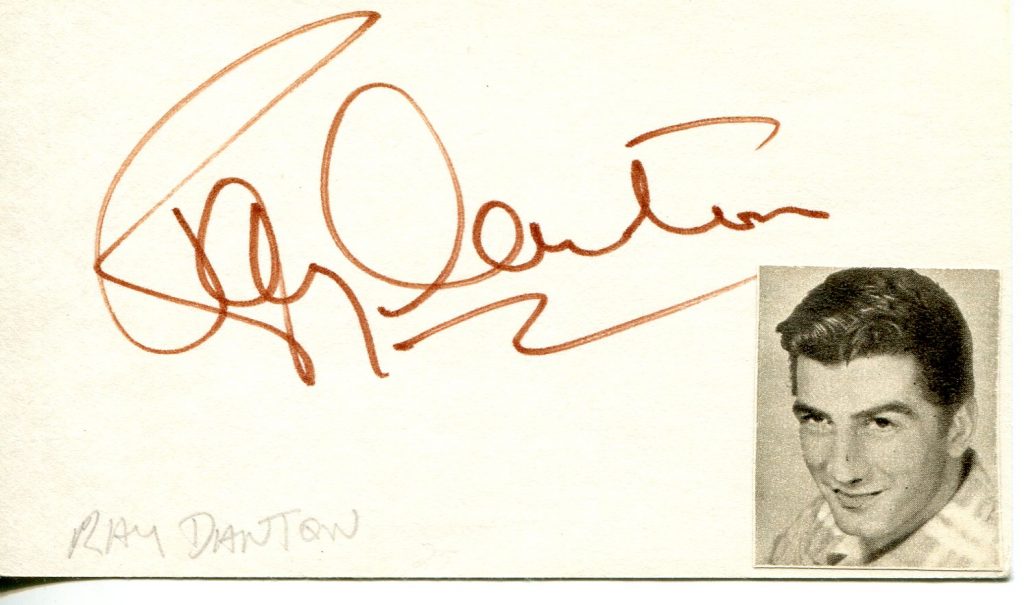 'Quinlan's Movie Stars":
Narrow-faced, black-haired, snake-eyed but handsome American actor. (A former child performer). He was a great success in his first film as a smiling villain and repeated the trick four years later with his portrait of gangster Legs Diamond. Otherwise he perhaps failed to make the most of the changes proffered although he made a series of colourful adventure years on the Continent. Later emerged briefly as a director of independent shockers. Married and divorced from Julie Adams.
TCM Overview:
Handsome lead with dark good looks and sleek black hair who began his career as a child actor on radio and appeared in early live TV dramas in New York. After making his film debut in "Chief Crazy Horse" (1954), Ray Danton gained notice for his portrayal of Lillian Roth's first love in the soapy biopic "I'll Cry Tomorrow" (1955). Danton is best remembered for his portrayal of ruthless mobster "Legs" Diamond in both Budd Boetticher's gangster melodrama, "The Rise and Fall of Legs Diamond" (1960), and the 1961 biopic of gangster Dutch Schultz, "Portrait of a Mobster". That same year he also starred in the title role of "The George Raft Story".In 1964 Ray Danton moved to Italy, where he starred in numerous low-budget films and turned to directing with "Deathmaster" (1972). He formed his own production company in Barcelona before returning in 1975 to the US, where he become a TV director for Universal. Danton helmed episodes of "Cagney and Lacey", "Quincy", "Fame" and "Dallas" and served as supervising producer on "The New Mike Hammer" TV series (1986-87). Danton was at one time married to actress Julie Adams.
The above TCM overview can also be accessed online here.
IMDB Entry:
Handsome and smooth natured leading man who often played oily individuals, Ray Danton was born in New York and dramatically trained at Carnegie Tech. First debuted on-screen as a moody Native American in Chief Crazy Horse (1955) and regularly guest-starred in many 1950s TV shows including Playhouse 90 (1956), Wagon Train (1957), and77 Sunset Strip (1958)…often as a gunslinger or a slippery criminal.
Ray Danton found plenty of demand for his talents and appeared in several minor films including The Night Runner (1957), Tarawa Beachhead (1958), during which he met his wife, Julie Adams, and then as a serial rapist in The Beat Generation (1959). However, his most well remembered role was as the vicious prohibition gangster Jack Diamond in the superb The Rise and Fall of Legs Diamond (1960) also starring a young Warren Oatesand directed by Budd Boetticher. Danton reprised his Legs Diamond role only a year later in the unrelated, and not as enjoyable Portrait of a Mobster (1961).
Cornering the market on playing shady characters, Danton then portrayed troubled actorGeorge Raft in The George Raft Story (1961), but he was back on the side of good in 1962 playing an Allied officer at the invasion of Normandy in The Longest Day (1962). Europe then beckoned for the virile Danton, and like many other young US actors in the early 1960s, he made several films in Italy and Spain between 1964 and 1969 with a mixture of success. Ray Danton returned to the USA in the early 1970s and appeared in several other low budget features; however, he also turned his hand to direction and his first film was the AIP production of Deathmaster (1972) starring Robert Quarry who was riding high on the success of the Count Yorga vampire films. Danton directed another couple of minor horror films before becoming involved in television and directing episodes of some of the most popular TV series of the 1970/80s including Quincy M.E. (1976), The Incredible Hulk (1978), Magnum, P.I. (1980) and Cagney & Lacey (1981).
His final directorial work was on the TV series Vietnam War Story (1987) in 1987. Danton passed away in 1992 from kidney failure aged only 61.
– IMDb Mini Biography By: firehouse44@hotmail.com
The above Ray Danton IMDB entry can also be accessed online here.