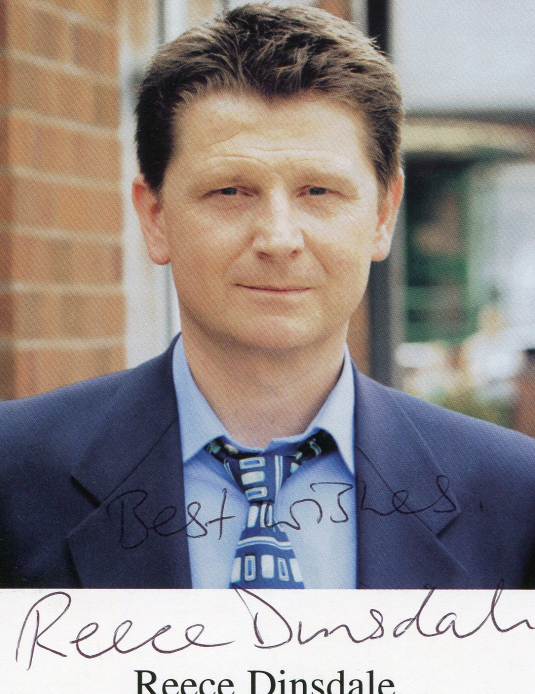 Reece Dinsdale was born in 1959 in Wakefield, West Yorkshire. In 1984 he scored on television in the play "Winter Flight". He was also featrued that year in the film "A Private Function" with Michael Palin and Maggie Smith. He was then cast as John Thaw's son in the series "Home to Roost". In 1994 he won many critical plaudits for his leading role in the film "I.D". a drama about football violence. Recently he was Joe McIntyre in "Coronation Street". He is married to actress Zara Turner.
IMDB entry:
Dinsdale was born in Normanton West Yorkshire, England in 1959. He trained at the Guildhall School of Music and Drama in the late seventies and early eighties. This eventually led to him being cast as Albert in the Agatha Christie's Partners in Crime(1983) series, making his first appearance in the episode The Secret Adversary (1983) in 1982. He continued in that role for two years. In 1984 director Mick Jackson writer Barry Hines cast him in their powerful nuclear war docudrama Threads (1984), as Jimmy Kemp, a soon to be father and husband to Karen Meagher's Ruth Beckett, who is killed when a nuclear bomb explodes over Sheffield, England. Interestingly that same year Dinsdale also starred in the Cold War drama Winter Flight (1984), in which he played a shy, introverted RAF man who falls in love with a feisty barmaid. Also in 1984 Dinsdale appeared in his first feature, the Maggie Smith comedy, A Private Function (1984). His largest role to date, however, came in 1985 as Matthew Willows when he co-starred withJohn Thaw in the British sitcom Home to Roost (1985). Dinsdale played Thaws unruly teen-aged son Matthew who comes to live with his estranged father after his mother put him out of the house. The core of the shows comedy came from constant clashing between Henry Willows (Thaw's character), who resented his son for imposing on his bachelor solitude, and Matthew adolescent antics which clashed with his father's conservatism. The show ran for five series between 1985 and 1990.
Dinsdale co-starred in many other British television shows and mini series in the nineties. From 1990-1992 he co-starred in Haggard (1990), a comedy set in the late 1700s. In 1995 he starred in the mini-series Bliss (1995), and more recently he has co-starred in the British series Born and Bred (2002), The Chase (2006), and Dalziel and Pascoe (1996). Film roles have included 1995's _ID_, 1996's _Hamlet_, in which he played Guilderstern alongside Kenneth Branagh as Hamlet, and 1998's _So This Is Romance_.
Privately Dinsdale resides with his wife, British actress Zara Turner, in Yorkshire, England. The couple have two children, a daughter Elwy, and a son Luca. Dinsdale is also a great supporter of Huddersfield Town Football Club. He presented the video 'Beyond the Touchline' that went behind the scenes at Huddersfield's former Leeds Road ground.
– IMDb Mini Biography By: garryq after Anon
The above IMDB entry can also be accessed online here.