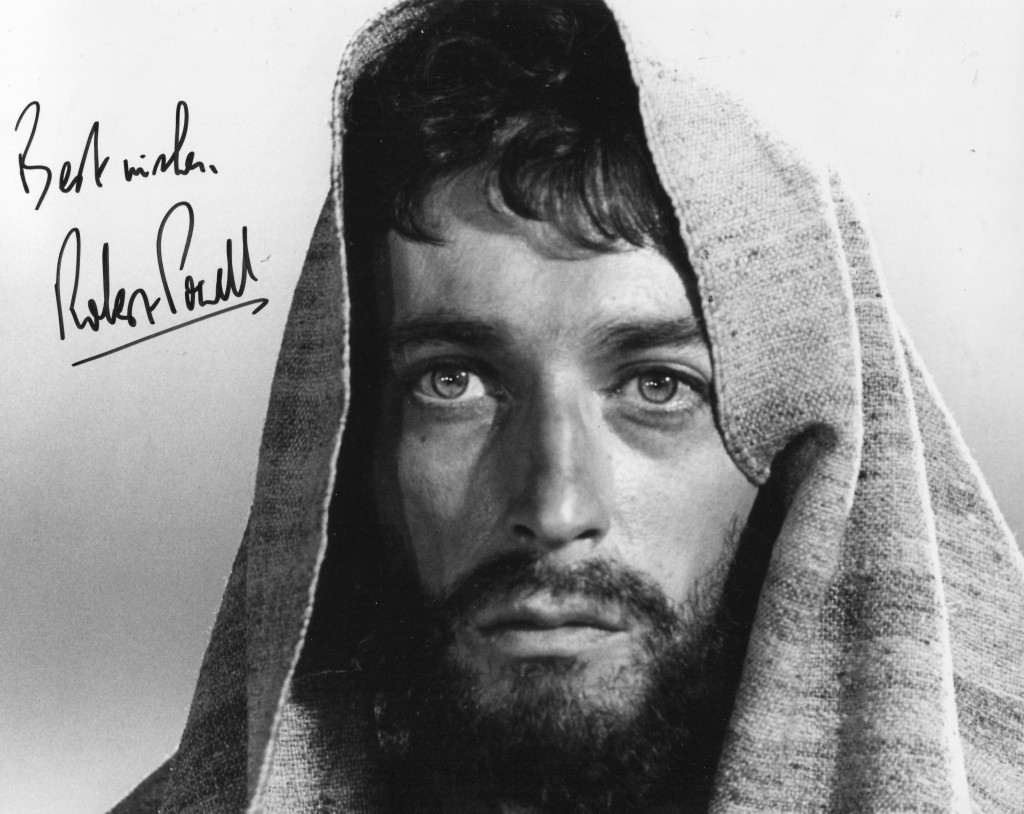 Robert Powell was born in 1944 in Salford. He achieved international fame when he was chosen by Franco Zefferelli to play the title role in the television miniseries "Jeus of Nazareth" in 1977. His movies include "Robbery" in 1967, "The Italian Job", "Secrets" and "Pride of Africa" in 1997. Recently he starred in TV's "Holby City".
TCM overview:
Intense but gentle-looking British leading actor with wide, deep-set, blue eyes and a pensive, sometimes mournful quality, prominent in international films and TV. After brief experience in repertory theater, Powell played bits in films, but fame came when he acted a leading role in the TV series "Doomwatch" (BBC, 1970-71), a semi-rip-off of "Mission: Impossible" about a high-profile and secretive group of watchdog scientists. Powell then returned to features to play prominent roles in films like the fantasy "The Asphyx" (1972). A break came when he played the title role in Ken Russell's comparatively straightforward and handsomely wrought biopic of the sensitive, tormented composer "Mahler" (1973).
Powell achieved his widest visibility in the next few years. He was the protagonist's father in Russell's film of the Who's rock opera "Tommy" (1975). Powell ambitiously moved back to playing title characters himself when he made his US TV miniseries debut in Franco Zeffirelli's "Jesus of Nazareth" (1977). Powell played other leading roles in TV (a weak remake of "The Four Feathers" 1978) and features (a dull revamp of Hitchcock's "The 39 Steps" 1978), but played only a supporting role in the 1982 TV-movie version of "The Hunchback of Notre Dame".
Interested in offbeat roles and challenging subjects, Powell subsequently focused on eclectic fare of a wide international scope. His dignified carriage suited him well in period pieces ranging from the New Zealand-made WWI drama "Chunuk Bair" (1992), to the syndicated miniseries "Shaka Zulu" (1986). Powell was also regularly cast as teachers and artists in roles calling on the cerebral passion of his Jesus and Mahler: a spiritually confused math professor in Krzysztof Zanussi's "Imperative" (1982); a fiery teacher trying to stage "Jane Austen in Manhattan" (1980); and the title poet of "D'Annunzio" (1986). Other roles, meanwhile, required both historical garb and impassioned sensitivity, as with his crazed choirmaster in a remake of Charles Dickens's last work, "The Mystery of Edwin Drood" (1993).
The above TCM overview can also be accessed online here.