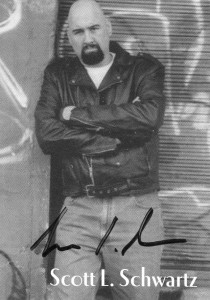 American wrestler who has branched into acting.   His film debut was in 1991 in "For Parents Only".   Other films include "High Voltage" and "Fire Down Below".
IMDB entry:
Scott L. Schwartz was born in Philadelphia, Pennsylvania, USA. He is known for his work on Ocean's Eleven (2001), The Scorpion King (2002) and Starsky & Hutch (2004   He usually plays hulking brute criminals due to his immense height and threatening looks.   Scott L. Schwartz has been visiting children's hospitals worldwide for the past 12 years after losing his sister to lung cancer in 1998.   Is on the board at numerous charities including Santa's Gift and Reading, Writing, It's Exciting.  Wrote/Directed/Produced his first film "Changing Hands" in 2010 and is in final phases of it – to be released Spring 2012.   Scott is the recipient of the 2012 CHOC Glass Slipper Award (a prestigious award that others like David Beckham, Gwen Stefani among others have received). This year Scott along with others helped raise over $250k to benefit CHOC.   Scotts recent charity accomplishments include Scott along with "Legendary Cubs Pitcher" Milt Pappas raising over $50k to benefit Alicia's House Food Pantry in Chicago, IL.   On May 21, 2013 Scott was invited by General Mills to be an Ambassador for Outnumber Hunger. Outnumber Hunger partners with Feeding America and Big Machine Label Group to help Feeding America secure meals on behalf of local food bank.Personal Quotes (1)   Making it in the film business is best described by the situation when you are a child. When you are playing with blocks they tell you: "Put the square block in the square hole and the round block in the round hole" In order to make it in the film business, you have to get the square block into the round hole. It seems difficult, even impossible when you think about it. Some people quit and don't try. If you grind it hard enough and long enough – it will go in. Don't quit.
The above IMDB entry can also be accessed online
here.