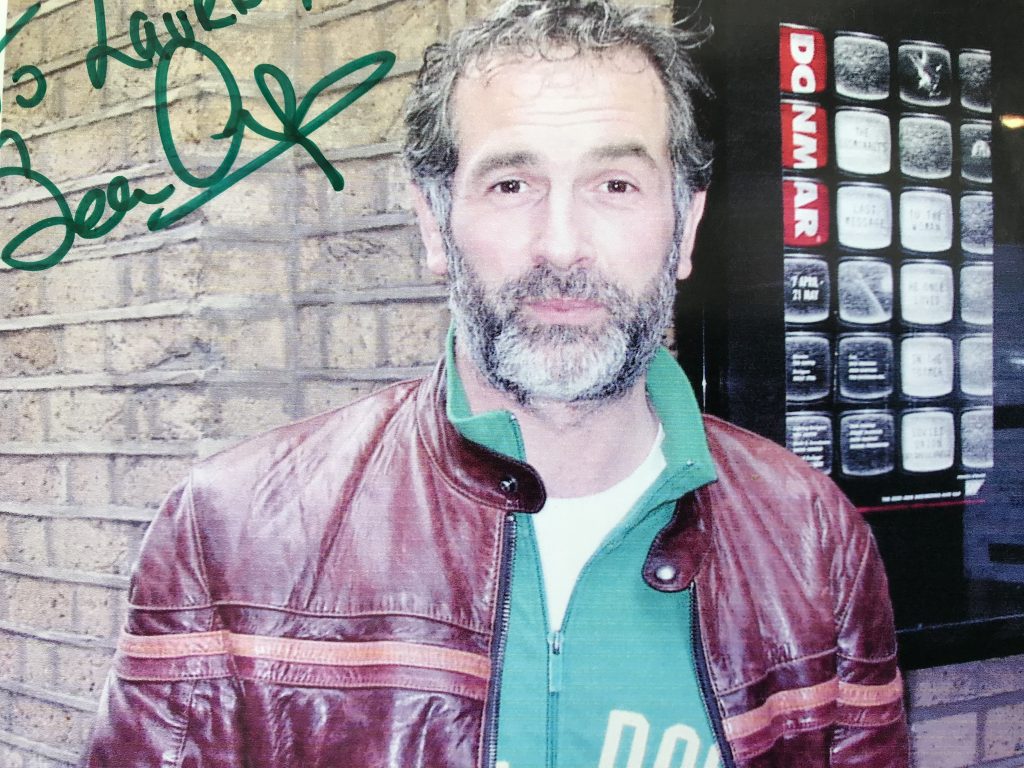 "What's On Stage" interview:
Prior to Stones in His Pockets, Campion's many stage credits in his native Ireland includedWaiting for Godot, The Mayor of Casterbridge, Northern Star, Poor Superman, The Moon for Misbegotten, The Importance of Being Earnest, The Merchant of Venice, Good Evening Mr Collins, Observe the Sons of Ulster Marching Towards the Somme, Macbeth, Romeo and Juliet, Miss Julie, Equus, Bent and Translations.
Campion is currently appearing in Oxford Stage Company's 50th anniversary revival of Brendan Behan's modern Irish classic, The Quare Fellow, directed by Kathy Burke. After a regional tour, the production transfers for a limited season at the Tricycle Theatre, where, coincidentally,Stones in His Pockets also started its London life in 2000.
---
Date & place of birth
Born 20 December 1959 in Freshford, County Kilkenny in Ireland.
Trained at…
I trained at the Focus Theatre in Dublin with Deirdre O'Connell, who was a real mentor to me.
Lives now in…
Fulham Broadway, west London. I just moved there in December. I spent a year in London when we were doing Stones in His Pockets. We went on with the show to the States and so on, and after that finished, I decided to come back to London instead of Dublin. It's easy to commute between one and the other. And now I've bought my place in Fulham, so I might well be here for a while.
What do you consider your first big break?
Now that's really tricky, you could offend people, couldn't you? For me, it was – and I don't want this to sound corny – but it was the day I walked into Focus and met Deirdre. I came without any knowledge whatsoever, and she was my guiding light about what theatre and acting is all about. She taught me what you should bring to the profession. Also to work at the Abbey Theatre in Dublin at the time that I did, I can't explain how excited I was about that. I spent two years as a member of company there. That gave me some great opportunities and exposure to a lot of work.
Career highlights to date
Being a part of the production of Observe the Sons of Ulster Marching Towards the Somme which was performed at the Abbey Theatre as a way of acknowledging the ceasefire in Northern Ireland at the time. It's an extraordinary piece of writing by Frank McGuinness and Patrick Mason, then the Abbey artistic director, was directing. On opening night, we had Unionist and Sinn Fein members sitting side by side in the theatre. It was an extraordinary evening.
Also in terms of highlights, I can't not mention Stones in His Pockets. That was an incredible journey for Conleth Hill and me. It was only meant to be a few weeks in Belfast, but for some reason, we ended up in the West End and then on Broadway. You run out of adjectives very quickly – how do I explain? I loved every moment of it.
How did you find working on Broadway?
Neither Conleth nor I had ever even stepped foot in the US before. The evening we arrived, we went down to Times Square and found it so overpowering, we had to duck out because we couldn't cope. What I really loved about Broadway is that everybody wanted to celebrate your success with you. There was also a wonderful feeling of camaraderie amongst all of the Broadway companies. We were brought together regularly, for baseball tournaments, charity fundraisers and the like. I thoroughly enjoyed being a part of that theatrical community.
Favourite productions you've ever worked on
Certainly those two and many more: Brian Friel's Translations, one of the most beautiful plays that has ever come out of the Ireland; Bent, which I did with a young company to a phenomenal audience response; Waiting for Godot, for a lot of different reasons. There's such a list.
Favourite co-stars
I can't do that! (laughs) I've had a kick with just about everybody I've worked with. I wouldn't want to leave anyone out.
Favourite directors
Again, I wouldn't want to leave anyone out. I will say, though, that I'm having a grand time withKathy Burke now on The Quare Fellow. I've always been a great admirer of her acting talent. She can do hysterical comedy but then also has the ability to show that much darker side of life – it's mind-blowing. As an actor herself, she understands how we work and what we need, and as the director of this play, her understanding of Brendan Behan and what she wants from the piece is very impressive. She's terrific. Okay, I'll also just mention the Abbey's Patrick Mason. The breadth of work he's covered is phenomenal and his love of theatre is unequalled. To be in a rehearsal room with Patrick is always an education.
Favourite playwrights
Of those whose plays I've appeared in, I'd say Brian Friel, Frank McGuinness, Samuel Beckett and, of course, Marie Jones. Also Shakespeare, if only for King Lear alone. I could go on forever. As for playwrights I haven't worked with, Marina Carr comes to mind. She's a young Irish playwright with a very distinctive voice.
What roles would you most like to play still?
I have no idea on that, it's just too broad. The phone could ring tomorrow and you could say yes or no. That's how it goes.
What was the last thing you saw on stage that you really enjoyed?
Can I say two or three things? Michael Frayn's Democracy definitely – I want to go back and see it again – and Conleth is terrific in it. Also, a few months back, just as an exercise, I went to see first the Icelandic Theatre Vosturport's Romeo and Juliet at the Young Vic and Shakespeare's R & J in the West End. What I loved was that they were both using the possibilities of the stage and what it can do. I loved the imagination and the risk involved. That's what theatre is about.
What would you advise the government to secure the future of British theatre?
Where does one begin? I think I'd say, wake up and realise that theatre is not a luxury and it does need to be subsidised properly. I'm completely convinced that theatre can affect change, but also entertain and educate. It does have a place. At the moment, it seems to be perceived as a luxury with only token gestures made towards it.
Favourite holiday destinations
I have never been to Australia but I'd really like to go, all around. It's a country I'm intrigued by. I love the notion of this outdoor culture, a small population living in such a vast country with so many types of landscapes. It's the difference in the cultural mentality that appeals, too. I went to Japan a few years ago with a production of Othello, and I'll never forget stepping off the plane and thinking, I know nothing about this. It could have been a different planet.
Favourite books
I'm a fan of William Kennedy's novels, most of which are set in Albany in upstate New York.
Favourite after-show haunts
During the year we spent with Stones in His Pockets on and off St Martin's Lane, we became regulars at the Harp Bar just off Trafalgar Square. They're great in there.
Favourite websites
Yahoo, because I can never remember how to find anything on the web!
If you hadn't become an actor, what would you have done professionally?
I thought I wanted to be a hotel manager – that was going to be the life for me. But then I spent a couple of years in a hotel and realised it was certainly not the life – I had no patience with the public.
Why did you want to join this production of The Quare Fellow?
I wasn't aware of the play before. The only Behan I was familiar with was The Hostage and Borstal Boy. So I was curious. When I read it, I was taken by surprise. The play is set in an Irish prison on the night before a hanging, and it looks at how that's affecting the prisoners and the warders. When Joan Littlewood did it at Stratford East, she used lots of songs and exposition, but beyond all that, there's an extraordinary piece of writing about humanity and the notion of capital punishment, writing with a lot of humour but that's not afraid to go to the darker side. Then I met Kathy and she explained that her intention was to lose a lot of the vaudeville, take the 'Oirishness' out of it and just go for the meat. Having spoken to her, I knew I wanted to be there.
How would you describe your character?
Regan is the moral centre of the play. He's a warder who's been working in the prison for 20 years. He understands that the system doesn't necessarily have to be cruel – there's a way of dealing with people that has benefits for everybody. Because of that attitude, he's also the person people ask for at the end, but he's got to a point where he can't deal with that anymore. He's got his own demons to deal with, in relation to all those years of hangings.
What's your view on capital punishment?
I'm totally against it. I don't believe anybody has the right to take someone else's life. It seems so hopeless. I hate to think there's no chance of rehabilitation or some element of redemption. I'm probably overly idealistic. I do suffer from idealism occasionally.
What's it like working with a 17-strong all-male cast?
It would be great if I could say it's a nightmare, but it's not. One or two of the other actors I knew before. We're a group that's bonded so well – the generosity is remarkable – and we're having great fun on the road together. It's not exclusively male, of course. In the rehearsal room, Kathy, her assistant Ro McBrinn and Maggie Tully were a force amongst themselves. They're the three sisters keeping these boys in check.
– Sean Campion was speaking to Terri Paddock
The above "What's On Stage" interview can also be accessed online here.
The "Agency" page:
His theatre work includes The Importance of Being Earnest, Macbeth, Big Maggie, Rosencrantz and Guildenstern are Dead, The Silver Tassie, Sive and Observe the Sons of Ulster Marching Towards the Somme – all at the Abbey Theatre and Good Evening Mr Collins, Hubert Murray's Widow, Antigone, Calvary/Resurrection, Cuirt An Mhean Oiche – at the Peacock Theatre. Most recently, Sean has appeared in The Quare Fellow at The Tricylce Theatre, directed by Cathy Burke.
Other work includes Transalations, Bent (Red Kettle Theatre Co); Equus, Canaries(Gaiety Theatre); Mutabilitie, Tarry Flynn (Royal National Theatre); A Moon for the Misbegotten (Dubbeljoint Theatre Co.); Miss Julie (Everyman Palace); Poor Superman(Muted Cupid Theatre Co.); Northern Star (Tinderbox/Field Day Theatre Co.); The Mayor of Casterbridge (Storytellers Theatre Co.), Waiting for Godot (Lyric Theatre) and most recently The Dead School (Livin' Dred Theatre Co.).
Film/TV work includes Glenroe, Fair City (RTE); Echoes (Channel 4); Most Important(Parzival Productions), Saving Grace (Independent), Eastenders (BBC 1) Holby City(BBC), RAW (RTE), Borgia (Atlantique Productions), and Identity (ITV). Most recently he has reprised his role as Virginio Orsini in Borgia.
2013 has seen Sean has cast as the Earl of Kent in the Abbey Theatre's production ofKing Lear, directed by Selina Cartmell, and United Passions a feature directed by Frédéric Aubertin in which he plays the role of Werner Lutzi.
Sean is based in London.