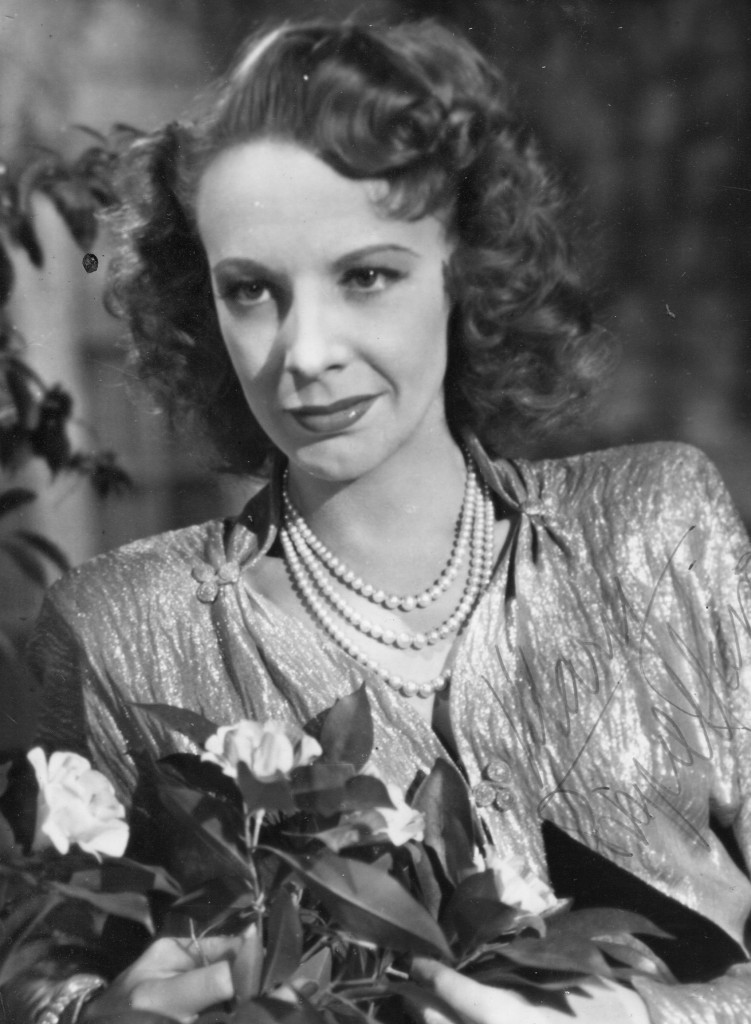 Signe Hasso was born in Stockholm, Sweden in 1915. She came to Hollywood in 1940 when she won an RKO contract. Her movies include "Heaven Can Wait", "A Double Life" and "The House on 92nd Street|". She died in Los Angeles in 2002.
Ronald Bergan's obituary in "The Guardian":
Although in no way competing with her compatriots Greta Garbo and Ingrid Bergman, the Swedish actor Signe Hasso, who has died aged 91, had her fair share of Hollywood fame in the 1940s.
The decade was a good one for European actors in America because of the plethora of second world war dramas and films noirs , in which anyone with a foreign accent could play French, Dutch, German, Russian or Polish characters – on the assumption that audiences would be none the wiser. Hasso, for example, became French in at least four films, including Ernst Lubitsch's Heaven Can Wait (1943), in which she was a saucy French maid.
She was also chosen for George Cukor's A Double Life (1948), where she had to play Desdemona in scenes from Othello, although her slight Swedish intonation was briefly referred to. In this, her most demanding role, she was touching as the stage partner and former wife of actor Ronald Colman, who nearly strangles her. But despite her good reviews and the film's two Oscars (for Colman and composer Miklos Rozsa), Hasso's screen career gathered little impetus, and she returned to the theatre.
She was born Signe Larsson in Stockholm and, at the age of 12, appeared in productions at the Royal Dramatic Theatre. At 16, she became the youngest person to enrol in the theatre's academy. Her first success was in the title role of Schiller's Maria Stuart, and she continued to act under her own name until her marriage to Swedish producer Harry Hasso in 1933, the year she entered films.
In 1940, she decided to go to the United States with her young son because she had been offered a contract by RKO, her marriage had broken down and the Nazis had invaded Norway. But RKO failed to come up with any roles, and, after a short runon the New York stage, she made her Hollywood debut for MGM with a brief part in Journey For Margaret (1942) – just as her friend Garbo departed both the studio and films for ever.
In Assignment In Brittany (1943), Hasso co-starred with Jean-Paul Aumont in a story set in Nazi- occupied France. In Fred Zinnemann's The Seventh Cross (1944), she supplied the love interest as a Dutch waitress helping concentration camp escapee Spencer Tracy regain his faith in humanity. In the same year, Cecil B DeMille cast her as a Dutch nurse loved by missionary medic Gary Cooper, in The Story Of Doctor Wassell.
Hasso then went back to being a French refugee, in Johnny Angel (1945). More effective, from her point of view, was her performance as a Nazi spy-ring leader disguised as a glamorous New York dress-shop owner, in Henry Hathaway's The House On 92nd Street (1945).
Hasso then appeared in Douglas Sirk's classy A Scandal In Paris (1946), and in a Ninotchka-type role in Where There's Life (1947). Her last major Hollywood part was as Isabel Farrago, the cool wife of José Ferrer's South American dictator, in Crisis (1950). On stage in the 1950s, she app- eared in Uncle Vanya and The Apple Cart, as well as in live television dramas. After her son died in a car accident in 1957, she returned to Sweden for a while, though she was soon acting again both in Sweden and the US, mostly on stage and in television.
Hasso, who held dual citizenship, also wrote music and lyrics for the album Scandin-avian Folk Songs Sung And Swung, and published novels, short stories and articles. In 1972, Sweden made her a knight first-class in the Royal Order of Vasa, and, in 1994, she was granted a star on the Hollywood Walk of Fame.
Last year, Hasso was seen paying fulsome tribute to her compatriot in the television documentary, Greta Garbo: A Lone Star. But unlike Garbo, although a widow from her second marriage, Hasso lived out her life in Los Angeles, surrounded by friends and admirers.
· Signe Hasso (Signe Larsson), actor, born August 15 1910; died June 8 2002
The above "Guardian" obituary can also be accessed online here.