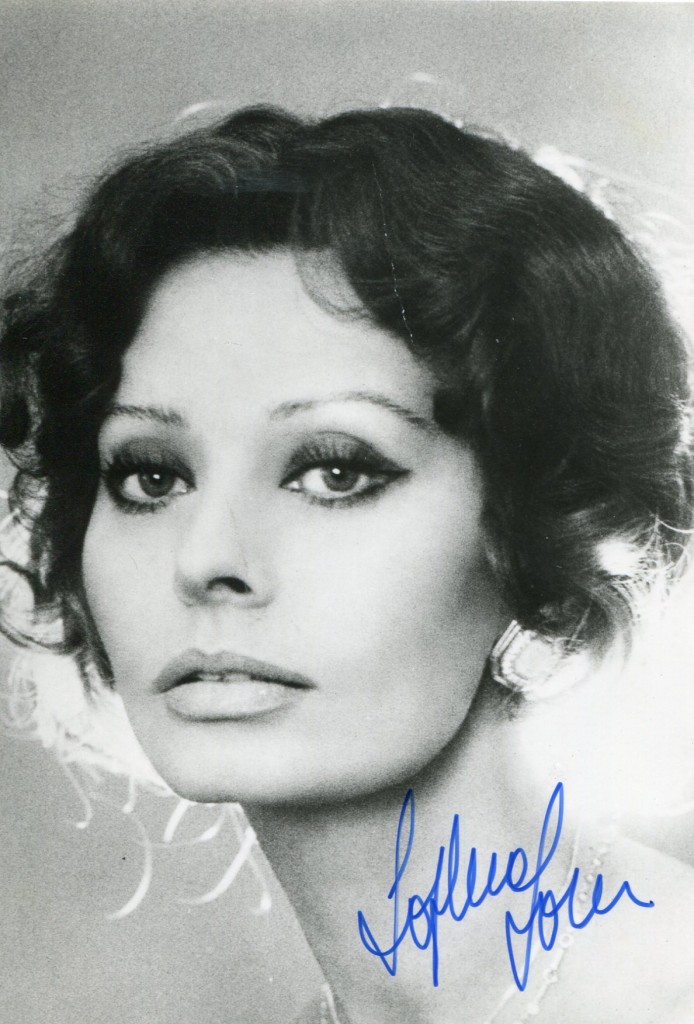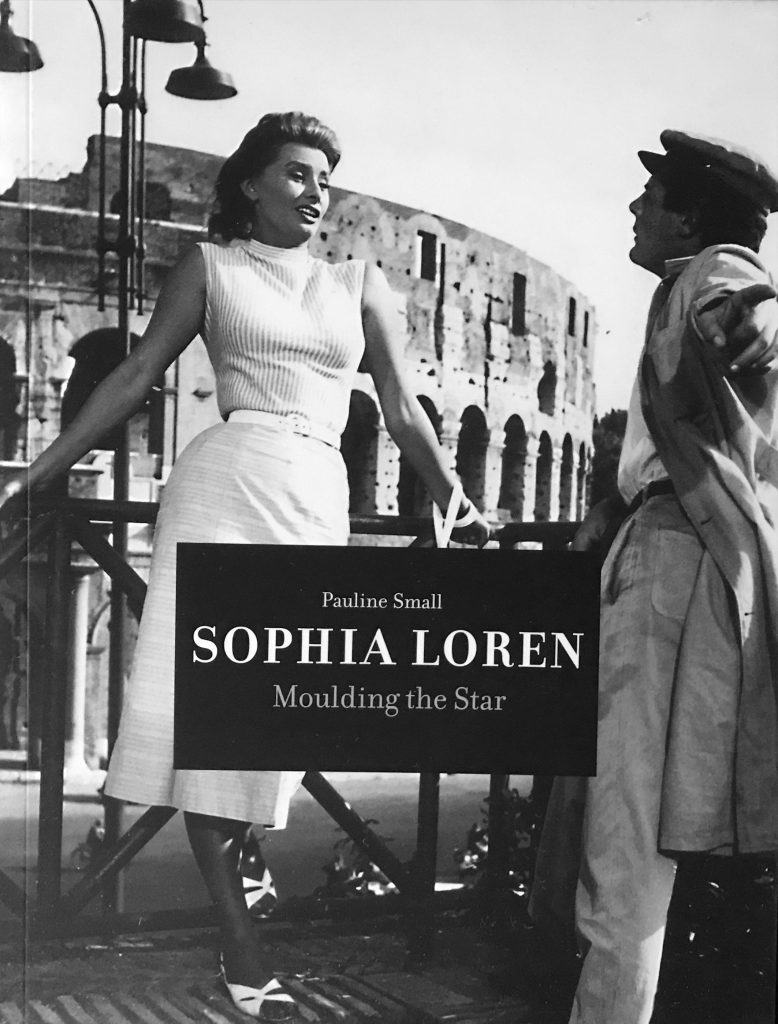 Sophia Loren was born in Pozzuoli in 1934. She made her debut in Italian movies in 1970 and began starring internationally in 1957 in "Boy on a Dolphin" with Alan Ladd. Her Hollywood movies include "Houseboat" with Cary Grant, "Desire Under the Elms" with Anthony Perkins and "The Black Orchid" with Anthony Quinn and Ina Balin. In 1961 she won an Oscar for her performance in "Two Women". Her career has continued undimmed by time and she starred with Daniel Day-Lewis in "Nine" in 2009.
TCM Overview:
Italian actress and bonafide screen goddess Sophia Loren made over 100 films in her 50-year career, remaining one of the most beloved and recognizable figures in the international film world. Much of her success could be found in the films of Italian director Vittorio De Sica, who called her "the essential Italian woman" and who captured her earthy, authentic sensibilities in romantic comedies and gut-wrenching dramas alike. While a cultural institution in her native country, Loren's homeland appeal never fully translated to U.S. audiences, though she earned plenty of fans based on her traffic-stopping physical assets. Hollywood's attempts to insert her into generic "European sex bomb" roles failed to showcase the actress' depth, even if it sometimes captured her acute wit. Throughout her career, Loren worked with some of film's most renowned directors and leading men, but the bulk of her artistic achievements remained in Italian cinema and opposite her frequent lead, Marcello Mastroianni. In addition to her many European accolades, Hollywood recognized her with Academy Award nominations, including a Best Actress win for "Ciociara, La" ("Two Women") (1960) and years later, an honorary Oscar for her many contributions to both American and Italian cinema.
Sophia Loren was born Sofia Scicolone in the charity ward of a Rome hospital on Sept. 20, 1934. Her parents were never married, and her father left her mother Romilda Villani to raise her daughter on her own. Romilda, an aspiring actress and piano player, moved with Sophia and second daughter, Maria, to Pozzuoli, a small town outside Naples and one of the hardest hit during World War II. The family shared a two-room apartment with a grandmother and several aunts and uncles, where the shy, stick thin girl regularly went hungry and had to flee from bombings. Underneath the hardship and poverty, Loren later claimed she was born an actress and sought to perform from the age of 12. There were few financial opportunities for a single parent in the devastated post-war city, so Loren's ambitious mother decided to take advantage of her 14-year-old daughter's voluptuous figure and enter her into a local beauty contest. Loren placed second and set off in search of modeling work in Rome, where her exotic looks and pin-up figure found success in "fumetti" – comic-strip serials that used real photos instead of illustrations.
In 1949, Loren was runner-up in the Miss Italy contest and began to make small film appearances under the name Sofia Lazzaro. While attending the Miss Rome beauty contest, she met judge Carlo Ponti, an up-and-coming film producer and key player in the post war European cinema scene. He had already launched actress and model Gina Lollobrigida into stardom, and he sensed similar potential in Loren though her's was a less glamorous, more salt-of-the-earth appeal. The newcomer took drama lessons and appeared in over a dozen small films as directors struggled to find a niche for her charismatic presence. Her first sizeable role – and the first in which she used the Ponti-created stage name Sophia Loren – was 1952's "La Favorita," but her starring role in the 1953 film adaptation of Verdi's "Aida" was a major breakthrough which earned her critical notice and a production deal with Ponti. Vittorio De Sica's "Gold of Naples" (1954), which featured an inordinately long tracking shot of Loren as she swayed her hourglass figure through a village street, was her star-making performance and one that established her persona as a sensuous working class earth mother. It also began a fruitful, career-long collaboration with De Sica.
With "Gold of Naples," critics who had written her off as a pin-up girl now understood that Loren possessed originality, talent and palpable onscreen passion. She advanced to the forefront of Italian cinema with starring roles as plucky peasants, street thieves, and fishmongers in a dozen films, including "Too Bad She's Bad" (1954), which began her career-long on-screen pairing with Marcello Mastroianni. Loren co-starred with Anthony Quinn in the French production "Attila" (1954) and began to study English in anticipation of branching out internationally. Some of her films had been dubbed in English and released overseas to lukewarm reception, but Hollywood producers were certain she could become a star on U.S. soil if she were showcased in typical American-made fare. While still in Europe, she got her Hollywood feet wet in the Napoleonic epic "The Pride and the Passion" (1957), which billed Loren third after stars Frank Sinatra and Cary Grant, and proved to be one of the top U.S. box office successes of the year.
Loren's personal life grew extremely complicated during the production, however, as co-star Grant fell instantly in love with Loren and vowed to divorce his wife and marry her. The pair dated for a while (despite the fact that Grant was married and 30 years her senior), but Loren did not fall as hard as Grant did, despite the fact that she had grown up with a schoolgirl crush on the movie star. At the same time, Ponti – also married and 30 years her senior – stepped forward to declare that he, too, was in love with Loren. The pair had grown close during their years working together, with Ponti serving as a career mentor and also a kind, guiding father figure for the fatherless young adult. Later in the year, when Loren arrived in Hollywood preceded by a huge press campaign, Ponti's lawyers obtained a Mexican divorce for him and he and Loren were married. The actress jetted back to Cinecitta studios in Rome to shoot the silly aquatic romance "The Boy on the Dolphin" (1957), which sought to capitalize more on Loren's figure in a bathing suit than her insightful acting or wit. Grant was understandably devastated by Loren's decision of choosing Ponti over him and it took him a long time to recover.
The young ingénue was paired with dusty screen cowboy John Wayne in "Legend of the Lost" (1957), a lackluster African adventure, but was given more of a chance to use her talents in the adaptation of Eugene O'Neil's "Desire Under the Elms" (1958), where she was the center of a love triangle between a New England father (Burl Ives) and son (Anthony Perkins). It was the first product of a newly-inked deal between Loren and Paramount. What followed next was the hit romantic comedy "Houseboat" (1958) co-starring spurned lover Cary Grant as a single dad and Loren as their nanny. Not unexpectedly, the shoot was difficult for both, with Grant still harboring love for his ex. Loren was embraced by American audiences, though many of her supporters were disappointed to see her "dolled up" and playing a European aristocrat, which was about as far from her native appeal as possible. Paramount was intent on maintaining this image of Loren and again she appeared as a sophisticated urban woman in Sidney Lumet's clichéd melodrama "That Kind of Woman" (1959). Martin Ritt finally gave Loren a meaty character to inhabit in "The Black Orchid" (1958), where she played opposite Anthony Quinn as a hard-working mob widow. Her performance was recognized with a Best Actress honor at the Venice Film Festival, but the film did not draw American filmg rs.
When box office numbers for George Cukor's offbeat Western "Heller in Pink Tights" (1960) failed to excite Paramount execs, they cut Loren loose from her contract. Her final Paramount release – the romantic comedy "It Started in Naples" (1960) co-starring yet another older male co-star, Clark Gable – was a summer success, but by the time it was released, Loren and Ponti had returned to Europe. The pair received a chilly reception in Italy, which did not recognize divorce and considered Ponti a bigamist. The Catholic Church annulled Loren and Ponti's marriage, so the pair and Ponti's first wife moved to France, where divorce was legal, and began to establish citizenship with an eye towards clearing up the whole mess. Loren got right back to work, co-starring opposite Peter Sellers in the hit British comedy "The Millionairess" (1960), where she built on comic singing talents she had begun to display as a cabaret singer in "It Started in Naples." But she experienced the biggest success of her career when she reunited with director De Sica for "Two Women" (1960), which saw Loren reliving her war-torn youth to play a widow desperately trying to protect her daughter from danger, only to end up in a destructive love triangle with a young radical (Jean Paul Belmondo). She earned a Best Actress Academy Award, the first actress ever to do so for a foreign language performance.
In one of the better offerings from the "historic epic" trend of the era, Loren co-starred opposite Charlton Heston in "El Cid" (1961), a grand-scale adaptation of the life of the 11th century Castilian military general. She continued to work steadily in Italian, French and American productions, earning steady accolades for her work with De Sica and Mastroianni in the Best Foreign Film Academy Award winner "Yesterday, Today and Tomorrow" (1963) and "Marriage, Italian Style" (1964), which earned Loren an Academy nomination again for Best Actress. Among her bigger English language successes of the 1960s was Stanley Donen's stylish comic thriller "Arabesque" (1966) which co-starred Gregory Peck. The British production "A Countess from Hong Kong" (1967), co-starring Loren and Marlon Brando, was a flop but notable for being the final film directed by comic-turned-director, Charles Chaplin. The same year, Loren returned to her film roots with her role as a Spanish peasant opposite Omar Sharif as a marriage-minded prince in the lighthearted fairy tale "More than a Miracle" (1967). Off-screen, her own fairy tale romance finally had a happy ending when she and Ponti, now French citizens, were officially married.
After several miscarriages and a highly-publicized struggle to become pregnant, Loren gave birth to son Hubert Leoni Carlo Ponti in 1968. She returned to the screen to star opposite Mastroianni in De Sica's war drama "I Girasoli" (1972) and the following year, gave birth to her second son, Eduardo. Italian authorities dismissed Ponti's outstanding bigamy charges and the family was free to move back to their homeland, where Loren spent the majority of the decade in Italian productions. 1974's "Il Viaggio" marked the final directorial effort of De Sica, but Loren continued to enjoy onscreen success opposite Mastroianni in the mob comedy "La Pupa del Gangster" (1975) and in Ettore Scola's considerably more sophisticated drama, "A Special Day" (1977), which found favor with American audiences and earned a Golden Globe for Best Foreign Film. Seeking to capitalize on Loren's latest U.S. success, Hollywood tapped Loren for a pair of thrillers – the WW II-set "The Brass Target" (1978) and "Firepower" (1979) which offered her a central role as a widow seeking answers in the murder of her chemist husband.
During the 1980s, Loren made only a few feature films while she raised her teenaged sons, but her status as a "legend" and a "survivor" was unshakably secure. She released the autobiography Sophia Loren: Living and Loving in 1979, and the following year starred in a made-for-TV adaptation entitled "Sophia Loren: Her Own Story" (1980), where she played both herself and her mother. In 1981, she became the first female celebrity to launch her own perfume, Sophia, and a brand of eyewear followed soon thereafter. Still an international symbol of beauty well into her 40s, she published another book, Women and Beauty (1984). More American TV movies followed, including "The Fortunate Pilgrim" (1988), Mario Puzo's miniseries about the Italian American experience. In 1990, Loren was awarded a second, honorary Oscar for her lifetime achievement in film, and in 1994, she returned to U.S. theaters in Robert Altman's much ballyho d (but disappointing) take on the French fashion scene, "Ready to Wear," which paired her one last time with Mastroianni. She followed up with her biggest U.S. hit in decades, the aging buddy comedy "Grumpier Old Men" (1995) starring Jack Lemmon, Walter Matthau and Ann-Margret as clashing citizens of a sleepy Minnesota town.
In 2007, Loren proved that she still had sizzle when she posed in a calendar for Italian racing tire giant Pirelli, appearing tousled and partially clothed in an unkempt bed. Sadly, that same year she lost her husband of 50 years, Carlo Ponti, who was said to have continually wo d his wife during all those decades by giving her a single rose every day of their marriage. The secret to their marital success was simple. Despite their position as showbiz royalty in their native land, the pair had relished their discrete, low profile lifestyle, with Loren claiming through the years that "show business is what we do, not what we are."
The above TCM overview can also be accessed online here.