Steven Mackintosh was born in 1967 in Cambridge. His first film appearance was in "Prick Up Your Ears". He followed with "Lock Stock and Two Smoking Barrels" ,"Good" and the brilliant "Small Engine Repair". He has made numerous television appearances.
TCM overview:
This wiry blond English actor has excelled in character roles, playing everything from villains to a transsexual. Born and raised in rural Cambridge, England, Steven Mackintosh began acting as a child in local theatricals. At the age of 12, he was tapped for his professional debut in a play at London's Bush Theatre in which he played "this beast of a child who swore and cursed at everyone." Soon thereafter, the teen was cast as Nigel, the glue-sniffing, exercised-obsessed pal of the title character in "The Secret Diary of Adrian Mole Aged 13 3/4". Mackintosh's career received a further boost when he landed the role of Eugene Jerome in the London premiere of Neil Simon's autobiographical "Brighton Beach Memoirs".
Inevitably films beckoned. The actor made his debut in a bit part as actor Simon Ward in the Joe Orton biopic "Prick Up Your Ears" (1987) and appeared as a rookie crewman in "Memphis Belle" (1990). Alternating between films and TV, Mackintosh has created a gallery of fascinating characters ranging from a drug dealer in "London Kills Me" (1991) to a glam rocker in the 1993 BBC miniseries "The Buddha of Suburbia" to a psychopath known as 'The Street' in "Prime Suspect 5: Errors in Judgment" (PBS, 1997). One of his best roles, however, was as the transsexual Kim (formerly Karl) in "Different for Girls" (1996), playing up the ordinariness of the character and avoiding camp. More recently, the actor excelled as a rural farm worker who dreams of enlisting as a pilot in the WWII-era "The Land Girls" and offered an amusing turn as the owner of a cannabis factory in "Lock, Stock and Two Smoking Barrels" (both 1998). On British TV, Mackintosh headlined two impressive 1998 miniseries, offering strong characterizations as the long-suffering John Rokesmith in "Our Mutual Friend" and as the husband in a crumbling marriage in "Undercover Heart".
The above TCM overview can also be accessed online here.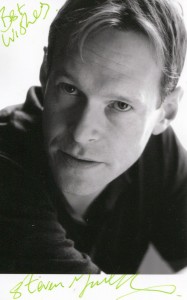 BFI entry
A sombre-looking, slightly-built young actor who has made his mark on film, television and stage, coming to the fore as an obsessive surfie in Blue Juice (d. Peter Salmi, 1995), as object of the attentions of The Land Girls(UK/France, d. David Leland, 1998) and as upper-class student, Winston, in Lock, Stock and Two Smoking Barrels (d. Guy Ritchie, 1998), after building up a very solid CV throughout the '90s.
He was a compellingly ambiguous cop in TV's Undercover Heart (BBC, 1998), the enigmatic lead in the miniseries, Our Mutual Friend (BBC, 1998), and the explosive, damaged protagonist of Antonia Bird's Care (BBC, tx. 8/10/2000). Also, in 2000 he returned successfully to the stage, after nearly a decade's absence, at the Royal Court, in David Hare's The Zinc Bed, having made his debut aged 13 and been with the National Theatre in 1988. He is married to actress Lisa Jacobs, who played the title role in The Attic: the Hiding of Anne Frank (ITV, tx. 17/4/1998).
Brian McFarlane, Encyclopedia of British Film