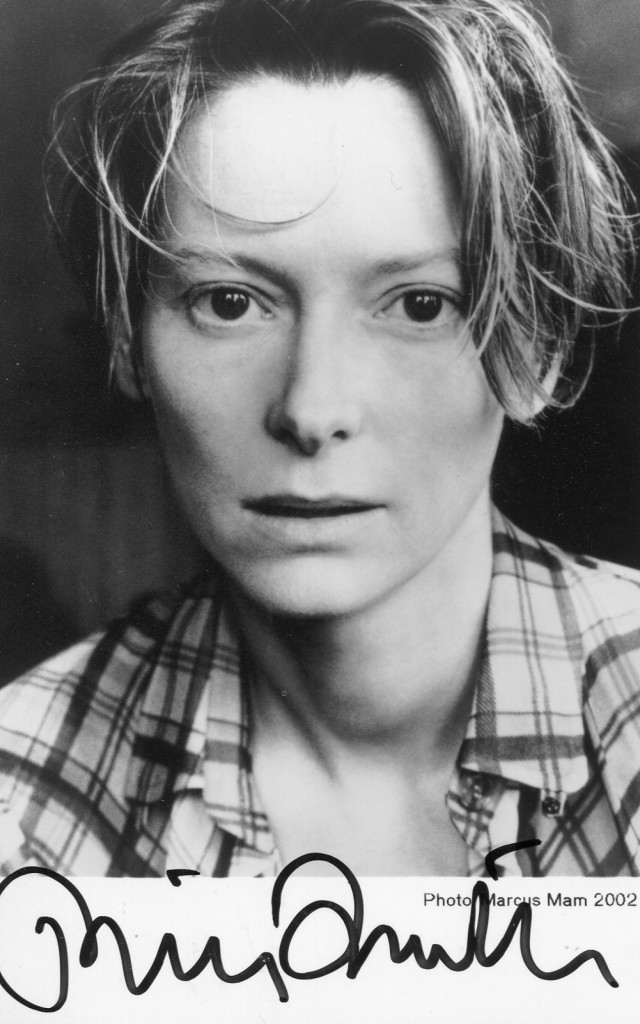 Ms Swinton, a strikingly angular actress, has been a favourite of film buffs for years and came into more wide stream international prominence with her Oscar performance in George Clooney's "Michael Clayton" in 2007. She was born in London in 1960 and is a graduate of Cambridge University. "War Requiem" in 1989 directed by Derek Jarman was her first art house film. Recently she received critical acclaim for her performance as the mother in the filming of Lionel Shriver's chilling "We Need to Talk About Kevin".
Gary Brumburgh's entry:
The iconoclastic gifts of the visually striking and fiercely talented Scottish actress Tilda Swinton, who was born on November 5th, 1960, have been appreciated by a more international audience of late. Born into a patrician military family, she was educated at an English and a Scottish boarding school. Tilda subsequently studied Social and Politcal Science at Cambridge University and graduated in 1983 with a degree in English Literature. During her time as a student, she performed countless stage productions and proceeded to work for a season in the Royal Shakespeare Company. A decided rebel when it came to the arts, she left the company after a year as her approach shifted dramatically: With a taste for the unique and bizarre, she found some genuinely interesting gender-bending roles come her way, such as the composer Mozart in Pushkin's "Mozart and Salieri", and as a working class woman impersonating her dead husband during World War II, in Karges' Screenplay: Man to Man: Another Night of Rubbish on the Telly (1992). In 1985 the pale-skinned, carrot-topped actress began a professional association with gay experimental director Derek Jarman. She continued to live and work with Jarman for the next nine years, developing seven critically acclaimed films. Their alliance would produce stark turns, such as turner-prize nominated Caravaggio (1986),The Last of England (1988), The Garden (1990), Edward II (1991), and Wittgenstein(1993). Jarman succumbed to complications from AIDS in 1994. His untimely demise left a devastating void in Tilda's life for quite some time. Her most notable performance of that period however comes from a non-Jarman film: For the title role in Orlando (1992), her nobleman character lives for 400 years while changing sex from man to woman. The film, which Swinton spent years helping writer/director Sally Potter develop and finance, continues to this day to have a worldwide devoted fan following. Over the years she has preferred art to celebrity, opening herself to experimental projects with new and untried directors and mediums, delving into the worlds of installation art and cutting-edge fashion. Consistently off-centered roles in Female Perversions (1996), Love Is the Devil: Study for a Portrait of Francis Bacon (1998), Teknolust (2002), Young Adam (2003),Broken Flowers (2005) and Béla Tarr's The Man from London (2007) have only added to her mystique. Hollywood too has picked up on this notoriety and, since the birth of her twins in 1997, she has successfully moved between the deep-left-field art-house and quality Hollywood blockbusters. The thriller The Deep End (2001), earned her a number of critic's awards and her first Golden Globe nomination. Such mainstream U.S. pictures asThe Beach (2000) with Leonardo DiCaprio, fantasy epic Constantine (2005) with Keanu Reeves, her Oscar-decorated performance in Michael Clayton (2007) alongside George Clooney and of course her iconic White Witch in The Chronicles of Narnia: The Lion, the Witch and the Wardrobe (2005) have cemented her place as one of cinema's most outstanding women.
– IMDb Mini Biography By: Gary Brumburgh / gr-home@pacbell.net