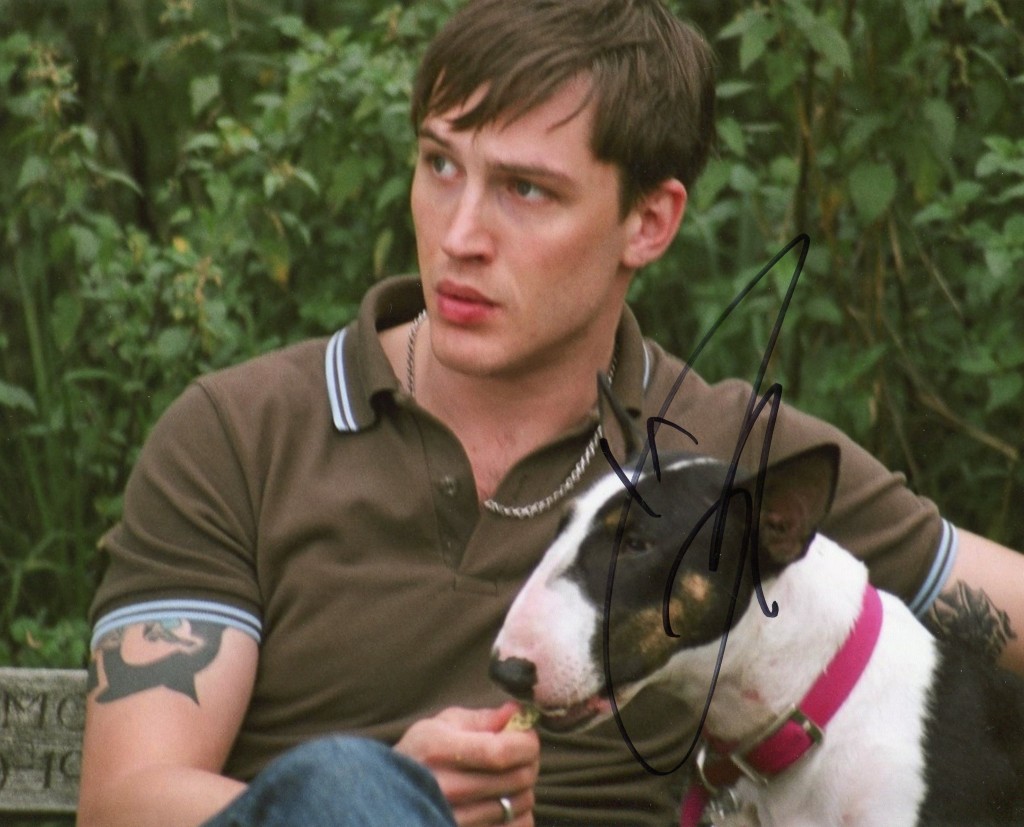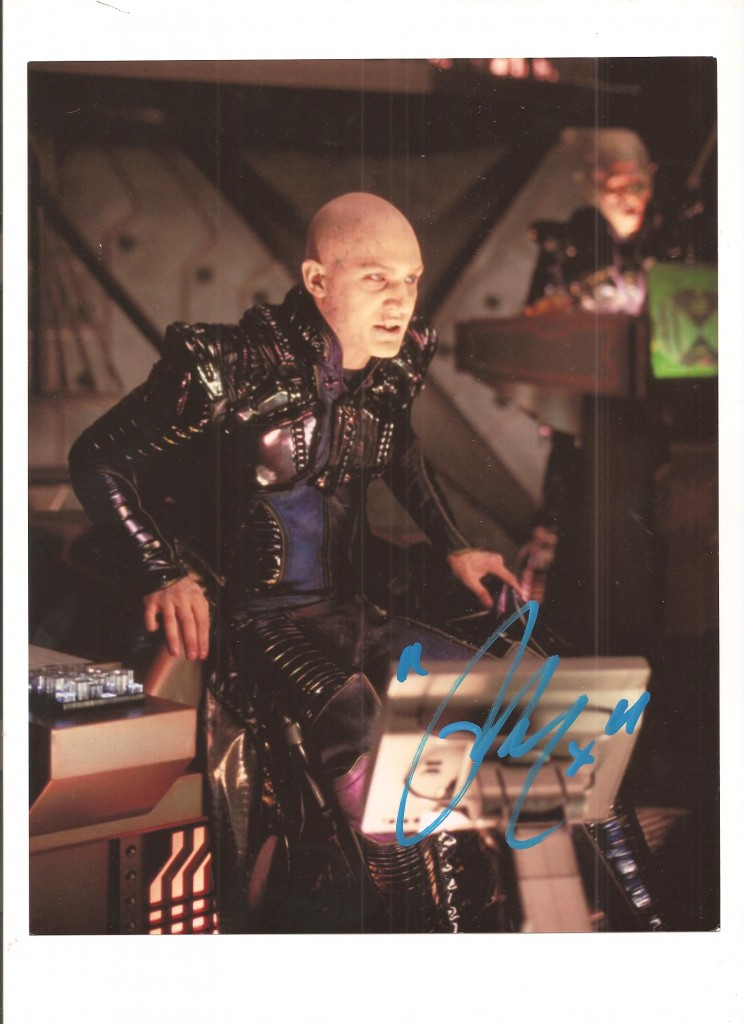 Tom Hardy is one the rising young actors of British movies who is now making an international reputation with his roles in "Inception", "Thinker, Tailor, Soldier, Spy" and especially "The Dark Knight Rises". He is currently making "Mad Max 4 : Fury Road" in the role undertaken previously by Mel Gibson. He was born in Hammersmith, London in 1977 . His first major acting role was in TV's Band of Brothers" in 2001. Since then he has made his mark in such films as "Layer Cake". An actor on the rise is Tom Hardy.
TCM overview:
Tom Hardy set tongues wagging in the U.K. with raw-nerved performances in "Stuart: A Life Backwards" (BBC, 2007) and "Bronson" (2009), and in the U.S. as well with a scene-stealing performance in Christopher Nolan's sci-fi blockbuster, "Inception" (2010). With this trifecta of projects, he found himself vaulted from rising U.K. heartthrob to Hollywood breakout-star-in-the-making. A native of suburban London, Hardy stumbled through an adolescence of recidivist juvenile delinquency and drug-addiction to channel his energies into drama. He won some high-profile early acting jobs, seeing his first major screen time in the youthful ensemble of the epic HBO miniseries, "Band of Brothers" (2001), and turning in an intense performance as the intergalactic villain in "Star Trek: Nemesis" (2002). A crack cocaine habit nearly derailed his career, but upon sobering up, he served notice he was a dramatic force to be reckoned with, winning raves and awards for his 2003 performances in the West End productions of "In Arabia, We'd All Be Kings" and "Blood." He won the romantic lead of the Earl of Leicester in the 2005 BBC miniseries "The Virgin Queen," the first of a series of critically lauded prestige television projects that would include "Stuart: A Life Backwards" and classic film remakes "A for Andromeda" (BBC, 2006), "Oliver Twist" (BBC, 2007) and "Wuthering Heights" (ITV, 2009). He would show a distinct penchant for playing tough guys in U.K.-produced indie features such as Guy Richie's "RocknRolla" (2008) and "Bronson" before his hilarious turn as a dream-walking thief in "Inception" put him on the fast-track to higher-profile films, including Nolan's much-anticipated third Batman film series installment and the title character in a "Mad Max" reboot. A sinewy ball of thespian intensity, Hardy earned his growing renown not only as a simmering bad boy, but as a ferociously charismatic leading man.
He was born Edward Thomas Hardy on Sept. 15, 1977, the son of Edward and Anne Hardy, a writer and artist, respectively, in Hammersmith, London, U.K. Growing up in East Sheen, an adolescent Hardy had developed a rebellious streak as he bridled against his suburban environs and rigid boarding school protocols. He developed an alcohol abuse problem as a teenager, wound up expelled from one school, periodically spent nights in jail cells for disorderly conduct, and even found himself arrested and facing serious charges for stealing a car and gun possession – all while still a teenager. He avoided doing hard time, he later said, only because his co-conspirator was the son of a British diplomat. At 19, his distinctive physiognomy landed him on a supermodel search competition on the U.K. morning show "The Big Breakfast" (Channel 4, 1992-2002), which he won, initiating a brief career in modeling. He attempted to focus his energies on acting, attending Richmond College for the Performing Arts, but wound up expelled again after skipping too many classes. He studied Method acting at Drama Centre London, but he continued to live on impulse; in 1999 he married a woman he had known only three weeks. He cut his studies short when he won one of a raft of plum parts for young actors who populated Tom Hanks and Steven Spielberg's ambitious "Band of Brothers," the HBO miniseries that put faces on ordinary grunts of one U.S. Army company amid their journeys through WWII-torn Europe. A similar casting call would land him back in U.S. military garb for Ridley Scott's telling of the U.S. military debacle in Somalia, "Black Hawk Down" (2001), and the military theme to his career continued with the lead in the French Foreign Legion drama, "An English Legionnaire" (2002).
Hardy's next job had the potential of being a true breakthrough role, as he went shorn-headed to play the twisted, scheming young clone of Capt. Jean Luc Picard in the latest entry in the Star Trek franchise, "Star Trek: Nemesis." But the film opened to bad reviews and concurrent with Peter Jackson's much-anticipated "Lord of the Rings: The Two Towers" and wound up severely under-delivering at the box-office. At one point in 2002, Hardy's boozing and drug addictions caught up with him, and, as he recalled in the London Telegraph, he blacked out and woke up on a Soho street "with a crack pipe, covered in blood and vomit." His marriage collapsed and, with his parents help, he checked himself into detox and submitted to a regimen of psychotherapy. He channeled his pathos into his craft, returning in 2003 to live theater by taking roles in "In Arabia We'd All Be Kings" and "Blood." His performances lit up the critical radar, prompting The Evening Standard to bestow upon him its "Most Promising Newcomer Award" in 2003 and the Society of London Theatre to make him a nominee for its Olivier Award in the same category the next year. He picked up some inauspicious indie film parts in "The Reckoning" (2003), "Dot the I" (2003), "LD 50 Lethal Does" (2004), "EMR" (2004) and "Layer Cake" (2004), a caper film starring future-James-Bond Daniel Craig. But he would draw more buzz for his ongoing London theatrical work, including a turn in the visceral play about a family haunted by incest, "Festen," in which he "exudes a dangerous unpredictability," per the The Independent newspaper.
Hardy made the jump to Brit TV in 2005, reuniting with "Band of Brothers" star Damien Lewis in the ITV World War II drama, "Colditz," the tale of Allied POWs held in the notorious German prison camp, specifically focusing on Lewis' character's escape to Britain to woo the woman Hardy loves and to surreptitiously thwart the latter's own escape attempts. Hardy would turn up in a succession of BBC productions, including "Gideon's Daughter" (2005); the remake of the opera "Sweeney Todd" (2006); a remake of the 1961 Brit sci-fi classic "A for Andromeda," and the lavish serial retelling of Queen Elizabeth's history, "The Virgin Queen," with Hardy playing the Earl of Leicester, the love of the monarch's life. Hardy diversified his résumé somewhat, founding his own repertory company, Shotgun Theatre Company, for which he directed a production of his father's first play, "Blue on Blue." He also earned paychecks for some low-budget sci-fi outings, "Minotaur" (2006) and "Flood" (2007); bolstered his indie credentials with turns in Sofia Coppola's revisionist take on the notorious French queen, "Marie Antoinette" (2006) and the Brit ensemble romantic comedy "Scenes of a Sexual Nature" (2006); and ventured into series television as a handyman with an unseemly agenda in the BBC's eerie small-town drama, "Cap Wrath" (2007). In 2007, he won the central role of the womanizing libertine Dormiant in the National Theatre's production of George Etherege's classic play, "The Man of Mode." Also that year, Hardy had a supporting turn as a sleazy street thug in the indie crime thriller "w Delta z" (2007). It began a run of gritty roles in which he would bring texture and depth to unsavory characters: the scurrilous Bill Sikes in a BBC retread of "Oliver Twist;" a gay gangster in Guy Richie's slick London underworld caper film "RocknRolla;" and notoriously violent Brit convict Charles Bronson in "Bronson," for which he won the British Independent Film Award for best actor.
Largely hailed as his tour de force was Hardy's portrayal of Stuart Shorter in the 2007 BBC outing, "Stuart: A Life Backwards," dazzling critics and viewers in the role of a muscular dystrophy-stricken, homeless alcoholic who recounts a violent menagerie of abuse and crime that brought him to his low station. In 2008, the performance earned Hardy a BAFTA Award nomination. He showed true range in 2009, upping the ante on his bad-boy ethos in "The Take" (Sky, 2009), a crime-thriller miniseries in which he played an ex-con out to right all the wrongs done to his family while he was in prison. He also put his smoldering stamp on the role of Heathcliff in a dark ITV update of "Wuthering Heights," playing the erstwhile Olivier role such that Kathryn Flett, writing in The Observer, referred to his portrayal as "thoroughly dangerous to know in all the right ways the man is sex on fire." His co-star on both projects, Charlotte Riley, shared the sentiment, and she and Hardy began a relationship, eventually to be engaged in 2010. Early that year, he took his first major American theater lead in the U.S. world premiere of Bret Leonard's play "The Long Red Road" at the Goodman Theatre in Chicago, directed by Philip Seymour Hoffman. In summer 2010, he showed up in director Christopher Nolan's special-effects thriller "Inception," which starred Leonardo DiCaprio as a corporate espionage specialist specializing in raiding people's minds in their dreams. DiCaprio hatches a one-last-heist scenario to reclaim his life, bringing along a team of dream specialists, including Hardy with his rapier-sharp patter as an in-dream shapeshifter. Nolan was impressed enough with his work that he would cast Hardy as the ferocious, chemically enhanced muscleman Bane in the third outing of Warner Bros.' rebooted Batman film series, "The Dark Knight Rises" (2012). Hardy was also tapped to take over for the real-life scandal-prone Mel Gibson as the lead in George Miller's long-anticipated fourth entry in his "Mad Max" series, "Mad Max 4: Fury Road."
The above TCM overview can now be accessed online here.