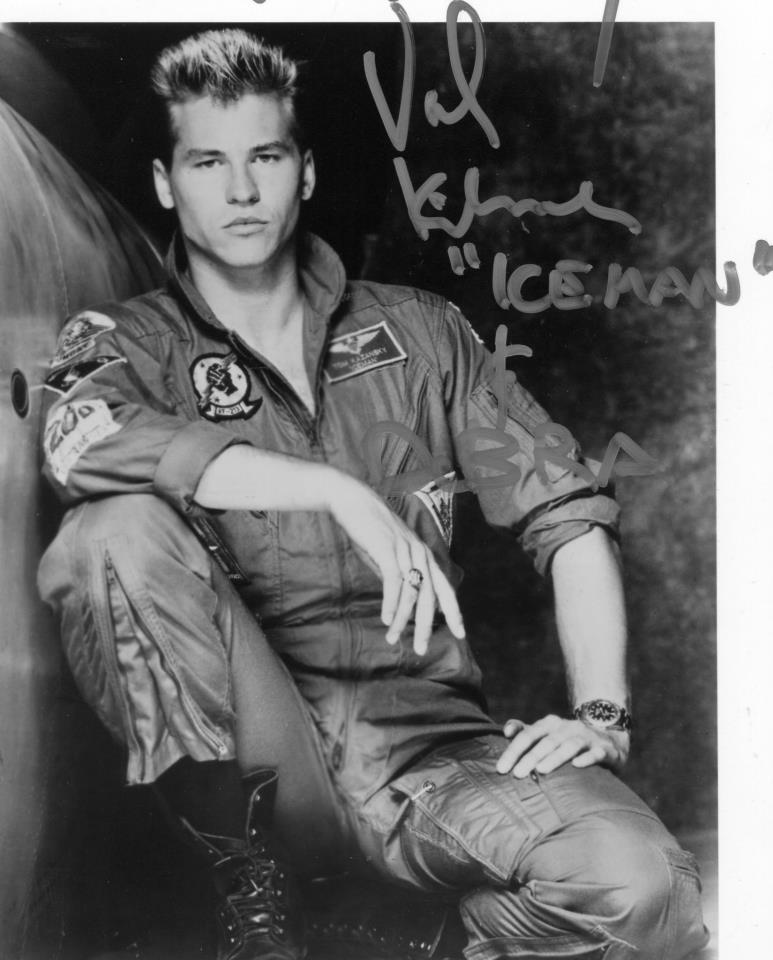 Val Kilmer is one of the most interesting American actor on film. As he is moving into character parts. his weight gain and maturity brings an extra shade and nuance to his roles. His early movies include "Top Gun" in 1984, "Willow" and as 'Jim Morrison' in "The Doors". He starred with Al Pacino and Robert De Niro ion "Heat", "Batman Forever", "Deja Vu" and "Felon
TCM overview:
Once described as Hollywood's most difficult leading man, actor Val Kilmer accumulated his share of proponents over the years to offset the howls of his surprisingly vocal detractors, few of whom would argue that his best work rivaled Hollywood's top leading men. Kilmer first made himself known as the chief rival of Tom Cruise in the blockbuster "Top Gun (1986) before delivering an uncanny performance of poet-singer Jim Morrison in Oliver Stone's "The Doors" (1991) and a mesmerizing turn as Doc Holliday in "Tombstone" (1993). Around that time, the public began hearing rumblings of Kilmer's difficult on-set persona. While playing the Caped Crusader in "Batman Forever" (1995), Kilmer entered into the low-point of his vampish behavior, which led to on-set shoving matches between himself and director Joel Schumacher. Following a strong supporting turn in Michael Mann's epic crime drama, "Heat" (1995), he had more on-set shenanigans with "The Island of Dr. Moreau" (1996), which actually marked the beginning of a turning point with his questionable behavior. Kilmer starred in such box office duds like "The Ghost and the Darkness" (1996), "The Saint" (1997) and "At First Sight" (1999) before taking more interesting turns with the crime thriller, "The Salton Sea" (2002). Kilmer had his strongest performance in years as a gay private detective opposite Robert Downey, Jr.'s dimwitted thief in the hilarious "Kiss Kiss, Bang Bang" (2005), which led to a revitalization of his image as one of the most in-demand actors for both major Hollywood movies and independent films.
Born on Dec. 31, 1959 in Los Angeles, Kilmer was raised by his father, Eugene, an aerospace equipment distributor and real estate developer who made – and lost – a fortune developing a ranch once owned by Roy Rogers, and his mother, Gladys. After attending Chatsworth High School, where he was classmates with Mare Winningham and Kevin Spacey, and the Hollywood Professional School, Kilmer became the youngest student at the time to be allowed entrance into the famed Julliard School. While at Juilliard, he and his classmates wrote and performed "How It All Began," a play that was eventually produced at the New York Shakespeare Festival with Kilmer in the lead. Meanwhile, he landed parts in "Henry IV, Part I" at the NYSF and "As You Like It" for the Tyrone Guthrie Theatre in Minneapolis, MN. Kilmer soon made his Broadway debut opposite Sean Penn and Kevin Bacon in "The Slab Boys" (1983). The following year, he made his feature debut with a starring role in "Top Secret!" (1984), a spy parody and all-around Hollywood spoof from the goofy minds of David Zucker, Jim Abrahams and Jerry Zucker which later achieved a cult following.
Also at the time, Kilmer had a supporting role in "One Too Many" (ABC, 1985), a rather stark "ABC Afterschool Special" that cautioned teens against drunk driving. In the comedy "Real Genius" (1985), he played a brilliant science student at a fictional university who teams up with a freshman (Gabe Jarret) to stop a wayward physics professor (William Atherton) from experimenting on unsuspecting students. Graduating from teen comedies to big studio films, Kilmer kick-started his career by costarring opposite Tom Cruise in one of the biggest movies of any decade, "Top Gun" (1986), playing the cocky F-14 pilot and chief antagonist Tom "Iceman" Kazansky, who butts heads with an equally brash Navy pilot, Pete "Maverick" Mitchell (Cruise), over the coveted Top Gun award. Despite upstaging Cruise with the critics, Kilmer was left behind in the dust professionally, as the other actor rocketed to superstardom. Meanwhile, he stumbled with his next few projects while murmurings that he was a "difficult" actor began to arise. After publishing My Edens After Burns, a collection of poems that included fond remembrances of former companion Michelle Pfeiffer, Kilmer displayed a flair for fantasy heroics as the dwarf-friendly lead in Ron Howard's "Willow" (1988), a lavish but uninvolving fantasy from producer George Lucas that proved to be a commercial disappointment. While building his career throughout the decade, he also developed a reputation as something of a ladies man, dating a wide range of actress, including Cher – who was many years his senior – and Ellen Barkin.
Kilmer met his future wife Joanne Whalley on the set of "Willow," and following their marriage in February 1988, the pair co-starred together in "Kill Me Again" (1989), director Tom Dahl's post-modern noir about a seedy private detective (Kilmer) hired by a woman (Whalley) to fake her own death in order to escape mobsters from whom she had stolen money. Kilmer next earned considerable attention and plaudits for one of the best performances of the year when he carved out an uncanny portrait of tortured singer Jim Morrison in Oliver Stone's metaphysical, but often muddled biopic, "The Doors" (1991). In order to secure the part, Kilmer videotaped himself singing Door songs. Though Stone was initially unimpressed, former Doors producer Paul Rothchild was struck by Kilmer's ability to mimic Morrison's voice. Stone cast the actor in the pivotal role, which proved in retrospect to be a wise decision: without Kilmer's domineering performance, the film may have performed worse than it did, thanks to an uneven portrayal of the singer and weak supporting performances. Meanwhile, Kilmer's method acting demands – including that everyone call him Jim on set – later prompted Stone to acknowledge that the actor "is passionate about his work; with the wrong approach, you may see a side of him you don't like."
Kilmer enjoyed a critical hit as the star of Michael Apted's "Thunderheart" (1992), an engrossing crime drama in which he played a part-Sioux FBI agent who confronts his heritage while investigating a murder on an Oglala Sioux reservation. Part-Cherokee himself, Kilmer delivered a finely tuned performance noted for its subtle intensity. He put his film career back on commercial track with an acclaimed performance as the tubercular gunslinger, Doc Holliday, stealing the thunder from Kurt Russell's strong portrayal of Wyatt Earp in the surprise hit Western, "Tombstone" (1993). Even though it proved to be successful both at the box office and with critics, "Tombstone" was marred with onset difficulties, including the firing of original director, Kevin Jarre. Let go after a month of shooting, Jarre later remarked that "[t]here's a dark side to Val that I don't feel comfortable talking about." To back his claim, he relayed an anecdote to Entertainment Weekly about Kilmer taking a locust from an excited stand-in and eating it in front of him before saying, "As you know, I have a reputation for being difficult. But only with stupid people." Meanwhile, Kilmer lost his father in April 1993, which precipitated a falling-out with his own brother, leading to their estrangement from each other for many years thereafter.
After giving a quirky portrayal of Elvis, complete with a rendition of "Heartbreak Hotel," in the Quentin Tarantino-scripted "True Romance" (1993), Kilmer starred in "The Real McCoy" (1993), a crime thriller in which Kim Basinger played a burglar just released from prison and forced to pull one last heist to save her son. His on set troubles continued when news surfaced that he lost control during an argument with director Russell Mulcahy over changing his scenes, leading to him firing a prop gun at a car. Following a one-year absence from the screen, Kilmer had a banner 1995 when he was tapped by director Joel Schumacher to succeed the departing Michael Keaton as the Caped Crusader in "Batman Forever" (1995). Pitted against notorious scene stealers Jim Carrey and Tommy Lee Jones as the Joker and Two-Face respectively, Kilmer brought more intensity and humor to arguably the best installment of the franchise, a blockbuster earning over $200 million worldwide. But again, stories about Kilmer's onset behavior emerged, with Schumacher refusing to mince his words when relaying details about a shoving match between the two: "He was rude and inappropriate. He was childish and impossible. I was forced to tell him that this would not be tolerated for one more second. Then we had two weeks where he did not speak to me – but it was bliss." The normally gentile Schumacher later told Premiere magazine, "Val is the most psychologically troubled human being I've ever worked with. The tools I used to work with him – tools of communication, of patience and understanding – were the tools I use on my five-year-old godson."
Both Warner Bros. and Schumacher were happy to see Kilmer leave the Batman franchise in favor of casting George Clooney for "Batman & Robin" (1997). But director Michael Mann, who cast Kilmer in a supporting role for his crime epic, "Heat" (1995), had nothing but praise for the actor. Mann was a lone voice of support from the directors encountering Kilmer in the mid-1990s; John Frankenheimer also had zero tolerance for the actor after taking over the disastrous sci-fi horror thriller "The Island of Dr. Moreau" (1996) from fired helmer Richard Stanley. Whenever Kilmer sought to contribute his ideas, Frankenheimer snapped and said, "I don't give a f*ck!" Kilmer also ran afoul of a cameraman, whom he burned with a cigarette while seemingly joking around. Of Kilmer, Frankenheimer was unrelenting in his assessment: "I don't like Val Kilmer. I don't like his work ethic, and I don't want to be associated with him ever again." But of himself, Kilmer said, "Often I have been accused of being difficult, when in fact it's a difficult character that I'm playing. (Hollywood) confuses the two. I work hard. I don't know anybody who's good at their job who doesn't get into trouble." Amidst the height of his reputation as a difficult actor, Kilmer was criticized for his performance in Stephen Hopkins' "The Ghost and the Darkness" (1996), which earned the actor a Razzie award nomination for Worst Supporting Actor.
As if things were not difficult enough, Kilmer split with long-time wife, Joanna Whalley, shortly after the birth of their son, Jack, in 1995. But he soon found himself in the arms of model Cindy Crawford, though that particular relationship failed to last very long. Meanwhile, his penchant for casually slipping into different voices and guises led him to choose the role of Simon Templar, "The Saint" (1997). Though hopes for establishing a franchise were high, the ridiculously implausible story doomed Leslie Charteris' debonair detective to inhabit yet another sub-par movie. By the time he voiced Moses in DreamWorks' debut animated feature "The Prince of Egypt" (1998), Kilmer was determined to bury his bad boy image. He played the doting dad to his two children for journalists and ditched Hollywood for Pecos, NM, where he enjoyed fly-fishing and other outdoor activities on his 6,000 acre ranch. Back on screen, he played a blind man romancing Mira Sorvino, whose life is upended when his vision is restored in the mawkish "At First Sight" (1999).
Following a brief, but memorable turn as artist Willem DeKooning in director-star Ed Harris' "Pollack" (2000), Kilmer made a career misstep when he starred as an astronaut on Mars in the seemingly commercial, but oxygen-deprived sci-fi vehicle, "Red Planet" (2000). He next starred in the meth-fueled neo-noir thriller "The Salton Sea" (2002), in which he played a crystal meth addict who tries to find his wife's murderer by working with a pair of undercover narcotics cops (Anthony Lapaglia and Doug Hutchison) while trying to save his abused neighbor (Deborah Kara Unger). After a few little seen turns in low-profile projects, Kilmer returned to the limelight with his convincing portrayal of 1970s porn king John Holmes for the true-life crime drama, "Wonderland" (2003), based on the porn actor's alleged involvement in the bloody drug-related murders on Los Angeles' Wonderland Avenue in 1981. He next received positive reviews as a maverick government agent trying to recover a politico's kidnapped daughter (Kristen Bell) in writer-director David Mamet's crime drama "Spartan" (2004). Kilmer then starred as Moses in a controversial stage version of "The Ten Commandments" (2004), a glossy musical that appeared to many as being a Hollywood parody. The musical was forced to cut back performances for retooling following scathing reviews.
Kilmer reunited with Oliver Stone to co-star in the director's epic drama, "Alexander" (2004), an ambitious, but ultimately failed look at the rise to power and eventual fall of conqueror Alexander the Great (Colin Farrell). Amidst the lavish excesses of Stone's production and the endless narration from Ptolemy (Anthony Hopkins), Kilmer delivered a convincing portrayal of Alexander's controlling father, King Philip II. Following a brief appearance as an FBI instructor in "Mindhunters" (2005), he was nothing short of brilliant as a homosexual private investigator partnered with none-too-bright petty thief (Robert Downey, Jr.) who is dragged into a murder investigation in "Kiss Kiss, Bang Bang" (2005), written and directed by Shane Black. Undeniably, the comedic chemistry between Kilmer and fellow reformed bad boy Downey, Jr. was infectious both on screen and off. Following a supporting role in the period crime thriller "10th and Wolf" (2006), he took a supporting role as a government agent who has knowledge of why an ATF agent (Denzel Washington) suddenly has strange memories about the future regarding a cataclysmic explosion in "Déjà Vu" (2006).
Over the next few years, Kilmer kept something of a lower profile despite working steadily in small budget films and on television. Following an episode of "Numb3rs" (CBS, 2004-10), he was the voice of KITT in the re-imagining of "Knight Rider" (NBC, 2008), which started as a two-hour television movie and wound up being a short-lived series during the 2008-09 season. Kilmer next had roles in little seen features like the crime thriller "Conspiracy" (2008), the Western "Comanche Moon" (2008) and the prison drama "Felon" (2008). Continuing along with independent film, he co-starred opposite Nicolas Cage and Eva Mendes in "Bad Lieutenant: Port of Call New Orleans" (2009), Werner Herzog's remake of Abel Ferrera's crime drama, "Bad Lieutenant" (1992). After a supporting role in "American Cowslip" (2009), an offbeat black comedy about an agoraphobic heroin addict (Ronnie Gene Blevens), he played Dieter von Cunth, sworn enemy to distracted special ops agent, "MacGruber" (2010), played by Will Forte, based on his recurring sketch on "Saturday Night Live" (NBC, 1975- ).
The above TCM overview can also be accessed online here.