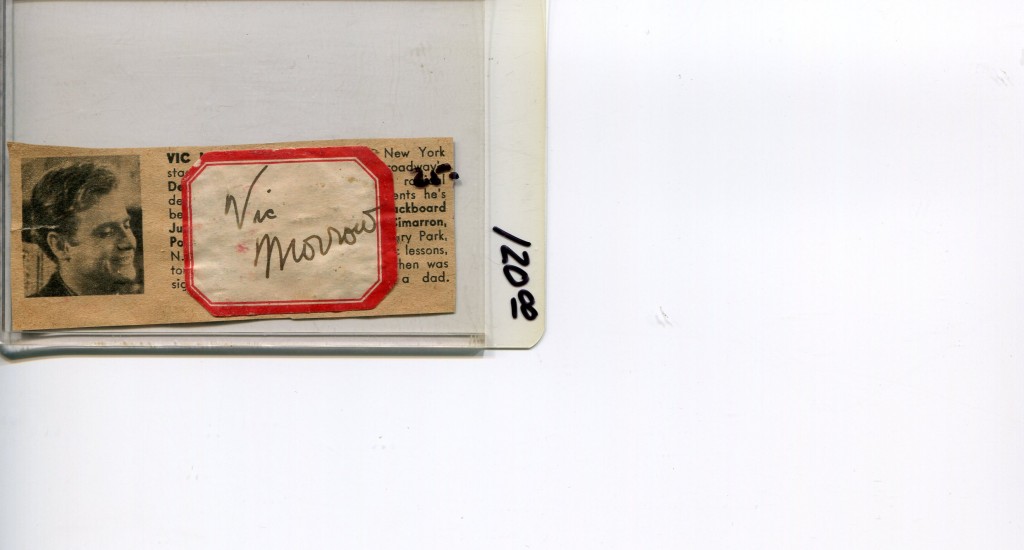 Vic Morrow was born in New York City in 1929. He came to attention as one of thug students in Glenn Ford's class in 1955's "The Blackboard Jungle". From 1962 until 1967 she starred with Rick Jason in the very popular television series "Combat". He was killed in an accident while making a film in 1982. His daughter is the actress Jennifer Jason Leigh.
TCM overview:
Brooding, intense character actor Vic Morrow played men of few words and definitive actions, most notably on the WWII action-drama series "Combat!" (ABC, 1962-67) and scores of television episodes and features from the late-1950s until his tragic death in 1982. His debut as a switchblade-wielding tough in 1955's "The Blackboard Jungle" marked him as a screen heavy, but he bristled at the typecasting. "Combat" turned him into a strong and silent action hero, but he was unable to capitalize on its fame and floundered for most of the 1970s on television, save for memorable turns in "The Bad News Bears" (1976) and "Roots" (ABC, 1977). "Twilight Zone: The Movie" (1983) should have been his comeback, but he was killed during a freak on-set accident that ultimately made him an industry martyr, ending a long and hard-fought career that won many fans but too few successes.
Born Feb. 14, 1929 in New York City, Victor Morrow was the son of electrical engineer Harry Morrow and his wife, Jean Kress. Their son felt stifled by his middle class upbringing, so joined the Navy at age 17. After his discharge, he earned his high school diploma through night school and enrolled as a pre-law student at Florida Southern College through the GI Bill. But after appearing in a production of "I Remember Mama," he abandoned his major and began to pursue an acting career. His first stop on that particular path was a curious one: Morrow studied the craft at Mexico City College, where he appeared in bilingual productions of classic plays. He then returned to New York City, where he appeared in plays and studied at the Actors Workshop under Paul Mann while driving a cab to make ends meet.
In 1955, he beat out such aspiring talents as Steve McQueen and John Cassavetes to play Artie West, a malevolent high school student who makes life miserable for new teacher Glenn Ford in the juvenile delinquent classic, "The Blackboard Jungle." Although 23 years old at the time, Morrow's performance was praised, but also typecast him as young punks for several years. He provided the voice of a bull terrier in the oddball comedy "It's a Dog's Life" (1956) but quickly settled into a routine of heavies and heels, most notably opposite Elvis Presley in "King Creole" (1958) and as a gang member in the Glenn Ford Western "Cimarron."
Morrow turned away from the business to focus on his marriage to actress-writer Barbara Turner and their two children, Jennifer Leigh – who later acted under the name Jennifer Jason Leigh – and her sister, Carrie Ann Morrow. He also began directing theater productions, but the financial pressures inherent to raising a family soon forced a return to screen acting. He hired a new press agent, Harry Bloom, who refashioned Morrow as a rough-hewn leading man in the vein of Aldo Ray or Richard Boone. Bloom also secured his client a screen test for a new war drama series about American soldiers in Europe during the Second World War. After initially landing the role of Lt. Gil Hanley, Morrow and Bloom successfully campaigned for and won the lead, that of hard-boiled but heroic Sgt. Chip Saunders on "Combat!"
The role was a transformative one for Morrow. Embodying both the physical toughness and the emotional fatigue endured by many soldiers, Morrow epitomized an action hero, and for his efforts, received an Emmy nominee in 1963 for a harrowing episode in which an injured Saunders was stranded behind enemy lines. Offscreen, Morrow worked hard to maintain the show's integrity, frequently battling with producers over its direction and quitting the show at one point. By 1964, he had assumed control of the show's scripts and claimed one of the most lucrative contracts in the business. That same year, he began directing episodes, many of which were praised for their innovative choices, and began work on his feature debut as a director with an adaptation of Jean Genet's "Deathwatch," which he worked on with Turner. For a while, it seemed as if Morrow was on his way to becoming a multi-hyphenate with a bright future in Hollywood.
Then came his 1965 divorce from Turner. She revealed to Morrow that she had been having an affair with Robert Altman, then a director on "Combat," and sought a divorce. Two years later, "Combat" was cancelled, which effectively brought his career to a standstill. Morrow attempted to keep himself in the public eye, but found himself unable to land more than guest shots as tough cops and villains on episodic television. He attempted to re-launch his directorial career with "A Man Called Sledge" (1970), a violent Western made in Italy with James Garner and John Marley, but the film saw only a limited release. There were occasional successes, like his aggressive Little League coach in "The Bad News Bears" (1976) and high profile guest shots in "Roots" (ABC, 1977) as the vicious overseer, and "Captains and the Kings" (NBC, 1976), but by the end of the decade, he was working in low-budget exploitation like "Humanoids from the Deep" (1979) and "The Evictors" (1979). His personal life was in turmoil as well; he was crushed when his daughter changed her name from Jennifer Leigh Morrow to Jennifer Jason Leigh (to pay homage to family friend Jason Robards). While he proceeded to drink heavily, his second marriage, this time to Gale Lester, collapsed in 1980, and he supported himself by appearing in foreign-made trash like "Great White" (1981), a blatant "Jaws" (1975) rip-off that drew a lawsuit from Universal.
In 1982, Morrow was tapped by director John Landis to star in a segment of "Twilight Zone: The Movie." The episode, "Time Out," cast him as a middle-aged racist who learned the pain of discrimination by finding himself in the shoes of Jewish Holocaust victims, blacks during the civil rights movement and Vietnamese during the American offensive. Morrow was excited about the project, which he viewed as a possible comeback after decades of obscurity. In July of that year, Morrow was on location in Indian Dunes, CA with two young Asian actors, ages six and seven – later found out to be illegally employed by the filmmakers – playing Vietnamese children whom his character was to rescue during a vicious firefight. While cameras rolled at night, Morrow waded across a makeshift river with both children under his arms while a military helicopter hovered overhead. A pair of colossal firebombs went off during the sequence, which damaged the chopper, sending it plummeting to the ground. The rotor blades decapitated Morrow and one of the two children; the helicopter slamming into the ground crushed the other child. All were killed instantly.
In the wake of the tragic film shoot, scores of lawsuits, including ones by Morrow's daughters, were filed against the movie's producers, including Steven Spielberg, director Landis and Warner Bros. Many of these were settled out of court for unspecified sums, but Landis and his associates did go to trial, all of whom were charged with involuntary manslaughter. The case was unprecedented. Landis was the first Hollywood director ever indicted on criminal charges in connection with a fatality during filming. All were eventually found not guilty in 1987, but the accident hobbled Landis' once bright career for decades and came to epitomize the tragic results of Hollywood's misguided pursuit of bigger and more violent special effects.