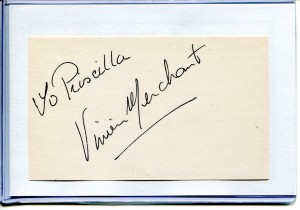 Vivien Merchent was a brilliant actress who made films in Britain mainly in the 1960's and 70's.   She was born in Manchester in 1929.   She gave searing performances in "Alfie" with Michael Caine in 1966 and "Accident" was the Oxford wife of Dirk Bogarde, directed by Joseph Losey.   She died in 1982.
TCM overview:
Stage-trained actress who came to attention for her Oscar-nominated performance in "Alfie" (1966). Merchant was also memorable as the dotty housewife in Alfred Hitcock's "Frenzy" (1972). Formerly married to playwright Harold Pinter.
"New York Times" obituary:
Vivien Merchant, the British actress who starred on the West End and Broadway in many of the enigmatic plays written by her former husband, Harold Pinter, died Sunday at her home in London, her family announced yesterday. She was 53 years old.
Although Miss Merchant appeared in many films, she was best remembered for her one appearance on the New York stage in 1967 in the Royal Shakespeare Company's production of Mr. Pinter's "The Homecoming," in which she played the role of what some critics called a "whore-mother" in an otherwise all-male family on stage. Reviewing the play in The New York Times, Walter Kerr described her as "hard-headed, cool and with great reserve."
In England, her theatrical sensuousness caused The Sunday Times of London to describe her once as the "sex Merchant," but her range of roles included the classics and Shakespeare, in which she played Lady Macbeth. Her subtle emotional power made her what Mr. Pinter called his ideal interpreter in "The Birthday Party" and "The Caretaker."
Among her movie credits were "Alfie" with Michael Caine in 1966, for which she was nominated for an Academy Award; "Accident" in 1967, directed by Joseph Losey from a screenplay by Mr. Pinter, and Alfred Hitchcock's "Frenzy" in 1972.
Miss Merchant, born Ada Thompson in Manchester, England, made her stage debut at the age of 14 in a touring production of "Jane Eyre." She chose the name Vivien after Vivien Leigh -"I thought it would give me glamour" – and Merchant because of her brother: "I was proud of his service in the merchant marine."
She met Mr. Pinter when they were acting in provincial companies, and they married in 1956. He began to write plays and she began to appear in them. "If he writes a part of a secretary flashing her legs, I've got to do it," she said, "but I really preferred comedy roles."
The couple were divorced in 1980, the same year in which Mr. Pinter married Lady Antonia Fraser, a biographer with whom he had lived for five years in a much-publicized relationship. Miss Merchant, who at one point said she thought her husband was "possessed" by Lady Antonia, had bitterly refused to go along with a divorce.
Surviving is a son, Daniel.
The above "New York Times" obituary can also be accessed online here.