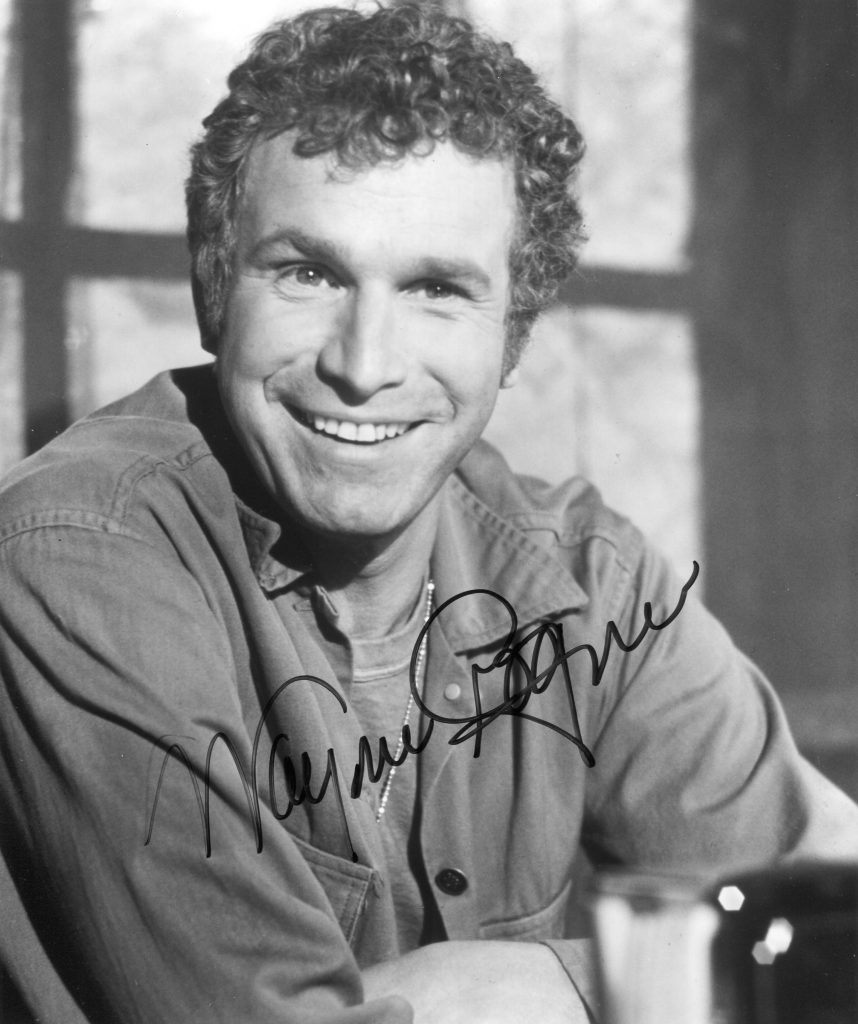 Wayne Rogers is a likable American actor who has graced cinema and television. He is best known for his participation in the "Mash" television series as Trapper John McIntyre. His films include "The Glory Guys" with Tom Tryon and Senta Berger in 1965 and "Cool Hand Luke" with Paul Newman in 1967. He died in 31st December 2015.
"Telegraph" obituary:
Wayne Rogers, who has died aged 82, played the US Army surgeon Captain "Trapper" John McIntyre, the martini-swilling, nurse-chasing sidekick to Alan Alda's "Hawkeye" Pierce, in the immensely popular television series M.A.S.H., a black comedy set in a mobile hospital during the Korean War.
Rogers took over the role of Trapper John for the television adaptation (first broadcast in 1972) from Elliott Gould who had played him in Robert Altman's hit film of 1970, which was itself based on a novel by Richard Hooker, a former US Army physician. For the television show, which was generally lighter in tone than the film, Trapper's sense of humour was made broader, more slapstick and less dry.
He tended to take on a secondary role as partner in practical jokes – usually involving the goading of the more officious members of the unit such as Major Burns – to Alan Alda's character. But the wisecracking Trapper, so-called because a young woman with whom he was once caught in flagrante in a train's lavatory protested that "he trapped me!", was well liked by viewers.
A typical quip came in an episode when Major Margaret "Hot Lips" Houlihan, the strict head nurse played by Loretta Swit, is heard angrily deriding Trapper and Hawkeye as "those shower-tent peekers", and Trapper rejoins with: "You peek into one shower and you're labelled for life!"
By the third series, Alda's dominance in the scripts was irritating Rogers and this, as well as contractual disagreements (including a morality clause which, Rogers later claimed, "said that, in the eyes of the studio, if you behaved in an immoral fashion, they have the right to suspend you") led to his departure from the show in 1975. Trapper was hastily written out of the script and replaced as Hawkeye's tent chum by Captain B  J Hunnicutt (Mike Farrell), who stayed for the remaining eight seasons.
William Wayne McMillan Rogers was born in Birmingham, Alabama, on April 7 1933, the son of a lawyer who died when Wayne was still a child. After private school he read History at Princeton and then served in the US Navy as a navigator on a cargo ship before catching the acting bug. "At the time, I was supposed to go to Harvard Law," he recalled many years later. "My mother was insistent that I conform. I had to break the news that I wanted a life in the theatre instead. It went over like a lead balloon."
He moved to New York where he studied dance with Martha Graham and acting. He appeared in episodes of Gunsmoke, Law of the Plainsman and Wanted: Dead or Alive and in 1960 was cast in a lead role in a new Western series, Stagecoach West. In 1967 he took a small role in the prison drama Cool Hand Luke with Paul Newman.
Of the M.A.S.H. years he said: "It was a wonderful experience, and I'll tell you why. Alan Alda and I came to it with the same attitude – that the work, and not the trappings of the work, was the most important thing."
After M.A.S.H. he turned up occasionally in films; on television among other roles he appeared as a guest star in five episodes of Murder, She Wrote and, starting in 1979, played a doctor again in the sitcom House Calls, with Lynn Redgrave and then Sharon Gless.
Meanwhile Rogers's business career was prospering; he became a respected entrepreneur and appeared on Cashin' In on Fox News as a pundit.
From his early days in a precarious profession Rogers had salted away his earnings. "One of the first things I did in the early 1960s," he remembered, "was to buy an apartment house in West Hollywood out of bankruptcy and turn it around." In the early days he was able to help his flatmate, the actor Peter Falk, to recover money from an insurance company after he had been badly advised.
Wayne Rogers married, first, Mitzi McWhorter, an actress, in 1960. The marriage was dissolved and in 1988 he married Amy Hirsh, a producer. She survives him with a son and a daughter from the previous marriage.
The above "Telegraph" obituary can also be accessed online here.
Gary Brumburgh's entry:
Tough around the edges and with a handsome durability, Alabama-born Wayne Rogers had graduated from Princeton with a history degree in 1954 and joined the Navy before giving acting a thought. During his military service, however, he became associated with theater by happenstance and decided to give it a try after his discharge. He started things off by studying with renown actor Sanford Meisner and dancer Martha Graham at the Neighborhood Playhouse. He toiled for years in off-Broadway and regional plays ("Bus Stop", "No Time for Sergeants") and had a short stint on the daytime soap The Edge of Night (1956) before making a minor dent in films, including small roles in Odds Against Tomorrow (1959), The Glory Guys (1965) and Cool Hand Luke (1967). He also co-starred opposite Robert Bray in the short-lived TV western series Stagecoach West (1960), and co-produced and wrote the script for the cult sci-fi cheapie The Astro-Zombies (1968) in-between. It wasn't until 1972 when the 39-year-old Rogers nabbed the role of "Trapper John", a Korean War surgeon, in the classic comedy series M*A*S*H (1972) that he found the stardom that had eluded him for over a decade and a half. Alongside Alan Alda's "Hawkeye Pierce", the TV show was a huge hit and the two enjoyed equal success at the beginning. Slowly, however, Wayne's character started getting the short end of the stick as the wry, sardonic, highly appealing Alda became a resounding audience favorite. Frustrated at turning second-banana to Alda, he quit the series (his character was discharged) after three seasons amid a contractual dispute. Mike Farrell replaced him in the cohort role of "B.J. Hunnicut". TV movies came his way throughout the late 70s and a couple more comedy series, including House Calls (1979), in which Wayne received a Golden Globe nomination, but nothing would equal the success he found during theM*A*S*H (1972) years. Sporadic filming in Once in Paris… (1978), The Hot Touch (1981),The Gig (1985) and The Killing Time (1987) also failed to raise his amiable profile. In later years, Wayne found renewed respect as a businessman and investor, having managed the affairs of such stars as Peter Falk and James Caan, among others.
– IMDb Mini Biography By: Gary Brumburgh / gr-home@pacbell.net