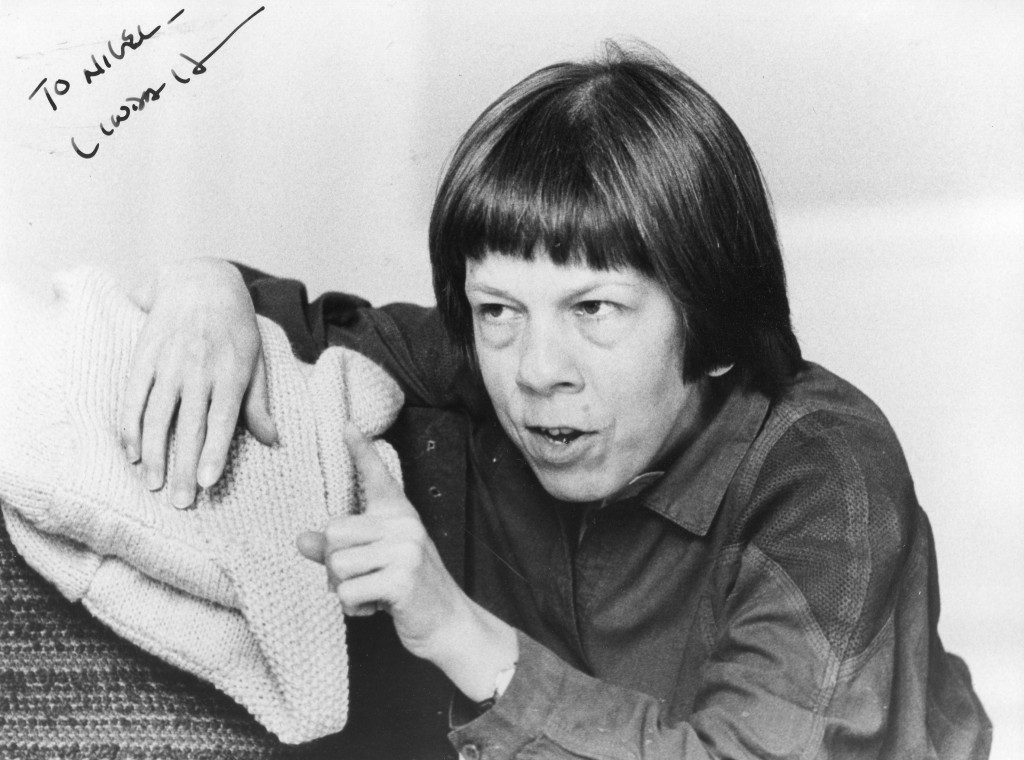 Linda Hunt won an Oscar for her astonishing performance as the male 'Billy Kwan' in 1982's "The Year of Living Dangerously". She was born in 1945 in Morristown, New Jersey. Her other movies include "The Bostonians" "Dune" and "Silverado".
TCM overview:
Despite her diminutive 4-foot, 9-inch frame, actress Linda Hunt emerged as a prominent, Oscar-winning performer in only her second film, playing doomed Chinese-Australian photojournalist Billy Kwan in Peter Weir's "The Year of Living Dangerously" (1982), which marked the first time in Academy Award history that an actor won for playing a character of the opposite sex. Her triumphant win led to a Tony-nominated performance in Arthur Kopit's "End of the World" (1983) and a supporting role as a saloon keep in the revisionist Western, "Silverado" (1985), though opportunities later became few and far between. While she logged numerous film and television roles over the years, including a long-running recurring role as a judge on "The Practice" (ABC, 1996-2004), Hunt developed a second career as a busy voiceover artist. She lent her surprising baritone as a narrator on environmental specials, while voicing characters in both video games – most notably on the "God of War" series – and various animated projects like Disney's "Pocahontas" (1995). By the time she was seen with regularity on such hit procedurals as "Without a Trace" (CBS, 2002-09) and "NCIS: Los Angeles" (2009- ), Hunt was a familiar presence in several different mediums; a testament to both her talent and her ability to overcome the odds.
Born on April 2, 1945, in Morristown, NJ, Hunt moved to Westport, CT with her family while still an infant. Burdened with a host of health problems since birth, Hunt was misdiagnosed with cretinism at six months of age. While in her teens, she was correctly diagnosed with hypo-pituitary dwarfism, a condition in which the pituitary gland fails to release enough growth hormone. Ironically, or perhaps consequently, Hunt grew up an unusual overachiever, undaunted by her condition. She took her first stab at acting at age 12 while performing in a production of "Flibbertigibbet" at Westport's famed Silver Nutmeg Theater. Hunt moved to New York in the mid-1960s, where she found consistent work in summer stock theater. Concerned that her unusual physical type would limit her future as an actress, Hunt initially focused on becoming a stage director. But the lure of acting proved too powerful to resist, so in 1969, Hunt returned to Westport to study acting under dramatic coach, Robert Lewis.
In the early 1970s, Hunt began a longtime association with the Long Wharf Theater in New Haven. Her one-woman show based on the life of Joan of Arc won the actress rave reviews and even flickers of interest from Broadway. A year later, Hunt went to New York City and made her off-Broadway debut as the Player Queen in the New York Shakespeare Festival's production of "Hamlet" in Central Park. This led to Hunt's first major role as the Irish maid Nora in a 1973 production of Eugene O'Neill's play, "Ah, Wilderness!" Originally directed by Arvin Brown for the Long Wharf Theatre, the play eventually moved to the Circle-in-the-Square Theatre along the Great White Way in New York, where it was taped for airing as a PBS special, "Theater In America" (1976). Hunt's screen career began in the late 1970s, when she made her television debut in a "Hallmark Hall of Fame" presentation of Arthur Miller's "Fame" (CBS, 1979). Adapted for the screen by the playwright himself, it was noteworthy that Miller specifically created Hunt's role of Mona with the actress in mind.
The following year, Hunt made her official big screen debut in Robert Altman's bloated and ultimately failed musical, "Popeye" (1980). Cast in a small supporting role as the feisty Mrs. Oxheart, Hunt's appearance was a fortunately forgettable cameo lost in an even more forgettable film that dogged stars Robin Williams and Shelley Duvall for years to come. Her next film, however, permanently changed her career. Tapped to co-star in the controversial drama "The Year of Living Dangerously," Hunt joined burgeoning young actors Mel Gibson and Sigourney Weaver in director Peter Weir's complex drama. Based on a novel of the same name by Christopher Koch, the film told the complicated tale of an Australian journalist caught at the center of a foreign country's political overthrow. Based on the real-life events of the attempted 1965 coup of Jakarta by Indonesia's Communist party, "Dangerously" earned Hunt an Academy Award for Best Supporting Actress for her portrayal of Eurasian photographer, Billy Kwan. The first actor to ever win an Oscar for playing a role of the opposite gender, Hunt's record stood untouched until 1999, when Hilary Swank won an Oscar for "Boys Don't Cry."
Despite her formidable talent, however, Hunt hit the proverbial glass ceiling. Though she remained consistently employed on stage – even winning two Obies and a Tony nomination in the 1980s and 1990s – the pedigree of her film work had slipped. Still, Hunt's presence in movies managed to endure throughout this period. Among her higher profile roles were supporting turns in such critical favorites as "Silverado" (1985), in which she played Stella, a genial saloon proprietor, and the blockbuster comedy, "Kindergarten Cop" (1990), portraying a school principle disapproving of a rough-and-tumble cop (Arnold Schwarzenegger) going undercover as a kindergarten teacher to capture a wanted fugitive. In 1993, Hunt briefly returned to television, starring in the ill-fated space opera, "Space Rangers" (CBS, 1993), which was cancelled after just six episodes. After a brief dormancy in the mid-to late 1990s, during which time she only appeared in the horror dud, "The Relic" (1997), Hunt's career underwent something of a renaissance when she turned to television. In 1997, Hunt created the role of Judge Zoey Hiller on David E. Kelly's long-running legal dramedy, "The Practice." A favorite recurring character for the show's fans, Hunt reprised the role more than two dozen times before the show finally adjourned its run.
In 2003, Hunt joined the cast of the HBO drama "Carnivale" (HBO, 2003-05) for a 10-episode run as the mysterious voice of Management. In 2005, actress Hunt added an unlikely new credit to her resume: video game icon. As the resonant, authoritative voice of the Narrator for the award-winning "God of War" video game series, Hunt gained a whole new generation of fans unfamiliar with her acting work. Hunt reprised the voiceover role for the game's sequel, "God of War 2." Following a long vacation away from features, Hunt finally returned to the big screen with the blended family comedy "Yours, Mine, and Ours" (2005), starring Dennis Quaid and Rene Russo. While her role was hardly much of a challenge for the actress, the movie did at least allow Hunt a rare opportunity to flex her comedic muscles. Her next project continued in the same vein, as Dr. Mittag-Leffler in director Marc Forster's twisted comedy, "Stranger than Fiction" (2006) starring Will Ferrell and Emma Thompson. After building a second career voicing narration for numerous PBS specials, including "Secrets of the Ocean Realm" (1997), "Woodrow Wilson" (2002) and "Auschwitz: Inside the Nazi State" (2004), Hunt joined the cast of the successful spin-off series, "NCIS: Los Angeles" (CBS, 2009- ), playing OSP Operations Manager Henrietta Lange.
The above TCM overview can be accessed also online
here.