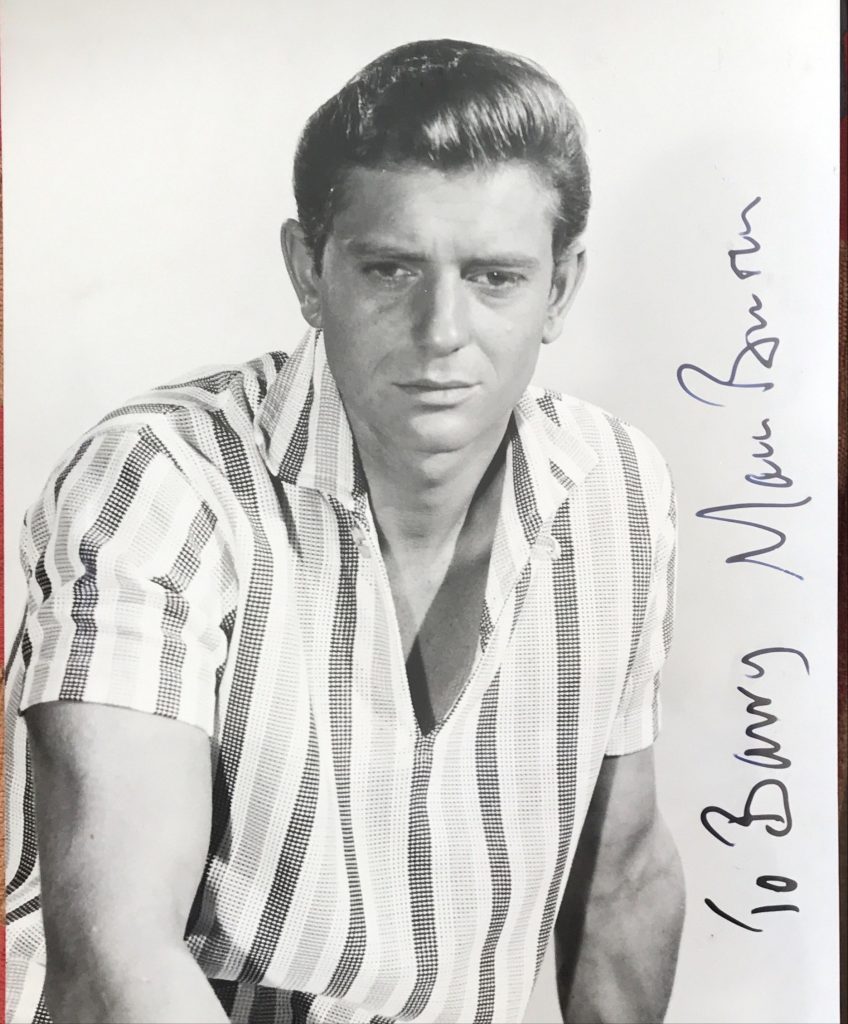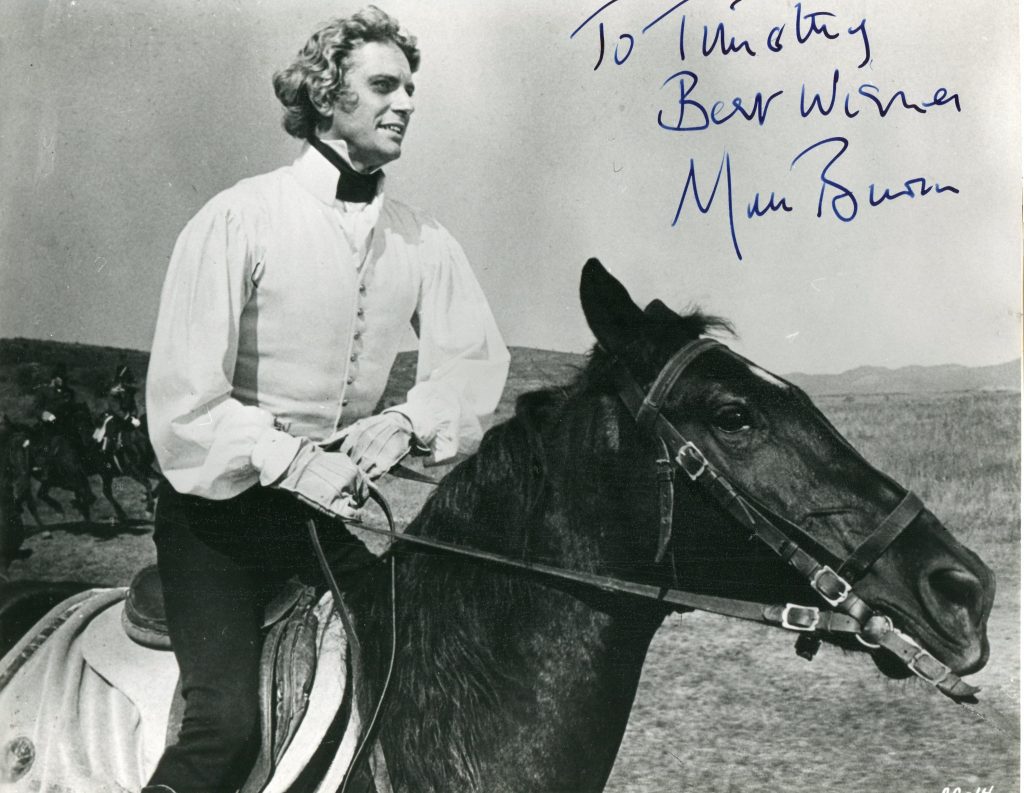 Mark Burns was born in 1936.   He made his film debut in 1960 in "Tunes of Glory".   His other movies include "The Charge of the Light Brigade" in 1968, "A Day At The Beach", "Death in Venice" and "The Stud".   He died in  2007,
Peter Evan's obituary in "The Guardian":
Mark Burns, who has died aged 71 from cancer, was one of the most admired young actors of the 1960s. Although it was the decade of the working-class hero – Albert Finney, Michael Caine, Terence Stamp and Tom Courtenay – his English upper-crust image and blond good looks quickly attracted attention.
Tony Richardson cast him as the dashing Captain Morris in The Charge of the Light Brigade (1968). He had seen Burns as Saki's amoral and effete antihero Clovis Sangrail in a 1960 Granada television series, and remarked that "it was an unexpected bonus when I discovered that he had, in fact, been a cavalry officer".
Burns' friend Charles Wood, writer of the screenplay, said: "Mark was a typically brave cavalry officer. A beautiful, kind man, he had the courage of a lion. He licked prostate cancer, bladder cancer; he licked booze, and he fought the final lung cancer all the way."
Born in Worcestershire, Burns was educated at Ampleforth college, north Yorkshire, and planned to enter the priesthood. But after a short-service commission in the 15th/19th The Kings Royal Hussars (1955-57), in which he served in Malaya and Northern Ireland, he became an actor. Early television appearances included roles in Z Cars, Probation Officer, and No Hiding Place.
In 1971, Luchino Visconti cast him in the small but crucial role of the composer's friend in Death in Venice. Burns' scene, in which he accuses the dying Aschenbach, played by Dirk Bogarde, of avoiding emotional issues in his private life, was at the heart of the film: Bogarde called it "one of the finest acting vignettes I've ever seen".
Shortly after the Falklands conflict in 1982, Burns read about Robert Lawrence, an officer who lost almost half his brain when he was shot by an Argentinian sniper. Facing a lifetime of paralysis, Lawrence felt abandoned by the army. Burns took the idea to Wood, who wrote the television drama, Tumbledown. Although Burns never took a producer's credit for the production, eventually made by the BBC in 1988, it was one of his proudest achievements.
But Burns never took himself seriously: his performances opposite Joan Collins in The Stud (1978) and The Bitch (1979) pointed to his sense of humour. His loyalty to his friends was legendary. When director Michael Winner could not afford to pay him even the minimum fee for a role in his remake of The Wicked Lady in 1983, Burns told him to make a donation to his Police Memorial Trust Fund. Later, when Burns was charged with speeding, Winner told the bench that the actor had given "his entire fee" for a major film to the fund. Burns was discharged.
His first wife was the actor Jane How, with whom he had a son, Jack. His second was the former model, Paulene Stone. All three survive him.
· Mark Burns, actor, born March 30 1936; died May 8 2007
The above "Guardian" obituary can also be accessed online here.
Article on Mark Burns in "Tina Aumont's Eyes" website:
Perhaps mostly recognized from his lesser supporting roles in such movies as 'The Stud'(1978), and its follow-up 'The Bitch' (1979), it's a shame that the very talented Mark Burns never achieved the recognition that he truly deserved. A busy supporting player and occasional lead, he seems to have been largely forgotten, yet he acted steadily for over 45 years.
Born on March 30th 1936, Burns had originally planned to enter into priesthood, until he served two years with the British Cavalry from 1955 to 1957. Turning to acting in 1960, he spent his early days working mainly in television, guesting in many acclaimed British series including 'Z Cars', 'The Saint' and 'The Prisoner'. One of Mark's first film roles of note was as Captain William Morris, in Tony Richardson's historical drama 'The Charge of the Light Brigade' (1968).
In 1969 Mark began work on the one movie which could have made him a star. Roman Polanski's bleak but brilliant 'A Day at the Beach'(1970) had Burns in the lead role of boozy Uncle Bernie. This unrelenting movie tells the harrowing story of the last day in the life of an alcoholic, whilst looking after his young niece. Adapted by Polanski and directed by Simon Hesera, the movie would undoubtedly have received far more recognition had it been released at the time it was made. Polanski left production shortly before filming had finished, upon receiving the awful news of his heavily pregnant wife Sharon Tate's tragic murder, at the hands of the Manson family. Out of respect for Polanski, the distributors shelved the movie with the intention to show it at a later date. Mark was hypnotic in a demanding role, and it's a shame that he sadly passed away before the movies long-awaited DVD release in 2007, as he never got to see his excellent performance.
In 1970, Burns was praised for his portrayal of Major Eastwood in Christopher Miles' version of D.H Lawrence's 'The Virgin and the Gypsy'. Mark followed this with roles in two movies for Luchino Visconti, 1971's 'Death in Venice', and a small part in the biopic 'Ludwig', in 1972. Burns did get some recognition however, in 1974, albeit for a pretty obscure euro horror flick. Ray Austin's 'Curse of the Dead', saw Mark playing a mad scientist, a role for which he won the Best Actor award at the Sitges International Film Festival.
After parts in a couple of big budget movies (1974's Juggernaut, and Otto Preminger's 'Rosebud'-1975), Burns had a rare romantic lead in the obscure, yet pretty good, Spanish drama 'A Long Return'(1975).
Mark had a long association with maverick director Michael Winner, appearing in many of his movies. His first was in 1964 with a minor part in 'The System', alongside another Winner regular, Oliver Reed. Winner would continue to use Mark's services for 'The Jokers' and 'I'll Never Forget What's'isname' (both 1967), and much later in 'The Wicked Lady'(1983), 'Bullseye!' (1990), and 'Dirty Weekend' (1993).
Mark continued to keep fairly busy in between films, with a number of television roles, including 'Bergerac', 'Remington Steele' and 'Heartbeat'. Burns final movie role was that of a bishop in Matthew Vaughn's big-budget fantasy 'Stardust' in 2007.
Married twice, with one son, Mark Burns sadly died from lung cancer on May 8th 2007, aged 71. A great and valued talent, and one who narrowly missed out on the acclaim he genuinely deserved.
Favourite Movie: A Long Returning
Favourite Performance: A Day At The Beach
The above article can also be accessed online
here.