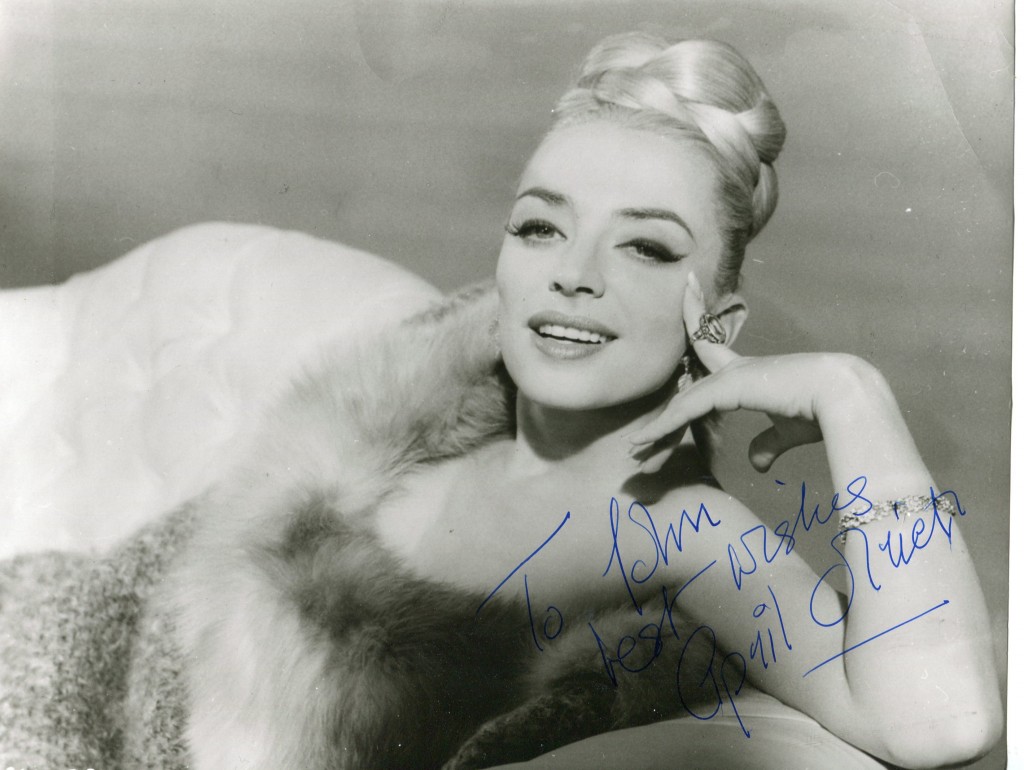 April Olrich was born in 1933 in Zanzibar. She was featured in "Room At The Top", "The Intelligence Men" and "The Skull". She died in 2014.
"The Stage" obituary:
Although she trained as a classical ballerina, one of the favourite shows that April Olrich appeared in was the revue Wait a Minim!, which was staged at the Fortune in London from 1964 to 1966. Just before that, she appeared in a revival of the Rodgers and Hart musical The Boys from Syracuse, at Drury Lane alongside Denis Quilley and Bob Monkhouse.
The daughter of a communications expert, Olrich was born in Zanzibar, part of the east African state of Tanzania. She trained first in Argentina and later under George Balanchine in New York. In Paris, Margot Fonteyn joined private classes that Olrich attended.
When the Ballet Russes arrived in Covent Garden, Olrich was talent-spotted by the Royal Ballet founder Ninette de Valois, and joined its corps de ballet in 1949. She quickly became a soloist, dancing principal roles with the company for four years.
Wait a Minim! was a collection of original songs and international folk music. Olrich joined the American production in New York and won a Whitbread Anglo-American Theatre award. In San Francisco, she married her co-star from the show, Nigel Pegram.
Her cinema career embraced the adaptation of John Braine's novel Room at the Top (1959), and the Morecambe and Wise flop The Intelligence Men (1965). On television, she was seen in Whodunnit? (1976), a game show in which panellists had to guess who had carried out dramatised murders, and Fresh Fields (1985), starring Julia McKenzie and Anton Rodgers.
April Olrich, who was born Edith April Oelrichs on July 17, 1933, died in London on April 15, at the age of 80.
The above "Stage" obituary can also be accessed online here.