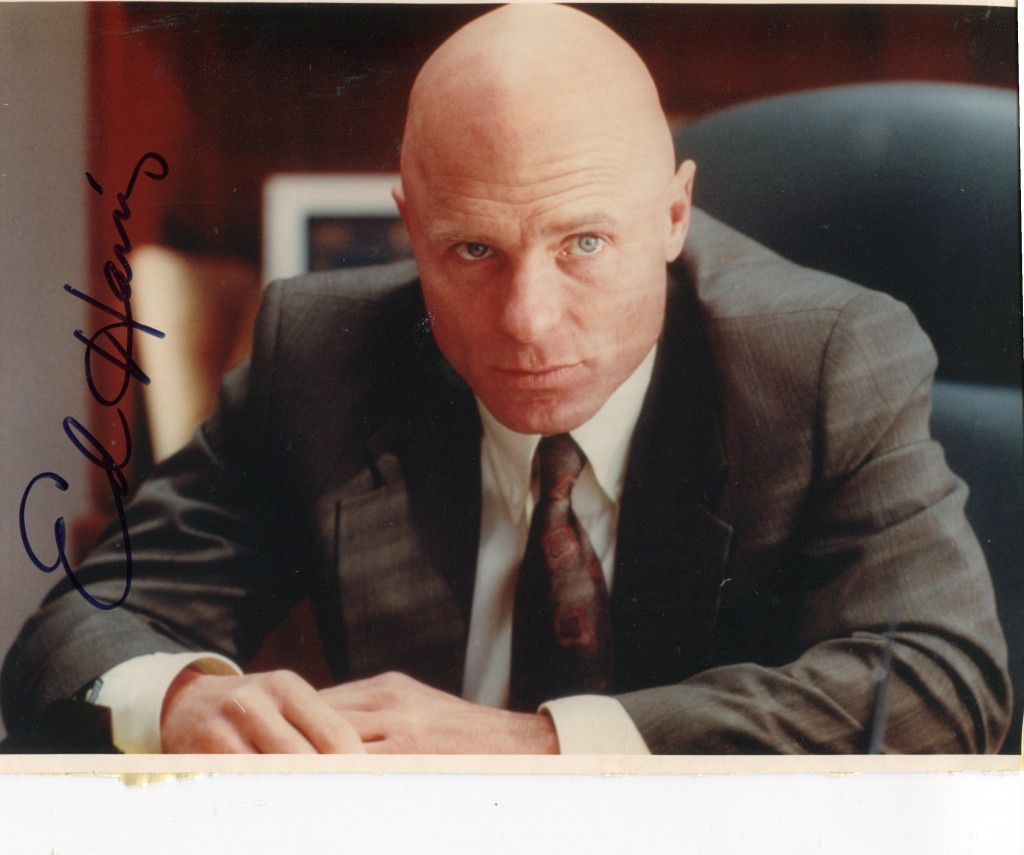 Ed Harris was born in 1950 in New Jersey. In 1983 he achiebed international recognition for his part in "The Right Stuff". He went on to make such great movies as "Paris Trout", "Places in the Heart", "The Truman Show" and "The Firm". He is married to actress Amy Madigan.
TCM overview:
Largely associated with stoic, hardened characters, actor Ed Harris went on to impress with a wide array of diverse performances in dozens of acclaimed films. Following a series of low-budget genre movies, Harris gained notoriety with his turn as legendary astronaut John Glenn in "The Right Stuff" (1983). Despite the accolades, it took several years before the actor landed another memorable role, which finally came when he was cast in James Cameron's ambitious undersea adventure "The Abyss" (1989). Reaping the rewards of his new A-list status, Harris vacillated between literary character work in such acclaimed endeavors as "Glengarry Glenn Ross" (1992) and rousing crowd-pleasers like the NASA docudrama "Apollo 13" (1995). The versatile actor proved just as at home with pyrotechnic blockbusters like Michael Bay's actioner "The Rock" (1996) as he was in more heady material, such as the Jim Carrey vehicle "The Truman Show" (1998). Harris later astounded audiences as both the director and star of the enthralling biopic "Pollock" (2000), which he followed with equally heralded supporting work in the dramas "A Beautiful Mind" (2001) and "The Hours" (2002). Incredibly dexterous, he played wildly divergent characters in the small town drama "Empire Falls" (HBO, 2005) and the shocking "A History of Violence" (2005). He returned to the director's chair once more to helm the sweeping western "Appaloosa" (2008), cementing his reputation as a deft cinematic storyteller. One of the finest American actors of his generation, Harris' artistic reputation and professional résumé knew few equals.
Born on Nov. 28, 1950 in Tenafly, NJ, Harris was raised by his father, Robert, a former singer-turned-bookseller, and his mother, Margaret, a travel agent. Growing up in a middle class Presbyterian home, Harris was captain of the Tenafly High School Tigers football team during his senior year. After graduating in 1969, he played football for Columbia University, but dropped out in 1971 to attend Oklahoma State University, where he made his professional debut as King Arthur in a Jewel Box Theater production of "Camelot." Harris left OSU to major in theater at the California Institute of the Arts, where he finally earned his Bachelor of Fine Arts in 1975. From there, he quickly earned a reputation for his talent and intensity, namely in productions of "A Streetcar Named Desire" and "The Grapes of Wrath." Meanwhile, Harris made his onscreen debut in the made-for-television miniseries, "The Amazing Howard Hughes" (CBS, 1977), then appeared in his first feature with a small part as a pathology resident in "Coma" (1978), a conspiracy thriller about strange happenings at a Boston hospital.
Following more supporting turns on "The Seekers" (syndicated, 1979) and "The Aliens Are Coming" (NBC, 1980), Harris had his first leading role in George Romero's "Knightriders" (1980), playing the leader of a motorcycle gang who hits upon a get-rich-quick scheme of dressing like the Knights of the Round Table and performing at local renaissance fairs. Three years later, he emerged as a star with the one-two punch of the laconic cowboy with a troubled past and uncertain future in Sam Shepard's off-Broadway hit "Fool for Love" and a stalwart turn as astronaut John Glenn in "The Right Stuff" (1983), Philip Kaufman's epic drama about the dawn of the U.S. space program. Based on Tom Wolfe's novel of the same name, "The Right Stuff" was lauded for its epic scope and sterling performances. While the expected accolades for his performance as Glenn failed to materialize, Harris nonetheless became an actor in demand. After a charismatic supporting role as Goldie Hawn's soldier husband in "Swing Shift" (1984), Harris made a strong impression as a cheating spouse in "Place in the Heart" (1984). The latter marked the actor's first screen pairing with Amy Madigan, whom he married before they headlined Louis Malle's "Alamo Bay" (1985).
Also in 1985, Harris turned in a strong, believable performance as hard-drinking, good ole Southern boy Charlie Dick who woos and weds ascendant star Patsy Cline (Jessica Lange) in "Sweet Dreams." The actor returned to his stage roots to make his Broadway debut opposite Judith Ivey as the stern, but loving father in George Furth's autobiographical "Precious Sons" (1986), for which he earned critical praise and a Tony Award nomination. Back on the small screen, Harris played a conscience-ridden attorney who quits the profession after getting a string of guilty clients off the hook, only to be brought back by his mistress (Roxanne Hart) for one more case, this time involving a truly innocent man (Darrell Larson) accused of killing an undercover cop, in the HBO original movie, "The Last Innocent Man" (1987). Harris next starred in the little-seen "Walker" (1987), Alex Cox's odd biopic of the 19th-century adventurer William Walker who declared himself president of Nicaragua, only to wind up a victim of his own hubris and overreaching ambition that resulted in widespread repression. The actor offered an intense portrait of a real-life soldier of fortune who bore more than a passing resemblance to Oliver North, who was then dominating the news.
In James Cameron's big-budgeted underwater spectacle "The Abyss" (1989), Harris provided the anchor as the foreman of a civilian crew – which includes his estranged wife (Mary Elizabeth Mastrantonio) – tapped to rescue a U.S. nuclear submarine, only to discover the crash was caused by an extraterrestrial spacecraft containing an alien species. It was during this very difficult shoot, where the actors and crew were often submerged for hours underwater, that Harris famously declared he would never again work with Cameron, after the two butted heads more than once. In a return to the small screen, Harris starred in "Paris Trout" (Showtime, 1991), playing a lawyer hired to defend an unrepentant racist (Dennis Hopper) who finds himself drawn to his client's wife (Barbara Hershey). In "Running Mates" (HBO, 1992), Harris was a bachelor presidential candidate who romances a widowed children's author (Diane Keaton) who hates politics. Both projects allowed Harris to demonstrate a light, almost playful side that enhanced his standing as an unlikely comedic actor. Harris was firing on all cylinders in "Glengarry Glen Ross" (1992), the big screen adaptation of David Mamet's incendiary play about a group of low-rent real estate agents. Harris played David Moss, a loudmouth who tells his down-and-out colleague (Alan Arkin) about his plan to steal the coveted Glengarry leads from their office, only to discover that an older, more desperate coworker (Jack Lemmon) beat him to it. Though the accolades went in large part to co-star Al Pacino for his fiery performance, Harris more than held his own in a cast that also included Kevin Spacey, Jonathan Pryce and Alec Baldwin.
After playing a frustrated FBI agent smoking out corruption in "The Firm" (1993), Harris was on the other side of the law as a creepy serial killer in "Just Cause" (1995). He then stood out in the ensemble of Ron Howard's "Apollo 13" (1995), playing NASA mission control flight director Gene Krantz, a performance that earned him his first Oscar nomination. A turn as Watergate co-conspirator E. Howard Hunt in "Nixon" (1995) was followed by playing a military hero who precipitates a hostage crisis at Alcatraz in "The Rock" (1996). Following a performance as a homicide detective investigating a murder involving the president (Gene Hackman) in "Absolute Power" (1997), he received nearly unanimous praise and a second Best Supporting Actor Oscar nomination as the God-like creator-director of a popular 24-hour-a-day TV series in "The Truman Show" (1998). Harris again showed his softer side as a man caught between his ex-wife (Susan Sarandon) and his new girlfriend (Julia Roberts) in the comedy-drama "Stepmom" (1998), which he followed by playing a charismatic priest who investigates reported miracles on behalf of the church in the little-seen drama, "The Third Miracle" (1999).
In 2000, Harris realized a decade long dream, directing and starring in "Pollock," an independently financed drama about abstract painter Jackson Pollock. Ever since his own father had sent him two biographies of the artist, the actor harbored a desire to portray Pollock on screen. The resulting motion picture, which premiered at the 2000 Venice Film Festival and was selected as the centerpiece of the 2000 New York Film Festival, earned positive critical reviews and Harris' first Best Actor nod at the Academy Awards. Harris continued to add to his growing galaxy of film performances as the new millennium unfolded, portraying a German assassin sent to take out a Russian sharpshooter (Jude Law) in the WWII drama "Enemy of the Gates" (2001). After playing a high-ranking intelligence officer dealing with a schizophrenic mathematician (Russell Crowe) in "A Beautiful Mind" (2001), Harris co-starred opposite Meryl Streep in "The Hours" (2002) as an author dying of AIDS. In this film, Harris delivered another of his more riveting performances, as his character struggles with his disease, his relationships with the crucial women in his life and his reasons for continuing to stay alive. His captivating turn was rewarded with an Academy Award nomination for Best Supporting Actor – his third in that category and fourth nod overall.
The following year, he reunited with Nicole Kidman as her abusive ex-husband in a supporting role in "The Human Stain" (2003), then was seen as a southern football coach-turned-town hero in the feel-good hit "Radio" (2003), which starred Cuba Gooding, Jr. as a mentally challenged high school student who is allowed to help out with the team, but struggles to earn his welcome. Harris next appeared in the humorous, poignant HBO miniseries "Empire Falls" (HBO, 2005) as New England restaurateur Miles Roby, for whom the promising opportunities of youth have given way to the demands of family obligations, especially those concerning his cantankerous father (Paul Newman) and impressionable daughter (Danielle Panabaker). Unable to escape the town or the dominating shadow of his employer (Joanne Woodward), who owns the restaurant he runs, Miles copes with a recent divorce from his wife (Helen Hunt) while piecing together the shared events that shaped their lives. "Empire Falls" was nominated for a slew of Emmy Awards, including Harris for Outstanding Lead Actor in a Miniseries or Movie.
Harris delivered a standout supporting turn in director David Cronenberg's masterful thriller, "A History of Violence" (2005). Harris played the menacing and acerbic Carl Fogarty, a shadowy, scarred figure who arrives in small town Indiana to confront a loving, rock-solid father and husband (Viggo Mortensen) whose brief notoriety after foiling a violent robbery attracts Fogarty's attention and has him insisting he recognizes the man from a secret, bloody past 20 years earlier. Harris' perfectly measured mix of threat and gallows humor was one of the highlights of a superbly tense film. After depicting Ludwig von Beethoven at the time he composed his famed "Ninth Symphony" in "Copying Beethoven" (2006), Harris was a descendant of Lincoln assassin, John Wilkes Booth, who implicates treasure hunter Ben Gates' (Nicolas Cage) great-great grandfather after discovering missing pages from Booth's diary in the adventure sequel "National Treasure: Book of Secrets" (2007). He returned to the director's chair following an eight year absence to direct "Appaloosa" (2008), an old-school Western that showcased Harris as a U.S. marshal tasked to clean up a New Mexico territory city after a band of outlaws murdered the previous law enforcement.
As an actor Harris continued to deliver impressive work in a plethora of distinct and varied films. In the based-on-fact sports drama "Touching Home" (2010) he played a stern patriarch trying to reconnect with his adult sons, while in the WWII adventure "The Way Back" (2010), he played a cynical American attempting to escape from an isolated Siberian gulag. He then reteamed with his "Beautiful Mind" co-star Jennifer Connelly for a pair of ventures, starting with the religious satire "Salvation Boulevard" (2011) and followed by the psychological-drama "Virginia" (2012). Although the mainstream heist-thriller "Man on a Ledge" (2012) failed to set the box office on fire, Harris' uncanny turn as 2008 Republican presidential candidate John McCain in "Game Change" (HBO, 2012) proved to be one of the more talked-about cable events of the year. Co-starring Julianne Moore as Sarah Palin, the telefilm was based on the political tell-all by John Heilemann and Mark Halperin and focused on the ultimately unsuccessful McCain-Palin ticket run for the White House. Harris' exemplary performance was widely hailed by all and earned him a Golden Globe win and an Emmy nomination for Outstanding Supporting Actor in a Miniseries or a Movie.
The above TCM overview can also be accessed online
here.