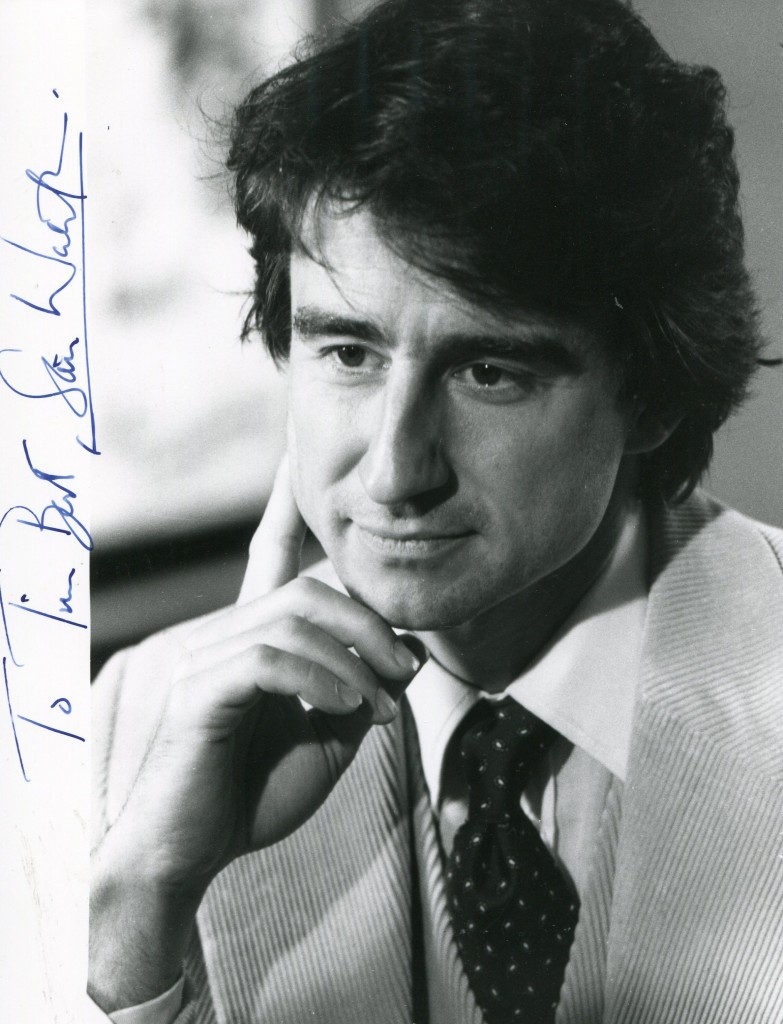 Sam Waterston was born in Cambridge,Massachusetts in 1940. . Among roles, he is noted for his Academy Award-nominated portrayal of Sydney Schanberg in 1984's The Killing Fields, and his Golden Globe-nominated and Screen Actors Guild Award-winning portrayal of Jack McCoy on the NBC television series Law & Order. He has been nominated for multiple Golden Globe, Screen Actors Guild, BAFTA and Emmy awards, having starred in over eighty film and television productions during his forty-five-year career.[1] Allmovie has characterised Waterston as having "cultivated a loyal following with his quietly charismatic, unfailingly solid performances."[2] In January 2010, he received a star on the Hollywood Walk of Fame.
TCM overview:
A lanky, quietly intense, classically-trained actor, Sam Waterston entered film in the mid-1960s, most typically cast as pensive dreamers and intelligent yet essentially ordinary middle-class types. He languished in several forgettable features while piling up impressive credits on the New York stage until he scored as Tom in a fine TV adaptation of Tennessee Williams' "The Glass Menagerie" (ABC, 1973), opposite Katharine Hepburn. Waterston garnered further attention and acclaim, and made his most significant inroads into features up until that time, as Nick Carraway in the glossy but otherwise middling adaptation of F. Scott Fitzgerald's "The Great Gatsby" (1974). A very persuasive and versatile performer with a slightly worried expression, the dark-haired Waterston has appeared in a series of Woody Allen films, beginning with "Interiors" (1978), including "Hannah and Her Sisters" (1986) and culminating with a moving performance as the rabbi with failing eyesight in "Crimes and Misdemeanors" (1989). Conveying a thoughtful, sometimes anguished integrity, he gained perhaps his greatest acclaim in features for his Oscar-nominated work as journalist Sidney Schanberg, exploring the plight of the poor of Cambodia in Roland Joffe's "The Killing Fields" (1984). He also did well in the delicate period piece "The Man in the Moon" (1991) and proved a good choice for the average American father who happens to be married to a "Serial Mom" (1994) in John Waters' typically outrageous farce. In 1995, Waterston made his feature producing debut with "The Journey of August King", in which he also had a supporting role. Waterston's next entry into producing brought him to the small screen, where he worked behind the scenes as well as co-starring in the Showtime original movie "A House Divided" (2000). Here Waterston played a plantation owner who rapes one of his slaves and fathers a child who would become, after his death, a landowner and the wealthiest African-American woman in Georgia. Other notable TV-movie work included his portrayal of real-life hero Dr. Karl Koster, a Danish man who helped save Jewish lives during the Nazi's regime, in the ABC TV-movie "Miracle at Midnight" (1998, which reteamed him with frequent film co-star Mia Farrow). As Waterston's television career excelled, his work in film was more infrequent, but later big-screen credits included a featured role in the Ismail Merchant drama "The Proprietor" in 1996, a turn as the President of the United States in the political thriller "Shadow Conspiracy" in 1997 and, for Merchant-Ivory, in "Le Divorce" 2003, playing father to a pair of American expatirate sisters in Paris. Stage work has kept Waterston perennially busy: he was a recurring presence with the New York Shakespeare Festival from 1963 until 1976 and won several acting awards for his Benedict in a 1972 production of "Much Ado About Nothing". He has subsequently performed on and off-Broadway in plays ranging from the seriousness of "The Trial of the Catonsville Nine" (1971) to the comical "Lunch Hour" (1980-81) and the poignant "A Walk in the Woods" (1988). Conveying a gentle, relaxed yet determined and craggy intensity, Waterston, with the convenient added merit of having bushy eyebrows, also played Abraham Lincoln in a 1993 revival of "Abe Lincoln in Illinois", recreating a role he had earlier played in the TV-movie, "Gore Vidal's Lincoln" (NBC, 1988). TV has brought Waterston other rewarding roles, as in the absorbing miniseries "Oppenheimer" (PBS, 1982), in which he played the controversial physicist who helped develop the atomic bomb, and in TV-movies including "Friendly Fire" (ABC, 1979), "Finnegan Begin Again" (HBO, 1985) and "David's Mother" (CBS, 1994). He received great career exposure (and earned a pair of Emmy nods) with his role as a single father coping with dramatic social change in the 1950s South in the critically well-received, but low-rated series, "I'll Fly Away" (NBC, 1991-93). Waterston joined another intelligent dramatic series when he replaced Michael Moriarty as the resident assistant D.A. on NBC's "Law & Order" in 1994. The actor brought an alluring intensity and dedicated aggressiveness to the role of Jack McCoy, a motorcycle riding, possibly alcoholic lawyer. Injecting new life into the long-running series, Waterston earned three Emmy nominations for his starring role, which he would continue to play for a decade. He also earned critical accolades for his sensitive portrayal of Dennis Shepard, the father of slain gay gay college student Matthew Shepard in the television movie "The Matthew Shephard Story" (2002). The movie chronicles how Matthew's parents came to terms with his life and concluded that their response to the murder trial of their son's killer could end the cycle of hate.
The above TCM overview can also be accessed online
here.