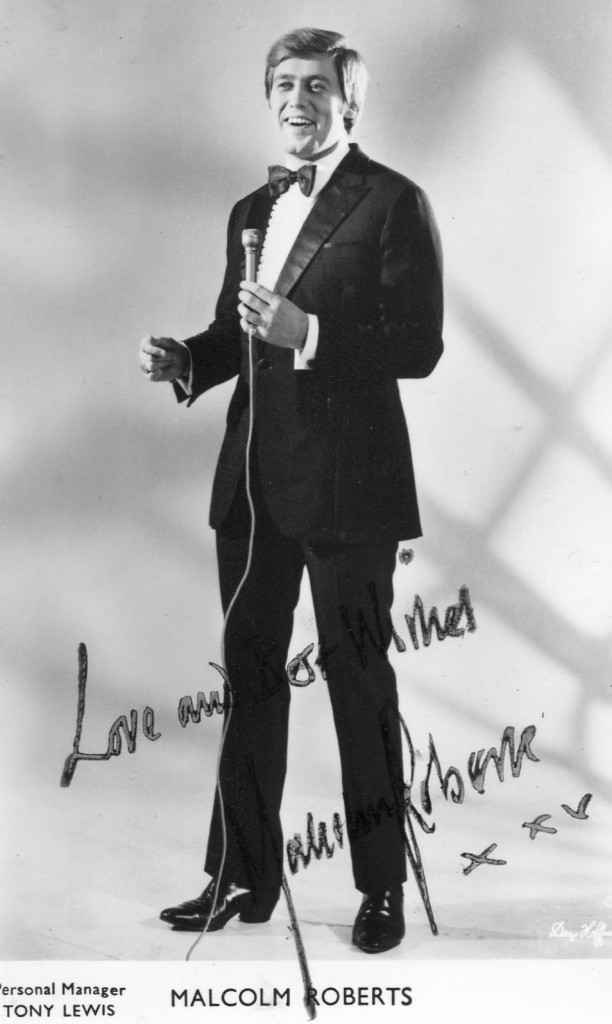 Malcolm Roberts was a very popular British singer who was born in Manchester in 1944. He had a huge hit with the song "Love Is All" in 1969. Sadly he died of a heart attack at the age of 58 in 2003.
Alan Clayson's obituary in "The Guardian":
In 1968 Malcolm Roberts, who has died of a heart attack aged 58, reached eight in the British charts with the singalong May I Have The Next Dream With You. His next single, Love Is All, did nearly as well, and he even found himself ranked just below John Lennon in the New Musical Express's 1969 male vocalist popularity poll.
May I Have The Next Dream With You's success was part of a late 1960s schmaltz boom. There was Engelbert Humperdinck's Release Me and The Last Waltz, the work of artists such as Vince Hill, Petula Clark and Harry Secombe, and even the briefly resurgent "Cavalier of Song" from the 1940s, Donald Peers.
This counter revolution of "decent" music may have been tacitly applauded by the cautious programmers of the BBC's then new Radio 1 and Radio 2, with their largely middle-of-the-road playlists. Roberts debuted on a November 1968 Top Of The Pops top-heavy with the likes of Humperdinck, Des O'Connor and Barry Ryan.
Roberts was born and raised in Manchester. After art college, he enrolled at the city's School of Music and Drama. Following graduation he played trumpet in the National Youth Orchestra, and made headway as an actor, including a Coronation Street bit-part. By the mid-1960s, he had landed leading roles in the West End musical Maggie May and a touring production of West Side Story.
Focusing on singing, he gained an RCA recording contract in 1966, and penetrated the top 50 in 1967 with Time Alone Will Tell (the Italian ballad, Non Pensare A Me). Projected as an English answer to Las Vegas's Jack Jones, Roberts released an album, and then transferred to the independent label, Major-Minor (then a rarity). May I Have The Next Dream With You followed.
Love Is All, by Les Reed and Barry Mason – Humperdinck's main songwriting team – was a winner for Roberts at a 1969 Rio de Janeiro song festival. It lingered in the Brazilian charts for more than six months. Attendance of tens of thousands at Roberts's Rio shows were not unusual.
But the days of Roberts's hits in Britain were over. In the ensuing decade the "all-round entertainer" emerged. Record releases became adjuncts to variety earnings – although Amanee (1972) sold well in Spain and South America, and a cover of Charles Aznavour's She was a turntable hit in Germany. He also formed songwriting partnerships with Sammy Cahn, Les Reed and Lynsey de Paul, coming up with Contact (1979) recorded by soul shouter Edwin Starr, incidental music for ITV's dramatisation of Lady Chatterley's Lover, and One Love, a contender for Britain's Eurovision Song Contest entry in 1992.
Recently he had taken more parts in West End shows, done some artist management and successfully played the 1960s nostalgia circuit. He seemed delighted that he was so warmly remembered at Brighton's Summer 60s 2000 extravaganza – where The Essential Malcolm Roberts CD did brisk business. He is survived by his son from his former marriage, and his partner Susie.
· Malcolm Roberts, singer and songwriter, born March 31 1944; died February 8 2003
The above "Guardian" obituary can also be accessed online here.