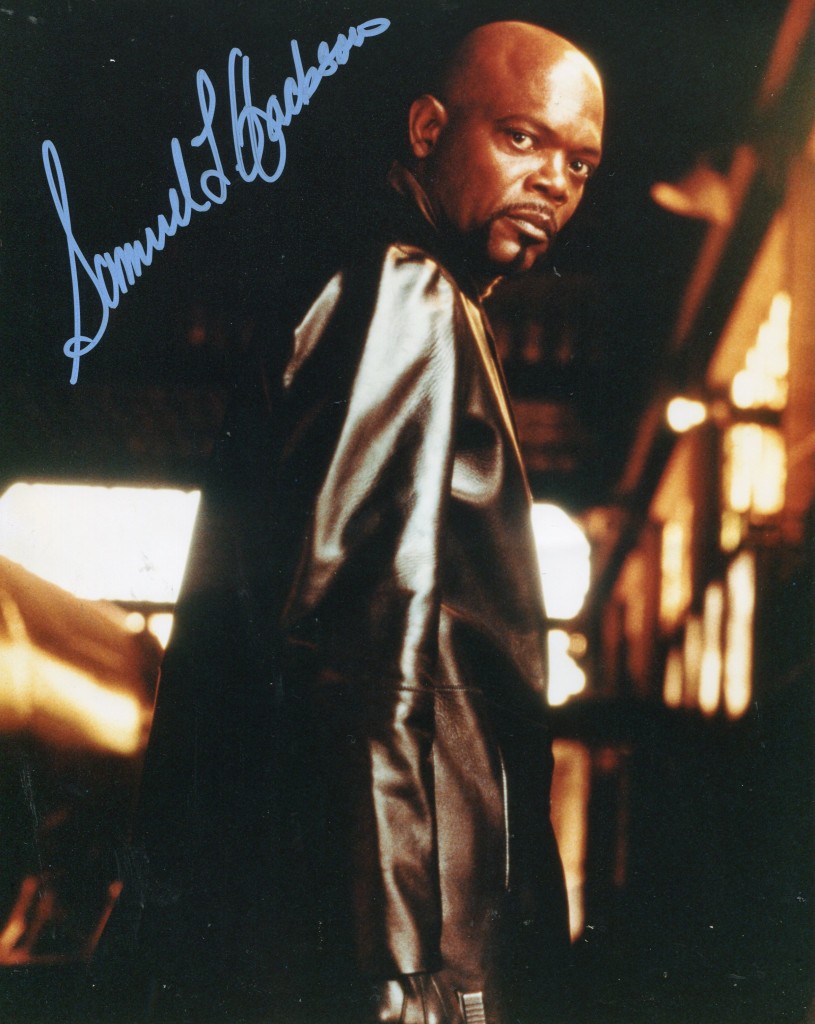 Samuel L. Jackson was born in 1948 in Washington D.C. Among his movies are "Pulp Fiction", "Snakes on a Plane" and "Django Unchained".
TCM overview:
One of the busiest performers in Hollywood, Samuel L. Jackson's prolific list of credits reflected a career born out of turbulent life experiences and shaped by theater and cinema, ultimately making him one of America's leading actors. An active participant in the Civil Rights Movement of the 1960s, Jackson redirected much of his energies into his stagecraft as a co-founder of the Just-Us Theatre, and later, as a member of New York's famed Negro Ensemble Company for more than a decade. Television guest spots and bit parts in low-budget movies eventually gave way to standout performances as an ensemble player in such seminal films as "Do the Right Thing" (1989), "Jurassic Park" (1993) and "Pulp Fiction" (1994). Suddenly one of the hottest leads in Hollywood, Jackson was appearing in an average of five films a year, including Tarantino's "Jackie Brown" (1997) and M. Night Shyamalan's "Unbreakable" (2000). Equally at home in high art projects as well as unapologetic schlock, Jackson often enjoyed himself in campy efforts like the outlandish thriller "Snakes on a Plane" (2006). After setting things up with the first of several cameos in the Marvel Studios adventure, "Iron Man" (2008), Jackson led a team of volatile superheroes in the summer blockbuster "The Avengers" (2012). While Jackson's intense demeanor and pitch perfect ear for street dialogue could effortlessly convey a terrifying menace, his impressive skills with comedy and traditional drama allowed him to shine in a virtually unlimited range of material.
Born in Washington, D.C. on Dec. 21, 1948, Samuel Leroy Jackson grew up in segregated Chattanooga, TN. The only child of a former factory worker-turned-state institutional supply buyer Elizabeth Jackson, young Sam grew up estranged from his father. Raised collectively by his mother, her sister and his maternal grandparents, Jackson flourished under the love of his extended family. Musically talented, Jackson played a number of instruments growing up, including the French horn and trumpet for in the school orchestra. In the mid-1960s, Jackson attended the historically black Morehouse College in Atlanta, GA, where he became active in theater. A co-founder of the sardonically named all-black acting company called Just Us Theatre, Jackson would later go on to become a reliable utility player for the famed Negro Ensemble Company alongside such African-American talents as Robert Hooks, Adolph Caesar and Al Freeman, Jr.
In the late 1980s, Jackson's impressive turn in playwright Charles Fuller's Pulitzer Prize-winning masterpiece "A Soldier's Play" so impressed Spike Lee, that the film auteur eventually cast Jackson in a bit part as a local yokel in "School Daze" (1988). The collaboration proved so successful, that Lee enlisted Jackson into service once again for his next project – the explosive urban drama "Do the Right Thing" (1989), in which he played the omniscient street deejay, Mister Senor Love Daddy. Jackson enjoyed his greatest career boost, however, with his brilliant, harrowing portrait of Gator Purify in Lee's controversial interracial romance drama, "Jungle Fever" (1989). Playing an alternately charming, yet viciously dangerous crack addict, Jackson drew upon his first-hand knowledge of the drug culture to create a character that simply lived and breathed verisimilitude. The role won Jackson a special jury prize as Best Supporting Actor at the 1991 Cannes Film Festival and led to a supporting role in the big-budget, techno-thriller "Patriot Games" (1992).
Jackson nearly got a chance to work with his wife, actress LaTanya Richardson, for the first time onscreen in Lee's epic biopic, "Malcolm X" (1992), but reportedly balked at the director's request that he work for scale. Instead, Jackson rode his triumph as Gator to a torrent of small roles in a rapid succession of titles including Ernest Dickerson's "Juice" (1992), the Willem Dafoe-Susan Sarandon thriller "White Sands" (1992) and Brad Pitt's offbeat "Johnny Suede" (1991). The following year, Jackson graduated to leads in two 1993 comedies – the blank-filled "National Lampoon's Loaded Weapon I" and the well intentioned, but ultimately disappointing comedy, "Amos and Andrew," co-starring Nicolas Cage. Jackson would finish out the year with supporting roles in three wildly different projects: the Hughes Brothers' "Menace II Society," the Steven Spielberg CGI extravaganza "Jurassic Park," and Tony Scott's iconic "True Romance," scripted by rising star Quentin Tarantino. The following year, Tarentino cast Jackson in his ultimate breakthrough role as the philosophical, Jheri-curled assassin, Jules Winfield, in the critically acclaimed "Pulp Fiction" (1994). Outstanding even amid a stellar ensemble including Bruce Willis, John Travolta and Uma Thurman, Jackson got to utter several immortal monologues that since became a part of pop culture history. For his efforts, Jackson received a richly deserved Oscar nomination as Best Supporting Actor.
Hedging his bets, the workaholic actor appeared in at least three other films in 1994 including "The New Age" and "Fresh" and also appeared in the high-minded made-for-cable movies "Assault at West Point" (Showtime, 1994) and "Against the Wall" (HBO, 1994). Jackson's choice of roles post-"Pulp Fiction" yielded mixed critical and box office results. His turn as a child-custody lawyer arguing for a poor mother's rights in the modest "Losing Isaiah" (1995) allowed him the chance to finally work with his wife, Richardson, but the result was largely unmemorable. Jackson later played a cop running an undercover operation in the David Caruso flop "Kiss of Death" (1995), but he fared only somewhat better in his next project, playing Bruce Willis' unwilling cohort in the third "Die Hard" installment, "Die Hard With a Vengeance" (1995). A deft comic performer, Jackson played a Don King-like boxing promoter in "The Great White Hype" (1996), but the effort was again largely wasted in the mediocre vehicle. On the other hand, Jackson fared well riding the roller coaster of Renny Harlin's "The Long Kiss Goodnight," as well as starring as a low-rent private eye and earning substantial critical kudos for his heart-wrenching turn as a father out for revenge following the rape of his little girl in director Joel Schumacher's adaptation of "A Time to Kill" (1996), based on the bestseller by novelist John Grisham.
The Jackson juggernaut pressed on at full throttle with starring roles in three 1997 movies. As Trevor Garfield, the dedicated teacher driven over the edge into violence in "187" – cop speak for a homicide – he found himself in a vehicle that for all its good intentions, was little more than "Death Wish" visits the public schools. Jackson got to show off more of his deep talents with "Eve's Bayou," an intensely emotional, well-made family drama by first-time writer-director Kasi Lemmons. Revealing a suave romantic side to his versatile talent, Jackson also served as executive producer and paterfamilias for the predominantly female cast surrounding him. Finally, Jackson returned to Tarantino country as arms merchant Ordell Robbie in "Jackie Brown," adapted from Elmore Leonard's novel, "Rum Punch," moving deftly between comedy and malice; by now, a trademark Jackson style. As a seductively personable villain with positively no moral center – unlike his "Pulp Fiction" character – Jackson ended up killing Robert De Niro in the film's denouement – a sure sign that he had arrived as an actor.
In 1998, Jackson shared the spotlight with Dustin Hoffman and Sharon Stone, playing a brainy mathematician in Barry Levinson's lackluster sci-fi thriller "Sphere." He next appeared as a violin expert in "The Red Violin," an absorbing tale involving the centuries-long travels of a violin made by a 17th century violin maker; a part that gave Jackson "a great opportunity to play a role you don't normally see an African-American portraying. He then starred opposite Kevin Spacey in the much bigger-budgeted "The Negotiator," playing a hostage negotiator who takes his own hostages when he is falsely accused of murder and embezzlement. The following year saw him as Jedi Knight Mace Windu in George Lucas' long awaited "Star Wars: Episode 1: The Phantom Menace," – due in no small part for his campaigning for the part based on his well-known "Star Wars" franchise obsession – as well as rejoining Harlan for "Deep Blue Sea." On a roll, Jackson, showing no inclination for slowing up his workload, also signed to play a Marine Colonel embroiled in controversy in "Rules of Engagement" (2000) and followed Richard Roundtree as the cool private eye in "Shaft" (also 2000), John Singleton's riff on the 1971 blaxploitation classic. For him, work (plus golf) remained the addiction that had replaced the narcotic substances kicked at the beginning of the decade.
In 2002, Jackson was at a high-water mark, willing to tackle a variety of challenging roles, both large and small. As a leading man, he co-starred with Ben Affleck in the effective sociological thriller "Changing Lanes," in which he turned in a nuanced, commanding performance as recovering alcoholic Doyle Gipson, fighting to stay in his children's lives even as his own life is almost undone due to the aftereffects of a simple fender-bender. He then delivered an action-packed supporting turn, reprising his role as Jedi Master Mace Windu for George Lucas' blockbuster "Star Wars: Attack of the Clones" (2002); this time, more in the thick of the plot with a mean purple light saber – with the actor/fan choosing the color so he would stand out in the crowded action scenes. He then helped launch a hit action franchise, appearing as the mysteriously scarred NSA Agent Augustus Gibbon in "xXx" (2002) – perhaps the only actor who could out-intimidate about-to-be A-list action star, Vin Diesel.
In the lackluster military potboiler "Basic" (2003), Jackson employed his hard-as-nails persona to play a feared, often hated Special Forces sergeant, who mysteriously disappears along with the team of Army Rangers he commands during a training exercise during a hurricane in the jungles of Panama. Spinning that persona to a more heroic bent, the actor then tackled the role of Lt. Dan 'Hondo' Harrelson for the big-budget, straight-faced screen adaptation of the 1970s cop drama, "S.W.A.T." (2003), starring opposite Colin Farrell. The film was an action extravaganza in which the special tactics team led by Jackson's character must transport an incarcerated drug kingpin who is offered $100 million to anyone who can free him. Jackson's career choices continued to run the gamut in terms of quality: he played second fiddle to Ashley Judd in one of the actress' characteristic, unchallenging thrillers, "Twisted" (2004), but rebounded strongly as the voice of the frustrated, ice-powered superhero Frozone in Disney/Pixar's delightful CGI-animated superhero spoof, "The Incredibles" (2004). He also cameoed in Tarantino's "Kill Bill, Vol. 2" (2004) as an organist at the wedding of The Bride.
Jackson kicked of 2005 with "Coach Carter," playing a familiar onscreen archetype – the inspirational coach who helps his students achieve – playing the controversial high school basketball coach Ken Carter who benched his undefeated team due to their collective poor academic record in 1999. Despite its seemingly clichéd set-up, the film resonated, thanks in large part to Jackson's strong, anchoring performance. Jackson played an angry Washington Post reporter in the John Boorman drama, "In My Country" (2005). Sent to cover South Africa's Truth and Reconciliation Commission – a public hearing conducted to reconcile the atrocities of apartheid – Jackson butts heads with a white South African poet (Juliette Binoche) over his bitterness and racial agenda, but instead ends up falling in love despite being married to another. He then went on to reprise two of his popular roles – first, Agent Gibbons for the action sequel "xXx: State of the Union" (2005), this time putting Ice Cube in the secret agent hot seat; followed with a final unsheathing that purple light saber for an appearance as Jedi Master Mace Windu in the prequel trilogy-ender, "Star Wars: Episode III: Revenge of the Sith" (2005). Jackson had long insisted that George Lucas write him an impressive death scene, and both Lucas and Jackson delivered the goods in Windu's long-anticipated demise, which proved to be one of the most dramatic scenes in the poorly received film.
Jackson's next vehicle was the hackneyed, derivative action/buddy flick, "The Man" (2005), which attempted to drive laughs by pairing Jackson's hard-edged cop with an awkward dentist (Eugene Levy) drawn into a crime scheme. He next starred opposite Julianne Moore in Joe Roth's "Freedomland" (2006), a crime drama that depicted a police detective (Jackson) called upon by a distraught woman (Moore) to investigate her claims that a black man kidnapped her child; an accusation that stirs racial animosity in a New Jersey suburb. Jackson's next movie, "Snakes on a Plane" (2006), became a phenomenon long before it was released – much of it due to fanboy buildup on the Internet. After reading in the trades that friend Ronny Yu was attached to direct, Jackson emailed him, asking to be in it, based on the title alone. Despite the anticipatory fervor for the film, by the time it was released, it proved disappointing at the box office. Yu eventually left the project, making way for David Richard Ellis to take over. Meanwhile, New Line Cinema had changed the name to "Pacific Flight 121" out of fear other actors would not take the project seriously. Furious, Jackson campaigned in public and in private to return the movie to its original title. The studio relented, paving way for serious Internet buzz to gather steam and propelling "Snakes" into the public consciousness before it was done shooting. So influential were the Internet's denizens that they managed to get filmmakers to reshoot a scene to include a profanity-laden line generated by fans, the now iconic "I've had it with these motherf*cking snakes on this motherf*cking plane!" Jackson, meanwhile, maintained a high level of enthusiasm for the film as he made the usual promotional rounds, even though he had not seen the movie – and neither did critics.
Jackson continued to work on film after film, as had been his wont over the years. Also in 2006, he starred in "Home of the Brave," a drama about three soldiers trying to readjust to civilian life after a lengthy tour in the second Iraq war; "Farce of the Penguins," a mockumentary inspired by the award-winning documentary, "March of the Penguins" (2005); and "Resurrecting the Champ," about a homeless man who claims to be a former boxing great, but in reality, is only a lesser-known fighter from the same era. Jackson also filmed "Black Snake Moan" in 2006, a low-budget drama about a blues guitarist abandoned by his wife who tries to redeem the soul of a girl addicted to sex in a rural town. Jackson next worked on "Jumper" (2008), a light-hearted adventure about a teenaged boy from a tough family who learns he has the ability to teleport, as well as appeared in "1408" (2007), a psychological thriller about a horror writer who gets a taste of his own fiction while staying overnight in a haunted hotel. Based on a short story by premier horror meister Stephen King, "1408" received mixed reviews but performed impressively at the box office in its opening weekend. After a turn as an authoritative police officer gone over the edge in "Lakeview Terrace" (2008), Jackson starred alongside Bernie Mac in "Soul Men" (2008), a buddy road comedy about two surviving members of a 1970s soul band who get into one misadventure after another while traveling across the country to attend the funeral of a former band mate. After playing main villain The Octopus in Frank Miller's critically and commercially savaged comic book adaptation of "The Spirit" (2008), he was cast as S.H.I.E.L.D. director Nick Fury – a role he originated with a brief cameo during the end credits of the first film – in "Iron Man 2" (2010), starring Robert Downey, Jr. and Mickey Rourke.
It was a busy year for Jackson, who also appeared as one-half of the toughest police duo in Manhattan – his partner being Dwayne Johnson – in the action comedy "The Other Guys" (2010), starring Will Ferrell and Mark Wahlberg as the eponymous second-stringers. That same year, Jackson turned in yet another performance that reminded people how gifted he truly was – that of a prospective employer of ambitious, but emotionally isolated attorney Naomi Watts in the adoption-themed drama "Mother and Child" (2010). For his work in the small-budgeted project, Jackson was rewarded with a Best Supporting Male nomination from the Independent Spirit Awards. Busier than ever, Jackson turned in more brief cameos as Nick Fury in another pair of comic book action-adventures, "Thor" (2011) and "Captain America: The First Avenger" (2011), in addition to lending his voice as the narrator of the Disney wildlife documentary, "African Cats" (2011). As proof that his tireless work ethic had truly paid off, it was announced in 2011 that Jackson had been listed in the Guinness Book of World Records as the highest-grossing film actor of all time, having appeared in movies grossing more than $7.4 billion.
Continuing to balance blockbusters with micro-budget projects, Jackson next played an ex-con reluctantly forced into the role of hero in the indie feature "The Samaritan" (2012). And after recruiting an unlikely team of superheroes over the course of numerous cameo appearances, Nick Fury was at last ready to assume leadership of "The Avengers" (2012) in the massive onscreen assemblage of Iron Man (Downey, Jr.), Captain America (Chris Evans), Thor (Chris Hemsworth) and the Hulk (Mark Ruffalo). Following the massive global box office success of "The Avengers," Jackson reunited once more with director Quentin Tarantino for "Django Unchained" (2012), a spaghetti Western set in pre-Antebellum Deep South that focused on a revenge-minded slave (Jamie Foxx) who helps a bounty hunter (Christoph Waltz) track down two ruthless killers in exchange for his freedom and a reunion with his wife (Kerry Washington). Prior to that film's release, the actor entered the political fray as a surprisingly humorous (and excitable) Twitter user and as the star of a pro-Obama campaign video, "Wake the F*ck Up," which featured Jackson as the narrator of a story to urge complacent voters to not take the election for granted. The film was loosely inspired by the best-selling children's book for adults, Go the F*ck to Sleep (2011).
The above TCM overview can also be accessed online
here.