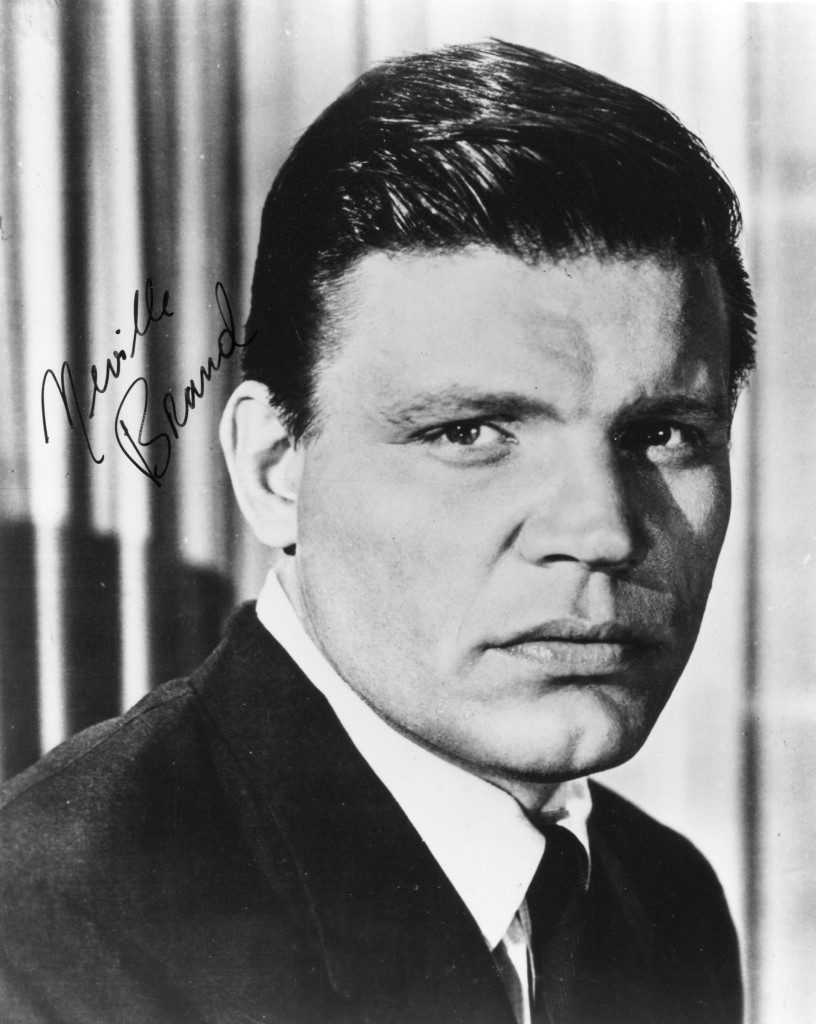 Neville Brand was one of the great evil characters in gangster and Western movies and television series of the 1950's and 60's. He was born in 1920 in Iowa. He had a distinguished war record while serving during World War Two. He made his movie debut in the film noir "D.O.A." in 1950. His best known role was as 'Al Capone' in the TV series "The Untouchables". He also shot and killed the Elvis Presley character in "Love Me Tender" in 1956 and was excellent opposite Burt Lancaster in the 1962 movie "Birdman of Alcatraz". He starred in the TV series "Laredo" from 1965 until 1967. He died in 1992 at the age of 71.
IMDB entry:
Neville Brand joined the US Army in 1939, bent on a career in the military. It was while he was in the army that he made his acting debut, in Army training films, and this experience apparently changed the direction of his life. Once a civilian again, he used his GI Bill education assistance to study drama with the American Theater Wing and then appeared in several Broadway plays. His film debut was in Port of New York (1949). Among his earliest films was the Oscar-winning Stalag 17 (1953). His heavy features and gravelly voice made Brand a natural tough guy (and he wasn't just a "movie" tough guy–he was among the most highly decorated American soldiers in World War Ii, fighting in the Pacific against the Japanese). "With this kisser, I knew early in the game I wasn't going to make the world forget Clark Gable," he once told a reporter. He played Al Capone in The George Raft Story (1961), The Scarface Mob (1959), and TV's The Untouchables (1959). Among his other memorable roles are the sympathetic guard inBirdman of Alcatraz (1962) and the representative of rioting convicts in Riot in Cell Block 11 (1954). Perhaps his best-known role was that of the soft-hearted, loud-mouthed, none-too-bright but very effective Texas Ranger Reese Bennett of Backtrack! (1969),Three Guns for Texas (1968), and TV's Laredo (1965).
– IMDb Mini Biography By: Kat Parsons <fke2d@Virginia.EDU> (qv's & corrections by A. Nonymous)
The above IMDB entry can also be accessed online here.
Article on Neville Brand in "Tina Aumont's Eyes" website:
Tough and uncompromising, former military hero Neville Brand brought his hard, threatening manner to a number of westerns, prison flicks and other cult movies. With his gruff voice and intimidating stare, it's easy to see why he was so often cast in villainous roles, yet he could also be sympathetic and gentle when called for.
Born in Iowa on August 13th, 1920, Brand spent the years 1939 to 1945 in the US Army, where his heroic actions earned him both the Silver Star and Purple Heart. After studying drama, he made his feature debut in the 1950 noir 'D.O.A.', where his no-nonsense henchman viciously beats a fatally poisoned Edmond O'Brien. After playing one of William Holden's fellow prisoners in Billy Wilder's excellent P.O.W drama 'Stalag 17′ ('53), he was great as a psychopathic inmate leading a riot, in Don Siegel's classic prison drama 'Riot in Cell Block 11′ ('54). In a change of pace role, Brand was likable as a kindhearted Navy Officer, romancing Jan Sterling's toughened waitress, in the little-known drama 'Return from the Sea'('56). Around this time, Neville would also make a number of appearances in various westerns, such as 'The Man from Alamo' ('53), with Glenn Ford, and Anthony Mann's 'The Tin Star' ('57), with Henry Fonda and a young Anthony Perkins.
From time to time, Brand wasn't averse to playing real life characters. He twice played Butch Cassidy, first in 1956's 'The Three Outlaws', and again two years later in 'Badman's Country' ('58). He also made a good Al Capone, on both television ('The Untouchables'-'59), and screen ('The George Raft Story'-'61). My favourite performance of Brand's at this time, was as the kindly prison guard; Bull Ransom, in the superb biopic 'Birdman of Alcatraz' ('62).
Television would keep Brand busy in the Sixties, cropping up in the western serials 'Rawhide' 'Wagon Train' and 'Laredo'. In 1965 he was a Disney villain paired with Frank Gorshin, in 'That Darn Cat!', with Hayley Mills. Another military role came in 1970, when he played Lieutenant Kaminsky in the Pearl Harbor adventure 'Tora! Tora! Tora! ('70). Back in western mode, other roles around this time included the part of a half-breed Indian in the John Wayne starrer 'Cahill U.S Marshall' ('73), and then an outlaw named Choo Choo, in the much maligned 'The Deadly Trackers' ('73), with Richard Harris and Rod Taylor. Venturing into exploitation territory, Brand played a rapist in Bert I. Gordon's violent shocker 'The Mad Bomber' ('73), an ok thriller that certainly pulls no punches. He then co-starred with Jim Hutton in the mental institution thriller 'Psychic Killer' ('75), and was a crazed hotel owner in the cult yet rather dreary oddity 'Eaten Alive' ('76). one of Brand's last memorable roles was that of Major Groper, in William Peter Blatty's asylum-based sleeper 'The Ninth Configuration' ('80). After appearing in a couple of Greydon Clark's B-movies ('Without warning' & 'The Return' – both 1980), Neville's final movie was the terrible alien sexploiter 'Evils of the Night' ('85), with Aldo Ray and the ubiquitous John Carradine.
A talented and versatile actor, Neville Brand died from emphysema, on April 16th 1992, aged 71. In a career lasting 35 years, he was one of cinema's most memorable tough guys, and has the distinction of killing Elvis Presley in his movie debut!
Favourite Movie: Birdman of Alcatraz
Favourite Performance: Riot in Cell Block 11
Article on Neville Brand can also be accessed online here.