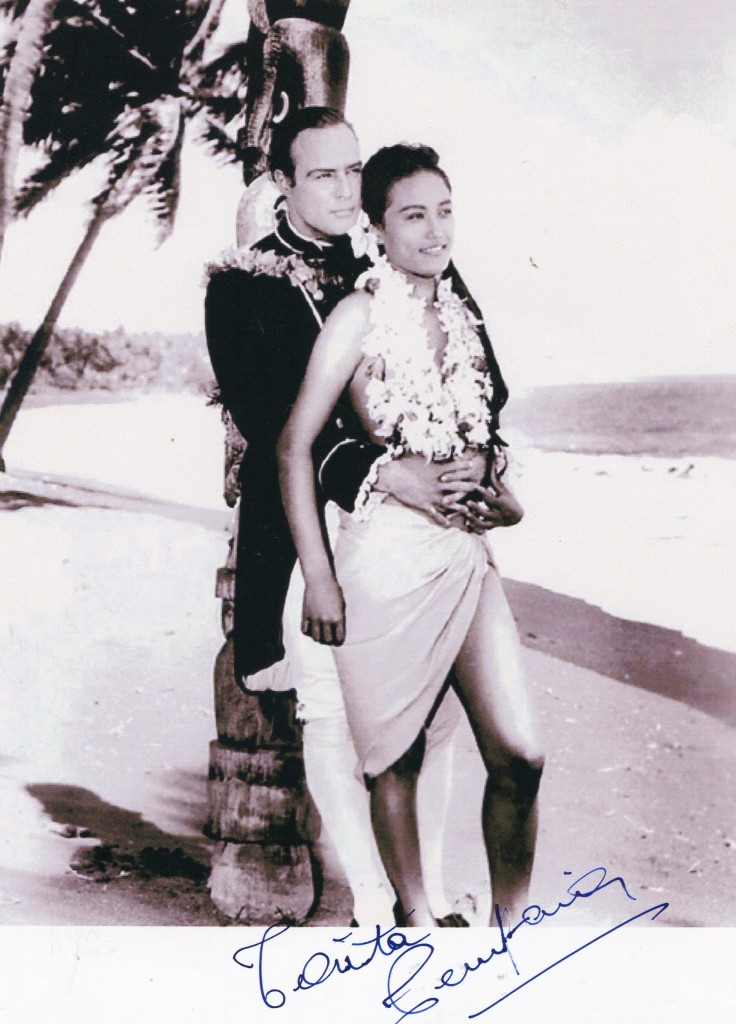 Tarita was born in 1941 in Bora Bora in the South Pacific. She was discovered and given the lead in "Mutiny on the Bounty" in 1962 while the movie was shot on location in Bora Bora. She became the partner of Marlon Brando for many years. She did not make any other movies.
IMDB entry:
Had two children with Marlon Brando: a son, Simon
Teihotu Brando
(born on 30 May 1963) and a daughter, Tarita Zumi Cheyenne (13 February 1970-14 April 1995, suicide).
Born in a bamboo hut 6 kilometers from Bora Bora's one village, Vaitape. Has 5 brothers and 1 sister. Father, Teriichira, was a fisherman. Attended school until she was 12.
Was working as a dishwasher at a resort near Papeete, Tahiti, when she was discovered. Grandmother of Tuki Brando, Cheyenne's son. Daughter-in-law of
Marlon Brando Sr.
during her marriage to Marlon Brando. Sister-in-law of
Jocelyn Brando
during marriage to Marlon Brando. Although she had signed a contract with MGM,
Marlon Brando
made sure that she didn't get any more roles after
Mutiny on the Bounty
(1962). Has lived on
Marlon Brando
's estate at the beach of Papeete since 1970. Grandson Tuki Brando (b. 1990), her daughter's Cheyenne's son, has been chosen by
Donatella Versace
to be the new face of Versace for Men's collection. (2007).