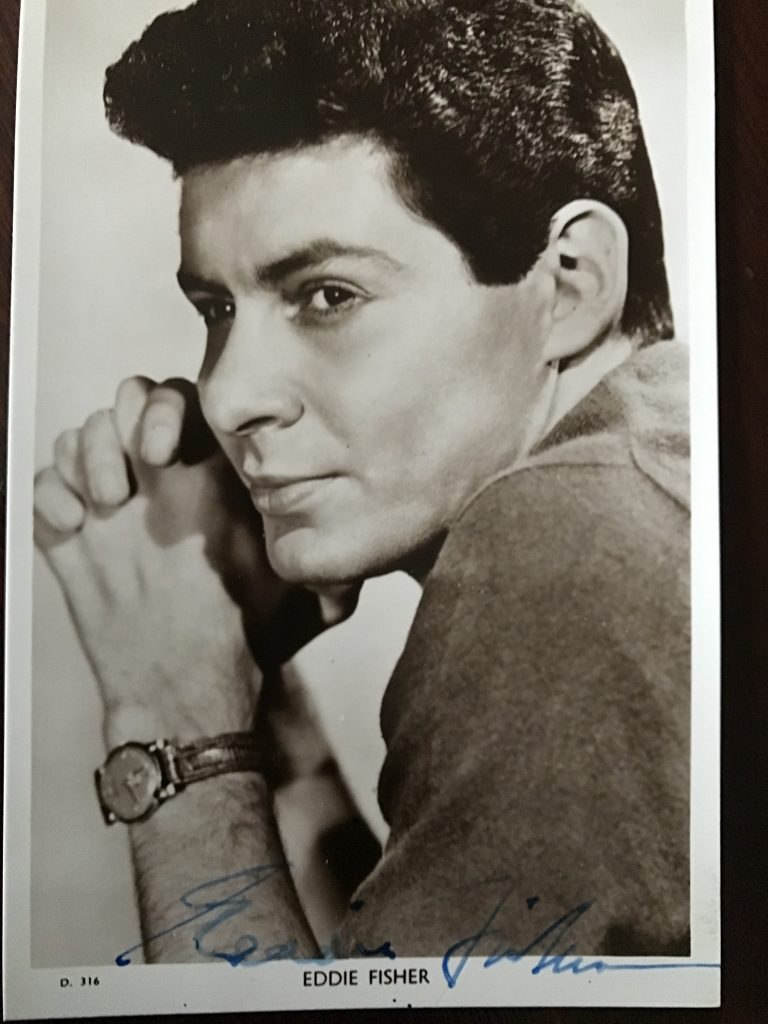 Eddie Fisher was one of the most famous of the popular solo singers in the U.S. in the 1950's. His hits included "Lady of Spain" and "On the Street Where You Live". He was born in Philadelphia in 1928. He made some movies incuding "Bundle of Joy" opposite Debbie Reynolds, his first wife and "Butterfield 8" in 1960 opposite his second wife Elizabeth Taylor. His third wife was actress Connie Stevens. He died in 2010 at the age of 82. His popular songs include "Lady of Spain" and "On the Street Where You Live".
Michael Freedland's obituary in "The Guardian":
Eddie Fisher, who has died aged 82 of complications from hip surgery, deserves to be remembered as one of the sweetest popular singers of the pre-rock'n'roll era, with 32 hits selling millions of copies. Instead, it was as one of the many husbands of Elizabeth Taylor that he etched himself a place in show business history. And further to that, "I came from the streets of Philadelphia to the White House – Harry Truman loved me, Ike loved me, Jack Kennedy and I shared drugs and women," he later said of himself.
It was a reputation that he did not need. Numbers such as I'm Walking Behind You, Wish You Were Here and Oh, My Pa-Pa got young women screaming and music aficionados admiring the sheer strength and beauty of his voice – a most unusual combination. Yet when his love for his wife Debbie Reynolds turned sour and he switched his loyalties to Taylor, fame took on an entirely different complexion.
Fisher was born in Philadelphia, the fourth of seven children of Russian-Jewish immigrants who worked in tailoring sweatshops and lived in a slum. He was shy as a child, but not for long. And he realised from an early age that he had a remarkably strong voice. "I couldn't have been more than three or four years old. I opened my mouth and this beautiful sound came out."
Fisher began his singing career in traditional fashion in the local synagogue choir, but secular music appealed more, and although he sang for services on Friday nights and Saturday mornings, on other evenings of the week he was taking part in amateur theatrical shows. He sang with local bands while still at high school, and at the age of 18 he was already performing with Buddy Morrow and Charlie Ventura.
He then took another traditional route – working in the Catskill mountains, the holiday resort much favoured by Jewish New Yorkers. It was the area known as the Borscht Belt, because of the emphasis on beetroot soup and sour cream, although that was never as important as the entertainers.
The Borscht Belt was the nursery of outstanding Jewish entertainers: Danny Kaye, Mel Brooks, Jerry Lewis and Eddie Cantor all made huge impacts at Belt hotels. Cantor's role there was more as a talent scout than as a performer, and it was at Grossinger's hotel that he first heard Fisher sing in 1949. He invited him on to the Eddie Cantor Show on radio, which proved highly popular with his audiences, and in 1950 Fisher had his first hit, Thinking of You.
The following year he joined the US army, further boosting his popularity by entertaining troops in Korea in 1952-53. He continued to make records during this time, helped by a publicity campaign featuring himself in uniform. His successes with I'm Walking Behind You and Oh, My Pa-Pa were followed by I Need You Now, Downhearted and, most significantly, (You Gotta Have) Heart (1954), the big hit from the show Damn Yankees. In 1955 there was Dungaree Doll and Everybody's Got a Home But Me, and in 1956 Cindy, Oh Cindy. But it took until 1961, with a version of Tonight, from West Side Story, and 1966, with Games That Lovers Play, for him to return to the charts in a limited way.
"I was too busy making hit records to be concerned about the music," he said. Frank Sinatra, Perry Como and Tony Bennett cared about "songs that meant something. I didn't." But his songs meant something to his private life. Another Fisher hit in 1956 had been Irving Berlin's A Man Chases a Girl (Until She Catches Him). That particular record was notable for one other, uncredited, performance. The refrain "until she catches him" was recited by Reynolds who, four years earlier, had proved to be a favourite girl-next-door in the film Singin' in the Rain.
They married in 1955, soon after the record was pressed, although Fisher would say he never really loved her enough to marry. He claimed to have had affairs with Marlene Dietrich, Judy Garland, Mia Farrow and Bette Davis among others. Yet for a time, he and Reynolds seemed to be the ideal couple, loved by fans and the famous alike.
Their closest friends were Elizabeth Taylor and her film producer husband, Mike Todd. When Todd was killed in an air crash, Fisher took it upon himself to console his widow. He and Reynolds divorced, and Fisher and Taylor married in a Jewish religious ceremony in 1959. The marriage did not last. In 1960 Taylor met Richard Burton while making Cleopatra, and in 1964 divorced Fisher.
Three years later he married the actor and singer Connie Stevens. They, too, divorced after a couple of years. His marriage to Terry Richard in 1975 lasted 10 months, but his fifth marriage, to a Chinese-born businesswoman, Betty Lin, in 1993, was the longest, ending with her death in 2001.
Fisher was frustrated that the scale of his early success as a singer was frequently overlooked. In his autobiography, Been There, Done That (1999), he reminded people that he had had more consecutive hits than the Beatles or Elvis Presley and that at one time, he had 65,000 separate fan clubs. In the mid-1950s, he was earning $1m a year.
Fisher had a short, unimpressive film career. The most notable role was playing opposite Taylor in her Oscar-winning movie, Butterfield 8 (1960). He had also appeared opposite Reynolds in Bundle of Joy (1956).
Fisher remained out of the public eye for almost 20 years, and a comeback of sorts in 1983 did not succeed in relaunching his career. At the same time, he issued an album of new songs, After All (1984), which received some critical approval.
He is survived by four children: his daughter Carrie, who came to fame as Princess Leia in the first three Star Wars films, and a son, Todd, from his marriage to Reynolds; and two daughters, Joely and Tricia, from his marriage to Stevens.
• Eddie (Edwin John) Fisher, singer and actor, born 10 August 1928; died 22 September 2010
The above "Guardian" obituary can also be accessed online here.